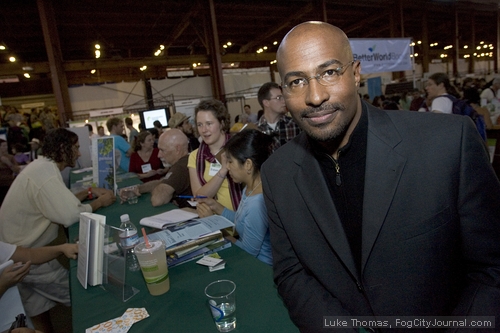 San Francisco grassroots progressive activist Van Jones.
Photo by Luke Thomas
By Chris Daly
September 9, 2009
Late Saturday night, Van Jones resigned his position as Special Adviser to President Obama on green jobs. Van's resignation came hours after the Obama administration offered no support for Jones under an escalating smear campaign waged by Fox's Glenn Beck and financed by big oil through Americans for Prosperity.
But this is by no means the political eulogy for one of the few grassroots progressives in the Obama administration or the progressive movement that helped elect Obama. It is, however, a call to action.
I first met Van in 1993 when we organized to stop then Mayor Frank Jordan's "Matrix" program. Matrix was Jordan's new police program targeting homeless people for crimes like camping and sleeping in the park. Matrix was at the fore of a national trend of criminalization of poor people. In San Francisco, a youthful group of activists joined together with homeless people and their long-time advocates to challenge Matrix. Under the banner of Mobilization to Stop the Scapegoating (MASS), the coalition launched street-level organizing, public education, and direct action that included documenting police sweeps of homeless encampments and a civil disobedience "Sleep-in" at the Mayor's Pacific Heights mansion.
Fresh off San Francisco street mobilizations organized by Roots Against War (RAW) the previous summer and now with a Yale Law degree, Van was a steady and strategic leader in the campaign against Matrix. With tireless organizing, we were able to shift public opinion away from Jordan's crackdown on homeless people, and even forced then-candidate for Mayor, Willie Brown, to come out against Matrix. Just as important, Van had begun to help build the next generation of grassroots activists in the Bay Area.
Van's subsequent community efforts with Bay Area PoliceWatch and the Ella Baker Center, along with his political organizing in STORM, formed a very powerful political program. Harnessing youthful activism to provide service and care to those most afflicted by the criminal justice system, while overtly challenging the system that created that inequality in the first place (including a sharp critique on race and class), became a model for community organizing in the region. No doubt borrowed and updated for the times from the Black Panther Party's "feed the people" philosophy; this model of organizing did not overly romanticize 1960's revolutionaries. It did righteously speak to many people's disenfranchisement from mainstream politics and desire for greater meaning in our communities.
And the model proved successful. Not only did the ranks of deep-rooted activists and community organizers swell around Jones, but also there were significant people's victories. Van helped win a modicum of justice for the family of Aaron Williams, who was killed in custody by SF Police Officer Marc Andaya. Through a campaign of heightened pressure on the Police Commission, Andaya was fired. Through Books not Bars, Van helped block the development of a "super jail" to lock up Oakland's youth.
Like all great organizers, Van's contributions to San Francisco have gone far beyond his own work. In addition to the continuing work of the Ella Baker Center, People Organized to Win Employment Rights (POWER) carries on this model of organizing. Also, several of the early organizers of the Mission Anti-displacement Coalition (MAC), myself included, were influenced by Jones' organizing. In fact, after nearly 9-years in elected office, my early work with Van Jones continues to influence my political philosophy and has helped me contribute to San Francisco's progressive movement.
Given this and the fact that I've been on the receiving end of a pretty nasty (albeit local) smear campaign, I have really felt personally for Van in the last few weeks. Not that Van hasn't made mistakes, and I'm not talking about calling certain Republicans "assholes" or signing a petition that could have been lifted from Michael Moore's Fahrenheit 9/11.
In the middle of this decade, as Van shifted his focus from criminal justice to the environmental movement, he also shifted philosophy. Certainly that is fine. I know that many of us who have worked with Van in the past have developed a level of solidarity where we would support him whatever direction he chose. However, in his shifting philosophy, Van also took up an apologetic tone about some of his previous work and affiliations. It's not just that this poses a bit of a problem for those of us in the Bay Area who have built significant political success on this previous work. (I, for one, am a three-time elected official that doesn't shy away from my history of fighting tooth and nail against police brutality or even the term "socialist.") It's that when we back down or apologize for our work and beliefs, our political opponents smell weakness.
As Glenn Beck and Americans for Prosperity fired up their sleaze machine, I think they felt like they had a target that they could take out. Much has already been written about the lack of defense of Van from the Obama administration and about progressives being late to counter Beck on Jones. This is clearly the case. But I think equally as damning has been progressives' proclivity to deference under the guise of "coalition-building." As the right becomes increasingly strident in their attacks, progressives need to be equally strident in our program.
We can't afford to apologize for our beliefs. It's time for us to ramp up our organizing. This includes both providing a vocal counter to the merchants of hate (visit Color of Change for more direction) and demanding bold and progressive action from President Obama. Van Jones' own words ring truer now than ever, "Not only is Barack Obama not going to be able to save you- [we] are going to have to save Barack Obama."
After Jones' resignation, Ian Kim (a District 6 resident and all-around good guy) set up a Facebook page to support Van. In just 2 days, over 5000 people signed up highlighting the progressive energy out there. It's time for progressives to harness that energy and direct it to win real reform on the national level, including healthcare reform with a robust public option.
Meanwhile, we have to get back to the grindstone locally. The Glenn Becks aren't just targeting individual progressives on the national stage; they are moving their agenda on issues like the environment, healthcare, labor, gay rights, and the environment. Right now, San Francisco is at the forefront of the immigrant rights struggle. Last month, Supervisor David Campos, together with immigrant rights advocates, introduced a proposal to provide juveniles who are undocumented due process. This progressive proposal that represents the best of San Francisco values isn't just opposed by Fox News pundits – it's opposed by the "liberal" San Francisco Chronicle. And Democrat Gavin Newsom has already resorted to dirty tricks to defeat it. SF progressives should redouble our efforts on this issue and build the next generation of activists, as we engage nationally.