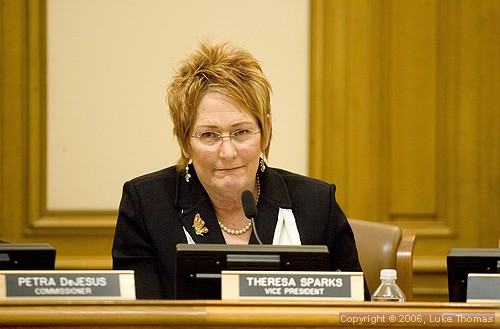 Human Rights Commission Executive Director Theresa Sparks has positioned herself
as the downtown candidate in the 2010 race for District 6 Supervisor.
Photos by Luke Thomas
By Chris Daly, special to FogCityJournal.com
October 26, 2009
The Big Rollout
Last week's big rollout by District 6's newest resident confirmed the rumor: Theresa Sparks has positioned herself to be downtown's candidate in the 2010 race for Supervisor.
It was a mid-week media blitz that would make Gavin Newsom blush. A 6000-word feature in the chichi San Francisco Magazine leads with the sensational, "San Francisco's most electrifying political candidate since Harvey Milk." The SF Weekly's 5000-word cover story, Transblazer, was equally glowing, replete with fashion photos that drew a comparison to Lorraine Bracco of The Sopranos fame. Both pieces delve deeply into Sparks' personal life, including her transition after moving to San Francisco in the late 90's.
Even down to the timing, the rollout was strategic for Sparks. With Jane Kim now openly looking at the race, the progressive field could get more crowded. (Homegrown contenders Jim Meko and James Keys have been vying with early frontrunner Debra Walker for months.) This gives Sparks an even greater opportunity to differentiate herself from the other major candidates as the moderate. Already Sparks is taking shots at the progressives…
The Art of the Political Attack
Sparks avoids taking the responsibility of lodging her own critique of progressive candidates in the race. Instead, Sparks references unnamed third-party sources:
"[People are] not too impressed with the current candidates."
Sparks refuses to say who it is that isn't impressed, and she definitely won't say why. This indicates that Sparks will try to avoid the direct engagement of her opponents in the race, leaving the personal attack to her proxies, named or unnamed, which she then can reference.
"I think this board needs more balance, needs more independent thinkers as opposed to people who have one or another ideology."
While it seems like Newsom handler, Steve Kawa, has a hand in Sparks' candidacy, it is widely known that Sparks comes out of State Senator Mark Leno's political camp. While this camp could be called "moderate", it is certainly no more "independent" than the progressive political camp. Progressive politics, which specifically challenges corporate power and special interests, is necessarily independent of the political machinery that feeds off of that very same corporate power and special interests. While progressive ideology may be better thought out than the moderates', it is simply untrue that there isn't a "moderate" political ideology in San Francisco. Also, the concept of "balance" on the Board of Supervisors ignores the bigger political picture in San Francisco, and that is that the Board of Supervisors has been the political balance to the significant power of the Mayor's Office over the last 9 years. Giving the Mayor an extra vote on the Board on this or that issue only strengthens the hand of the Mayor, who already has more power than the Board of Supervisors.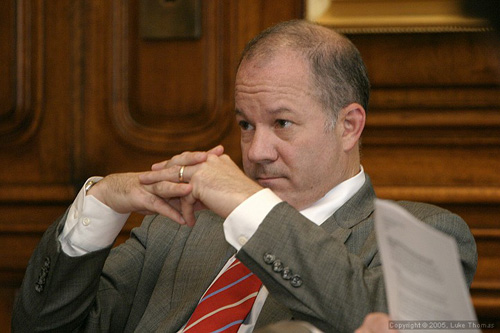 Newsom Chief of Staff, Steve Kawa.
Moving beyond the theory to the practice, Theresa Sparks was appointed to the Police Commission by the Board of Supervisors. This came after the Board of Supervisors and the voting public amended the Charter, with 2003's Prop H, which checked the power of the Mayor on police matters (previously, the Mayor made all Police Commission appointments.) Sparks was appointed, at the direction of then D9 Supervisor Tom Ammiano, despite the fact that the Latino community ended up with no representation on the Commission. While Commissioner Sparks' appointed authority provided her the entree for independent engagement on the Commission, during her tenure she moved closer and closer to the Newsom Administration. By the end of her service, Sparks worked hand in hand with Newsom on the Commission's most important decision – selection of the new Chief of Police. (As a footnote, while Chief Gascón has received much early praise, I can tell you for a fact that he has never once contacted the District 6 Supervisor or the office of the District 6 Supervisor as is customary despite his additional enforcement efforts in the Tenderloin.) Despite being appointed by a progressive Board, Sparks parlayed her work with Newsom on the hiring of the new Chief into her run for Supervisor in addition to her HRC position. That isn't independence, that's opportunism.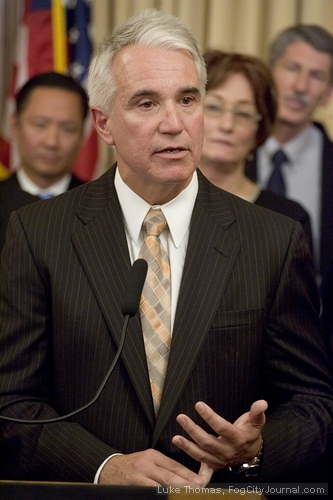 SFPD Police Chief George Gascon.
The Whole Truth
Other than her carefully crafted criticisms of her opponents, Sparks avoided the gritty politics in her tell-all stories. Instead, she focused on humanizing her big introduction while also dealing with her transgender identity in much the same way that the early candidate Obama dealt with his race. Sparks clearly understands that the transgender candidate will not win the office. However, a candidate who happens to be transgender has a decent chance.
The reaction to Sparks' story around town has been universally positive. Both the SF Weekly and SF Magazine pieces evoke an intense sense of compassion for Theresa's struggle. Readers can't help but root for her as she perseveres through the adversity of discrimination and transphobia, from potential employers to her own family members.
But Theresa's personal story isn't the whole story and neither article included any criticism of Sparks' opportunistic move into the district, her lack of record on the most important issues here, or the potential conflict of interest that arises when a City department head becomes a candidate for office. Instead, both biographies pointed to the historic nature of Sparks' pending run, as if this is the first time a transgender candidate has ever stood for Supervisor. The SF Magazine opined that Sparks' run is, "perhaps the most high-profile bid for power ever attempted by a transgender person in the United States." Sparks certainly doesn't shy away from the Milk comparisons or the press' interest in elevating her candidacy. Sparks needs this hype to offset her shortcomings as a District 6 candidate.
The real history of transgender political engagement in San Francisco is far richer than Sparks' rollout acknowledges. The first transgender candidate for San Francisco Supervisor was Denise D'Anne in 1998. D'Anne, a Milk Club activist and progressive stalwart, won a respectable 35,244 citywide votes in her first bid for office. In 2000, D'Anne ran for District 6 Supervisor alongside the dynamic Joan Roughgarden (whom I cross-endorsed), a Stanford professor who specializes in deep ecology. The strongest run for Supervisor by a transgender candidate came in 2004, when tenant and labor activist Robert Haaland finished second in the District 5 race. Haaland ended up with 7,272 votes and took Ross Mirkarimi to the 19th round of counting before Ross was declared the winner. Haaland was likely one endorsement away from winning the race, as the most important endorsement in District 5, the San Francisco Bay Guardian, ranked Mirkarimi first and Haaland second. In fact, Haaland finished first in second place votes beating Mirkarimi by nearly 2000 votes (showing the strength of the Guardian endorsements).
Director Sparks vs. Candidate Sparks
There is a flip-side to how detailed Sparks' big splash was. In providing so much access and so many details to the reporters, Nathanael Johnson and Lauren Smiley, some interesting bits of information ended up tucked away in those stories. The most troubling kernel for candidate Sparks was found in Johnson's SF Magazine piece…
"Soon after Sparks told me she was running, she got a reprieve: a new, $167,596-a-year job as executive director of the notoriously mismanaged Human Rights Commission… That's a good bit more than the $98,660 she'd earn as supervisor, but by then, she was set on running, and so will step down from the commission if she wins."
Earlier in the article, Johnson mentioned that Sparks had made her decision by Pride weekend. The fact that Sparks is publicly disingenuous about her decision 3 months after making it isn't even the worst of it. (In September she said, "I'm not sure if I can afford to run for supervisor. I'd have to take a 35 percent pay cut.") The real problem has to do with the lack of disclosure of her intentions and the motivation for the firing of the previous head of the HRC, Chris Iglesias, to make way for Sparks. When Iglesias was fired, nobody could figure out why. Newsom had never expressed concern over Iglesias' job performance and Iglesias was well liked within the community and the department. After ruffling the Latino community, the Newsom administration made sure Iglesias got a soft landing. In the revisionist history of politics, Sparks wrote in the latest HRC newsletter that her taking the job "allow(ed) Chris Iglesias to move on…"
According to the Bay Area Reporter's Matthew Bajko, "Sparks said she was taken aback when she [sic] Steve Kawa… called her in June to talk about the HRC post." The consummate City Hall insider, Kawa certainly knew what many others had known for sometime: Sparks was interested in the District 6 seat. Whether running for the coveted seat was part of the deal or not, both the Newsom administration and Sparks had the responsibility to tell the public of Sparks' intention to run for Supervisor.
The head of the Human Rights Commission is an important job. The HRC doesn't just "advocate for human rights." They implement and enforce the City's disadvantaged and local business laws along with federal fair housing laws. In her resignation from the Police Commission, Sparks cited the importance of dedicating herself fully to her new job. (Never mind again the inconsistency of this with her pending run for District 6 Supervisor.) Not only is the work important, the head of the HRC has a lot of power over business in San Francisco and a disproportionate number of these businessmen and businesswomen donate to political candidates. The measure that codified the Human Rights Commission in the Charter, Proposition J in June 1990, was supposed to take the politics out of the HRC. The Board of Supervisors even argued in the ballot handbook that, "Proposition J will take the Human Rights Commission out of politics." Having the Director of the HRC running in a hotly contested political race raises all sorts of conflict issues, but at the very least the political campaign compromises her ability to do a good job at the post.
Already Sparks has been making the rounds in District 6. Jim Meko witnessed Theresa Sparks at the "Taste of South Beach" event being escorted by Newsom staffer Jason Chan on September 19th. I noticed that Sparks was a guest at the Manilatown Heritage dinner on October 2nd. Now that we've learned that she has also been running for Supervisor all the while, one has to wonder if we are seeing Candidate Sparks or Director Sparks making her way across District 6. City ethics laws clearly state that no City official or employee may use any City resources for political activities. Given this, it seems as if Director Sparks is on shaky ground every time she goes to a District 6 community event. Again, this is not only problematic ethically; it also will hinder Sparks' ability to be effective as HRC Executive Director.
Meko's Got Your Map
By October 12th, 4 months after making her decision, Sparks was finally talking seriously about running for District 6 Supervisor. "I'm leaning heavily towards it," she said.
Sparks had finally signed a lease for an apartment at Turk and Van Ness and was moving into the district the following weekend. In her profile, Sparks referenced doctor's orders to lay off exercise as the primary motivation to move to a flatter part of the City. Unfortunately for Sparks, she moved into one of the hilliest parts of District 6, Cathedral Hill. At least her story sounds better than an explanation even truthier – Sparks needed to move into the district in order to run for District 6 Supervisor (which she decided to do in June).
Similarly, Sparks has been quick to point out that she has worked in District 6 for 10 years. What she didn't say is that, like tens of thousands of others from across the region, her work "in the district" has meant commuting into the district to work in an office. While I have been aware of Sparks' efforts with the transgender community in the Tenderloin (and her work there was laudable if not limited), the truth is that Sparks has very little connection to the issues that matter the most in District 6. On affordable housing and tenants' rights, health and human services; community planning and land use; transportation and the environment, Sparks just hasn't been there. Meanwhile, the field of progressives in the race is quite impressive on these issues. While not a part of that community, they're also pretty good on transgender issues, too.
District 6 is a tough district. We need a Supervisor who has been there during the toughest battles. We need someone who isn't just an "independent thinker" but who prioritizes their neediest constituents over their own personal political ambition. We need a fighter who will look out for seniors when they are getting evicted and stand with the kids when their school's roof is leaking. In other words, Theresa should thank Jim for the map and head on a different course.
Downtown in Play
I think that the downtown boys learned their lesson in 2006. They can't win in District 6 with a candidate that looks like they're from Montgomery Street, so they are changing it up. Last week, Theresa Sparks made a flashy entrance into the District 6 race. Both the SF Weekly and SF Magazine made Sparks look good and effectively presented her personal story to evoke compassion. In doing so, they effectively dealt with any issues around Sparks' transgender identity. In the decade since I first ran for Supervisor, I have never been the subject of a single profile piece that went as in-depth as either of Sparks' two profiles published on the same day! That means the big money is lining up. We should expect more of it.
While compelling, Theresa Sparks is a heavily compromised candidate. Beyond the usual political gamesmanship, Sparks took a City post that was cleared out for her right around the time she decided to run for elected office. Sparks and the Newsom administration hid her political intentions away. She has a significant potential conflict of interest between her City position and her role as political candidate. Sparks opportunistically moved into a District where she has done a relatively small amount of work on the issues that matter the most.

Has Theresa Sparks' once celebrated independence been compromised?
With all of that said, with 4 or more progressive candidates battling it out in a district that may be the 3rd or 4th most progressive in the City, downtown now has an opportunity to steal a seat away. We can't let that happen.