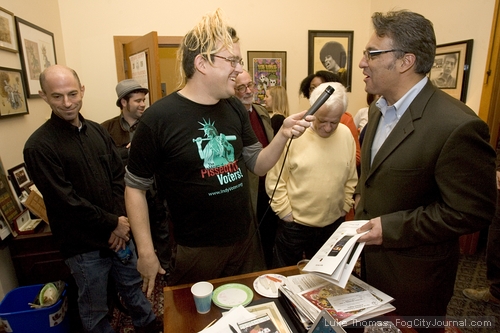 Pirate Cat Radio interviews Supervisor Ross Mirkarimi
during a holiday art party held yestereve at San Francisco City Hall.
Photos by Luke Thomas
By h. Brown
December 12, 2009
You believe in voices from the grave?
(Joe Lynn and Dick Hongisto)
I always ask (pray, if you must) my friends who die (animals as well as humans) to send me back a sign that they are still there and can communicate with me. Often they reply. Sometimes when I'm asleep they send dreams. Or, rarely, almost instantly when I'm awake, I get messages of some sort. Well, it happened again and I'm here to tell you that the spirit of Joe Lynn is alive and well despite the fact that his body is no longer the vessel of his identity.
Hongisto's advice to Matt Gonzalez
When much beloved Progressive politico (Sheriff, Chief of Police, Assessor etc.) Dick Hongisto died a few years back, I took my last remaining cash and went down to Original Joe's where he hung out (he took me to lunch there once) and tipped a couple of drinks to his memory.
He'd died only a few hours earlier and I made a silent prayer that he'd give me some political advice as I stumbled down the early morning Tenderloin sidewalk.
The answer was instantaneous. "Tell Matt Gonzalez to run for Lieutenant Governor, because he cannot lose and he'll be the next Governor and then President if he does." Matt didn't take the advice. As one of his advisers said to me (not on behalf of Matt) … "Even if it's from beyond the grave, it's still just Dick Hongisto's opinion."
Well, I got the same kind of instant response from Joe Lynn right after I got the message saying he'd passed on a few days ago (within hours like Hongisto I made the request). Joe told me to pick up (this is in my head – not a voice or images or anything, just instructions) … he told me to pick up the first book within reach and go to page 53. Hey, that's pretty specific!
The first book within reach was a short story I did almost 20-years ago about mine and my wife's efforts in an animal rescue organization run through teachers at Clemson University in South Carolina. On page 53 was described my work with a young white huskie puppie named Laura. I had no idea what relationship that had to Joe's death, or my future, but I quickly started thinking of women I knew named Laura and came up blank. But I decided that it must mean that I was going to meet someone by that name at Ross Mirkarimi's holiday party at City Hall a couple of days hence.
The party came last evening and it was wonderful. Pirate Cat Radio broadcast live and the main conversation there, and around the room, was all Joe Lynn. His memories were there. Was his spirit?
I wound down and when the wine ran out (another sign from God) I decided to leave. I gathered my raincoat and started out and as I passed the front desk there was a last bottle of wine that had appeared and I quickly held out my glass and was given the last drink.
I turned to an attractive Amy Goodman-type who'd also waited with an empty glass and handed her the final wine then turned to go. She called out as I took the first step toward the door: "Share it with me," I shrugged. Hell, why not. "What's your name?" I asked.
"My name is Laura"
I swear to God. I, of course, immediately replied: "Will you marry me?" It was perfect. But she was already engaged and amused by my offer. Her name is Laura Wells and, like myself, she's a perennial candidate for public office. A long time (founding member?) of the California Green Party who is running for governor. Trust me, I'm supporting her.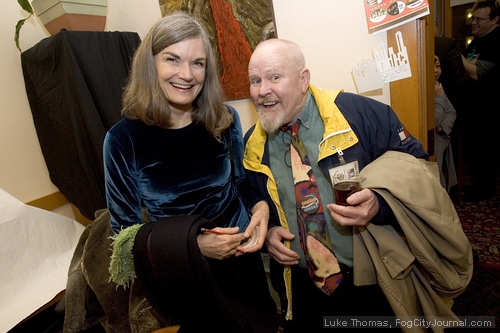 Green Party candidate for Governor, Laura Wells, with h. Brown.
What does this tell you? It tells me that not only did Joe's identity not cease to exist but that he was able to communicate with me and put me hip to an event that was going to happen in the future. Not that he was setting me up with a new lady (which would be nice), but that he was able to predict that I'd meet someone named Laura.
So, this morning, before starting this column, I asked for any other comments from our mentor. In a laughing and raucous mood, he referred me to Page 54 (final page) in my book. It opens with: "It is time to quit on this piece." Then, he told me to thank David Waggoner and Marc Salomon for the love and care they gave him in his final hours.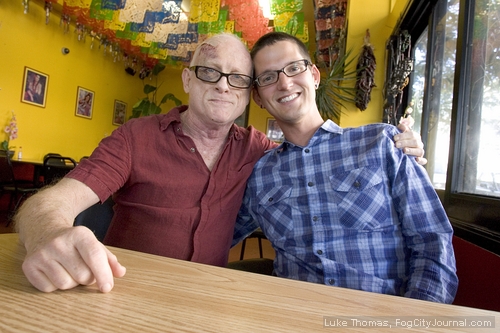 Former SF Ethics Commissioner Joe Lynn, RIP, and attorney David Waggoner.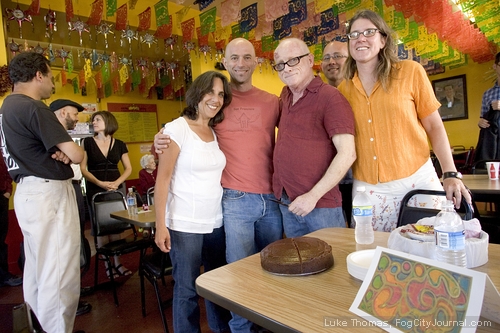 Joe Lynn with Sue Vaughan, Marc Salomon, Rafael Mandelman and Susan King.
Believe it or don't, it's all true and happened as I said it. The lesson I learned from Hongisto and Joe is that we don't end with our final breath. Our identities not only continue, but are able to communicate with those of us still earthbound and give notice and advice regarding future events. That works for me.
The party
I've been going to parties in that office for the past 9-years and this may have been the best overall. Certainly the validation of Joe's communication made it the most memorable. But, there were so many wonderful people and overlapping experiences that paralleled that.
From the Pirate Cat Radio presence (they broadcast from the top of Ross' desk) to an amazing little 4-piece band with singer/songwriter/keyboard player Jeremy Diamond-Ortiz who sounded like and played a bit better than Dr. John (Malcolm John "Mac" Rebennack, Jr.) … Luke Thomas walked over with me and got lots of shots that froze the moment in time.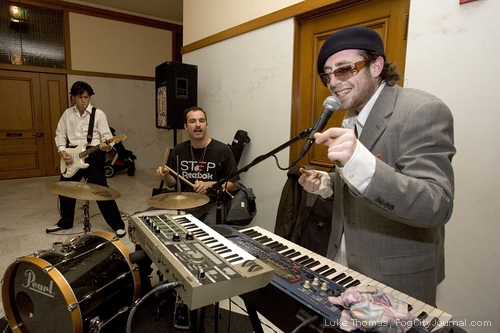 Jeremy Diamond-Ortiz and his band, ThE CLEaN-UP!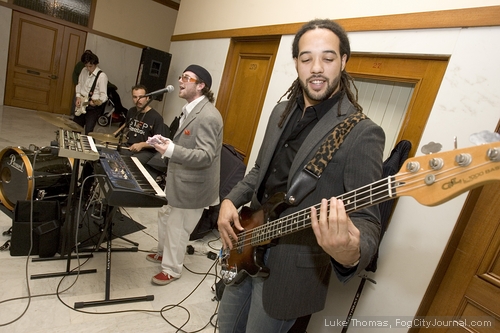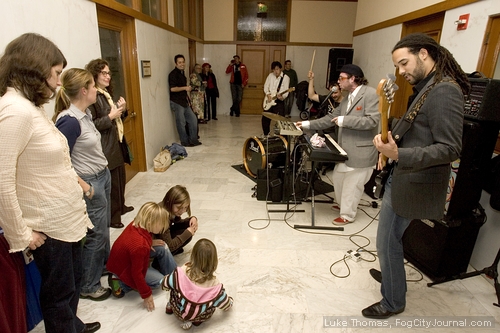 On the way over in the rain Luke asked if I thought the weather would keep the crowd down. No problem. It was the best-attended of all the parties over the last decade. Ross said the sheriff's deputies told him they were ordered to limit the gate to 200 people. There was a line snaked out and waiting to replace guests as they left. Hmmm, is this a matter for the Entertainment Commission?
I had the most fun talking to Tina Johnson and her little darlings Ally and Katie who are like 9 and 6. I hunkered down on the fab leather couch in Ross' office where a lady named Meg was sitting on the arm next to me. Introduced her to a couple of dozen folks as they passed by. At my age you learn to get stationary and sitting as soon as possible at one of these events. Like a sidewalk cafe in Paris, eventually everyone you know will walk by.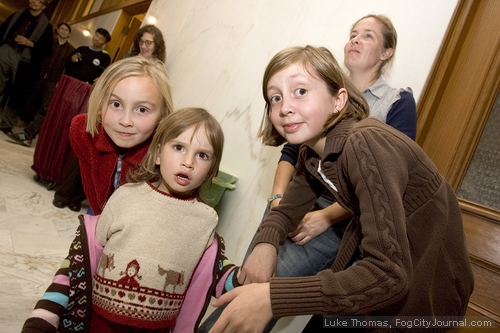 Ally, Amy, Katie and Tina Johnson.
I danced with Ali Uscilka in front of the band to the amusement of the crowd and had a good conversation walking Terrie Frye to her bus stop near my SRO. Did a short interview on Pirate Cat and got a hug from Enrique Pierce who's running Jane Kim's campaign for D6 supe I believe.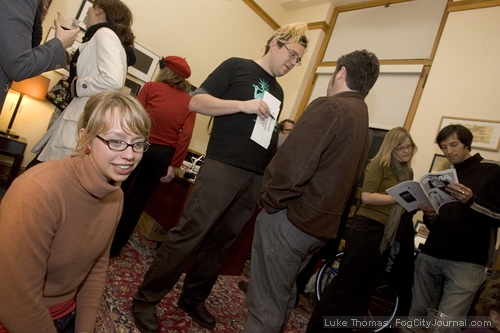 Ali Uscilka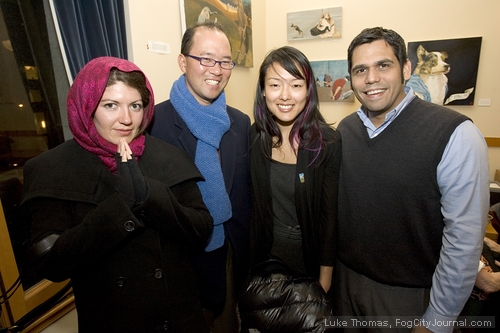 Such a Bittersweet Day co-author Sunny Angulo, Bicycle Coalition Board Member Dan Nguyen-Tan,
District 6 candidate-in-waiting Jane Kim and Left Coast Communications founder Enrique Pearce.
My son had asked me to see if Ross still had the two guns he used to own cause he was interested in buying them, but Ross said he'd sold them long ago and we talked about his brother (Ross') who just retired as a Major in Special Forces in the army.
The crowd was so large that I couldn't connect with Michelle Mongan (an old friend forever bound by a common cat) whom I'd attended largely to see. At least we were able to wave, albeit across a crowded room. Did get to chat briefly with Bruce Wolf and his service puppy, Charlie.
Luke took some great shots (I'm certain) all around. He got a couple of ex'es (not his) to pose (you guess which ones) which is always tough, but they'll never look better than they did last evening.
I was surprised at the paucity of office holders and candidates at a gathering that was certain to bring out people able to promote their careers. Mirk was there of course. Eric Smith (running in D-10) made an appearance, as did Jane Kim to whom I've already alluded.
Green Party spokesperson Erica McDonald, partner John-Marc Chandonia and their little Green toddler, Amy, moved beaming through the crowd (there were a half dozen or so kids who all paused when they saw someone who wasn't an adult and sized one another up).
I talked to Susan King and learned that her kitty and my old cat-sitting buddy, Lark, is feeling the tug of time which brought a tear to both of us. Bruce's pooch, Charlie, has also aged and seemed merely tolerant of the crowds he's always adored.
Bottom line
Joe Lynn was there and got his message across to me. It was somehow both an energetic and peaceful night in the San Francisco rain, filled with loving people socializing in the opulent marble halls with the gigantic holiday tree decorated with a thousand origami swans and all their best wishes at the top of the magnificent layer-caked staircase that climbed elegantly to the tree before the polished antique wood doors of Board chambers.
Happy holidays all.
Go Niners!
More Photos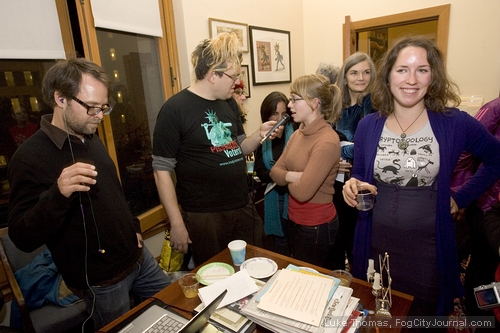 Pirate Cat Radio interviews Ali Uscilka
and freelance reporter Patricia Decker.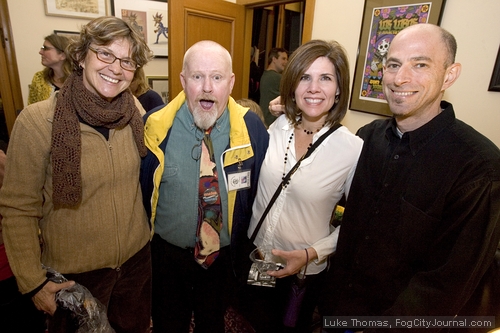 D6 candidate Debra Walker, h. Brown, FCJ columnist Hope Johnson and Marc Salomon.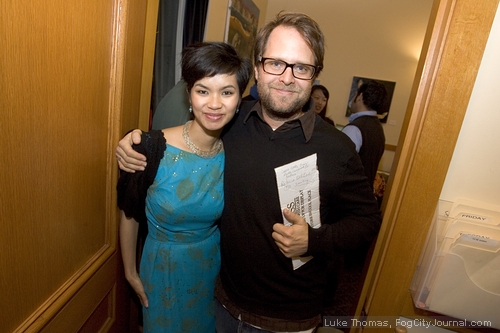 DJ Blue with mystery lady in blue dress.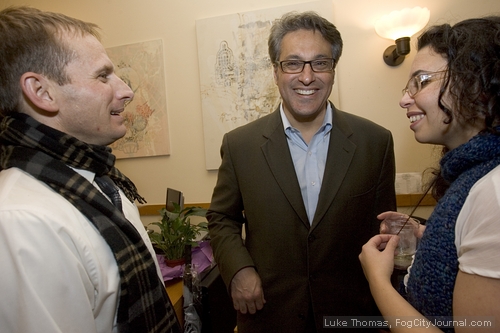 Ross making the rounds.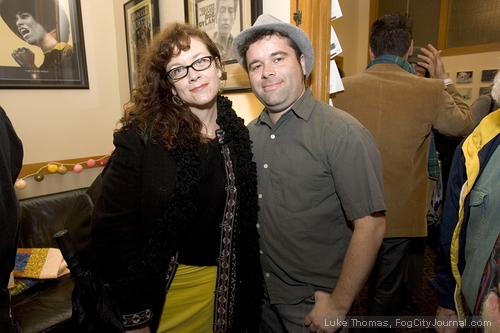 Supervisor Mirkarimi aide Jeremy Pollock and Keely Zahn.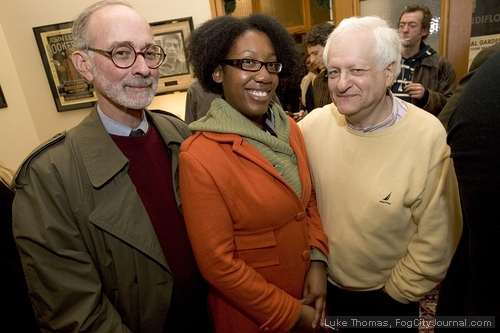 Peter Warfield, Shannon Hasson and Rick Hauptman.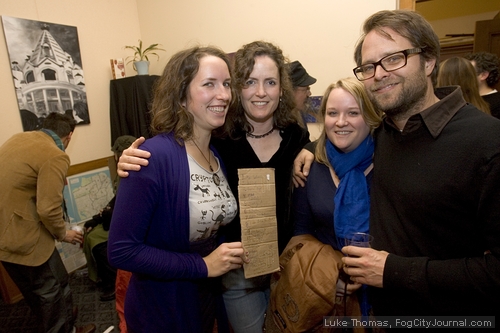 Patricia Decker, Karen Babbit, Beth Byrne and DJ Blue.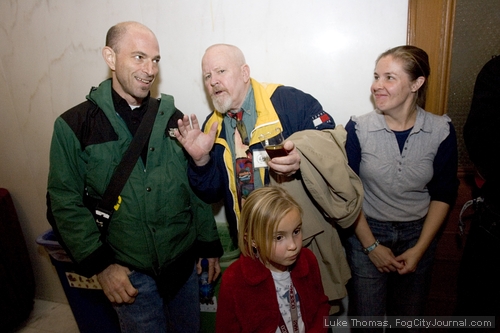 Marc Salomon, h. Brown and Tina Johnson.