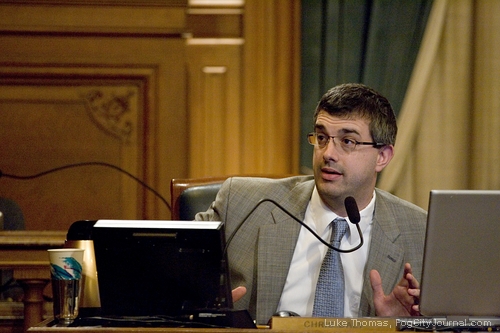 Supervisor Chris Daly
Photo by Luke Thomas
By Chris Daly, special to FogCityJournal.com
January 11, 2010
For 2010, I vow to use the word "fuck" in each of my remaining Board of Supervisors meetings.
A funny little status update on Facebook – 15 seconds to compose and share with my group of on-line friends. A minute more to link to the context, the Bay Guardian's Worst of 2009 column, where I was tsk-tsked for my use of the word at a December Board meeting.
But the update struck a chord in my Facebook community. By days end it received more "Likes" and comments than any other post I've made. By the end of the week, this post had generated me more than 100 new Facebook friend requests.
Within my circle of friends, mostly activists and progressives, there is a genuine frustration with the state of politics and the status quo. For those of us who were so energized and worked hard in 2008 to elect the change we could believe in, it was difficult last year to stomach the mortgaging of our future to Wall Street and subsequent healthcare sellout to the likes of Joe Lieberman. Or put more eloquently by one of my more soft-spoken, but well-respected constituents…
"Once again you have expressed how many of us feel. Fucked.
One year ago, despite confirmation worldwide that the plutocrats who own our nations had done their worst, I felt that some good things would happen in 2009. Coming into 2010, I felt depressed and helpless.  With great efforts and lots of time some of us might accomplish a few good deeds, but they feel like minor concessions granted by the powerful to distract us. We are unable to change the system nor, it seems, improve it. Greed, meanness and cronyism have become permanently ingrained."
Meanwhile, at the local level, we've been bogged down by budget cuts and have had most of our progressive initiatives blocked. In the last few years, with local dollars short, we've heard endless hours of public testimony on the worst of budget cuts – meals for homebound seniors, services for people living with AIDS/HIV, shelter for homeless people, mental health services for victims of violent crimes.  Some of the cuts we've been able to stop, but many have gone through. Meanwhile, when we've tried to slow recession-related evictions or grant due process to immigrant youth, the Mayor has wielded his veto pen or simply refused to enact the laws we pass.
"It's impossible to get anything done in our city. The age-old combination self-interest, cowardice and obscurantism. Our state magnifies the problems. Our country is awash in it. Isn't it refreshing to learn that instead of all those laments we can spare the air by uttering just one word? Chris has done it again."
None of this explains, of course, why a little Facebook status update caught wildfire in the mainstream press. In 2010, is the work "fuck" really so provocative that it's national news when someone says they're going to say it? Certainly not. I think George Carlin took care of that in the 70's.
The interest in this story from the media is its offbeat sensationalism – a politician vowing to use profanity in the public forum. That's not something you hear everyday. No policy is being defeated. No program is getting cut. No one is getting hurt. But that wasn't the case with my Facebook update the previous day…
We're getting our asses handed to us at the Air District by industry, developers, and politicians. Sorry clean air.
At Wednesday's Bay Area Air Quality Management District meeting, new guidelines to begin to deal with environmental injustice by cleaning up the region's most polluted communities were set to be adopted. Environmentalists and families who lost loved ones to cancer testified en masse to support the new guidelines. The opponents were some of the most powerful special interests including oil companies. Even though the District's mission is to clean the air, the votes on the Board weren't there for the new guidelines. By definition, we were considering a life and death issue (the guidelines deal with number of allowable deaths.) The communities in question, where people are 4 times more likely to die of cancer, are disproportionately low-income and communities of color. That's right, environmental racism was in full effect in that Boardroom, but there was hardly a peep from the press. (The only report appeared in the Contra Costa Times.) I guess I should have called it "fucking environmental racism!"
While the bias is typically more veiled, the decisions in City Hall haven't been any better. In the time I've been around, we have given some of the world's largest corporations hundreds of millions of dollars. We rewarded our highest-paid employees with lavish raises, while laying off lower-paid, front line workers who tend to be women of color. We took away tens of millions of dollars that was supposed to be for affordable housing. We ran homeless people out of drop-in centers. We turned over the last significant swath of undeveloped land to a rogue developer and received a bunch of campaign cash. We doubled MUNI fares and cut service.
As far as I know, we did all of this without using any bad words. The establishment is adept at delivering the truly profane without using any profanity. Representing entrenched power is downtown's political leader, Gavin Newsom. He has taken the lead on delivering the truly profane at City Hall. That's probably why he was so offended that I would use the word "fuck" at the Board of Supervisors, saying, "What other City would put up with this for so long? This is just one in a serious of acts and actions that doesn't just appear to be petulant, it is petulant."
Now, keep in mind, that is the same Gavin Newsom that fucked his appointments secretary. She was his best friend's wife at the time, so it's fair to say that he fucked his best friend too. That's probably why it's so difficult to believe the man's righteous indignation.
Unfortunately, it's not so easy for those of us who are challenging the status quo. Justice does not flow effortlessly like a river. We need to use each and every tool at our disposal. It can mean stepping on toes and ruffling feathers. It sometimes means saying things that people don't like. But I can say for sure, after 9 years in City Hall, little words are not what is truly profane.
"You have made the city more affordable for many people who have suffered the most.  You exposed corruption and taught me about the hypocrisy of journalism.  Now you have captured in one very descriptive word what I had been using many tedious sentences to express–fuck."
I vow to challenge the status quo, to fight for justice using every tool at my disposal, in each of my remaining Board of Supervisors meetings. I will ruffle feathers and step on toes. And I will certainly say things that some people don't like.