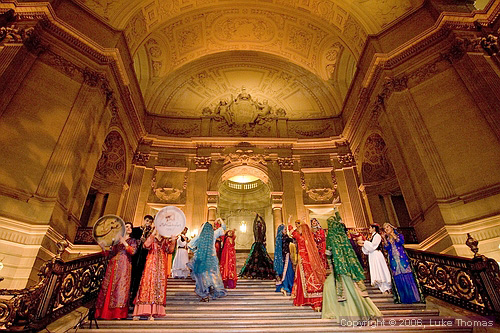 The third annual Norouz event, scheduled for Friday, March 21 has been postponed one week
due to a flap between event organizer, Turquoise Bridges, and Supervisor Ross Mirkarimi.
Photos by Luke Thomas
By Luke Thomas
March 18, 2008
Hold on to your Chelow Kebabs, folks – this year's City Hall Norouz (Iranian New Year) event has been postponed one week due to a flap between Norouz event organizer Turquoise Bridges and Supervisor Ross Mirkarimi.
Mirkarimi, who is the first Iranian-American to hold elected office in San Francisco and was instrumental in launching the first officially celebrated Norouz event at City Hall in 2006, was not invited to be a guest speaker at this year's event.
In other words, Mirkarimi, who has become the patron saint of all things Persian and a beacon for the Iranian diaspora, has been snubbed.
"The board is very interested in bringing unity to the community," Turquoise Bridges founder Nazly Mohaje told Fog City. "They don't want any hint of division in the community."
"We're not a political organization, we're a peace organization," Mohaje added.
That division, we're told, was created as a result of political differences between Mayor Gavin Newsom and Mirkarimi. Newsom, according to Mohaje, is "extremely popular with the Persian community. They don't like the animosity between Mirkarimi and Newsom."
Mohaje also did not appreciate the ever-judicious Mirkarimi highlighting Turquoise Bridges' non-sanctioned use of the City's Seal in their 2006 and 2007 invitation literature authorized by the mayor's office.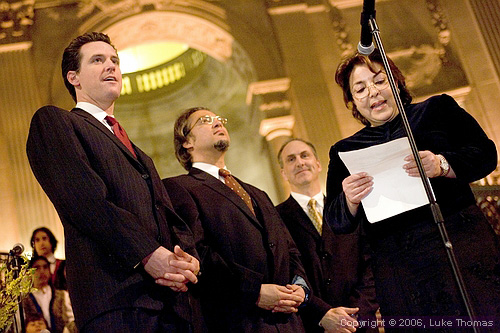 Turquoise Bridges founder Nazly Mohaje (right) , Supervisor Ross Mirkarimi (center)
and Mayor Gavin Newsom (left) at the first official celebration of Norouz
in San Francisco City Hall, 2006.

Unrelated to the snub, Mirkarimi announced he will host a Norouz celebration of his own at his City Hall office at the same time Turquoise Bridges scheduled their event in City Hall's rotunda on March 21, and that's when the Turquoise Bridges board decided to postpone their event one week to March 28.
"I am thrilled to see as many Persian Norouz events now being celebrated throughout the United States," Mirkarimi told Fog City. "However, I am concerned that some of these events are becoming more exclusive and more political which is why I decided to hold a more modest and free Norouz event in my office on March 21."