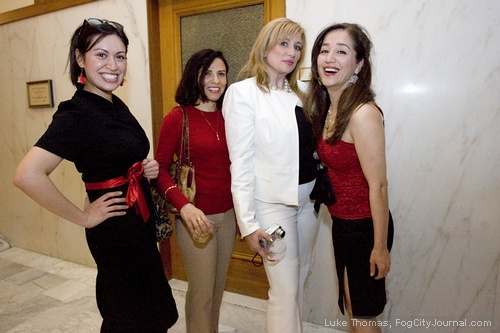 Elaine Santore, Sopida Siadat, Beyond Persia's Lalé Welsh, and Sasaneh Solaimani.
Photos by Luke Thomas
By Elaine Santore
March 24, 2008
Nowruz Deed-o Bazdeed
After a week of anti-war protests, police brutality and comment sockpuppetry, Fog City Journal was happy to celebrate the the Persian New Year at Supervisor Ross Mirkarimi's monthly art party in City Hall. Mirkarimi used this month's party to celebrate Nowruz Deed-o Bazdeed.
Nowruz Deed-o Bazdeed refers to visits with family and friends during the first 12 days of the Persian New Year. An adjoining conference room was transformed into a gorgeous spread, with fruit, Chai and Shirini, or Persian sweets. Despite the mostly progressive attendees, there was no brown rice anywhere.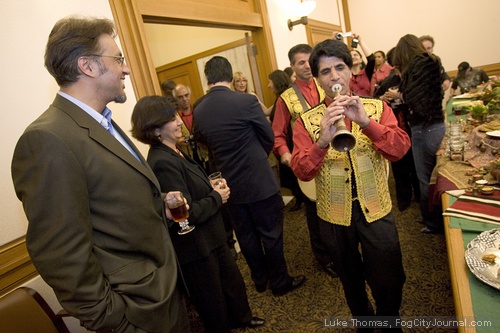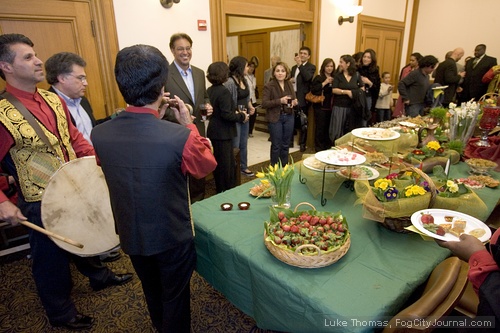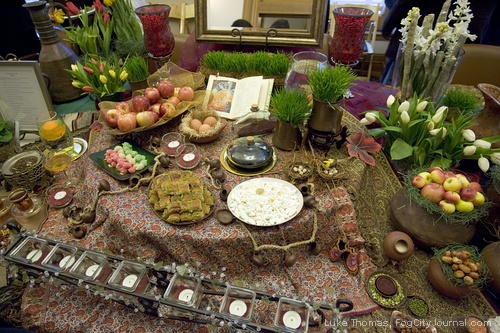 Where are the Chelow Kebabs, Luke?
"This event has a low carbon footprint: it's free," Mirkarimi said, referring to the previously scheduled Norouz City Hall event organized by Turquoise Bridges.
Turquoise Bridges has since rescheduled their event for Friday, March 28.
Mirkarimi said he's attended about 10 Norouz events already, including one in Berkeley.
"There was Persian hip-hop, and I got up on the tables and spoke, which was a different kind of revolution," he said. Let's hope he sticks to his day job.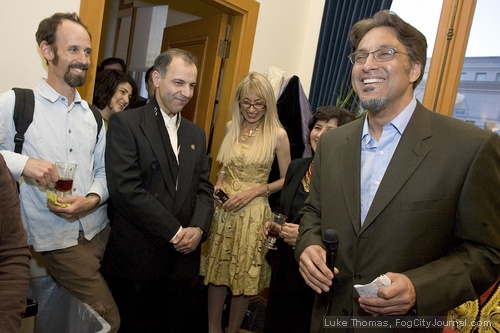 Artist Mohammed Hourian (second from left) and Supervisor Ross Mirkarimi.
Mirkarimi opened his office to three popular Iranian artists: Nasser Ovissi, Zaman Zamani and Mohammad Hourian. Each piece represented Persian New Year themes. He was quick to note that this wasn't a political or a religious event. Of course, this prompted Tina Johnson to call it a "poligious" event.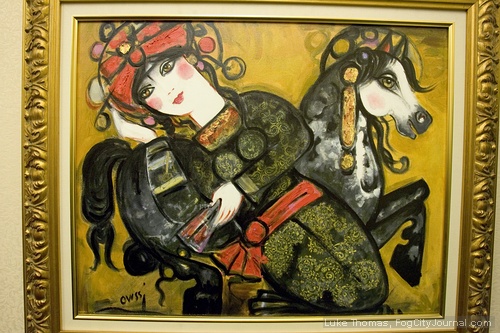 A painting by Nasser Ovissi.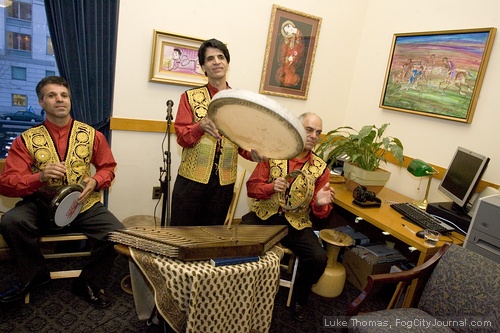 The Ebrahimi Brothers provided traditional Persian entertainment.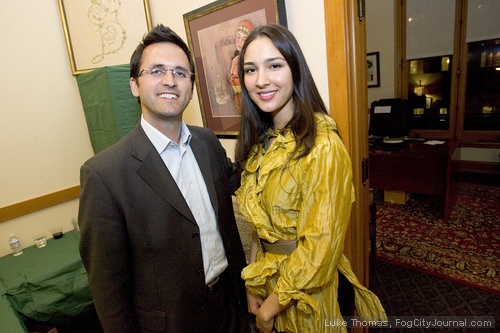 District 11 Supervisor candidate Asha Safai and Mishana Hosseinioun.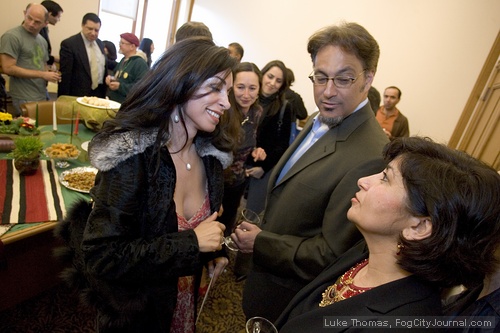 Fariba Rezvani and Ross Mirkarimi.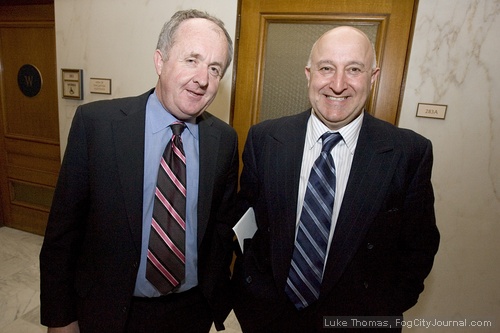 The RBA's Joe Cassidy with SOMA magazine publisher Ali Ghanbarian.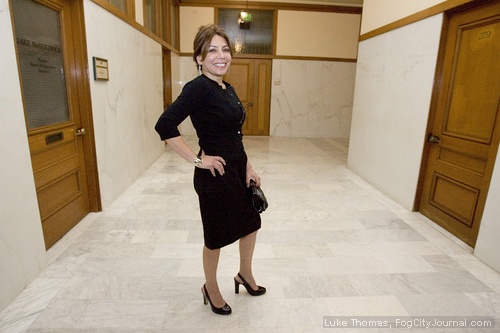 The lovely and talented Evelyn Nieves of the Associated Press.
More Information:
Nasser Ovissi: www.galleryovissi.com
Zaman Zamani: www.zamanzamani.com
Mohammad Hourian: www.hourianart.com
Ebrahimi Brothers: www.bazmyband.com
James Carville celebrates Holy Week with blasphemy
After New Mexico governor and ex-Bill Clinton staffer Bill Richardson endorsed Sen. Barack Obama Saturday, former Bill Clinton campaign strategist and Sen. Hillary Clinton supporter James Carville made the following statement to the New York Times:
"Mr. Richardson's endorsement came right around the anniversary of the day when Judas sold out for 30 pieces of silver, so I think the timing is appropriate, if ironic," Mr. Carville said, referring to Holy Week.
Time to call Diddy, because there's some serious bitchassness in Carville's statement.
And is Carville comparing Bill to Jesus? I thought Obama was the Christ figure in this narrative.
Very poligious, indeed.
Somebody needs to tell Carville and the Clintons that they had their moment in the '90s but now it's over. They've joined the land of Melrose Place, Step By Step, belly chains, and mom jeans in the lexicon of American history.