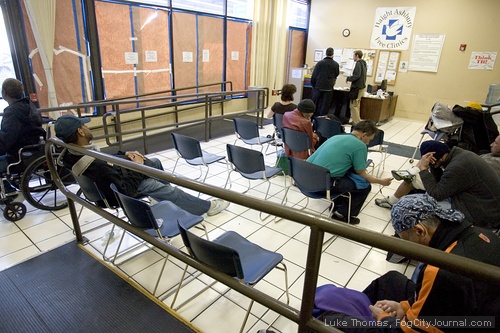 Buster's Place, a drop-in center that offers a temporary respite
for San Francisco's homeless population,
is slated for closure March 31 due to budget cuts.
Photos by Luke Thomas
By Nicholas Olczak
March 25, 2008
Maybe you've heard the name, or driven past the rust red building beneath Highway 101, but Buster's Place is more than just a building or a name. For many San Francisco homeless people, Buster's Place is an island of safety, a temporary reprieve from the rough waves of crime, drugs and hunger that plague our city streets.
Ever since the Haight Ashbury Free Clinic opened the 24-hour drop-in center in 2007, hundreds, perhaps thousands, have come here to take a shower, to eat a meager sandwich, to use the phone, to get information, to sleep, launder clothes, or just to find protection and shelter from a cold and rainy San Francisco day or night.
Now the center will close because Mayor Gavin Newsom has denied the facility its funding, stating there are higher needs elsewhere.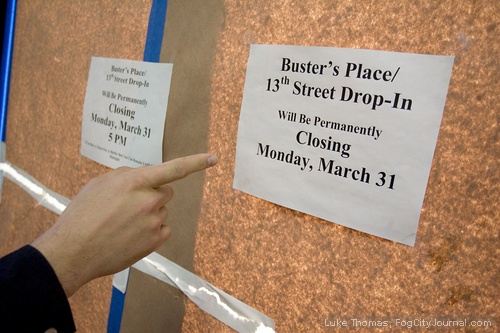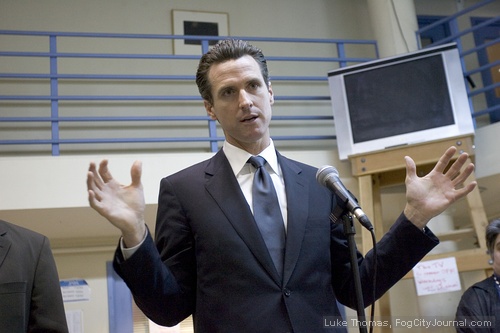 Mayor Gavin Newsom
Walking into Buster's Place, it's hard to appreciate this redundancy. Almost all of the 50 plastic chairs in the tattered room are full. A man is scrunched up in the corner, his hat pulled down over his worn face as he takes advantage of the chance to sleep. Close by, a lady mutters to herself as she sorts through a cart piled up with her only belongings.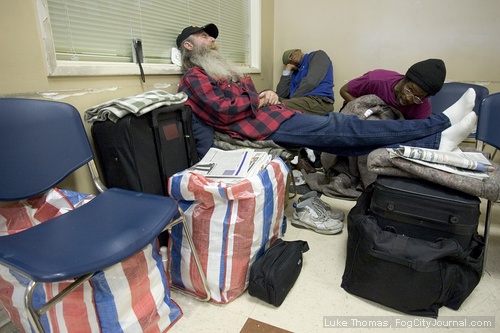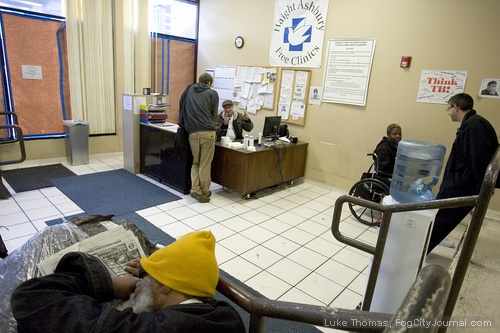 "Last night we had 90 people here," the on-duty supervisor Louis Ramon said, adding that on average they get about 100 people a day at Buster's Place.
"We see all kinds of people, from all walks of life," Ramon explained, from 18 year-old kids who can't pay their rent, to 75 year-old women made homeless because a spouse passed away.
Ramon stresses how the center has "a nice community feeling," adding "It's odd for a resource center to have that."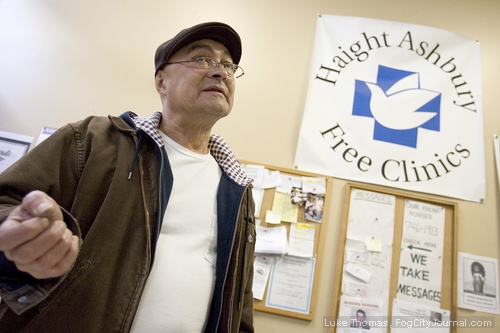 Buster's Place counsellor Louis Ramon
I talk to Quinton Adams who came here to take a shower and wash his clothes.
"That's necessary," Adams said. "A lot of people living on the street and asking for change… things are a little bit worse for you if you smell bad. It makes you feel a bit more civilized."
Quinton has been homeless since he moved to San Francisco from Ohio. Buster's Place offers him a fallback when he cannot get into a shelter with a bed.
"If I don't get a bed I can at least just sit here," Adams said. Other times, it's just a place to escape from the pressures of the street. "It's warm. Why'd anybody wanna be on the street? It's somewhere I can chill until I can get myself stable. And they're taking that away, that's gonna be real hard."
Ramon readily offers other case studies of times when the center has served immediate needs. He tells me about Mr. Fargeem who came to Buster's Place after being kicked out of Walden House drug and alcohol rehabilitation center for using.
"He needed to be in a detox program real quick, 28 days – that's what they required of him." Ramon explained. "So he came through here and we called up every place we possibly could until we got somebody to do a medical detox with him."
After this emergency care Mr. Fageem was able to re-enter a residential program.
Another example is Hayden Edwards who came to the center with mobility problems and mild dementia that made it difficult for him to access care and articulate his needs.
"Nobody sat and listened to him to figure out what his needs were," Ramon said. "He came through here and needed case management, needed somebody to talk to him and give him an assessment right away."
Buster's Place gave him this care, getting him into Fort Miley Medical Center for treatment. "He's doing pretty well now," Ramon said with a proud smile. "We still have his wheelchair out back."
Edwards' case is an example of the exceptional service that Buster's Place provides to handicapped and disabled citizens. The center is fully accessible, with a long ramp to the door and wide spaces for wheelchair users to gather, and modified shower stalls.
"People with wheelchairs can take their showers here because there's nowhere else to go," Ramon stated. The only other option is Multi Service Center South, which the center supervisor says is crowded and only has cold water. I suggest it might be extremely difficult for disabled people to get to other centers and he leaps to agree.
"We hear that all the time, disabled people saying 'I'm glad you're here' because they have no access otherwise," Ramon said.
One plan considered to save Buster's Place is the re-appropriation of funds earmarked for the construction of a costly wheelchair ramp to access the President's podium in City Hall's legislative chamber. Neither program should be sacrificed, but as one almost certainly will, it is worth asking which cuts are likely to inflict the most damage in terms of the number of individuals impacted.
Commenting on the issue last week, Supervisor Chris Daly said the Board of Supervisors should "attempt to do our best to mitigate harm, especially when it comes to communities or groups who are particularly vulnerable."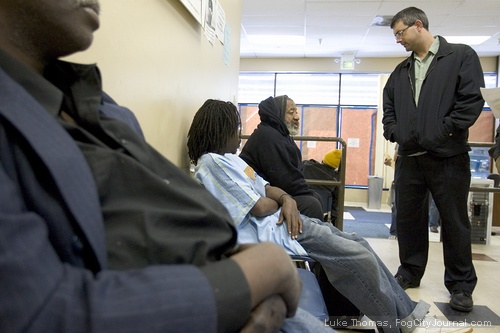 Supervisor Chris Daly talks to Buster's Place clients
explaining he is doing all he can to save the drop-in center.
What alternatives will those who depend on Buster's Place have once it closes next month?
The Mayor's Office hopes re-opening the 150 Otis Street shelter will compensate for the loss of services at Buster's Place. Alongside Otis' 30 drop-in-center chairs, the Mayor's Office claims it will have the advantage of offering 32 beds. But this does not come close to accommodating the 100-plus people who will be turned away from Buster's Place.
A similar center in Bayview-Hunters Point may add to the drop-in center options, but staff at Buster's Place point out that, "People don't like to go to the Bayview because it's too far away. It's a problem of getting back."
When justifying the cuts, the Human Service Agency promised to engage with clients to help them find alternative services. But Ramon said the agency is only likely to offer about 20 placements. He adds that their "very specific qualifications" about whom they'll help – principally people with severe mental health issues – will not include many of the clients from Buster's Place. The closure is leaving a huge gap both in the positioning of services citywide and in the provision of particular types of care.
The cuts can be seen as part of a broader move by Newsom to get rid of what he calls "the silo system" of homeless support. Instead he hopes to focus on the city's two largest centers, Episcopal Community Services Next Door and St. Vincent de Paul Society Multi-Service Center South, redesigning shelter services to help move people into permanent housing.
Many would argue this is like pruning a tree while letting its center rot.
Daly, who presides over District 6 where most of the City's homeless can be found, said the two main shelters offer "only 600 shelter beds, so you can redesign that all you want, but when you understand there are probably a couple of thousand homeless people…what about the rest of them?"
"It is like rearranging the deck chairs on the Titanic," Daly said.
Buster's Place has served a vital role in absorbing those who don't get into shelters each night. Once it is closed, a system that's already bursting is likely to be overwhelmed.
"Mission Resources will get swamped," Daly told Fog City Journal referring to Mission Neighborhood Resource Center, a drop-in center that caters to homeless clients in the Mission District. "It's gonna be rough," adding that the Mayor's Office doesn't really have a plan for dealing with the situation.
Staff at Buster's Place point out Newsom's promises of housing are no good to people who "don't know how to live by themselves."
Together with Daly, they stress how Buster's Place offers homeless citizens a vital "step one" – before they have gotten into shelters; before they are stable enough to enter other support networks. By offering a place away from the street, Buster's Place provides homeless people a chance to begin moving towards a better life.
Looking around at the different faces in the room, the thick beards and sagging eyes, I'm overwhelmed by the expressions of weariness. These people, so tired of suffering, can find some solace here.
And now, just to save a small fraction of the City's budget on questionable alternative uses, Newsom is expected to displace hundreds of individuals who may have no place to sleep other than on the hard downtown streets of San Francisco.