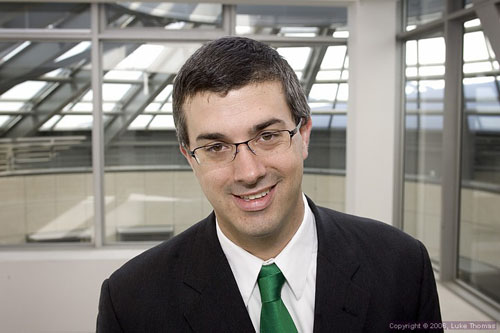 District 6 Supervisor Chris Daly
Photos by Luke Thomas
By Chris Daly
April 2, 2008
I spent last Saturday with my family in San Jose at the California Democratic Convention. It was my first time participating in the State Party's main event. I bumped into Steve Westley in front of the Obama table and told him that I'd likely support him this time if he made another run for Governor.
While grabbing an informal lunch, Jerry Brown with entourage and the Progressive Caucus were seated at tables opposite to the youthful Daly clan. Loni Hancock even asked if Grace had already joined Code Pink. (We're still waiting on Medea Benjamin's promised Code Pink onesie.)
Gavin Newsom, shadowed by the real Mayor, Eric Jaye, stood in the lobby trying to look important, as Willie Brown was importantly whisked through the crowd. And yet, all of this was merely the sideshow.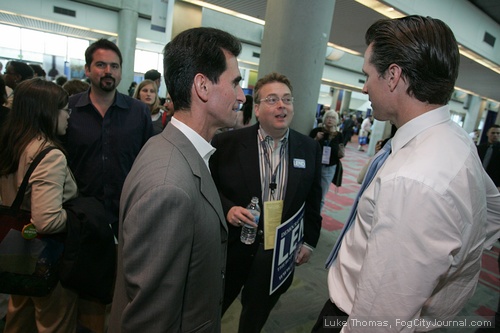 Mayor Gavin Newsom with Assemblymember Mark Leno
and political consultant John Whitehurst.
Apparently, at these kinds of events blood sport is the real spectacle, and the civil war between Mark Leno and Carole Migden raged in the corridors of the Convention Center. At one point, Leno and Migden battalions almost physically collided. That is when it hit me again – this race is much more than just a feud between career politicians who have little difference on the issues. This race is about the future of progressive political power in San Francisco.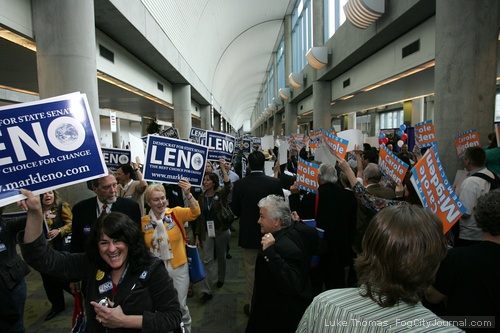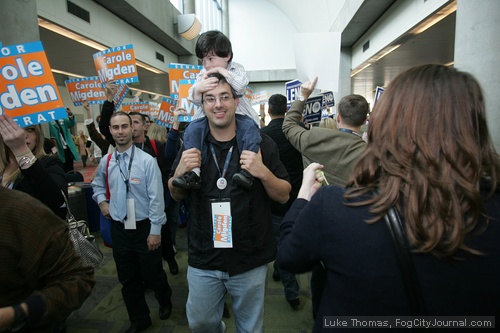 I have written about Mark Leno's political operation before, so I shouldn't have been so surprised to witness it. Maybe it had to do with the air of change at this year's Democratic Party Convention. But sure enough, commanding the Leno battalion were none other than downtown's top political operatives, John Whitehurst and Mark "Republican-lite" Mosher. (Like a kinder and gentler Karl Rove, Eric Jaye called shots in from the wing.)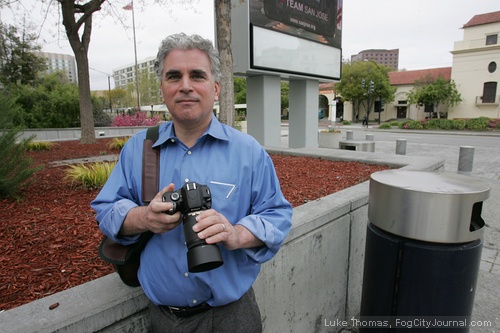 Waiting in the wings and calling the shots, Eric Jaye.
The Republican sleaze was about to get going.
It seemed that Carole's campaign, with significant progressive energy, had out-organized Leno, as the 3rd Senate District Caucus voted overwhelmingly to endorse Migden for re-election. Not that there wasn't drama. When Carole was introduced to speak, Leno shills began to holler "Nine million dollars," a reference to the counter suit brought by the FPPC against Migden in response to a dispute over campaign funds.
The smear was on.
Shortly after the vote, Leno operatives descended on unsuspecting delegates with a parade of hit-pieces against the Senator, asking for the Convention to overturn the endorsement of the caucus. With messages like "On Carole Migden… JUST VOTE NO!!!" and "She is NOT Worthy of Endorsement," BMW finally convinced Leno to go public with his negative campaign, depositing Mark's "Clean Campaign Pledge" into the dustbin. John Whitehurst is not kidding when he promotes his tenacious approach.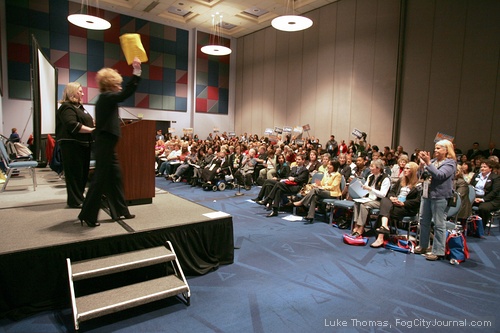 Senator Carole Migden waves a copy of a hit-piece
distributed by Mark Leno supporters during the CDP convention.
But with yesterday's ruling in federal court, it appears that Carole was right about her dispute with the FPPC over their move to freeze her campaign funds. Given the cozy relationship between BMW's Mark Mosher and Governor Schwarzenegger, one can't help but wonder whether Migden's problems with the FPPC have more to do with partisan politics than campaign finance laws.
We've witnessed a lot of Republican dirty tricks over the years. Now the Republican Chair of the FPPC, Ross Johnson, may be using the power of his seat to try to knock out one of the most progressive members of the State Senate. This would come as no surprise to those that followed Johnson's career in the legislature as Republican leader, oftentimes battling then-Assemblymember Migden. Maybe he too is taking his cues from the political consulting and lobbying firm of Barnes, Mosher, and Whitehurst.
As Republican dirty tricks are employed by the Leno campaign to attempt to unseat Senator Migden, progressives should remember how Carole has used her position in Sacramento to favor progressive candidates and causes in San Francisco. As we approach critical Supervisor races this November, progressives need Carole in Sacramento to deliver.