By Eric Louie, special to Media Workers Guild and Fog City Journal

January 29, 2012
Khalid Shakur was riding his bike past police Saturday at the start of Occupy Oakland's "move-in day." Protesters were planning to establish an indoor residency for the movement in a vacant building. But the Oakland authorities were having none of it.
Words were exchanged. Shakur was told bikes weren't being allowed into the plaza outside City Hall. Officers pulled Shakur off the bike and briefly took him into custody.
Protesters still assembling for the noon start time jumped into action, aiming their cell phone cameras to record the police action, shouting condemnations as more officers arrived in vans. Although the police soon left, the early confrontation set the tone for what would become a day and night of intense and violent clashes between law enforcement and Occupy.
Before it was over early Sunday, demonstrators had broken into City Hall, pelted police with rocks, and were twice turned back from establishing a new headquarters. Police responded with tear gas, flash grenades, bean bag bullets and, at times, excessive force.  By days end, more than 300 people were arrested.  Several injuries were reported, involving both police and protesters.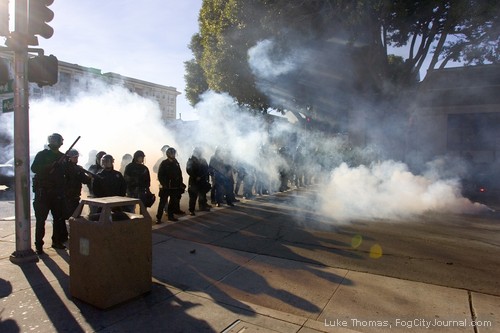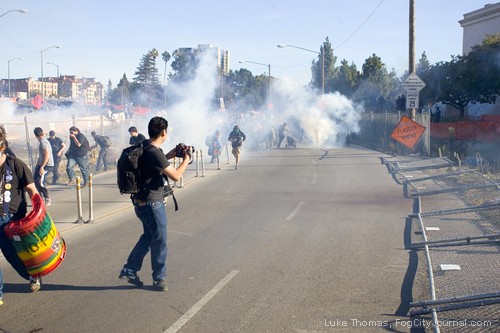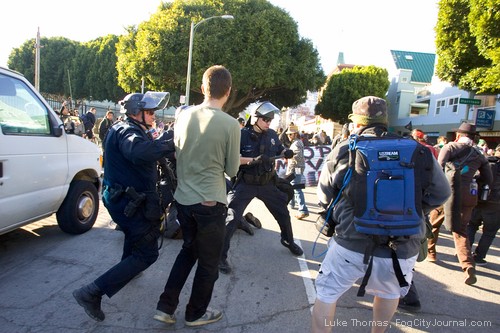 Shakur, 43, was freed shortly after he was detained – he said he had some pending charges against him from previous Occupy melees, but there were no warrants for his arrest. He warned the crowd to be cautious. He noted that police had photos and names of people suspected of criminal activity.
Occupy speakers told of victories since the movement started last September, including a tentative agreement for union longshore workers in Longview, Wash., in their dispute with a giant grain shipper.
A sound truck carrying dancing demonstrators gave the scene a festive atmosphere. But speakers anticipating there would be arrests also gave out phone numbers and advice for legal help. Some in the crowd carried plastic garbage cans cut into shields.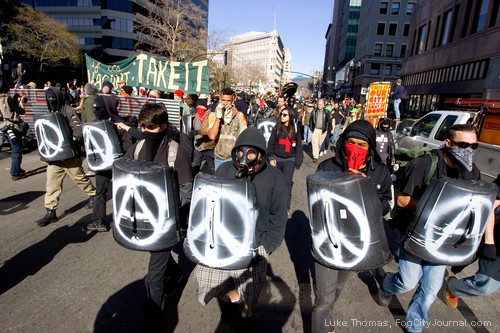 As the protest began, several hundred people marched through downtown. Some pushed wagons loaded with canned food, bread and cooking equipment to be used for the move-in.
Organizers kept the building targeted for takeover a secret, so the exact route was a mystery to most of the marchers. After winding through Laney College, the crowd ended up at the vacant Henry J. Kaiser Convention Center, where police were ready.
From 12th Street, which separated the building from Lake Merritt, protesters fought to gain ground, throwing rocks and other items over a chain-link fence. Police responded with tear gas as a few with rifles kept watch. Police later said they also fired bean bags.
Warnings to disperse sounded over a loudspeaker. "You must leave this area immediately," a police sergeant announced. "Chemical agents may be used if necessary."
Demonstrators withdrew, returning to the Ogawa Plaza, but more confrontations developed when the protesters got too close to police lines. At the plaza demonstrators rested on the stone steps. They ate soup and cold pizza provided by the volunteer kitchen.
"This is historic," said "Diamond" Dave Whitaker, 74, a San Francisco resident who said he was a veteran of causes dating back a half-century.
As the sun set, the protesters went on the move again, marching through downtown. Police followed. Along the way someone opened up a fire hydrant. At The Uptown apartments, a complex of highrises, officers circled the few hundred protesters. A police helicopter hovered with a spotlight. Police ordered protesters to leave, but exits appeared to be blocked. When police fired more tear gas, the demonstrators tore down a chain-link fence, and the march continued.
As many as three-hundred protesters found themselves trapped when OPD officers formed two lines at the intersections of 23rd and 24th streets on Broadway Avenue. Realizing their options were slim, protesters attempted to seek protection at the YMCA before police with batons raised, gas masks affixed, face shields down, moved in with force and physically corralled the protesters.
A few protesters made it inside the YMCA.  More than 100 people were arrested on charges including breaking into a building and unlawful assembly, said police spokesman Jeff Thomason.
"This is not a vacant building," he said as those arrested were being processed on the street outside. However, some of the crowd gathered said police cornered them and they were not able to leave.
Their numbers were dwindling, but a couple hundred protesters pressed on, and decided to hold their weekly Saturday night rally against police, marching to police headquarters where officers were waiting.
Demonstrators and police clashed again when a people got into City Hall, where they vandalized the building and burned an American flag while news photographers recorded the scene.
Eventually police, including reinforcements called in from Marin and San Francisco counties, closed the streets near the plaza and the crowd dispersed.
Protest organizers said they would continue Sunday with a planned festival including music and speakers. It was to have been staged in an occupied building. Instead, it would be happening outside, organizers said.
More Photos