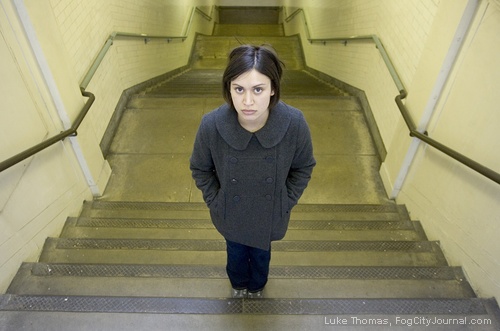 Elaine Santore
Photos by Luke Thomas
By Elaine Santore
February 22, 2008
Daly salutes Bayview Affordable Housing Initiative volunteers
Supervisor Chris Daly hosted a thank-you reception at Temple Bar Thursday for all the volunteers who helped gather over 11,800 signatures to qualify the Bayview Affordable Housing Initiative for the June ballot.
The initiative will go head-to-head with Lennar Corp.'s Bayview Jobs, Parks, and Housing Initiative. Lennar's petition qualified Wednesday. Daly's petition is currently awaiting certification from the Department of Elections.
"The stakes are very high. You wouldn't know it from the money we spent. We spent about $3,000. We were able to do almost the same thing Lennar did with over $1 million spent to date," Daly said.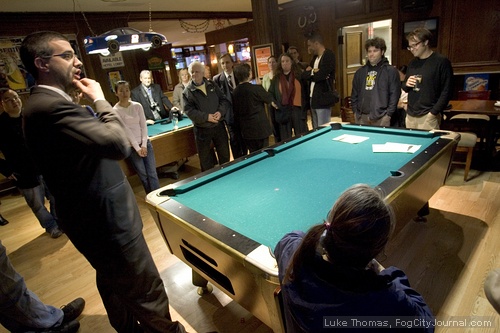 Supervisor Chris Daly addresses supporters at Temple Bar.
One of the names on Lennar's measure was Mayor Gavin Newsom. But Newsom's signature alone would have been enough to get the measure on the June ballot, Daly noted.
Daly gave special thanks to volunteers Larry Haynes who collected 700 signatures, James Keys who collected 600 signatures and Donna Linden who collected 100 signatures. Daly also collected 600 signatures during the 10-day petition drive.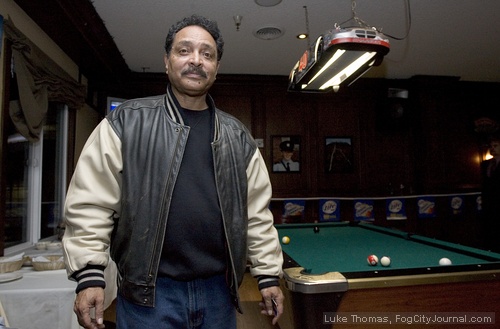 Volunteer Larry Haynes.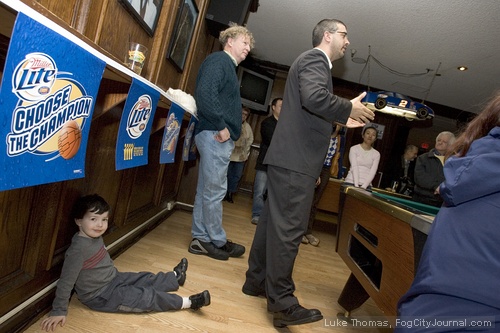 Jack Daly, POWER's Brian O'Flynn, and Supervisor Chris Daly.
FCJ interviews Debra Walker following BIC presidency demotion
Department of Building Inspection comissioner and tenant advocate Debra Walker was ousted as president of the Building Inspection Commission Wednesday.
After an election held during the BIC's regularly scheduled meeting, Commissioner Frank Lee was elected president, and Commissioner Mel Murphy as vice president.
Fog City Journal editor Luke Thomas spoke to Walker Wednesday following the commission's decision.
FCJ: "Can you explain what happened today?"
Walker: "The mayor has put pressure on the commissioners that he has appointed to support his choices for both president and vice president."
FCJ: "Was it a special meeting?"
Walker: "Regular meeting. We were required to hold elections at this meeting every year. What happened was that there was pressure ahead of time from the mayor for his commissioners, and he basically said if they wouldn't support Mel Murphy, who was the mayor's choice, or one of the mayor's choices, that they would be removed. And one of them was Mike Theriault."
FCJ: "Is Mel Murphy on the commission?"
Walker: "He's a commissioner, he's been on the board for a couple years, and he's a contracter. He became the vice president because one of the mayoral appointees who was being pressured said he was not going to support Mel, so they put forward Frank Lee who actually is the assistant director of DPW as well."
FCJ: "Do have any idea why this happened?"
Walker: "Two reasons. The mayor is going after the Board of Supervisors and is trying to eliminate any potential progressive leadership role models in advance of the district elections, both in 2008 and 2010. Also, as president, I actually tried to address some issues that they would prefer addressing behind closed doors like tall buildngs, like public peer review process, to be consistent with the Brown and Sunshine. The seismic retrofit funds, which has been raided by the mayor to provide solar panels for homeowners, instead of seismic upgrade monies for things like residential hotels and low-income apartment house rentals. That's where the CAPSS, the Community Action Plan for Seismic Saftey, is headed and we probably need that money and more that's available, and the mayor wants to put it over to greening."
FCJ: "What project or projects do you think you've been involved in that haven't been pushed through fast enough that may have led to your demotion?
Walker: "I actually think that at this point I'm trying to slow down our business re-engineering that they're trying to reform… our whole practice. It affects other departments. It certainly affects staff. They're trying to push it through to try to attach to this budget, and I said, 'No, I don't want to do that.'"
FCJ: "When did that happen?
Walker: "Today. But it's been happening. There's an interest to have an unimpeded motion put forward."
FCJ: "Who put today's motion forward to vote on the presidency?"
Walker: "Vahid Sattary, he's the one who nominated Frank Lee. Somebody nominated Mel Murphy, it might have been Vahid as well, that nominated Mel Murphy as vice president."
FCJ: "Do you think the word came from the mayor through Sattary to put the presidency motion forward?"
Walker: "Yeah, exactly. For both of us. The mayor's office already called and pressured them, pressured all of them. And pressured Mike Theriault. Do you know Mike Theriault?"
FCJ: "No, I don't."
Walker: "Mike Theriault is a building trades guy. He ran for DCCC with the support of the Milk Club and many other groups. He was pressured and refused to vote for the mayor's people. He wanted to support me, and the mayor took him off."
FCJ: "Do you think this has anything to do with the battle between Newsom and Aaron Peskin? Didn't Peskin appoint you to the DBI commission?"
Walker: "This is all about the battle, too, between the mayor and Peskin. But that's all about district elections."
FCJ: "What do you mean? Please explain how this impacts district elections."
Walker: "The mayor's office has been dealing with things very aggressively – conflicting, not wanting to work with anyone anymore, but more oppositional. And I think that is to draw distinctions between the mayor's candidates and the board's candidates. They've been consistently tarring and feathering the Board of Supervisors actions. The board just recently disapproved some of their appointees. The last thing they want to have is a strong progressive woman preparing for District 6 elections in 2010."
FCJ: "Do you think it's about that?"
Walker: "I think it's all of that. It works into all of their schemes."
FCJ: "What do you think is the number one reason for your ousting as president"
Walker: "They want to build whatever they want, whenever they want it."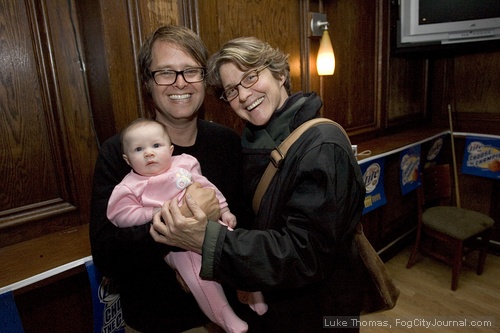 Debra Walker (with Andy Blue and Grace Eolen Daly)
in better spirits at Temple Bar Thursday.
Following FCJ's interview with Walker, Thomas asked Board President Aaron Peskin what he thought about Walker's demotion.
"I think it has more to do with their desire to control the commission," Peskin said, referring to the mayor's office.
Bonus Caption Action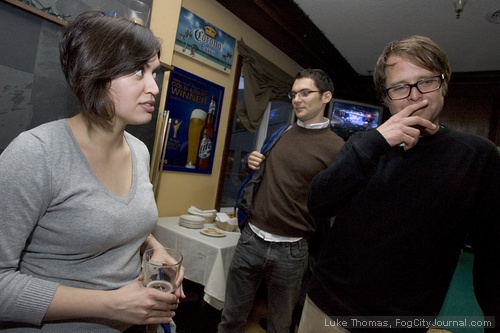 Elaine Santore, David Owen, and Andy Blue try to have a private conversation …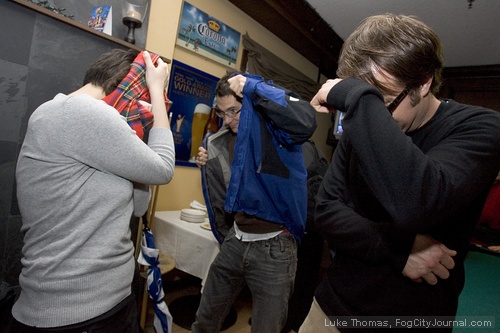 … but cannot escape the glare of the paparazzi.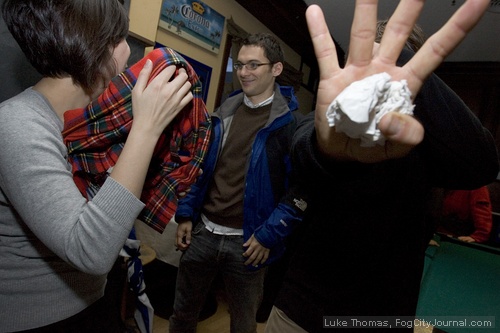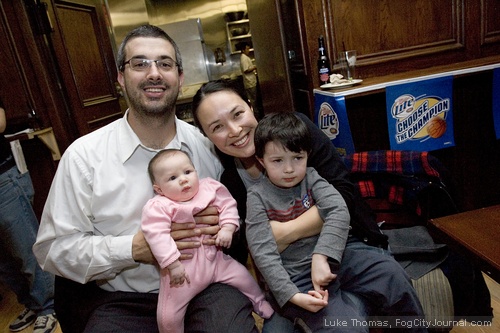 Finally Thomas gets a Daly family portrait: Chris, Sarah, Jack, and Grace Eolen Daly.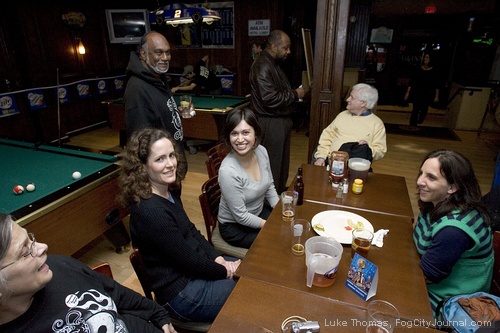 Terrie Frye, Karren Babbitt, Francisco DeCosta (thanks for the lovely sandwiches),
Elaine Santore, Rick Hautpman and Susan Vaughan.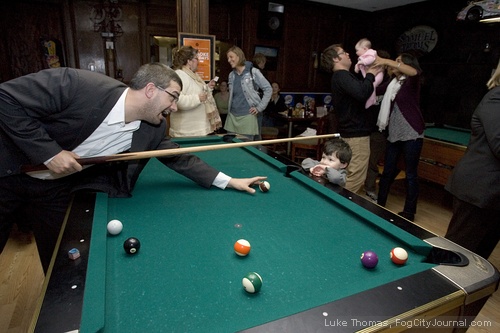 "No moving the ball, Jack!"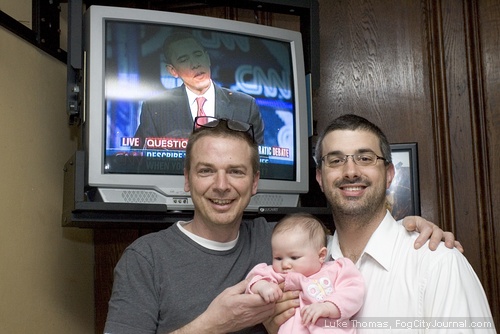 Senator Barack Obama: "Hey Luke, Chris and Grace, thank you for your support."
Photo by Andy Blue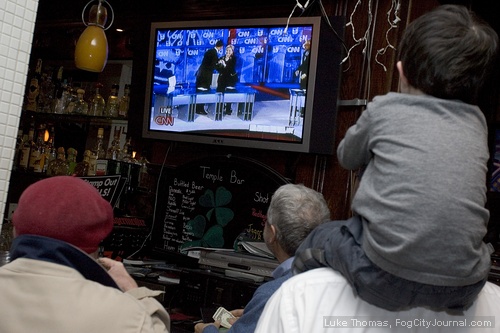 McCain faux-scandal hits the news
Republican presidential candidate Sen. John McCain got a rude awakening Thursday when the New York Times ran a 3,000-word article about a rumored affair with a female lobbyist eight years ago.
"A female lobbyist had been turning up with him at fund-raisers, visiting his offices and accompanying him on a client's corporate jet."
I stopped reading there. Any story that opens with a reference to a corporate jet is bad news. I refuse to fall into this trap, New York Times!
But I did read the last sentence, a statement from the McCain campaign:
"Americans are sick and tired of this kind of gutter politics, and there is nothing in this story to suggest that John McCain has ever violated the principles that have guided his career."
Shame on you, NYT, for making me feel sorry for John McCain for .02 seconds. Are you trying to ruin my life? Time for me to watch some Fox News so I can get my mojo back.
Full disclosure time: I'm a actually a fan of McCainBlogette, written by McCain's 23-year-old daughter Meghan because she posts fun pictures and videos from the campaign trail.
And the adventure continues…
It's only a matter of time before Sen. Barack Obama's 9-year-old daughter, Malia, starts a blog. Malia is sassy.
Shamelss Plug
Check out Fog City Journal publisher and editor-in-chief Luke Thomas on Arthur Bruzzone's SF/Unscripted tonight at 8 p.m. and Saturday night at 8:30 p.m on cable channel 11. Bruzzone talks to Thomas about his new role as editor, how Thomas' photography adds a unique perspective to San Francisco politics, and other topics including shifts in San Francisco demographics.