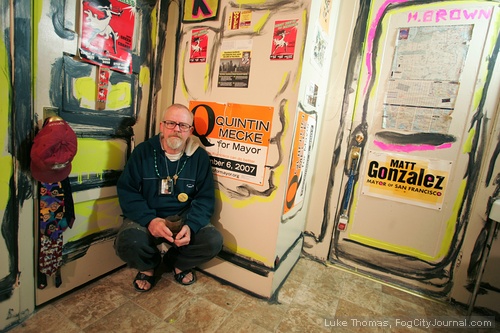 h. brown
Photo by Luke Thomas
By h. brown
April 22, 2008
Editor's Note: Views expressed by columnists published on FogCityJournal.com are not necessarily the views or beliefs of Fog City Journal. Fog City Journal supports free speech in all its varied forms and provides a forum for a complete spectrum of viewpoints. Read and believe at your own risk.
Poverty Pimps for Leno!
(Shaw and Hogarth)
Randy Shaw is the City's top poverty pimp. He extorts property and contracts from the City and from developers. Last week a 'gift' from the RBA to Shaw and his Tenderloin Housing Clinic (THC) that is (the gift) worth many millions working it's way through the Board. The address is 900 Innes and Old Joe Cassidy had a wee bit of a hassle with all the paperwork on the thing (Luke Thomas and Pat Murphy documented it well on the Sentinel) … so, decided to deed it on over to Shaw who will repay the favor many times.
A couple of years back it was Shaw extorting a building from the developers of 401 Freelon. They didn't want all of those irritating 'affordable' tenants in their structure so they cut a deal to build an inferior structure off-site to house them and give it to Shaw's THC. Hey, I'm not kidding. They GIVE these buildings to Shaw.
Randy figures he can put almost 200 units on the Innes property. Course that might block your view of the Bay a bit but, what the hell, his buddy Mark Leno will get him a variance at the State level.
Mark Leno is poison
Leno's legions are populated mostly by Uncle Toms bussed in by PG&E or Lennar as appropriate and Poverty Pimps from Shaw's THC. Mark got their allegiance by creating a novel thing called 'off-site inclusionary housing.'
Now, there's an oxymoron. In fact, the dictionary doesn't even admit the word exists. Closest match is 'exclusionary' which is, of course, what Leno and the developers meant to do.
Back when the Class of 2000 brand new Progressive Board really was trying to stop gentrification, Jake McGoldrick fought to have more low income folks be able to live in the new developments. Developers hated the idea. I mean, what's the meaning of gentrification if you let the poor people stay. So, the developers went to Leno.
Leno and the developers came up with 2 ways to get rid of the poor. First, they did this 'off-site inclusionary' thing and then they came up with the idea that developers could just pay a few for not building any of the housing for the poor at all. Uncle Tom preachers and Poverty Pimps came to the microphone at City Hall literally drooling.
We don't need the same quality of construction or size of units, said the Reverend Aurelius Walker who immediately offered the parking lot of his church as a site for his free building.
If you just sign the property over to me, I'll take those poor old black and brown and yellow people off your hands, Randy Shaw essentially said, speaking for the poor against gentrification.
They were able to do this because Mark Leno is a personal tool of big developers and power companies. He put a 100 million dollar solar energy bond on the local ballot in SF, then went to the State Assembly and passed a bill making PG&E the only ones who could build the solar panels and that it was cool if they didn't build them in San Francisco. Are you shitting me?
Joe Nation for State Senate D-3
I do this rant because Paul Hogarth wrote a column in Shaw's BeyondChron this morning attacking Joe Nation on behalf of Mark Leno. Hogarth is so far up Leno's ass that he can see daylight out his nostrils. He has personally profited for years from Leno's nefarious deals. This is the same Paul Hogarth who sues THC tenants for filming drug deals in the halls of Shaw/Hogarth-run SRO's.
This is the same Paul Hogarth who went to the Progressive community last year and suggested that no one should run against Gavin and that we should count on Gavin's generosity. You think it could have something to do with the fact that Gavin had been handing so many contracts and buildings to Hogarth/Shaw that their staff had exploded under Newsom from 20 employees up to 200?
Today's Full Board (2pm)
This is a bad day for freedom of information and Sunshine and a great day for developers. Here's how I read em.
Item # 2: Requiring broadcasts as possible of government meetings
Hard to believe anyone would vote against Sunshine (other than Room 200 and their flunkies) but Sophie Maxwell and Jake McGoldrick joined Pier, Chu and Elsbernd in doing so. It's incomprehensible. For Sophie, hey girl, I saw what Inspector Falzone did to you during the Land Use hearing yesterday. Would you prefer that no one know?
And Jake, get your head out of your ass. People like me save the government many millions each year by watching all these hearings as possible and moaning and bitching when staff and electeds fuck up. There are thousands like me and you need to help extend our cost-free oversight to bodies like the Ethics Commission. Sophie, Jake, Sunshine is a good thing for everyone except crooks. Why'd you vote against it?
Item # 7: More money to house prisoners
The Sheriff is the true Homeless Czar of San Francisco. Everyone else bullshits and appoints committees which bullshit and hold big gatherings where the same people stand up on the stage and bullshit.
Hennessey provides de-tox, wrings out the drunks, provides medical care and safe housing for the City's most miserable. Face it, over 40 percent of these people are in for the victimless crime of drug abuse. Toss in the prostitutes (male and female) and you pretty much got yourself a majority.
It's because of Mark Leno.
Leno promised to carry a bill for me to make it possible to legalize prostitution in individual counties. That would take thousands out of our jails.
But, turns out he was lying to me. Here we are 5 or 6 years down the road and he's just beaming and turning on the charm every time I see him and slapping me on the back and saying things like: "First things first."
Items #'s 8 to 11: Shifting money from the poor to developers
Around 40 million dollars of funds being moved from silly things like shelters for the homeless and mentally ill to: "appropriate investment vehicles" and for: "disbursement of funds to approved housing developments."
You got that? HUD money. Community Development Block grants. Shelter money, as mentioned. Giveaways to Gavin's developers. And, Mark Leno's.
Item # 13: Shaw's extortion of 900 Innes from the RBA
It was an odd duck to be sure when this travesty came before the committee. Here were the usual Uncle Toms and their minions riding down to City Hall with the RBA boys whom they normally testify against. Hey, Cassidy's money is green.
Item # 24: May Day and Sanctuary City
Item # 26: Armenian Genocide Day
I favor sanctuary and oppose genocide so I'll avoid peeling the outer skin of either of these thick, thick onions. Suffice to say that there is no resolution on the docket asking the Chinese to stop killing Falun Gong for their organs.
Henry Schulman, mensch
Thanks Hank for coming around to realize that the '08 Giants are "a fascinating ride."
That they are. When we lost to the current best team in baseball (the Diamondbacks) yesterday, I loved it when Eugenio Velez got thrown out (or, did he?) trying to stretch a double into a triple. Just as I didn't join Ron Kroicheck and yourself if corn-holing Jose Castillo for swinging at a first pitch after 2 walks. And, the two of you teamed in trying to put a wedge between the young players and Carney Lansford, their batting coach.
The 9 guys who take the field for the Giants 162 regular season games a year represent at least a million people. Hell, 3 million of us a year attend their games personally. You and your dipshit buddies at the Chron sports desk shouldn't take it upon yourselves to try and harm the play on the field with shitty copy. You're not an anonymous editorial writer. We see your name.
Tonight on 680 AM we have two Cy Young winners going at it. The Diamondback's Brandon Webb and our Barry Zito. Time is 6:40pm. Put the game on the radio while you peruse the Pennsylvania results on your computer. Everyone on this team might not be old enough to vote, but they sure can run. And field. And throw.
Lewis threw out a guy at home plate from left field the other day. How long since you saw Bonds do that?
Joe Nation for State Senate D-3
Bruce Wolfe for SF City College Board
Mark Sanchez for City supe D-9
John Avalos for City supe D-11
Eric Mar for City supe D-1
Mary Mallen for Superior Court Judge