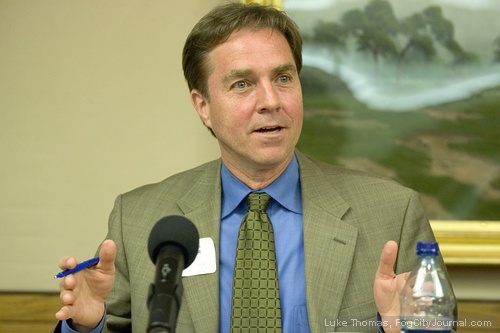 California District 3 candidate Joe Nation
unveiled a detailed climate change action plan Tuesday at Sonoma State University.
File photo by Luke Thomas
By James Lanaras
April 23, 2008
State Senate candidate and former Assemblyman Joe Nation detailed a climate change plan and economic development proposal Tuesday to create "green collar" jobs and reduce the budget deficit.
Nation unveiled his proposal at Sonoma State University. The plan calls for attracting CleanTech companies to the North Bay and San Francisco.
Details of the plan are on Nation's web site, www.joenation.com. Nation co-authored AB 32, the Global Warming Solutions Act, which he called "a step in the right direction."
"We need to do more. I believe this plan is the kind of aggressive action that's necessary to combat the effects of climate change," Nation said in a written statement yesterday.
Nation said he plans to be more aggressive in the state Senate on climate change and alternative energy. He said his plan will recommit to market mechanisms and start carbon trading in 2010, two years before the state is set to establish a regulated carbon market with other western states.
Nation's plan includes a cap and trade system that sets maximum greenhouse gas emissions and allows businesses and others to trade those emissions in a free market. It calls for a declining cap with more greenhouse gas reductions required each year.
Nation said there is a real danger California lawmakers will try to limit the use of markets, but cap and trade systems have historically achieved reductions at one-half the cost of regulation.
"Market mechanisms with the maximum flexibility, including the use of offsets and trading, are the far smarter way to go, and I will fight strongly for markets, regulation, and any other appropriate mechanisms to solve our climate change crisis," Nation said.
Nation also said California should enact agreements with other states and regions to form a de facto global carbon market and not wait for Washington to take measures to reduce greenhouse gas emissions.
"In fact, California should accelerate these negotiations and should expand its efforts to include other countries, such as those in the European Union," Nation said.
Nation's plan also calls for promoting new climate change and alternative energy technologies and industries and providing the necessary infrastructure and tax incentives for them.
Nation also called for carbon labeling of goods and services, a proposal that will allow consumers to reward low emitters and encourage producers of goods and services to more closely examine their own carbon emissions.
Nation's CleanTech economic development plan includes tax incentives for businesses and individuals that install alternative energy systems and a "green collar training program" in the community college system and building trades apprenticeship-training programs.
Nation is running against state Senator Carole Migden and Assemblyman Mark Leno for the 3rd District Senate seat that includes part of Sonoma County, Marin County and San Francisco.
He is a climate change advisor for the environmental consulting firm ENVIRON International and an expert of carbon markets, carbon market policies and carbon finance.