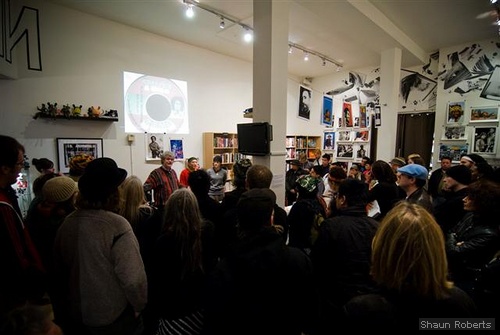 Standing room only: Bay Area reggae fans attended a much anticipated
book-signing event held Saturday at Babylon Falling bookstore in San Francisco.
Photos by Shaun Roberts, special to Fog City Journal
By Shivu Rao
May 15, 2008
Reggae fans, historians and aficionados alike were treated Saturday to a book signing of "The Reggae Scrapbook," by renowned documentarian Roger Steffens and photographer Peter Simon.
The book-signing event, held at Babylon Falling bookstore located at 1017 Bush Street in San Francisco, drew an estimated audience of 50 enthusiastic reggae fans.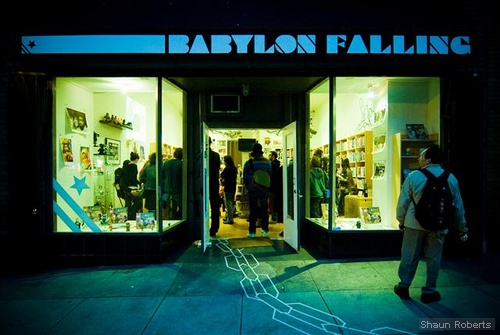 Steffens and Simon experienced firsthand the rise of reggae music as it spread from its early roots in the slums of Trenchtown, Jamaica, to worldwide recognition and acceptance.
Steffens and Simon, who traveled to Jamaica in the mid-70s, are, today, recognized as early promoters of the music and culture of reggae that crossed racial lines. They were witnesses to crucial events including Bob Marley's tours of the US and Peter Tosh's seminal appearance on Saturday Night Live in 1978. Steffens refers to the late 70s and early 80s as the "Golden Age of Reggae."
The event provided a unique opportunity for Bay Area reggae fans to meet and talk with the authors about their experiences and discuss the rise of the music that helped overcome tensions during a period of political unrest in Jamaica.
Simon stressed the importance of unity, one of the central themes in reggae music. He went as far to say that the US, now more than ever, is in need of unity. He said he believes Senator Barack Obama, like Bob Marley, could be a unifying force for humanity if elected to the US presidency.
Babylon Falling owner, Sean Stewart, described the book-signing event as follows:
"Unreleased Bob Marley tracks were playing. Unseen Bob Marley photographs were projected on the wall. Peter Simon's iconic photography surrounded us, all topped off by a great talk by Roger Steffens, Peter Simon, and Molli Fire on Bob Marley's legacy – the importance of music as a tool of resistance, and the worldwide impact of Reggae music. It was a one-of-a-kind night for real."
In the bonfire that is the cultural life of the City, events such as this are the little potent sparks that reach high.