By Eric Louie
May 3, 2012
Leaving downtown Oakland at the end of May Day, some Occupiers had mixed feelings.
Lingering in their minds was the unwelcome violence perpetrated by an anarchist group known as the Black Bloc which vandalized small businesses, parked cars and broke windows at Mission Street police station following a peaceful event held at Dolores Park in San Francisco on April 30. On May Day, violence marred a peaceful yet boisterous rally in Oakland when Oakland police officers attempted to extricate a protester who had previously been issued a stay away order, according to police. Video from the scene shows police officers pulling a girl off her bicycle and arresting her.
"Stop hurting me – I was just riding my bike," the girl wails as officers make the overly forceful arrest. When the officers were subsequently surrounded by angry protesters, officers released tear gas and flash bang grenades to disperse the crowd.
Adding to the day's troubles, a man described as mentally unstable threw bricks at protesters from the roof of 888 Turk Street, a former mental health clinic owned by the Archdiocese of San Francisco, which was occupied for a second time with the intent of turning the 5-year vacant building into a homeless shelter and community center. Police arrested and removed 26 occupiers from the building in a pre-dawn raid Wednesday without incident.
But May Day was also one in which thousands attended mostly peaceful, non-violent protests in support of immigrants, workers and others who comprise the 99 percent of Americans who feel they are at the mercy of an unregulated capitalist system run amok by unfettered greed and political corruption, a system that benefits the few over the expense of the many. It was also the first International Workers' Day since the Occupy movement started in September in New York City which formed to protest publicly-funded bailouts of the very banking institutions that are largely being blamed for causing the deepest recession since the Great Depression.
"We're all in it together," Michael Engemann, 53, a former laser technician, said at the Larkspur Ferry Terminal during a partial-day strike. A handyman since losing his job, Engemann made sure to not work on May Day, and was planning to attend many of the day's activities.
Though Engermann is not part of a union, he participated because of Occupy's call, and took a chartered bus at 6am from San Francisco along with other union-striking supporters. The ferry strike by the Inlandboatmen's Union is supported by a 14-union coalition that works for the Golden Gate Bridge District. Occupy Oakland had decided to support a strike that could have closed the Golden Gate Bridge, but over the weekend the Golden Gate Bride coalition asked for the bridge closure action to be called off.
The Larkspur terminal was largely empty, except for police and more than 100 sign-carrying picketers. Drivers honked in support while others drove by and cursed.
By mid-morning the Occupy buses departed Larkspur and joined a protest held at the Westfield Shopping Centre in San Francisco. The protest was organized by a variety of unions and advocacy groups, with many there dressed in their purple shirts from the Service Employees International Union, which includes janitors.
"Enough of the race to the bottom," said United Food and Commercial Workers Local Five President Ron Lind.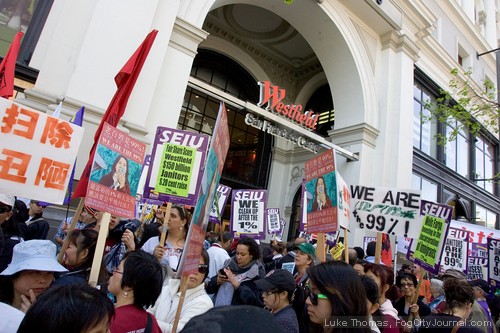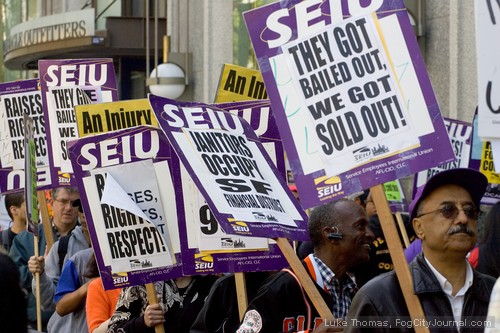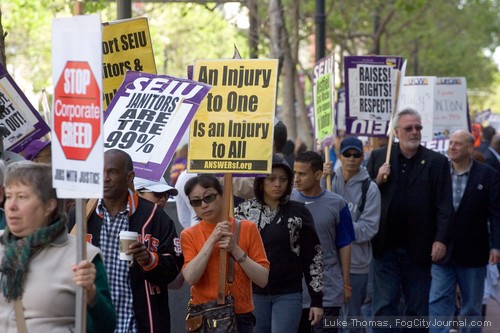 The protesters then marched to a festival at Montgomery and Market streets in front of a Wells Fargo bank. Demonstrators closed the street, painting "Rise up! 99 percent" on the ground with bright yellow and red paint. Music played, speakers talked about their struggles from a sound truck. Those who brought T-shirts could get them silk screened in commemoration of May Day. A 30 foot effigy of a man representing corporations was raised. Holding a briefcase in one hand and puppet strings to the government in another, the effigy was held in place by connected ropes.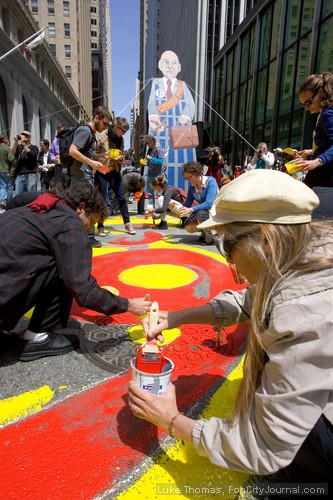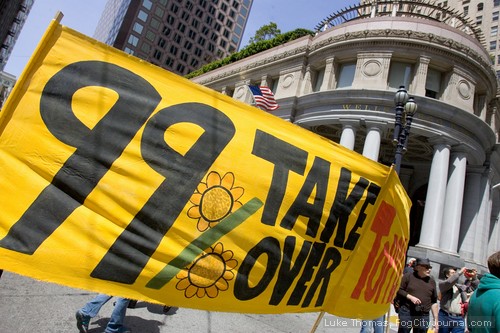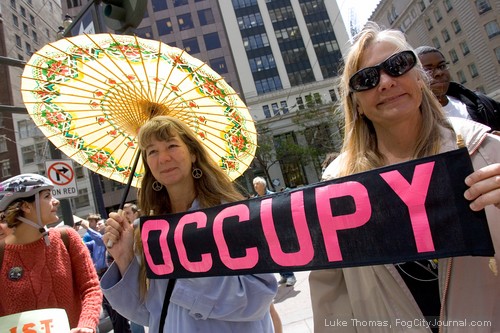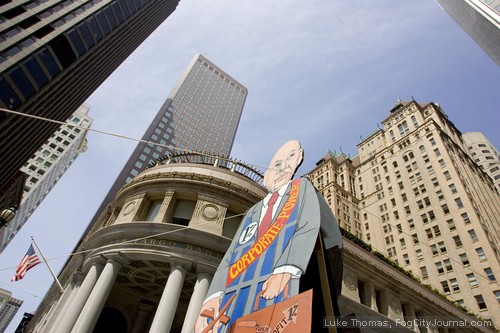 From there some protesters went to the Turk Street building takeover, while others went to Fruitvale BART for the regional March for Dignity and Resistance into downtown Oakland. Multiple sound trucks and other vehicles drove among the marchers. The marchers stopped along the way at San Antonio Park where food was provided. Others passed out flyers and information including efforts to stop schools from closing. Portable toilets had been set up in advance.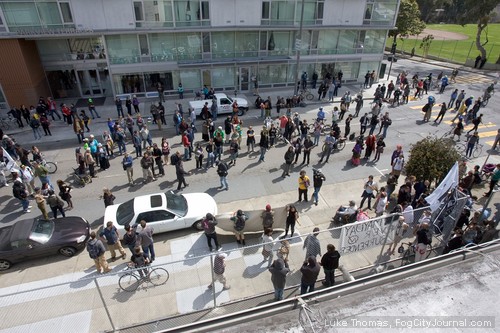 Police mainly stayed behind, with officers grouped into white vans. Helicopters hovered both overhead and in the distance towards downtown. Some marchers began to leave as nightfall neared, but eventually thousands made it to downtown.
The mood near Frank Ogawa Plaza was festive, with music blaring as demonstrators dancing while blocking the intersection at 14th and Broadway streets. Police announced demonstrators could stay until 10pm.
Stephanie Tang, a teacher from San Francisco in her 50s, said Occupy has done a lot in getting people to talk about inequalities and changing the system. As for what would come next, she said that's unknown, especially since Occupy is a leaderless movement.
"The future is unwritten," she said.
But around 9:30 pm police said they were attacked while arresting someone who was ordered to stay away from the plaza. That's when the situation went off, with cops in riot gear clearing the streets. Throughout the night police then pushed people out of the plaza area, with some being arrested blocks away. Witnesses said those arrested were disobeying police only in that they could not disperse fast enough because of the crowd.
Altogether two-dozen protesters were arrested over the day. Some demonstrators called for a re-grouping into the night, but any efforts quickly fizzled and by midnight the streets appeared normal. Even though there was no traffic, one demonstrator waiting for the signal to change half-hardheartedly joked, "I don't even want to J-Walk right now. There's cops everywhere."
Luke Thomas contributed to this report.
More Photos