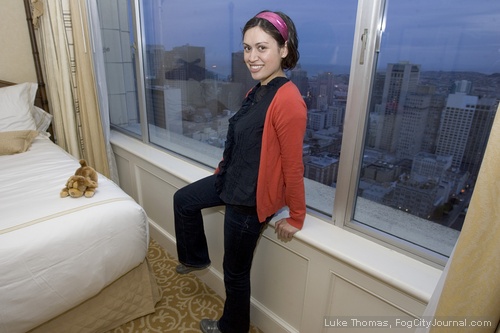 Elaine Santore
Photos by Luke Thomas
By Elaine Santore
May 27, 2008
Spotted: G & R on 20th St. btwn Dolores & Guerrero
Um, not really. But Mission Mission posted some photos of an awesome sidewalk stencil series of Mayor Gavin Newsom and Ruby Rippey-Tourk on 20th Street between Dolores and Guerrero, based on Rick Springfield's hit song "Jessie's Girl."
One stencil in particular looked very familiar:

Photo by allanhough via Mission Mission.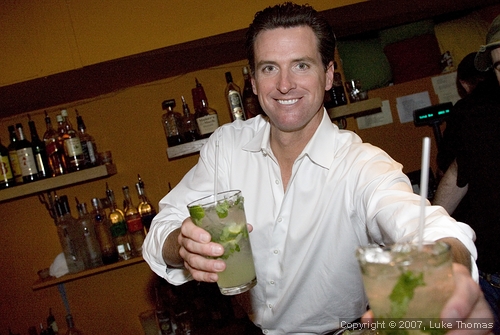 Memories: Mayor Gavin Newsom hands Luke Thomas some mojitos
at his fundraising kick-off December 31, 2006.
The Newsom double-fisting photo is like the blog fodder equivalent of a Chanel suit; it never goes out of style.
CrackBerry watches TV: HBO's Recount
Over the long weekend, CrackBerry watched the HBO film Recount, based on the weeks following the 2000 election in Florida. Actor Kevin Spacey plays former Al Gore Chief-of-Staff Ron Klain, an outsider who unexpectedly finds himself leading the recount effort in Florida.
Here's an early scene between Klain and Michael Whouley, played by Denis Leary using a really thick Boston accent:
Michael Whouley: "You look like a fucking Bolshevik."

Ron Klain: "We gonna win this thing?"

Whouley: "No. Yes, but it's gonna be a squeaker."

Klain: "You always said it was gonna come down to Florida."

Whouley: "Yes, I did."
So ominous!
There might be some spoilers in these notes, but everybody knows how the story ends:
Campaign headquarters sign: "Nashville is Gore Country."
Kevin Spacey's weave looks busted.
"Why did Gore concede?"
"Why did Gore concede? Because we lost the election."
"The Associated Press has different numbers than the networks." Not over yet!
Did William Daley just whip out a two-way pager? So old-school. Getting flashbacks of dial-up internet and Motorola StarTAC phones.
Some fat man tries to stop Gore from making his concession speech, but gets stopped and falls down. But he does manage to stop Gore in time. Thank gawd. That would've been embarrassing.
The actors playing GW and Jeb Bush look just like the real people! Nice.
Klain's wife: "Honey, be careful down there. They have alligators."
Laura Dern as Katherine Harris (aka Bush's Florida campaign co-chair). Love it! She answers the phone call from Jeb Bush in the middle of the night and automatically redirects him to someone more competent.
Jack Young, recount lawyer: "Anybody here ever heard of a chad?" Here come the chads.
Ben Ginsberg (Bob Balaban) on Sec. of State William Daley (Mitch Pileggi): "His daddy stole it for JFK, and now he's stealing it for Gore."
Tom Wilkinson (using a Southern accent, which is actually very similar to his real British accent) as James Baker. He keeps drinking Dr. Pepper. Mmmm . . . Dr. Pepper.
Warren Christopher, played by John Hurt (why do Brits always play Americans better than Americans?): "The world is watching. We are theoretically, its last great democracy. If we cannot resolve this in a way that is worthy of the office we seek, what hope do we give other countries that wish to share our values?"
Animation of dimpled and hanging chads going through the voting machine. Riveting.
Katherine Harris says the only thing that would grant an extension on the recount would be a hurricane.
"Does the makeup count as a hurricane?" – Michael Whouley.
Harris compares herself to Esther, aka the Jewish queen who saves her people.
Hand recount – the same kind of recount signed into law by then-Texas Gov. George W. Bush.
Bush supporters mob counting facility. Those are some angry white folks, almost as angry as the disenfranchised black voters who didn't have votes to re-count.
Al Gore (on the phone): "Even if I win, I can't win."
Ron Klain: "I'm sorry, sir, I just couldn't get them counted." So. Emotional.
Now we'll never know . . .
Politicos, good-looking people honor Harvey Milk at City Hall
CrackBerry was unable to attend the unveiling of the Harvey Milk Memorial bust at City Hall May 22, but Luke Thomas was there to get photos of all the political grandstanding and good vibes. The project was a joint effort between the Harvey Milk City Hall Memorial Committee and the San Francisco Arts Commission. May 22 would have been Milk's 78th birthday.
Milk's nephew, Stuart Milk, attended the unveiling. According to Thomas, Assemblymember Mark Leno revealed Stuart endorsed him for Senate D3.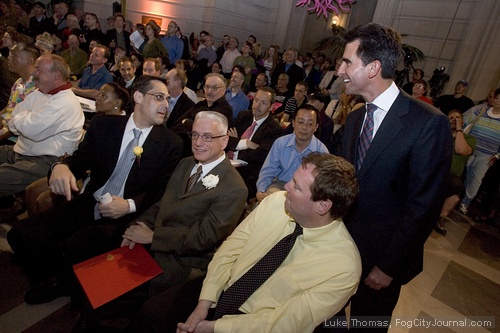 Stuart Milk locks eyes with Assemblymember Mark Leno.
RBA Attorney Grace Chau attended the event. Chau exited Mayor George Moscone's office when Dan "Twinkie Defense" White entered Room 200 and killed Moscone.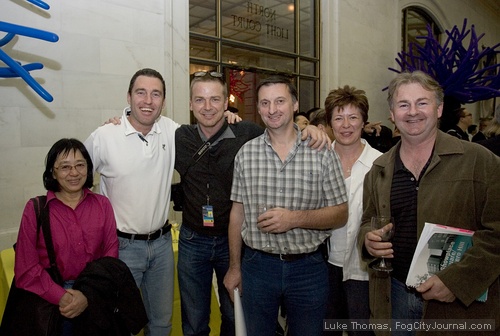 Grace Chau, RBA Prez Sean Keighran,
Luke Thomas, John O'Conner, Grace Shanahan and Richie Hart.
Photo by Angus McCarthy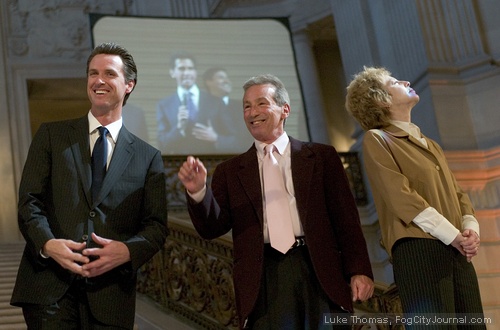 Mayor Gavin Newsom, Supervisor Tom Ammiano, and State Senator Carole Migden.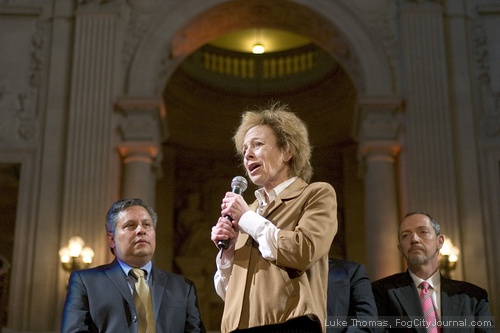 Don't cry for me, Argentina.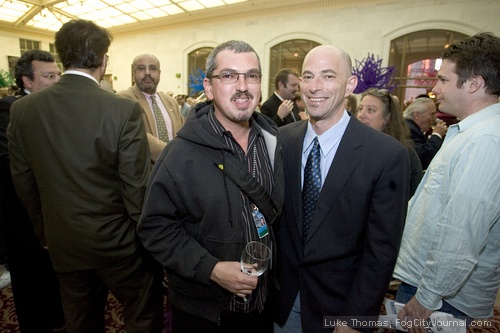 Marc Salomon (right) with his plus-one, George.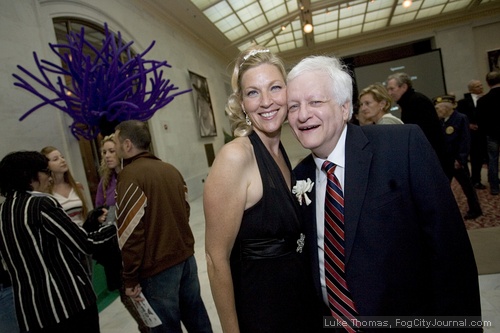 Maxine Doogan and Rick Hauptman.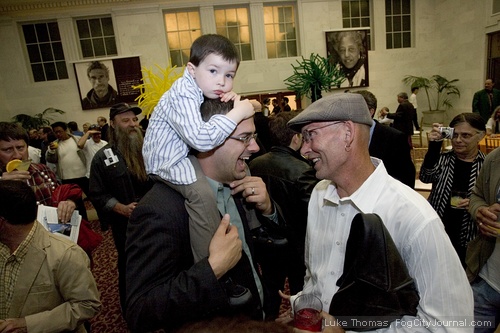 Jack and Chris Daly. Still waiting for Jack to start a blog like his dad.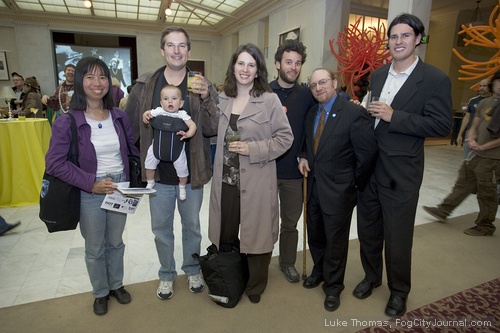 John-Marc Chandonia, Amy Elizabeth Chandonia, Erika McDonald,
Razzu Engen, Community College Board candidate Bruce Wolfe.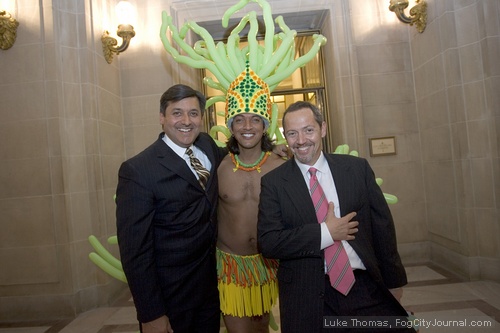 Treasurer Jose Cisneros with Supervisor Bevan Dufty.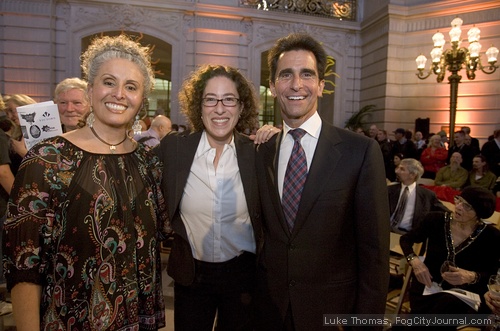 Assemblyman Mark Leno with author Laura Esquivel and Laura Spanjian.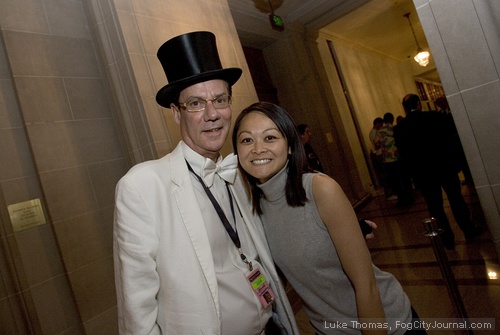 The End of Western Civilization and Supervisor Carmen Chu.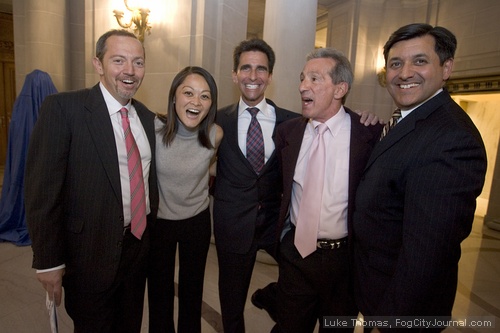 Supervisor Bevan Dufty, Supervisor Carmen Chu, Assemblymember Mark Leno,
Supervisor Tom Ammiano, and Treasurer Jose Cisneros.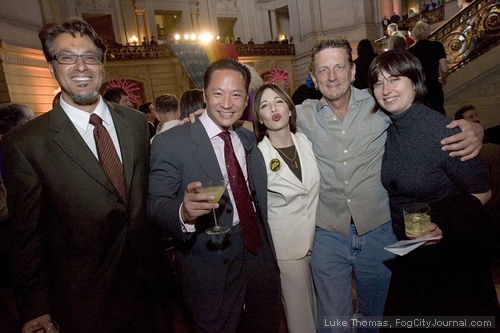 Supervisor Ross Mirkarimi, Public Defender Jeff Adachi,
Connie Champagne, Entertainment Commissioner Terrance Alan
and Community United Against Violence Executive Director Jovida Ross.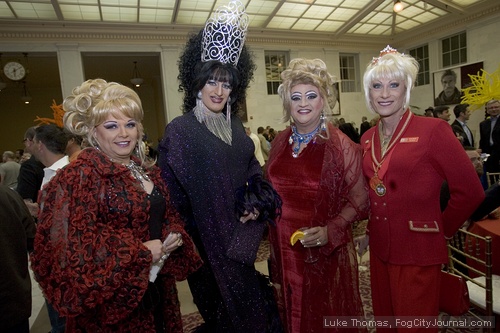 Donna Sachet (far right).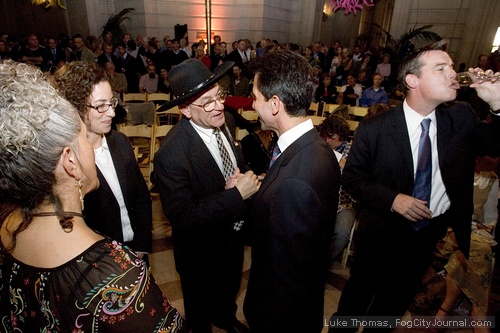 Former Mayor Willie Brown spokesperson P.J. Johnston
takes a slurp break.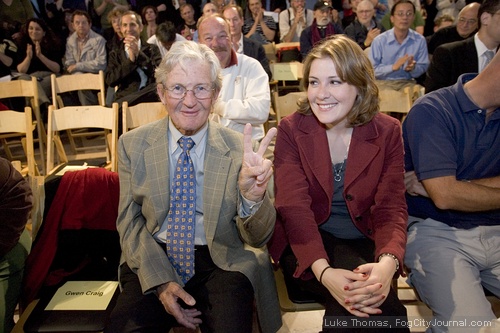 Former San Francisco District Attorney Terence Hallinan.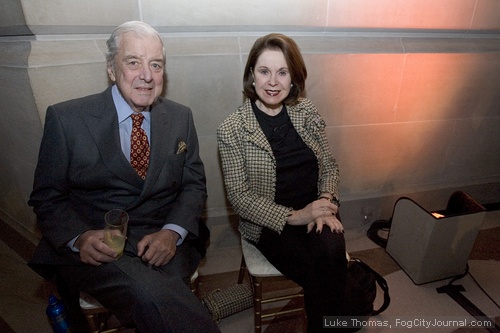 PUC President Ann Moller Caen.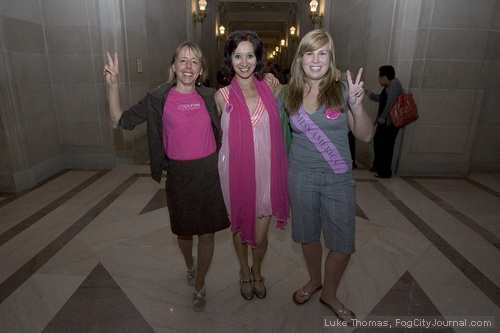 CodePinkers: Medea Benjamin, Nancy Mancias and Katelyn Pect.