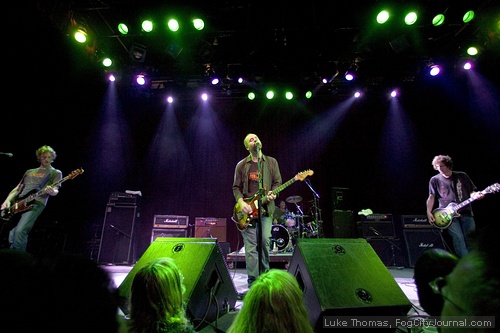 After an almost ten-year hiatus, UK-based Swervedriver returned to the US May 22
for a 19 date tour. Prior to their much anticipated performance at The Fillmore May 29,
Fog City Journal was provided an opportunity to meet Swervedriver
and to interview the group's lead singer/songwriter Adam Franklin.
Photos by Luke Thomas
By Shivu Rao
June 5, 2008
The Fillmore, San Francisco, May 29
We are at The Fillmore to meet with Swervedriver, an influential English rock and roll band that emerged during the 1990s. Swervedriver are now on a comeback tour for the first time since 1999.
For a band that hasn't played live together in almost ten years, Swervedriver's performance at The Fillmore May 29 proved – to an almost sold-out audience – that the band has not lost its cutting edge.
Superlatives abound, Swervedriver's sound can be described as melodic, soothing, fierce, unique, complex and subtle. The grooving lead and rhythm guitar interplay between singer/songwriter/guitarist Adam Franklin and guitarist Jimmy Hartridge, is at the core of the band's unique output. Bassist Steve George and drummer Jez Hindmarsh add the rhythm section with an abundance of energy that keeps Swervedriver tight and pumping along.
Swervedriver chose a song play list to accommodate fans of their earliest material; from their debut album Raise with songs like Sandblasted and their first MTV single Rave Down, as well as songs from their last album 99th Dream.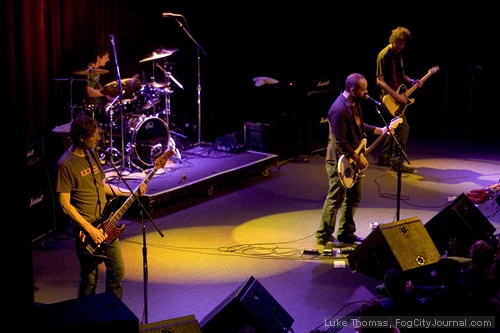 Swervedriver: Steve George (bass), Jez Hindmarsh (drums),
Adam Franklin (guitar), and Jimmy Hartridge (guitar).
Meeting up and playing music during the mid-80s in Oxford, England, Swervedriver was originally named after a Stooges' track Shake Appeal. Following the arrival of a new drummer, Graham Bonnar, who would later abandon the band whilst on tour at the Canadian Border, the group was renamed Swervedriver. After the release of Raise in 1991, Swervedriver was considered part of the diverse sound of British alternative rock groups that included My Bloody Valentine, Jesus and the Mary Chain, Ride, and Slowdive.
At the end of 1992 the original bass player, Adi Vines, left unceremoniously to join another band.
With the sound centered around Franklin, Hartridge, and new drummer, Hindmarsh, Swervedriver released their second album Mezcal Head, in 1993 on A&M Records. In the UK, the single Duel became New Musical Express' single of the week and in the US the song kept the band playing on MTV's 120 Minutes and college radio playlists. Swervedriver then toured bigger venues in the US, this time opening for Smashing Pumpkins whose newly released Siamese Dream album went on to become one of the fastest selling records during the 90s.
Bassist Steve George joined Swervedriver in 1994. The current line up of the band has not changed since.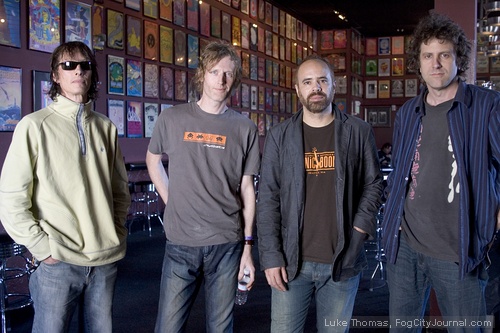 Jez Hindmarsh, Steve George, Adam Franklin, and Jimmy Hartridge.
All seemed well when Swervedriver signed another record contract; this time with the UK-based Creation Records. Swervedriver then released their third album in 1995 ironically titled Ejector Seat Reservation. Creation Records took the decision to stop promoting the album just after one week following its UK release due to funding problems. Consequently, the album was never released in the US where the band has developed a loyal following.
Things seemed on the up when in 1996 Swervedriver landed another major record deal, this time with Geffen Records. However it wasn't long before Swervedriver found themselves at the short end of the deal. Following corporate and catalog downsizing, Geffen decided not to release 99th Dream. A legal battle ensued with Swervedriver dissolving their contract with Geffen. Not all was lost as the band earned the right to retain the release rights to 99th Dream.
Swervedriver finally managed to release 99th Dream in 1998 under the US-based label Zero Hour. Since then, Franklin has released several solo recordings, initially under the name Toshack Highway (named after famous soccer player John Toshack), and more recently under his own name. His last solo album, Bolts of Melody, was released in 2007.
With the return of Swervedriver, fans get to ride once again on the back of a rock juggernaut into the world of neon-electrified soundtracks, wide sundrenched vistas and sonic bubbles.
Interview with Adam Franklin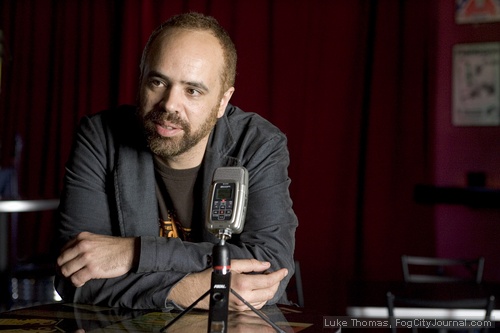 Adam Franklin
FCJ: We are at the Fillmore speaking with Adam Franklin of Swervedriver. Adam, thank you for taking the time to speak with us.
AF: Pleasure.
FCJ: So tell us how it feels to be back on the road as Swervedriver. Are you guys feeling the love?
AF: Very much so, yeah. It's been a great response from the crowd. People shouting out 'welcome back' or calling out the names of songs. It's been really good. People seem excited I guess. Also it seems like we are playing to bigger crowds this time around than we did ten years ago in a way. Certainly more vociferous crowds, you know.
FCJ: Like at Coachella?
AF: Yeah, Coachella, it was cool to do that as the first actual show because the pressure was off as it's a festival, only a fifty-minute set. And we flew out and flew back on the Monday. Of course, we went on in the late afternoon as well, so the festival thing is never like an actual show. As soon as we started playing in indoor rooms… yeah, it's been great so far.
FCJ: Any observations on how the songs felt then versus now? Obviously you've all grown in different ways.
AF: I think in some ways the way we are playing the songs is more streamlined. I guess back in the day they were slightly more fiddly parts to the guitars, or the drums, or whatever. And now ten years later, we're like 'why don't we just play it straighter?' but not leaving out any of the subtleties – like some songs we clipped the endings and tightened things up a bit. Frankly, the band has probably never sounded better. We feel like we're quite on top of it.
FCJ: In terms of performing as a band, was it like putting on an old pair of jeans?
AF: (Laughter) Even from the first rehearsal. Sometimes you have to play a certain chord or use a certain pedal, it forces you to move a certain way and that reminds you of some of the shapes you threw on stage ten years ago. But it's not like a conscious thing…very much like riding a bicycle when you haven't ridden a bicycle in a while.
FCJ: And you guys were looking for the right moment to get back as a band?
AF: No, we weren't really looking for it at all. I've been in the United States for the last seven years. Just seeing Jimmy or Steve occasionally over the years and we never really mentioned the band when we met up. A couple of odd times here and there, people would say, you guys should get back together, but we weren't interested really. And then for some reason this time, it felt like the right time for everybody.
FCJ: A lot of people have been waiting.
AF: Yeah well…(Laughter)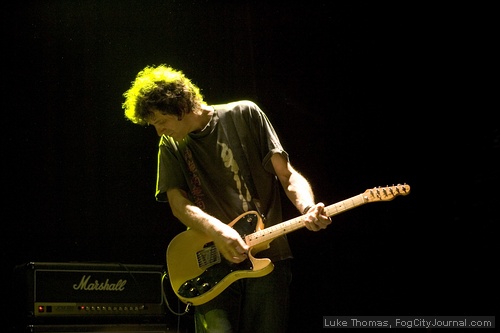 Jimmy Hartridge
FCJ: A basic question, where did you get the name Swervedriver?
AF: Well, I guess, it's just like any band name, you want to get something people will remember and kind of reflects the music somehow. We used to listen to a lot of music whilst driving around, driving from Oxford to London say, and always thought music sounded great when you're driving along in a car, or riding on a train, or whatever. I guess I wanted to express that.
FCJ: Were you a car lover?
AF: Well kind of but I never actually owned a car, sort of like Brian Wilson never having surfed or whatever (laughter). For some reason, I don't quite know why all that imagery came out at that time. There were a whole bunch of songs I was writing and those types of lyrics came out every time. We were into sort of melding experimental guitar things with a sort of… poppier big melodies with experimental tunings and stuff like that. I don't know, it all just seemed to make sense really and it made sense to a few other people as well, I guess.
FCJ: Sure. The music and the imagery work well together.
AF: Some of the song titles have that imagery, when you think of songs like 'Son of Mustang Ford' or 'Juggernaut Rides'. The imagery on the album cover, like crushed cars and deserts, I guess were laying out our image…
FCJ: Your world…
AF: Yeah…it seems to have struck a chord.
FCJ: I want to quote you some of your lyrics off the song '99th Dream' which is one of my favorites. "Architecture, nature, alcohol, space travel, rock n roll…" Lots of juxtapositions, lots of images, talk a little about them.
AF: Yeah…I guess so. Architecture, nature, alcohol, space travel, rock r roll. It's a great line actually. I'm quite pleased with that one. (laughter). They are all great things, really… alcohol, architecture. Space travel is quite cool (laughter).
FCJ: OK. So what kind of music did you listen to growing up? You lived in Oxford, England in the late 70s, the music coming out of the UK at that time was incredible.
AF: It was great, first the punk and then after that the new wave. There was so much great music around. You could name six (bands) now and another six tomorrow. The Buzzcocks, I loved the early Elvis Costello albums, so many great bands. I guess things really did change quite significantly after punk rock.
FCJ: That was the beginning?
AF: Not really, Jimmy and I were listening to glam rock. I think Jimmy saw Slade play back in 1973! His dad took him to the show. And you watched Top of the Pops and T. Rex would be on, David Bowie singing 'Starman' or whatever. And other stuff which today isn't deemed to be cool, like Mudd. I was a big fan of Mudd back in the day, Mott The Hoople and all sorts of stuff. And then it seems like there was a lull at around 1974, 1975 and 1976 – the music on the charts just got crappier. It seems a bit absurd talking about it with such authority, because I must have been around nine at the time…(laughter). But then, suddenly punk rock came along and mutated.
FCJ: All in your back yard.
AF: Right but you weren't really aware of it at the time. You'd watch Top of the Pops and Blondie would be on, or the Specials, the Undertones, the Pretenders. So much great music at that time, definitely.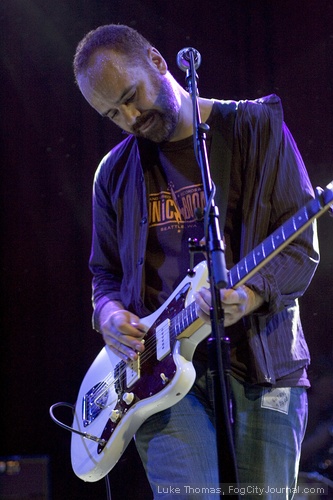 Adam Franklin
FCJ: Some experiences with record labels have unfortunately been unhelpful for Swervedriver. The industry has changed so much in the interim; it can sort of remove the record label from the equation.
AF: I think it's a good thing. MySpace, for example, is a good thing. A young band can put their four songs up and it's next to Madonna and Paul McCartney or whatever. At the same time, there's probably more music out there than ever before. And because not everybody wants to sell it, it is not all of great quality. And at the same time, the record labels probably want to sign stuff that has a commercial edge anyway. There is music out there that isn't remotely commercial, which is accessible through things like MySpace, which is a good thing too. It's the great leveler. I guess you can take the record label out of the equation. You can get yourself a booking agent and a PR person and a distributor, and then you can put your own record out and tour it, which I guess is a good thing. The whole thing has changed so much. Those old record deals, the like of which we signed, were ludicrous, because there's the whole thing where you sign for X amount of money and you put an album out, then you get given more money the next time, put the next album out. And the mathematics does not work out because, logically, the record label will be paying you a million dollars for the fifth album or something. And after a while they realize they aren't going to make that back. Swervedriver maybe could have benefited by being on a smaller label that was behind us, someone who cared about wanting to put our records out. But at the same time, we wouldn't have reached as many people, maybe, if we hadn't signed with A&M Records. The main exposure we got back in the day was touring with Soundgarden, when they were doing an album which was breaking and then two years later, the same thing with Smashing Pumpkins. So many people come up to us and say they 'first saw us opening – we didn't know who the hell you were and you blew us away.' And so that was a cool thing.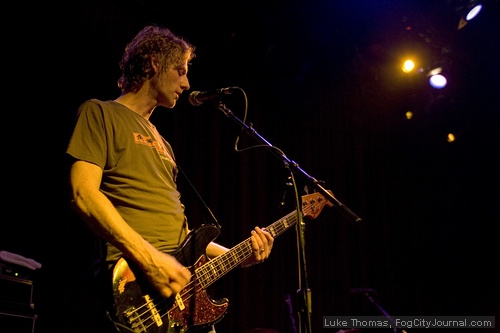 Steve George
FCJ: Right, I first started listening to you guys around the release of 'Duel'. Getting back to the label thing, it sort of takes the pressure off in a way if you guys have any plans for the future…
AF: Well it does and it doesn't. Obviously, you still need to have the funding there. A record label in some ways can be like a bank, I suppose. They give you the money and then you give it back after you've recorded it. But the ideal situation for any artist is to be able to pay for his own recordings and then license them to either a label or a distribution company. I mean, it depends on who you end up working with. Having a traditional label, which I do have for my Adam Franklin records, we're planning to put out a second album later this year. I'd quite like to do that, just actually have a few records with a certain label because then you're building up together.
FCJ: Sure.
AF: Yeah and I think back in the day, in the early 90s, we did get to almost three albums with A&M, and we got to three albums with Creation. I mean these days, from what I gather, bands get signed and then get dropped straight away, and it's quite absurd, really.
FCJ: Coming back to the songs, you guys provided part of the soundtrack to the 1990s to a lot of people in school or college at the time. What are your observations on the soundtrack of today versus the soundtrack of the 1990s?
AD: Well I don't really know, because you never really listen to stuff exclusively by the year. Unless you are talking about 1977 or 1978, or around that time when a lot of people were probably pretending that the hippie stuff didn't happen and everything had to be new. But I think especially in this iPod age, kids get their own records and then they get their dad's records and put them on their iPod. So they've got all this stuff on there and they are investigating. And you discover it all at the same time. I remember, funnily enough, it was in San Francisco, probably around 1994, and a friend of mine said to me, 'have you checked out Nick Drake?' People were telling me a lot about Nick Drake, that he used all sorts of alternate tunings, and that I would really like him. And I remember saying at some point I'll probably sit down and discover him and I haven't got around to it yet. And it took me 'till about 2001, and then I went through a whole Nick Drake sort of thing, investigating all his records and reading books and stuff. And that's how I discover stuff, you kind of get obsessively into something for a while. And at the moment, it's Scott Walker. I have been listening to a lot of Scott Walker and reading books on him.
FCJ: Of the Walker Brothers?
AF: Yeah, particularly Scott Walker's solo stuff. It's very inventive and it's an interesting story. He is doing stuff, like middle of the road-torch singer-Frank Sinatra-esque and yet he is writing his own songs and they are quite surreal songs about not having the money to pay the rent and things. It's just an interesting thing, you know. At the same time, there are new bands. I really like the Besnard Lakes from Montreal and I quite like these guys as well. I discovered Filmschool only recently. I think everybody's soundtracks are so disparate these days. I think around about the late 70s for kids of a certain age they are all watching Blondie or the Specials on Top Of The Pops and everybody is taking in the same music at the same time. I think now its expanded so much because, you can go online and check out your own thing and then go off somewhere else. It's the same as television. Back in England in the late 70s, there were three channels. And now, like over here, there are 100 channels.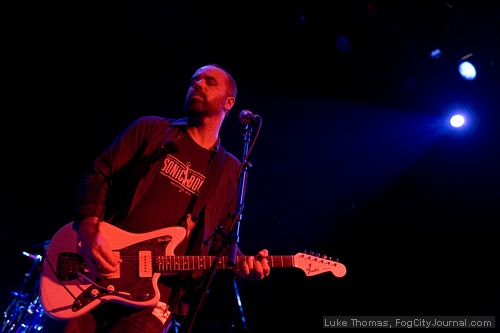 Adam Franklin
FCJ: So today someone can have a Sinatra song, next to a Swervedriver song, next to a Filmschool song on his iPod and it would make sense to him in his head.
AF: Right.
FCJ: Were soundtracks a big part of your listening?
AF: Yeah, I think so. Well around the time of Swervedriver's first album, Twin Peaks was on television. Like I said, there were only four or five channels back then and so everybody would watch Twin Peaks on Thursday night or whatever night it was, and the next day it would be like, 'did you see it last night?' And everybody's talking about it. Whereas, now, you can catch it on iTunes if you want to or catch it online, or you catch the second edition a week later or whatever. But back then everybody's watching it and the music definitely had a big influence on 'Raise.' Angelo Badalamenti's soundtrack music was great. Quite often we have a break in the set, like if somebody breaks a string, or we need to do something, we just break into the Chris Isaak's 'Wicked Game' thing, which has a David Lynch connection as well.
FCJ: So movies made a big impression as well?
AF: Of course. Clockwork Orange was a fascinating film, because it wasn't available in England for the longest time. The director disowned it and it was considered too violent so you couldn't see it in the U.K, but you could get bootlegged copies of the film from France. And so everybody was going, 'what is this film about, why is it being banned?' You would watch really poor quality copies…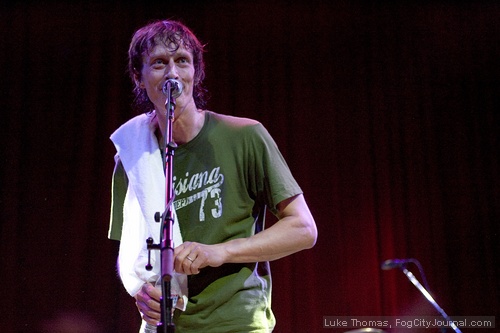 Jez Hindmarsh
FCJ: The thrill of contraband…
AF: Yeah, exactly. I think if a record gets banned, people are more interested in why it's being banned, and there's things like Christiane F,' a German movie…David Bowie does some stuff on that. I remember that was a very hip film back in the time. I don't know how that film stands up now, and of course one of the biggest influences was Planes, Trains and Automobiles which we used to watch on the bus all the time. The John Candy and Steve Martin film. Have you seen that?
FCJ: That is a great movie.
AF: (Laughter) Of course it's all about the troubles you have on the road and its happening today because our bus driver got food poisoning last night and he's not here and we actually had to fly down. So we're hoping he gets here tonight. But we're just finding out that he's got bus trouble at the Oregon-California border. And the bus company is supposedly sending another bus here to take us down to San Diego. So it's kind of like Planes, Trains and Automobiles.
FCJ: Yeah, really. Any thoughts for Swervedriver to score a movie?
AF: I think actually scoring something could be fun. We actually almost had some music on 'Lost.' The musical supervisor for that contacted me through a friend and asked for music for a flashback scene to a London pub in 1995 and I suggested a couple of Swervedriver tracks, but they didn't get back in the end. That would have been very cool. We are always open to offers.
FCJ: Where are the places that you wish you could go and haven't yet?
AF: Places in the world you mean? Somebody in Peru is interested in wanting us to play apparently. I don't know how feasible these things are, really. But I've never been to Iceland. A friend of mine is going to go back to a family wedding in India at some point this year, and I said, 'hey, bring me along because I've never been to India.' A lot of my friends have. A lot of people in England go to India. I guess it's that much closer than for the kids here. One of my favorite soundtracks at the moment is from the film Darjeeling Limited. The music on that is fascinating.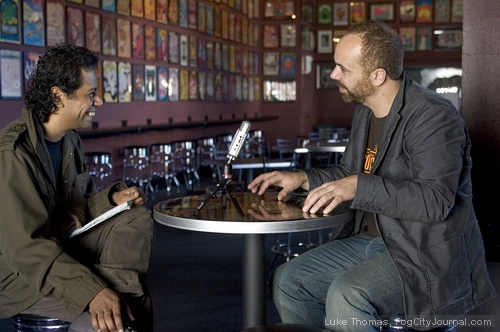 Shivu Rao with Adam Franklin
FCJ: Yes, that Director seems to pick good music. Do you have any memories of your previous trip to San Francisco last summer?
AF: Well the very last time I was here, I remember we drove down from Portland. It's a hellish drive. You really should leave an extra day between Portland and San Francisco. And we pulled in around 8 pm. It was just enough time for us to set our gear up and play and it was a cloudy and overcast day. We came over what we thought was the Golden Gate Bridge. And we were like 'hey look at this, they've painted it gray. They can't do that, it's meant to be red.' So we showed up at the venue and said to people, 'hey what about the Golden Gate Bridge? Its gray now.' And everybody was not convinced. As we left the next morning, we went around the corner, we saw the red Golden Gate Bridge. As I said, it was overcast that day (laughter).
FCJ: Nice one. On that funny note, thank you for the interview.
AF: Thank you.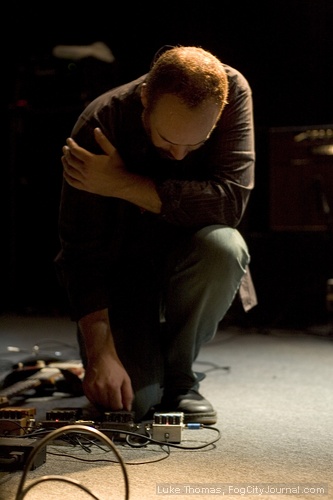 Swervedriver Discology
Raise (Creation/A&M Records, 1991)
Mezcal Head (Creation/A&M, 1993)
Ejector Seat Reservation (Creation, 1995)
99th Dream (Zero Hour, 1998)
Online:
profile.myspace.com/swervedriver
en.wikipedia.org/wiki/Swervedriver
Adam Franklin / Toshack Highway
toshackhighway.com