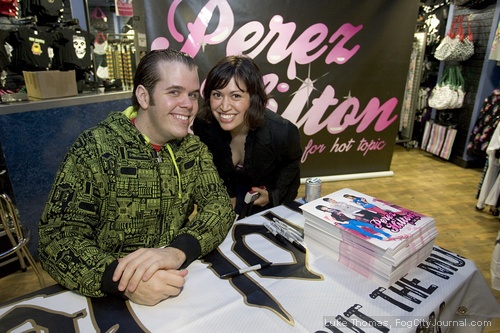 Perez Hilton (aka Mario Armando Lavandeira Jr.) poses for a picture with Elaine Santore
during his appearance at Hot Topic at the Westfield Centre Saturday.
Photos by Luke Thomas
June 30, 2008
Now I Can Die
Celebrity gossip blogger Perez Hilton was in town Saturday to sign autographs, promote his clothing line at Hot Topic, and appear at the premier of the film A Very Gay Sequel: Gays Gone Wild at the Castro Theatre.
I kept getting Twitter messages last week from friends asking me if I was going to meet him because everybody knows how much I love Perez. Surprisingly, Fog City Journal publisher Luke Thomas actually agreed to come with me. Luke is not a hater.
As I waited patiently behind some pre-teen girls (maybe I should have brought my 13-year-old cousin along to fit in better?), I was kind of disappointed to find Perez wasn't sporting his signature multi-colored hair and extensions.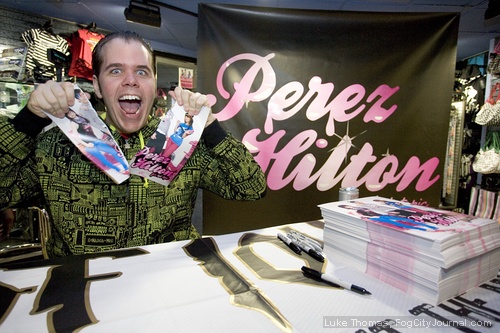 Perez Hilton
All I can say is that I was totally blogstruck. Whatev, this isn't the New York Times; I'm allowed to be speechless in the presence of my blog idol. I asked Perez a couple questions while he signed an autograph for me, including one about gay rumors on the set of Gossip Girl.
Perez' response: "I think it might just be gossip, but I wish it were true." Um, duh.
Luke grew tired of my fangirl/softball questions and asked Perez some real questions:

Perez Hilton at Hot Topic in San Francisco from fogcityjournal on Vimeo.
Unfortunately, FCJ didn't have enough time to ask Perez about that whole "Fidel Castro is Dead!" thing, or his advice on how to save Amy Winehouse.
Fog City also received some swag from Perez' clothing line, including a Hot Topic gift certificate. We're too old to shop at Hot Topic, but I did get a free pair of these shutter shades in Perez' favorite color, pink: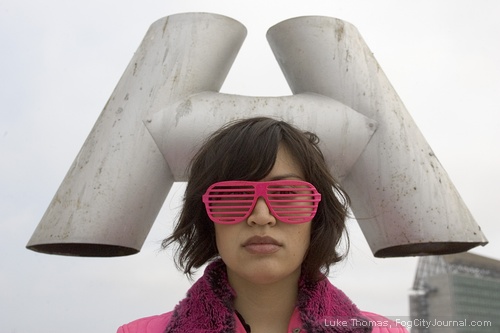 Attention SF Politicians: FCJ Loves Real Celebrities More than You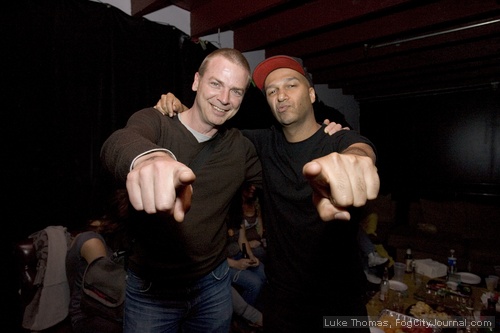 Political missionaries Luke Thomas and  Tom Morello want YOU to Rage Against the Machine.
Photo by Tiffany Burns