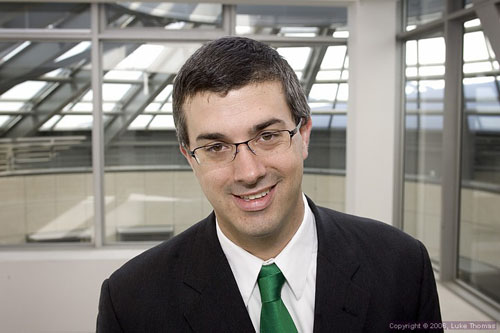 "
District 6 Supervisor Chris Daly
Photos by Luke Thomas
By Chris Daly
June 30, 2008
Because of you, tonight I can stand here and say that I will be the Democratic nominee for the president of the United States of America.
On the same evening that Barack Obama, a former community organizer, captured the Democratic nomination for president and its national party structure, our HOPE Slate for the local Democratic County Central Committee won 18 of 24 elected seats.
Just a day after Gavin Newsom, Hillary Clinton's local campaign co-chair, foolishly encouraged a floor fight at the Democratic National Convention, Newsom's slate for the local party was trounced– only winning 8 of 24 available seats. Across the country, Democrats have been voting for change. Hey, why not here in San Francisco too?
The battle for the local party was the most important race that received scant attention on Tuesday's ballot. While San Francisco is known as a deep blue city, the local Democratic Party has played a relatively minor role in local politics– making endorsements, passing resolutions, and doing the occasional voter registration drive. At its worst, the Party was used as an extension of downtown, pushing bad candidates on an unsuspecting electorate while apologizing for Democratic leaders' lack of resolve on important issues. Many good progressives have been knocking at the door of the local party for the past 8 years but never won a big enough majority to overcome our deficit of superdelegates (state and federal officials who have an automatic seat) on the DCCC. On Election night, it appeared as if progressives had finally broken through.
But in the intervening weeks, downtown has been moving heaven and earth to hold onto the Party and reelect their Chair, Scott Weiner. Some DCCC members who have committed to progressive candidates and causes have been targeted by downtown. With a powerful coupling of threats and promises (that have even included offers of Commission appointments), downtown's candidate is still in the game. Despite his record of delivering for downtown, longtime progressive Jane Morrison has committed to vote for Weiner.
With this altering of the political landscape, downtown has zeroed in on center-left DCCC members, like Arlo "Hale" Smith, Laura Spanjian, and David Campos. A vote against Weiner would have the repercussion of losing them their support within the powerful Alice Toklas LGBT Democratic Club.
Despite dominating the election, the HOPE/Change Slate may be cracking in this rough and tumble political world. Some don't seem to realize that getting elected is only half the battle in politics. Resolve in the face of stiff political winds is just as necessary for political success.
In the past weeks, I have personally reached out to colleagues on the DCCC to express the significance of the challenges ahead. An email that I wrote to Arlo "Hale" Smith outlines what is at stake for progressives. While my message of progressive discipline is clear, downtown is trying to use my negatives against us, claiming that "big, bad Chris Daly" is threatening others. Well, downtown can call it hardball if they want, but Bay Guardian Editor Tim Redmond seems to agree – this is about dancing with the one who brung ya.
The progressives ran a slate of candidates with the aim of changing the local party, the local party power structure and the local party's political direction. If they're serious about that, they should start at the top, and change the person in charge.
We didn't endorse the progressive slate, and I didn't vote for these people, just because they're all friends of mine or because I think they're all wonderful people. This was about issues – and the folks who won as a part of that slate, with the support of those of us who care deeply about those issues, ought to remember that when the vote for chair comes up.
There's no doubt that the future of progressive politics in San Francisco is in the balance this year, and internal machinations of the Democratic Party will have a big effect on the outcomes. The vote for Chair next month sets the stage for the whole year. Progressives need to keep our eyes on the prize. Leadership from the Bay Guardian,  the Sierra Club, the Tenants Union, and the Harvey Milk LGBT Democratic Club have all staked similar positions. My email to Hale was in this vein…
Hale, I've heard through the grapevine that you are considering supporting Scott for DCCC Chair over Aaron. I tried to contact you by phone but was not successful, so I am sending you this email.
I can not stress enough what a nightmare it would be if this DCCC elected Scott as our Chair. I hope that you fully appreciate what this would do to reforms that you and I have discussed. Simply put, it would kill them before they even began. As a proxy for Leno/Newsom/Downtown, Scott would be in a position, through Committee assignments and agendizing, to squash any and all of our efforts to reform the Party.
I am very concerned that electing Scott Chair could compromise good progressive candidates for Supervisor this November. As Chair, Scott would be in position to influence close endorsement votes. I believe this would make it less likely that our candidates would win the endorsement of the Party. Even if our candidates are endorsed, Scott could stymie Party activities in support of them. Conversely, any bad Supe candidates (like Asha Safai in D 11), if endorsed, could be the beneficiaries of 3rd party donations to the Party controlled by the Chair (like that Lennar deal in the last cycle). In this way, they could effectively campaign beyond the spending caps, negating our system of public financing.
The November Board races are my top priority and were a major impetus for pulling together our slate, lining up endorsements, and then pushing resources into the slate cards. Between Aaron Peskin, Michael Bornstein, and I, we moved tens of thousands of dollars to promote our entire slate, while investing very little in promoting ourselves.
Finally, if Scott is elected Chair after all that work electing progressives to the DCCC, the unity that we've developed among progressives would be instantly lost. I, for one, have already committed to make it my personal mission to make sure that any members voting for Scott never receive the endorsement of the Guardian, Tenants Union, Sierra Club, and Milk Club in subsequent races. Meanwhile, I am committed to fielding a progressive slate for DCCC in 2 years and plan on investing significant time and resources into it.
I hope that you decide to be with us by casting your first vote this session with Aaron.
In Struggle,
Chris Daly