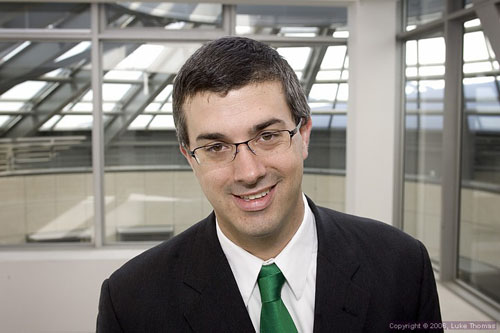 "
District 6 Supervisor Chris Daly
Photos by Luke Thomas
By Chris Daly
July 21, 2008
I've written on several occasions about the importance of the local Democratic Party and the heavy hitting going on behind the scenes for its top leadership post. Well, it all gets decided this Wednesday night, and you are invited!
The next leader of San Francisco's Democratic Party will not only set the course for our local Party over the next two years, they will have significant influence over the Democratic Party program this Fall, when 7 Supervisor seats get filled.
Since the progressive sweep of the Board of Supervisors in 2000, there's been no bigger make or break election for progressives in San Francisco. And with Obama momentum pushing San Franciscans to the polls to vote for the Democrat, there's no bigger endorsement this Fall than the Democratic Party. The Chair will drive fundraising and control the Party's committee structure, including the all-important committee that produces and distributes the Official Democratic Party Slate Card. This card will feature Barack Obama along with candidates for Supervisor endorsed by the Party. It may be the single most important piece of literature this election cycle.
In other words, this is important.
Aaron Peskin is the candidate for CHANGE and will lead the Democratic Party with a progressive vision. At the Board of Supervisors Peskin has taken on tough fights promoting progressive taxation and reforming government. He's successfully reformed MUNI, curbed Ellis Act evictions, and defended the bay from infill.  While his voting record is not flawless, Peskin has been an effective caretaker of progressive politics both inside and outside of City Hall.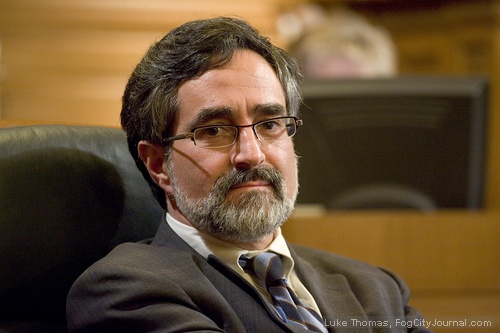 Board of Supervisors President Aaron Peskin
And its becoming increasingly clear that the well-being of progressive politics in San Francisco is going to be determined by how well we do outside of City Hall.  In most American cities and towns, if you want to find the locus of progressive politics, you look up the Democratic Party. That's not how it's been in San Francisco, but a reform-minded Democratic County Central Committee can make that a reality.
Downtown is not satisfied with having one of their people in the Mayor's Office. They want the Board of Supervisors seats and the Chair of the Democratic Party. Don't let them take it.
Make your voice heard. Â  It is time for CHANGE and for progressive leadership.
Wednesday, July 23, 7pm
State Building, 455 Golden Gate Avenue, Milton Marks Auditorium