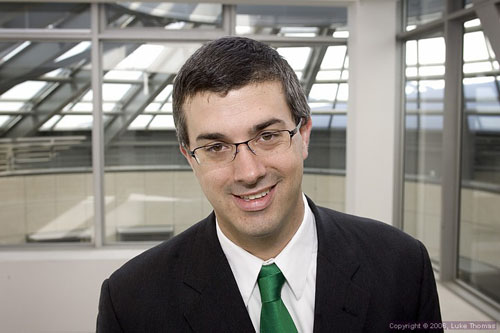 "
District 6 Supervisor Chris Daly
Photos by Luke Thomas
By Chris Daly
August 3, 2008
With the August 8th filing deadline rapidly approaching, it's fish or cut bait time in the hotly contested races for Supervisor.
The last week of July brought us two early indicators of campaign strength– signatures in lieu of filing fees and six-month fundraising totals. Even the strongest grassroots campaigns need to raise tens of thousands of dollars to print literature, pay office and phone bills, and send mail. Our new system of public financing, however, greatly levels this playing field, making $87,500 in public monies available to candidates raising $52,500 in contributions from San Francisco residents. (Additional public dollars are available if the voluntary spending limit is broken.)
Signatures in lieu of filing fee are far more valuable to campaigns than the $.50 waived by elections for each valid signature. They represent voters more likely to support the candidate and typically get rolled into campaigns' "get out the vote" program. They also are a good show of on-the-ground campaign strength.
While the ability to collect signatures doesn't necessarily equal success, the inability to put together a successful signature drive is a distress signal of a flagging campaign. Signatures and fundraising taken together help frame the races, and, with the exception of District 5, it looks like we have a bunch of interesting head-to-head contests.
District 1
It's been clear for some time that School Board Commissioner Eric Mar has the inside line to the Richmond Supervisor seat. Eric carries the support of the incumbent Supervisor in addition to the operation that twice elected him. Mar easily carried District 1 in his reelection to the School Board with over 10,000 votes and is revered in progressive circles. The outstanding question that may have been answered with the latest fundraising reports is who downtown would prop-up against him.
That challenger appears to be Planning Commissioner Sue Lee. Lee is the beneficiary of donations from Jim Lazarus and Roberta Achtenberg from the Chamber of Commerce, Doug Chan, William Cleveland from BOMA, Nathan Nayman, and a bevy of downtown developers and land use attorneys. They have collectively made the statement that Sue Lee is their candidate. Even so, with the benefit of public financing, Mar remains competitive with Lee in the money race – each reporting about $30,000 cash, free and clear.
District 3
In the early going, the race to replace Board of Supervisors President Aaron Peskin is largely a money game. Two left of center candidates, David Chiu and Denise McCarthy each posted big totals with $75,000 and $100,000 cash on hand respectively. Meanwhile Tony Gantner and Lynne Jefferson are both accessing public financing, which will help them keep up. Joe Alioto, Jr. and Claudine Cheng are vying for downtown's backing.
District 4
Perennial campaign veteran Ron Dudum believes that a fourth time is the charm in his run against appointed Supervisor Carmen Chu. Dudum came up just short in his last two efforts. He lost a tough run-off to Fiona Ma in 2002 and was edged by 53 votes on the first round of voting in 2006. With the help of public financing, Dudum is sitting on a $74,000 campaign nest egg. Chu has already burned through $50,000, giving Dudum close to a $20,000 cash-on-hand advantage.
District 5
Supervisor Ross Mirkarimi will coast to an easy reelection. The outstanding question is whether Ross can carry his Clean Energy measure across the finish line with him.
District 7
In what now may be the most intriguing race, I have confirmed that former Supervisor Tony Hall will be mounting a seismic challenge to his former Legislative Aide, Sean Elsbernd. This one is loaded with politics and personal vendettas, originally set up with Gavin Newsom's Triple Play and then ouster of Hall from the Treasure Island Development Authority. It promises to be a teacher-student slugfest reminiscent of Bobby Knight and Mike Krzyzewski in style and substance.
Elsbernd is sitting on $150,000, and as Newsom's top dog on the Board, will certainly have the full weight of the administration and downtown behind him. But if anyone can beat Elsbernd, it's his old-school former boss who is still well liked in the West of Twin Peaks.
District 9
In San Francisco's most progressive district, this race was initially billed as a street fight between neighborhood leader Eric Quezada, Police Commissioner David Campos, and School Board President Mark Sanchez. But the early returns suggest that this may be a two-person race. While David Campos and Eric Quezada have proven their mettle in both fundraising and signature gathering, the campaign for Mark Sanchez has been largely a non-starter – collecting only 195 valid signatures and raising less than $10,000. Even with a recent disbursement of public funds, Sanchez trails Quezada by over $20,000. More concerning for Sanchez is the lack of excitement in the District for his campaign. While Mark has been a true progressive champion on the School Board, he doesn't seem to have the fight necessary to compete and win in a hardscrabble Supervisor race. For the sake of the progressive cause, I have asked Mark Sanchez to consider dropping out of the D9 race so that he can run to hold his seat, and the progressive majority, on the School Board. This would limit ballot exhaustion in the ranked choice voting Supervisor race and improve Quezada's chances against the more center-leaning Campos.
On a happy footnote, congratulations are due to Eric Quezada and Lorena Melgarejo on the birth of their baby Ixchel!!
District 11
This race shaping up to be a classic San Francisco political battle between long-time neighborhood leader John Avalos and the Mayor's proxy Ahsha Safai. John Avalos is not just a long-time District 11 resident and activist, he's a seasoned advocate for working class families and children. John worked for Colemen Advocates for Children and Youth as well as Justice for Janitors and has been at the center of efforts to keep working class families in the City. John has watched over children and families through the last four City budgets. He's spearheaded violence prevention efforts and fought for high quality childcare and immigrant rights. Meanwhile, Ahsha Safai, who has been in real estate since leaving the Mayor's Office, claims to be "a passionate advocate for children and working families," on his campaign website. I guess that John's marquee issue must be resonating with the voters of District 11.
Like the District 9 race, a high profile contender, College Board Trustee Julio Ramos, doesn't seem to be getting any traction in the district. Ramos was only able to collect 223 signatures, and despite a big fundraising push, still trails Avalos in cash on hand. Even though he's the only elected in the D11 race, Ramos didn't even get a mention in the Chronicle's synopsis of the race. Ramos's candidacy is dangerous for progressives, because it could cost Avalos votes in the Latino community through exhausted ballots. Meanwhile, Ramos is risking a precious progressive seat on the Community College Board to make his run for Supervisor. Like Sanchez, Ramos has been a good progressive and should take progressive responsibility and do the right thing.
Battle for the Board
I've made it no secret that I have endorsed Eric Mar, David Chiu, Ross Mirkarimi, Eric Quezada, and John Avalos for Supervisor. I think they are the strongest and best progressive candidates. Each passes the early tests of fundraising and organizational strength. If elected, we will have a real progressive majority on the Board of Supervisors. If either Ron Dudum or Tony Hall are able to upset Gavin-appointed incumbents as well, it will be a shot louder than any heard in San Francisco since the sweep of the 2000 Board races.