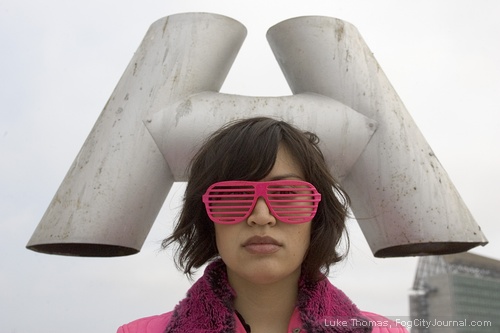 Elaine Santore
Photos by Luke Thomas
August 18, 2008
Did I miss the main event?
After an action-packed week full of DCCC endorsements, Supervisor Ross Mirkarimi's Friday art party, Dirstrict 9 supervisor candidate Mark Sanchez' office opening, I have no idea how I have the energy to write this column. Sometimes everything feels like "work."
And I'm back to school this week, which means my summer vacay is officially over and I'm supposed to develop some sort of routine. A routine that does not involve surfing the internet all day and pretending to be productive. Damn.
Also, tonight is the season four premiere of The Hills! Please do not try to contact me through any other means besides Twitter tonight, because I will not answer. I'll be too busy lowering my intelligence and self-respect.
Another kick-off party for Mark Sanchez
"Raise your hand if you've been to all my other kick-offs," District 9 supervisor candidate Mark Sanchez said during a party for his new chill campaign office at 988 Valencia Saturday night. The office has it all – a pool table, artwork, a back patio with a heat lamp, and cots in the back room for volunteers in need of beauty rest.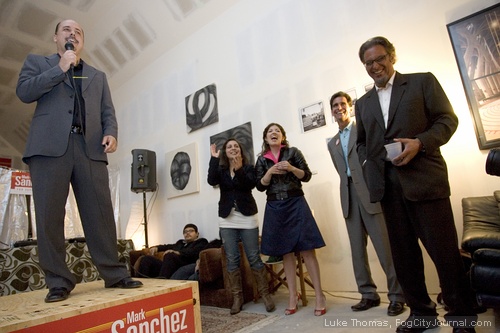 District 9 supervisor candidate Mark Sanchez, school board candidate Bobbi Lopez,
Sanchez campaign manager Sunny Angulo, Assemblyman Mark Leno,
and District 5 Supervisor Ross Mirkarimi.
Assemblyman Mark Leno and Supervisor Ross Mirkarimi attended the event and urged supporters to donate their time and money to Sanchez' campaign. Mirkarimi dubbed the new office "the coolest campaign office," and said "this site sort of smells like victory."
Mirkarimi emphasized the need to continue the good work of the Board of Supervisors after his colleagues are termed out this year. "It's not really about Mark. It's about the fact that we have this feeling in our stomach, in our gut, in our heart – that we need to work extremely hard in order to extend that agenda, extend that vision and deliver the goods," Mirkarimi said.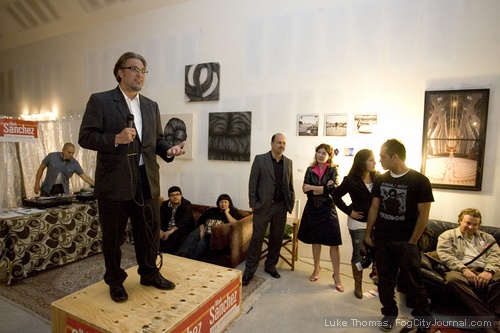 Supervisor Ross Mirkarimi
Leno also sang Sanchez' praises. "This is not about ego, self aggrandizement, this is not about power, or exercising control," Leno said. "I think of Mark and know that he will be the conscience and moral compass of the Board of Supervisors. And we need that."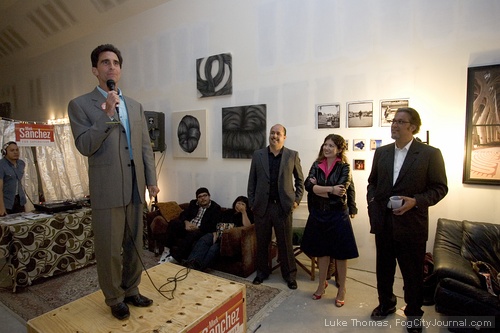 Assemblyman Mark Leno
Sanchez, a Green Party member, seemed a little shocked by Leno's endorsement. "People are asking Mark, 'why the hell are you endorsing a Green?'" Sanchez said. "I don't even want to know what kind of phone calls you've gotten from people who are really severely, angry."
Some things:
Fog City Journal came to the party with H. Brown, Bob Brigham, Hope Johnson, and Carlton Wright (of the H. Brown Hour). Along the way, Brown discovered why there are no old people on BART: A MUNI Senior Fast Pass is not valid on BART. Thomas, who just returned from vacation in England and Ireland, noted that seniors in London aged 60 and older are eligible for a free travel pass.  Dubbed the "Freedom Pass", seniors and disabled persons travel for free on London's vast public transportation network and on many national overland routes.
Hope Johnson and I talked for a while on H. Brown Hour, but that was kind of pointless because nobody could hear us talking, anyway. We don't have this problem with our Flip Ultra Camcorders because the Flip Ultra was blessed by the hands of Jesus, aka Oprah Winfrey.
The Photos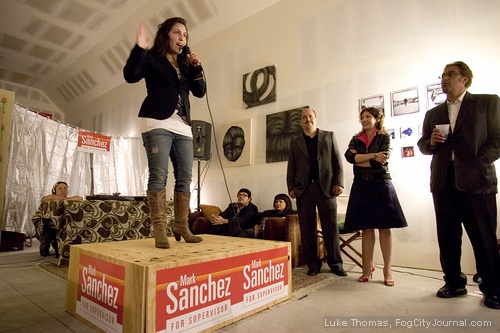 School board candidate Bobbi Lopez.
(Check out Luke Thomas' interview with Lopez, here.)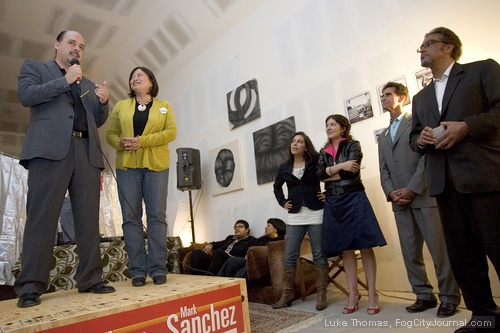 Mark Sanchez invites school board candidate Sandra Lee Fewer to the stage.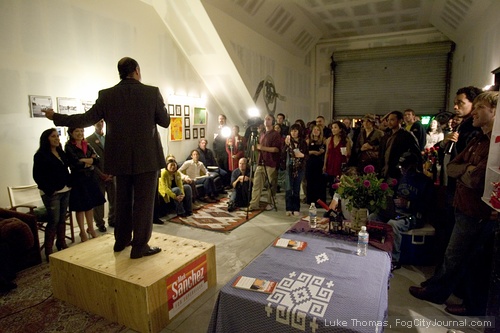 Supporters and party crashers listen attentively to Sanchez' keynote address.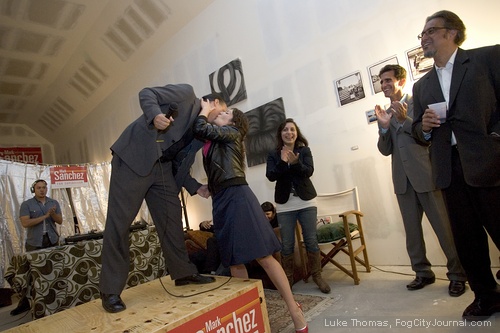 Sanchez Campaign Manager Sunny Angulo receives adulatory praise and appreciation
from Sanchez. "She's the best campaign manager, I think, in the city," he said.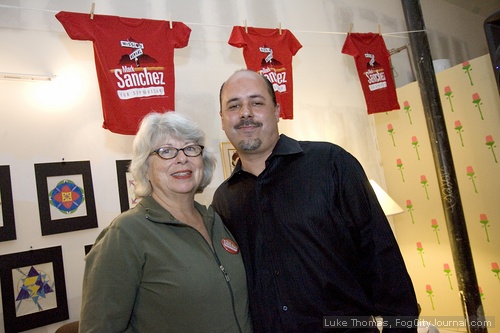 Mark Sanchez and mom, Lorraine.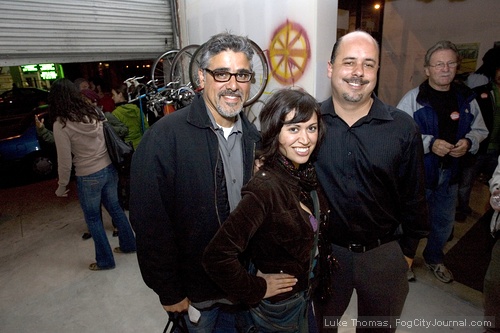 District 11 supervisor candidate John Avalos, Elaine Santore, and Mark Sanchez.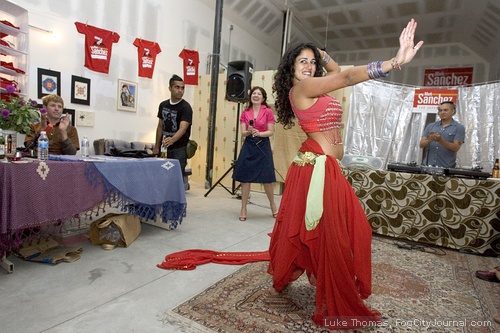 Belly Dancer Neesha Gupta.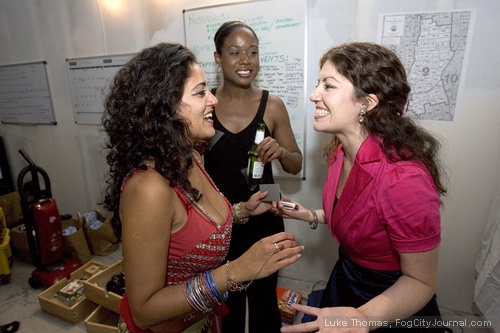 Neesha Gupta and Sunny Angulo.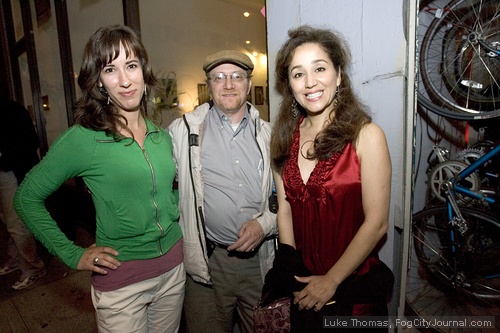 City College Board candidate Bruce Wolfe
flanked by politico groupies Aimee Ellis and Sasaneh Solaimani.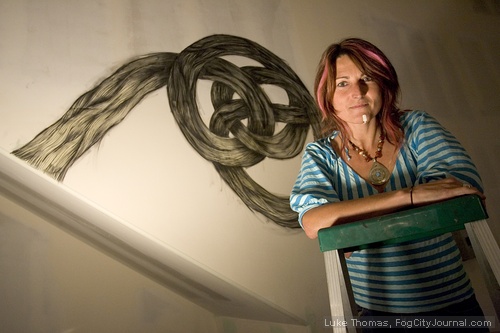 "Knots" by artiste Paz de la Calzad.
Photo and Video Extras
Want to see videos and more photos from the event?  Check out FCJ's YouTube channel and fogblog. If you're not checking fogblog every day, you're only enjoying half the Fog City Journal experience.