MTV News Correspondent Sway Calloway, Luke Thomas and Elaine Santore
attend the 2008 Changing the Odds graduation ceremony
held at Delancey Street Theater, August 22.
Photo by Lonnie Holmes

August 26, 2008
The last two media people left in San Francisco
There are a lot of local bloggers and journos over in Denver for the Democratic National Convention (including Fog City Journal contributors Chris Daly and Tanene Allison), but I'm not as envious of those folks as I am of The Hoff, who had the privilege of watching Boyz II Men perform at the Nebraska State Fair. Who needs Gavin Newsom and Jenny Lewis when you can slow dance to "On Bended Knee" whilst surrounded by livestock and food on a stick?
Last week was filled with school and a packed social calendar. Not everybody attends a graduation ceremony with MTV VJ Sway Calloway  and the final performance for Trannyshack in the same week. That's what we're here for.
Sway speaks at Changing the Odds Graduation Ceremony

MTV News Correspondent and Executive Producer Sway Calloway spoke for nearly thirty minutes Thursday, instilling inspiration and confidence into graduates of District Attorney Kamala Harris' "Changing the Odds for Youth" program.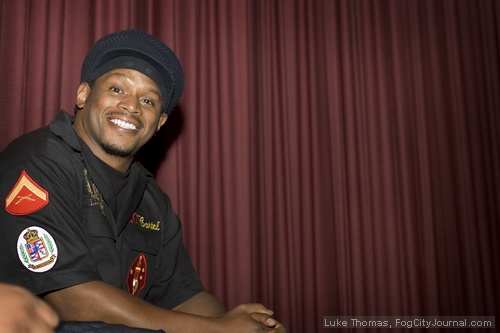 MTV News Correspondent and Producer Sway Calloway.
Photo by Luke Thomas
Looking into the eyes of each graduate in the front row of the Delancey Street Theater, Calloway explained how he got his career started in journalism, from his early days growing up in Oakland to working for KMEL radio and eventually MTV, where he became the first MTV VJ to become a producer.
"If you can't go to a college campus, all the information you need to reach your goals is right there online," Calloway said. "The more information you obtain, the better prepared you become in life, the better choices you make consistently and constantly – and that's how you continue to change the odds."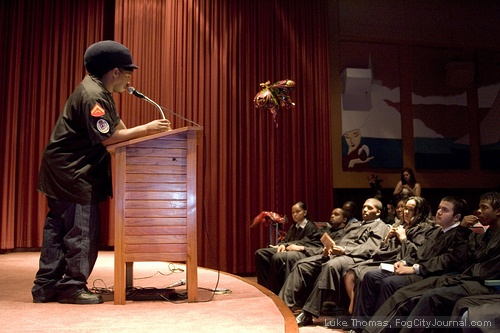 Sway Calloway speaks to the graduates about his life and career.
Photo by Luke Thomas
As part of a re-entry program for youth exiting San Francisco's juvenile justice system, each graduate completed an eight-week summer journalism internship and job training program with New American Media.
"That street game is a lie," Calloway said. "It ain't going to help you. It ain't going to help you advance in the way you necessarily want to advance. And you may go through it, you may not, but you'll find in the end that the best energy to attach yourself to is your energy – and your energy by nature is positive."
Calloway encouraged the interns to cultivate their own path in media by utilizing technology. He cited gossip blogger and MTV Total Request Live correspondent Perez Hilton as an example of how the Internet has leveled the playing field.
"[Hilton's] blog started in his home, in his bedroom, and he was able to break into the lies of the industry through new media sources," Calloway said. "You guys are capable of doing the same thing."
Harris created Changing the Odds for Youth program five years ago. This year, the District Attorney's office partnered with New American Media, the San Francisco Juvenile Probation Department, and the Department of Child Support Services.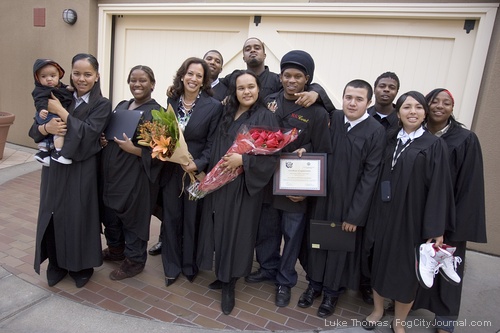 Changing the Odds graduates pose with District Attorney Kamala Harris and Sway Calloway.
Photo by Luke Thomas
"Changing the Odds is about accountability combined with really bright, wonderful young people and lots of support and confidence and resources," Harris said. "And in the end great, great success, which is exemplified by the graduation today."
Check out the graduates' work at YO! Youth Outlook.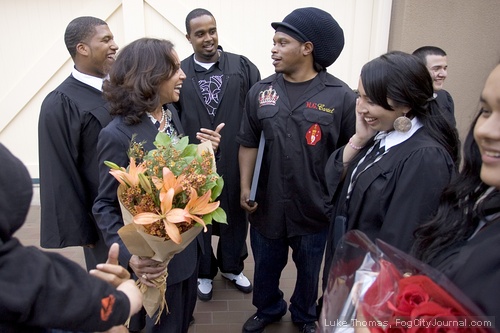 Sway Calloway chats with the graduates following the awards ceremony.
Photo by Luke Thomas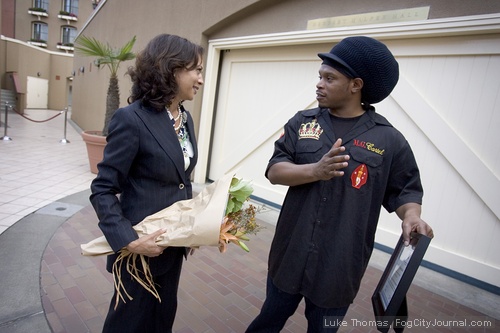 Inspiration meets determination: Kamala Harris and Sway Calloway.
Photo by Luke Thomas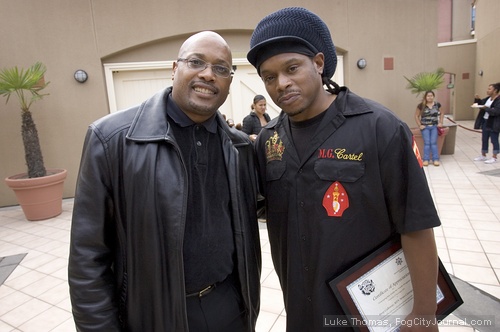 Old friends: Lonnie Holmes reconnects with Sway Calloway.
Photo by Luke Thomas
Peace out, Trannyshack!
Last, but definitely not least, Fog City Journal attended the Trannyshack Kiss-Off party at the Regency Centre on Saturday night.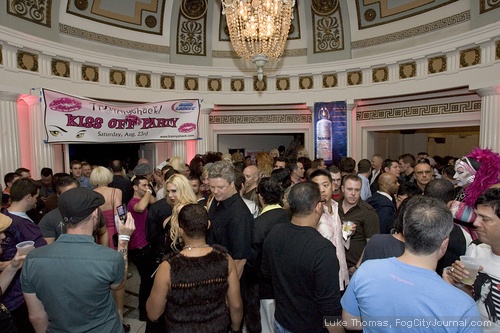 The Regency Centre lobby at the Trannyshack Kiss-Off Party.
Photo by Luke Thomas
Luke Thomas walked over from Jens Nielsen's birthday party at Edinburgh Castle pub. Tanene was finishing her whirlwind tour of San Francisco which included attending her best friend's wedding and scheduling her former MTV colleague Sway Calloway's appearance at the Changing the Odds graduation – and arrived with her friend Nicole Grant from Yelp.com.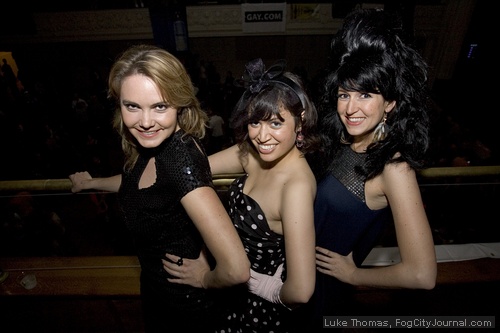 Tanene Allison, Elaine Santore, and Yelp's Amy Winehouse Nicole Grant.
Photo by Luke Thomas
Assemblymember Mark Leno presented Trannyshack Creator, Heklina, with an accolade declaring August 23 Trannyshack Day in the State Assembly. "He's not at all interested in all the cute boys here tonight, he's only here in his official capacity," Heklina said of Leno. (Check out the video here.)

Trannyshack Creator/Producer/Hostess Heklina.
Photo by Luke Thomas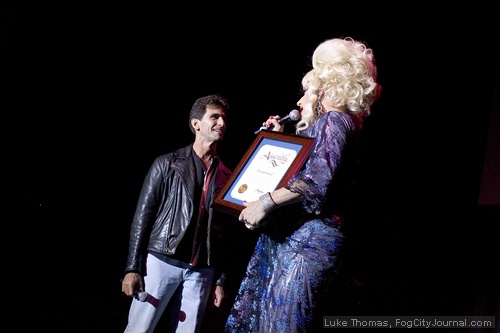 Assemblymember Mark Leno presents Heklina with a Certificate of Honor.
Photo by Luke Thomas
"After tonight, I'm vanishing," Heklina said. "I'm going to fly out to a deserted island where all I have to worry about when I wake up in the morning is where I'm going to have lunch, and who's dick I'm going to suck today."
I was the only FCJ staffer to stay until the very end to watch Ana Matronic perform. But it was totally worth it, if only to hear Matronic say: "There's so much lube on this stage, it's like a fucking slip 'n slide."

Scissor Sisters singer (and Trannyshack alum) Ana Matronic.
Photo by Elaine Santore
It was the perfect send-off for Heklina!
The only reason you came here, anyway: The Photos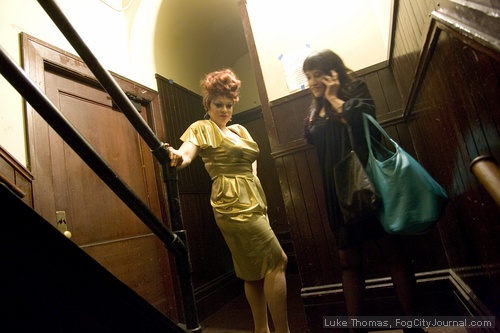 Lady Miss Krier (left) backstage.
Photo by Luke Thomas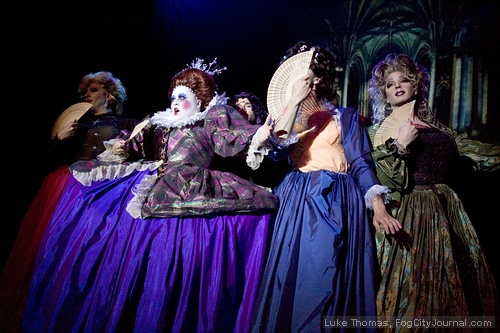 Hoku Mama Swamp performs.
Photo by Luke Thomas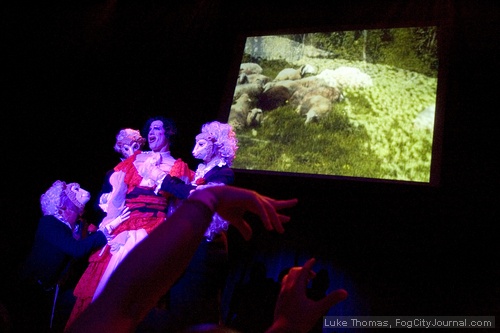 Not entirely sure what this was all about. Something about sheep.
Photo by Luke Thomas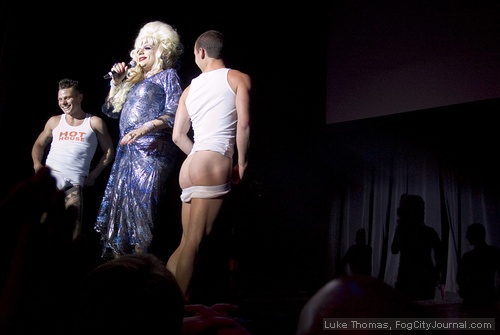 Heklina gets cheeky with the boys from Hot House Entertainment.
Photo by Luke Thomas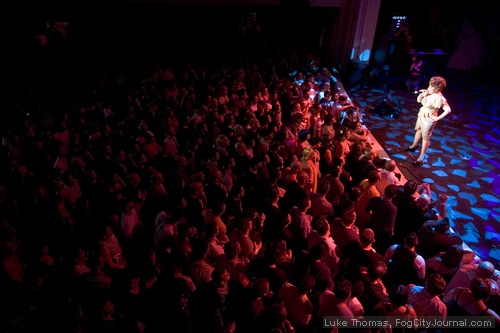 Lady Miss Krier performs.
Photo by Luke Thomas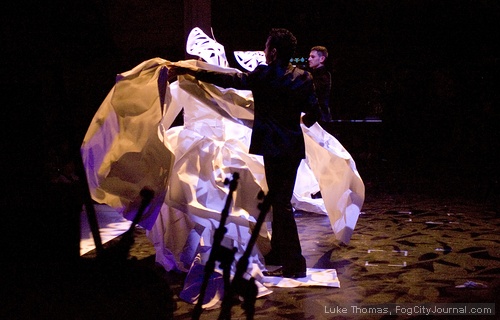 Backstage.
Photo by Luke Thomas
More Trannyshack photos at fogblog.