The CrackBerry Chronicles
With Elaine Santore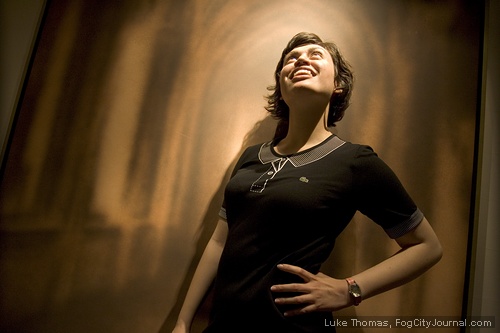 Photo(s) by Luke Thomas
August 14, 2007
The Hoff comes to San Francisco
The past weekend marked the second coming of my BFF, Aaron, to San Francisco. Aaron (who also goes by "the Hoff") is originally from Detroit, MI, but currently attends the University of Nebraska - Lincoln. We met during my senior year of college, and have been joined at the CrackBerry ever since. Aaron desperately needed to escape the summer heat and mediocrity of Middle America for a couple days to restore his faith in humanity.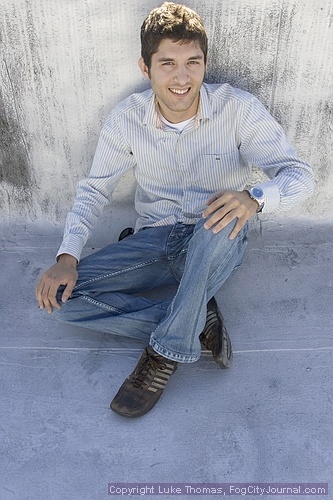 Aaron, aka the Hoff.
Aaron's interests include, but aren't limited to: homeless people with talent and/or a funny sign, Victoria Beckham, Rihanna, Beyonce, musical theatre, blogging, Facebook, snacks, white zin, organic food, Bill and Hillary Clinton, "Ugly Betty", Men's Vogue, Lacoste, Serena Williams, and his BlackBerry.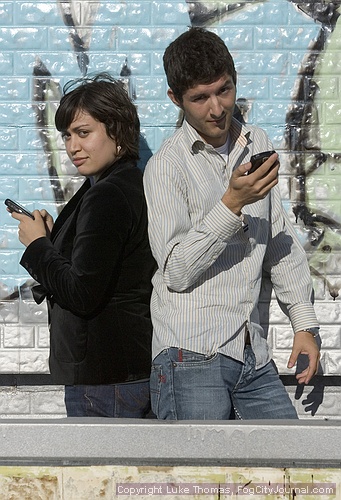 Elaine and Aaron: CrackBerry and CrackBaby reunited.
His dislikes include: nature, pigeons, old folks (with the exception of h. Brown), beer, Avril Lavigne, wonky eyes/boobs, sun damage, Facebook wall pollution (aka when tragic "friends" post multiple comments on your wall, salting your game with hot people), name-dropping and anybody deemed "Truly. Lost."
As I do with all out-of-towner profiles, here's a sampling of the Hoff's observations of San Francisco:
The SRO experience: "It's just like a dorm."
The Castro: "Everybody travels in pairs."
h. Brown: "I love him. He's so nice."
Mayor Gavin Newsom: "Truly lost."
SF's progressive community of crazies and conspiracy theorists: "That's how it should be."
Aaron picked the right time to come; Friday was the final day to file for mayor of San Francisco, and three of the candidates (Josh Wolfe, Chicken John Rinaldi, and h. Brown) showed up to the Temple Bar to celebrate. However, he didn't approve of the beer cougars trying to sell us flavored beer because they looked like Midwestern sorostitutes.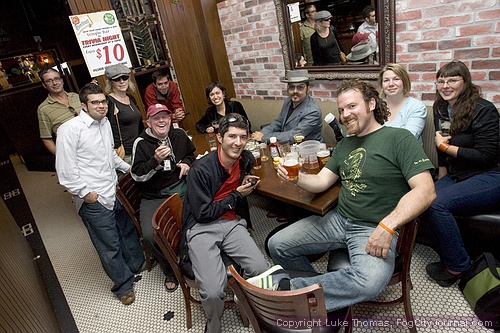 The Hoff finds himself in the middle of the biggest story in San Francisco.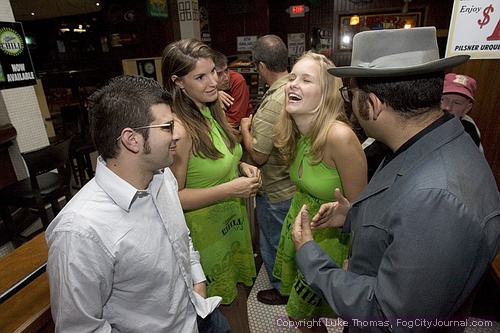 Mayoral hopefuls Josh Wolf and Chicken John Rinaldi chat up the beer cougars.
I took some Polaroids of some of our adventures this weekend. Contrary to popular belief, Luke Thomas isn't the only ace photographer at Fog City Journal. I think my work below speaks for itself. Here are some photos of us at the hotel, and Citizen Cupcake.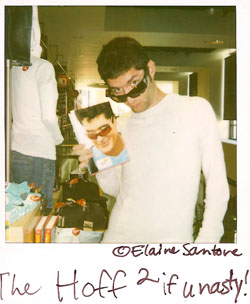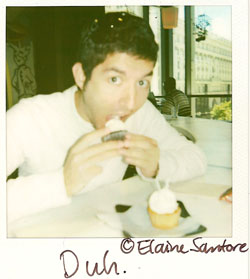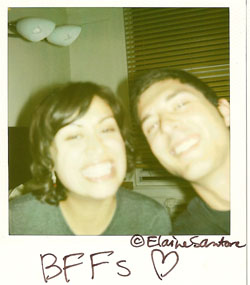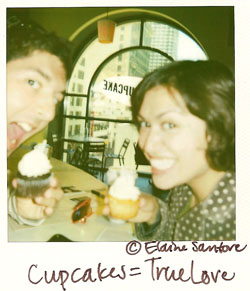 Words cannot describe how much I miss the Hoff. Come back soon!
CrackBerry Blind Item
Which smug, holier-than-thou, story-stealing gumshoe is leaving a bad taste in everybody's mouth?
The Ice Queen act doesn't work unless you're Victoria Beckham, and nobody's that MAJOR.

####