By Luke Thomas
October 30, 2008
San Francisco Bay Guardian publisher Bruce Brugmann yesterday blasted Pacific Gas and Electric Company (PG&E) for its efforts to buy the November election and took aim at the San Francisco Chronicle for its "complicity" in providing cover to the utility company.
"Why does a major metropolitan newspaper not cover the biggest urban scandal in American history?" Brugmann said, referring to the Chronicle's hand in supporting PG&E's corporate energy monopoly and its flouting of key provisions in the Raker Act, a 1913 federal law that provides the City and County of San Francisco with the only public power mandate in the United States.
Brugmann made the comments following a noon protest by supporters of Proposition H, the San Francisco Clean Energy Act, outside the offices of PG&E in downtown San Francisco.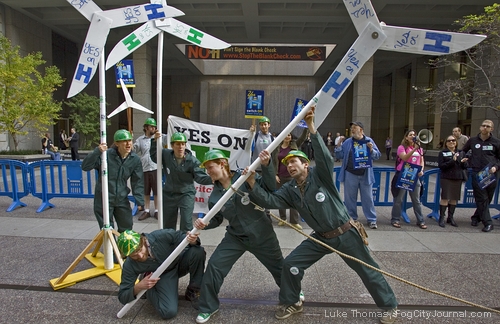 Proposition H "Green workers" erect wind turbines outside PG&E's offices yesterday.
According to Brugmann, newspaper publisher William Randolph Hearst was initially a champion of public power but "switched" his position when unspecified sums of money was provided to him by PG&E to save his newspaper empire.
"PG&E, through it's PG&E-controlled bank, gave [Hearst] a chunk of money, which he desperately needed at the time in the late 1920s," Brugmann said. "In return he was to reverse his position… and support PG&E."
The Hearst Corporation added the Chronicle to its publishing portfolio in 2000 and continues to oppose all public power ballot initiatives, including proposition H.
"It's one of the great censored stories in American journalism," Brugmann said. "Why now, after all these years is Hearst still standing with PG&E against the residents, against the businesses, and against the City and County of San Francisco?"
"We're the only city required to have public power, yet we don't because of PG&E's muscle and money all through the years, and you're seeing it now, right now in this election," he said.
According to campaign finance reports filed with the department of ethics, PG&E and a consortium of downtown interests have so far spent over $9 million to defeat progressive measures and candidates on the November ballot.
"It's a classic San Francisco battle," Brugmann said. "On one side are the unions and the tenants and the Progressives and the independents, some small business people and the Guardian.
"On the other side is PG&E and downtown and the Chronicle."