Elaine Santore
Photos by Luke Thomas
November 24, 2008
How to Party, Progressive Style
Fog City Journal attended last Thursday's Progressive Victory Party, held at the Independent, expecting a raging party (which it was) featuring a bunch of victory lap speakers and a bunch of progressives having too much of a good time to be paying any attention. It was just like the 2007 Progressive Convention, only this time with alcohol and about five people of color tearing up the dance floor.
I'm convinced that one year in San Francisco politics equals five years anywhere else in the world, which is why so many up-and-comers and hasbeens continue to thrive here. If you're new news, you're very new, and if you're old news, your glory days aren't too far behind.
Nobody forgets anything and you can leave for a couple years, return, and things will be almost exactly the same.
And even though Fog City Journal's only been around for about two years, we've seen enough to know what it takes to make the most of your progressive event experience.
Rule #1: Don't come angry
The first rule could also be any of the following:
– Don't make patronage votes
– Never leave the house without Spanx (duh)
– Don't piss off the photographer.
Outgoing Supervisor Gerardo Sandoval violated all of these rules.
While Sandoval was talking to RBA members Angus McCarthy and Richie Hart, FCJ editor Luke Thomas asked Sandoval to comment on his Eastern Neighborhoods votes Tuesday in which he departed with progressives to gift a spot-zoning concession to Small Business Commissioner Gus Murad. According to Thomas, Sandoval's votes reeked of patronage.
Judge Sandoval's response: "Get lost!" and then he poured his beer into Thomas' cocktail.
"Do it again, Gerardo, so the whole world can see what an ass you truly are," a shocked Thomas responded while holding up his camera.
A bristled Sandoval just stood there motionless, hiding his beer from view, while the RBA boys laughed at him.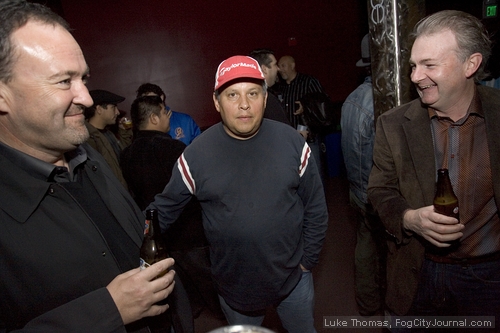 Judge Sandoval hides the evidence of his crime
while RBA member Angus McCarthy and Ritchie Hart laugh at his petulance.
Somebody hand Sandoval a map as he fades into the rearview mirror because he is TRULY LOST.
Thomas forgot to endorse Sandoval in our initial set of endorsements, but I didn't because I don't endorse shady-ass candidates.
Fog City Journal finds Judge Sandoval guilty on one count of bitchassness, two counts of player hating, and another for wasting a beer in front of Irish people.
Sandoval's sentence: Immediate revocation of his Progressive Pass. For-ev-er.
Rule #2: Look festive
There's no reason to wait for a specific holiday or birthday to wear your favorite outfit or accessory. The key is to have a consistent personal style or gimmick people can remember.
For example, I like to wear DIY decorated headbands because I'm only 5'1″ and most people wouldn't see me walking by without one.
Headbands probably have about five more minutes till they become tired, but nobody would care if I continued to wear them ten years from now because such rules do not apply in San Francisco.
Remember: 1 year = 5 years.

Some Dude and Elaine Santore.
Rule #3: Learn names
For my Nov. 5 column, I made the mistake of referring to District 11 Supervisor-Elect John Avalos' wife Karen Zapata as "Vanessa Zapata."
My error prompted an email from Chris Daly: "Great name, but not the name of the wife of John Avalos. It's Karen Zapata."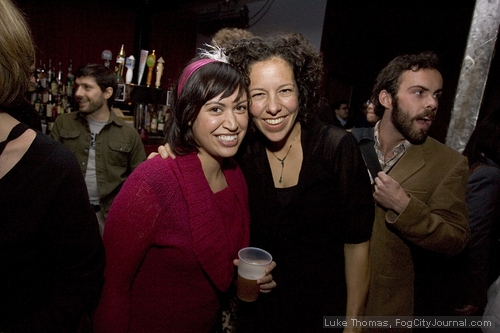 Elaine Santore and Karen (not Vanessa) Zapata.
Rule #4: Be gracious
Supervisor-Elect John Avalos showed Fog City Journal a campaign mailer sent out by his opponent, Ahsha Safai, which compared the Board of Supervisors to The Sopranos.
"There's always this kind of light and darkness thing that Ahsha did," Avalos said on Pirate Cat Radio's Kings of SF on Friday. "The 'darkness of the Supervisors' and the 'lightness of Ahsha.' He's wearing a white shirt, and he's got his hands up like Captain America with a playground behind him."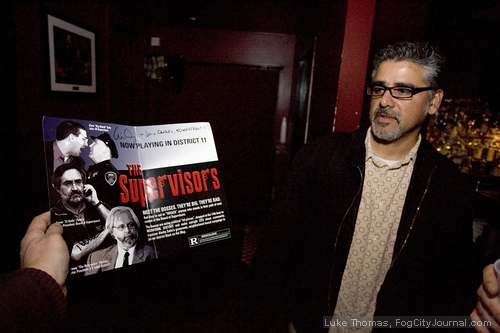 The Sopranos logo probably wasn't used with HBO's permission.
Or the photo of Tim Paulson.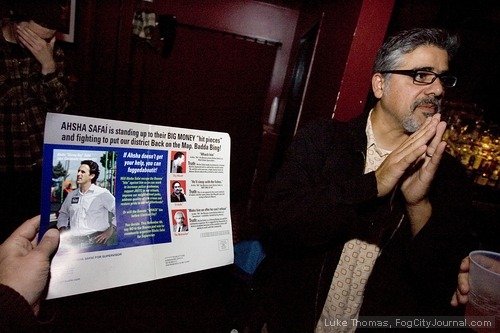 One surprise guest at the party was Alex Tourk, trying to go incognito with a baseball cap pulled low over his eyes. Yours truly must have some sort of political consultant radar because I spotted him in the dark from the other side of the room. I'd recognize that scruffy beard anywhere!
Rule #5: Don't get too close to the animals
Somebody had the brilliant idea to make "puppetmaster" Supervisor Chris Daly a set of finger puppets with Supervisors-Elect Eric Mar, David Chiu and John Avalos.
However, I made the mistake of asking Daly if I could try on one of the puppets and he said: "Step back! You're getting too close to the puppets."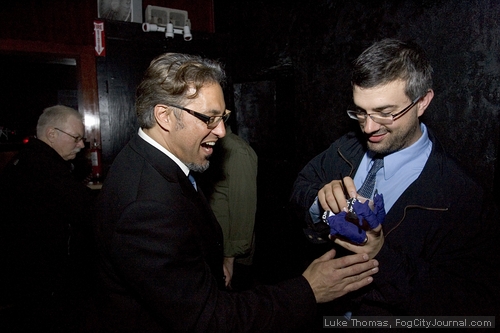 Step back from the puppets, Ross!
Rule #6: Win something
Unless you've been away from the internets or AWOL these past couple days, you know that FCJ friend Hope Johnson won the title of Best Political Mind in SF. Of course, this was no shock to me because homegirl reads FCJ more than I do.
Hope appeared on Pirate Cat Radio's Kings of SF Friday with runner-up Jason Fried to do her media victory lap, which you can listen to here.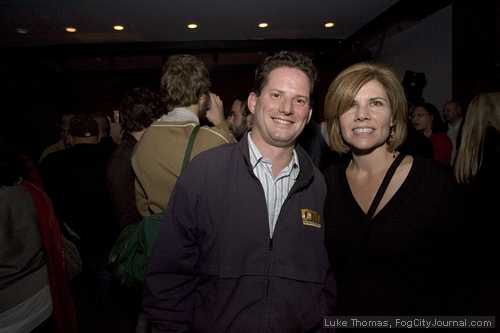 Best Political Mind in SF Hope Johnson and Runner-Up Jason Fried.
She said she's halfway through her 15-minutes of fame but I'm going to extend it even longer because I love the idea of all these progressive alpha dogs sitting around complaining because they got their asses handed to them by a hot chick with a fierce haircut. It's my wildest dreams realized!
I love you, boys, but you're all clueless and now's the time to start noticing all the brilliant, talented, and beautiful women you've been ignoring year after year.

The Political A-Team: Susan King, Hope Johnson, Sue Vaughan, Karen Babbitt,
Sasaneh Solaimani and Elaine Santore.
In this case, gentlemen, losing is not winning.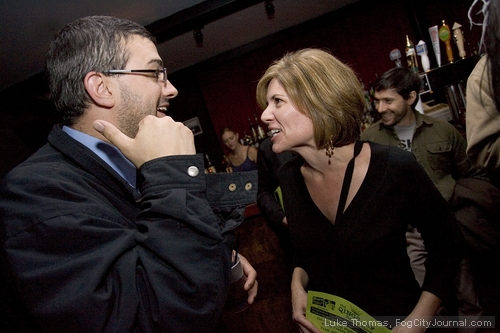 Sucka! Non-winner Supervisor Chris Daly and Hope Johnson.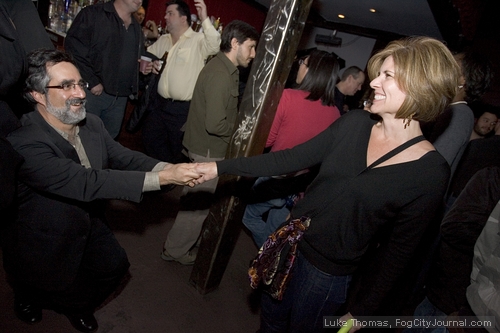 Kiss the ring, bitch: Board President Aaron Peskin
shows some R-E-S-P-E-C-T to Hope Johnson.
There were other winners at the party, including Supervisors-elect Eric Mar and John Avalos. Mar was hesitant to call himself Supervisor-elect until the election was officially called.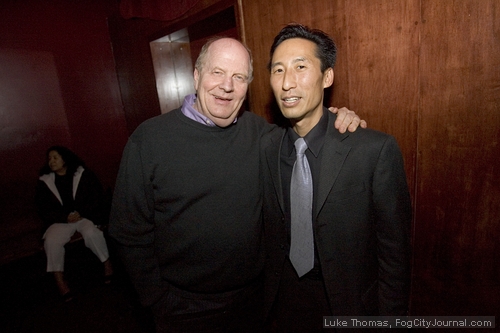 Outgoing District 1 Supervisor Jake McGoldrick
and his replacement, Supervisor-elect Eric Mar.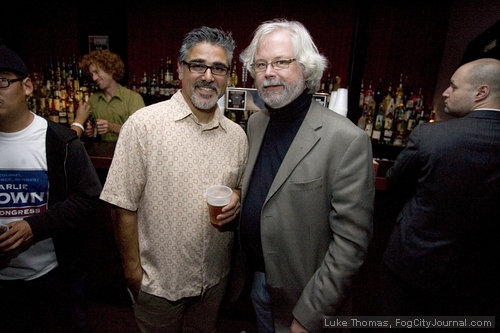 Supervisor-elect John Avalos and Tim Paulson.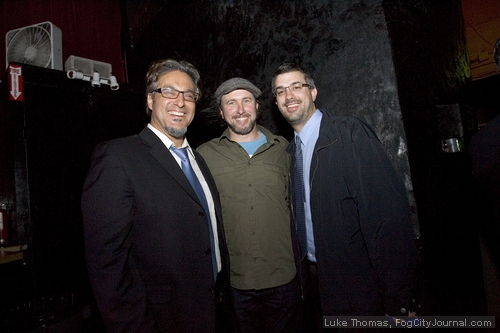 Supervisor-relected Ross Mirkarimi, Independent co-owner Michael O'Connor
and Supervisor Chris Daly.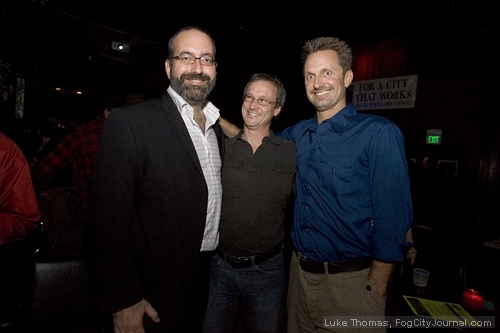 BART Director Tom Radulovich, Dave Snyder and SFBG City Editor Steve Jones.
Rule #7: Have Fun
The golden rule, but it helps to have good people, good conversations and amazing venues like the Independent.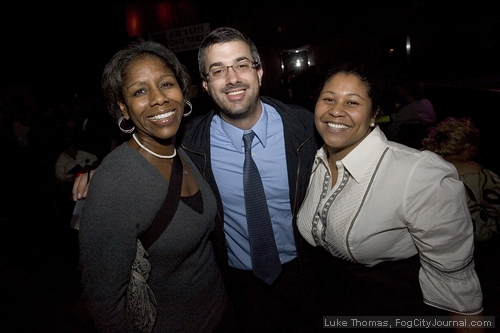 Kim Shree-Maufus, Chris Daly and London Breed.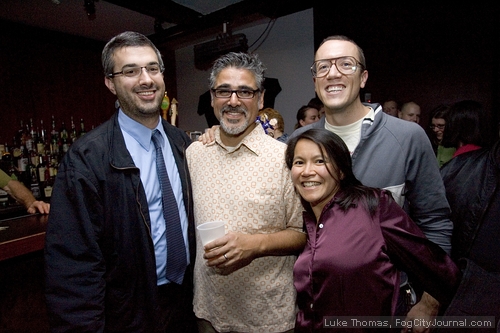 Supe Chris Daly, Supervisor-elect John Avalos,
Avalos campaign manager Jonathan Wright and Yvette Torres.

Board President Aaron Peskin and a teary-eyed Bobbi Lopez.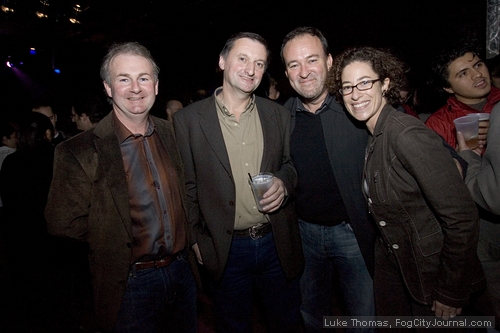 SF Murphia members Richie Hart, John O'Connor and Angus McCarthy
with Laura Spanjian.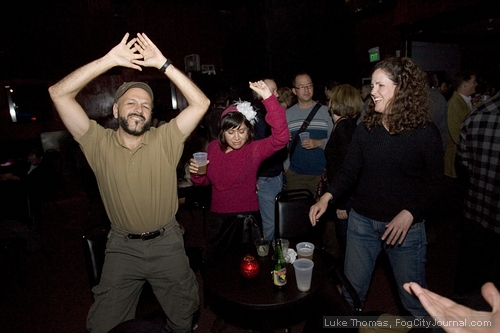 Karen Babbitt (far right) laughs as Enrique Asis
does his rendition of the El Commandante Shuffle
while Elaine Santore does the Jane Fonda Mug Shot.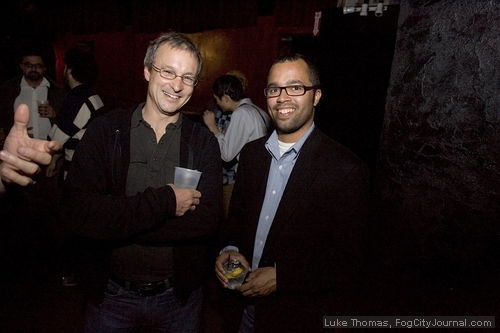 Dave Snyder and Bill Barnes.
Photo by Boris Delepine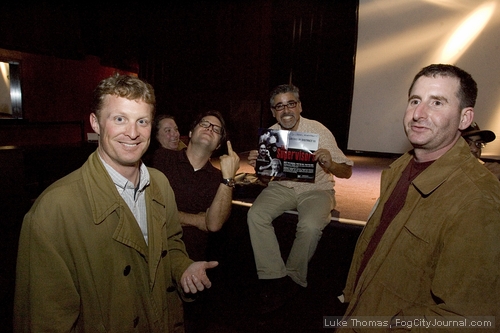 Quintin Mecke, Andy Blue, Supervisor-elect John Avalos
and Michael Bornstein of the Sierra Club.
Photo by Boris Delepine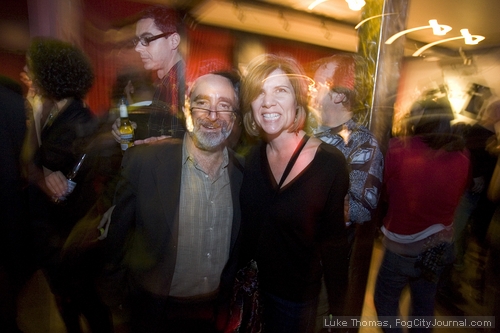 You can almost tell how much fun everyone is having from this photo.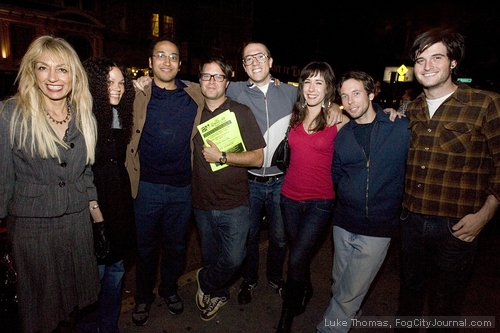 Until next time … xoxo