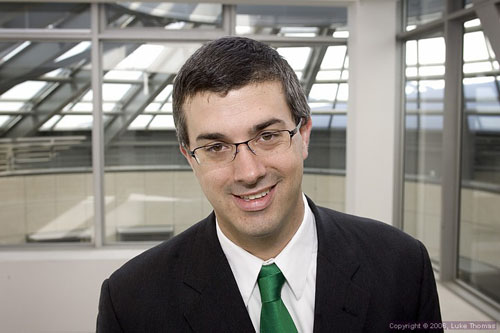 District 6 Supervisor Chris Daly
Photo by Luke Thomas
By Chris Daly
March 2, 2008
Last week, just before jetting off to Texas to once again stump for Hillary Clinton, Gavin Newsom penned this diary on the decidedly pro-Obama site, Daily Kos.
"Nader's candidacy has a special meaning to me – because his new running mate, former San Francisco Board of Supervisors' President, Matt Gonzalez, was my opponent in 2003 when I first ran for mayor."
Misdirection 101
Newsom quickly capitalized on the opportunity presented by Gonzalez, lavishing Matt with accolades to make the argument that "Matt Gonzalez will help Nader help the Republicans."
Now don't get caught up on Newsom's own Republican connections, including that donation he made to the GOP some years back. Just remember that Newsom is making this claim while he proxies for the campaign that's spending millions hammering the likely Democratic nominee on experience, authenticity, healthcare, choice, relationship with Tony Rezko, and national security. As the now infamous 3AM ringing phone ad runs across Texas, pushing up Obama's negatives, Gavin wants us to think that the real threat to Barack Obama is Matt Gonzalez!
"That's why there can be no greater imperative for Democrats and progressives than uniting behind the party's nominee. Now is the time for us to take a stand against the irresponsible and dangerous threat of the Nader-Gonzalez campaign. Now is the time to work together so we can win back the White House. Now is the time for a united front so that we may begin, finally, to reverse the incredible damage done to our country and our world by eight years of George Bush and Republican leadership."
Now that's how you do misdirection in politics, folks! Notice that there is no mention in his post about Clinton at all. Nothing about her stepping aside so that the Dems can present this "united front." Not even a mention of cooling down the attacks a little bit in case Barack's wins force Hillary to the side this week.
Peter Fucking Ragone!
But wait a minute – there's a back-story here. We know that the Clinton campaign brought their California Ace to run their Texas campaign. What I didn't realize until I read it yesterday was that they also brought in Peter Fucking Ragone! According to the Chronicle's Carla Marinucci, Ragone is helping Ace Smith "run media for the campaign in Texas." You don't say!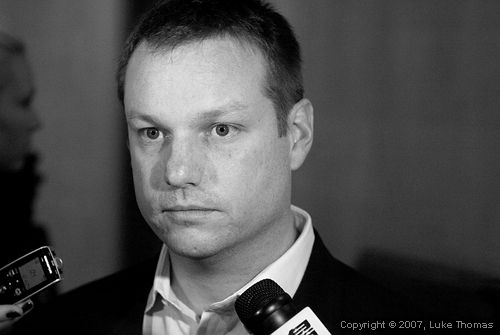 Former Newsom Press Secretary Peter Ragone.
Peter Ragone is Gavin Newsom's former press secretary, who was exposed for lying about his use of sock puppets to make blog comments questioning Newsom critics. Ragone also got caught in the web of lies about Newsom's affair with his campaign manager's wife and related substance abuse issues. After these troubles, Ragone was promoted in the administration and ultimately went to work for Newsom's reelection campaign.
Now Ragone is helping to run Clinton's media in Texas just as the Clinton campaign has become decidedly nasty in attacks on Obama. Ragone was well-known around San Francisco City Hall for his dirty tactics. Now it seems that Gavin's got him doing Hillary's dirty work in Texas.
Now re-read Gavin's post. Completely hypocritical!
On Gonzalez
For those of you who don't follow the ins and outs of San Francisco politics… Matt Gonzalez is a former President of the San Francisco Board of Supervisors, the 11 member legislative branch of the City and County. With the return of district elections in 2000, Gonzalez and I were elected in a progressive sweep that brought 7 new Supervisors to City Hall.
Newsom was one of two Supervisors loyal to Mayor Willie Brown to survive that election.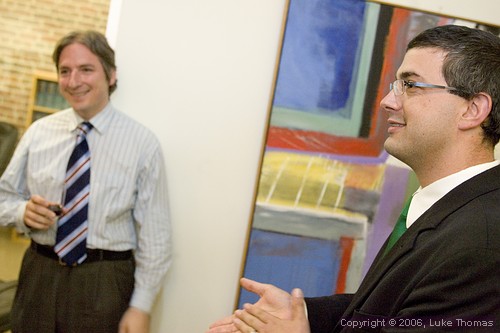 Chris Daly and Matt Gonzalez.
The new progressive majority on the Board immediately embarked on the path of political and economic reform, balancing the runaway power of the incumbent Mayor. Gonzalez was elected President of the Board in 2002 and passed a measure to increase the City's minimum wage a year later.
Gonzalez is best known for his people-powered, insurgent campaign for Mayor in 2003.
Heavily outspent and with few high-profile endorsements, Gonzalez gave the mainstream media-anointed Newsom a serious scare. A rainy election day in December was the most significant single display of grassroots energy that I've ever seen – with thousands of San Franciscans pounding the pavement for Matt. We won on Election Day but had already lost the race with the early ballots.
A bit disillusioned with local politics, Matt left the Board after his first term, as the second most powerful politician in San Francisco, saying that we may see him one day run for something he probably wouldn't win…
In many respects, the Obama campaign in San Francisco this year had much the same feel as Gonzalez in 2003. In fact, it was hard not to reminisce with Gonzalez-backers who hit the streets of San Francisco for Obama this year.
But Barack is Best
As an unapologetic supporter of Barack Obama and friend and political ally of Matt Gonzalez, I have to admit that Matt's decision last week is a bit awkward for me. Matt says that he's running to elevate the issue of election reform, and we agree on the import of that. But I believe the most logical place right now for progressives to elevate important issues is within the context of the Obama campaign and the movement building around it.
These are exciting times, and Obama (building on the work of Howard Dean) has already forced significant realignment in the Democratic Party. Now his campaign is providing us with the opportunity to fundamentally change how politics works. This is way bigger than any specific issue or even who the next President will be.
I wouldn't expect Gavin Newsom to understand or appreciate this, but I wish Matt did.
Whatever.
Let's get back to work building our movement. Obama for President!