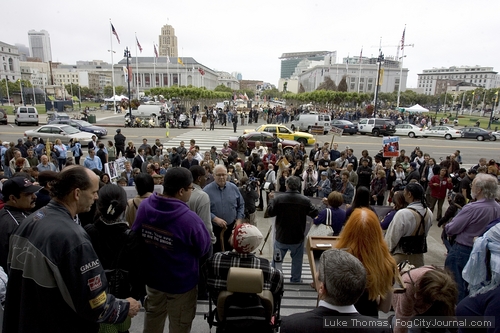 A community divided over what to do about an unprecedented fiscal crisis.
On the one side, public health and human service advocates are seeking
an equitable budget that shares budget cut pain across all City departments.
On the other, firefighters and cops are reluctant to budge.
Photos by Luke Thomas
June 17, 2009
Massive budget cuts to public spending that the City and County of San Francisco is facing is evolving into a power struggle for various factions of the city's ruling bodies and services. Whilst Mayor Gavin Newsom initially handed health and human services the lion's share of the cutbacks (believed to be in the region of $150m), he increased general funding to police and fire departments in his proposed budget by 5 and 6 percent. Much of the Board of Supervisors' work since then has been trying to rectify this imbalance and to stop various parts of the city's "social safety net" from disintegrating.
Outside City Hall Tuesday there were two very different rallies that took place before the Board of Supervisors met. At 12.30pm, public health supporters gathered on the steps of City Hall and attempted to give a serious presentation on why we should not allow such drastic cuts to San Francisco General Hospital, methadone programs, housing initiatives and mental health programs, to name but a few areas that are going to be impacted. There were several short speeches from members of different services, describing specific incidents of how the cutbacks would have immediate adverse affects on peoples' lives and ongoing health.
As their rally went on, their speeches became less and less audible. This was due to two factors: more and more small groups tried to jump on the bandwagon and ended up standing in front of the speakers, muffling the sound. The other reason was less innocent. Across the street, firefighters, Teamsters, and several other unions were preparing their own rally, and the rabble-rousing music they were blasting was being progressively turned up.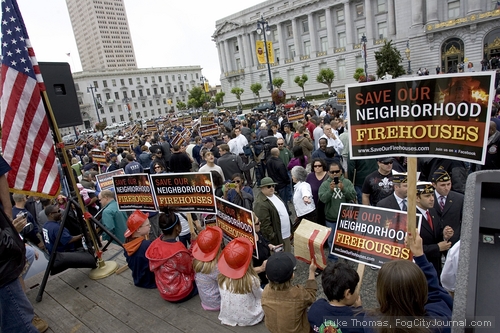 By contrast to the public health and human service supporters, the self-professed public safety supporters had made this a family and neighborhoods issue. Along with off-duty firemen came their young children and anyone else they could drum up including police, army, teamsters, you name it. They even all turned to pledge allegiance to the American flag at the start, something that is of course extremely common, but nevertheless seemed a mite out of place.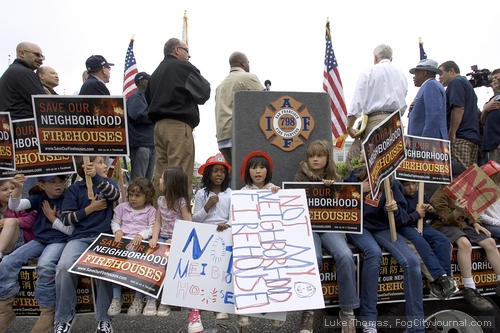 Pledging allegiance to the flag: a mite out of place.
The speakers – nearly all men, and mostly full of thunder and rhetoric – gave the impression that this was not just any old rally, but one in which we needed to fight for the very values and fiber of Our Great Nation. There was scare-mongering talk of people dying, more criminals being allowed out onto the streets; streets not safe to walk down. It felt, to be honest, like a cross between a Republican Party convention and a night of World Wrestling Entertainment. Two of the bigger guys could have squared off and it wouldn't have surprised me.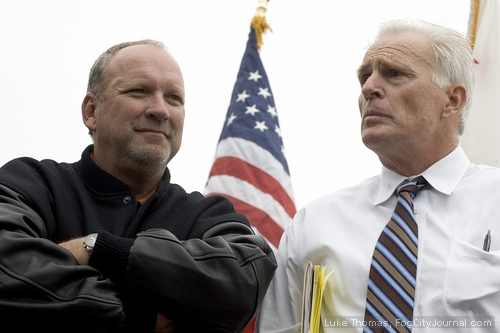 WWF: SF POA honcho Gary Delagnes
and SF Firefighters Union (Local 798) Prez John Hanley.
The tone of the firefighters and their public safety rally, combined with the fact that they had enlisted not one, but two mayors to speak (both Gavin Newsom and former Mayor Willie Brown), showed far more than just savvy organization by Newsom campaign manager Eric Jaye. That Newsom talked at length about how grateful he was to the fire department, coupled with the fact that he originally proposed no cuts to their funding, smacks of the kind of politics that involves political favors, popularity contests and back-scratching, all at the expense of San Francisco taxpayers.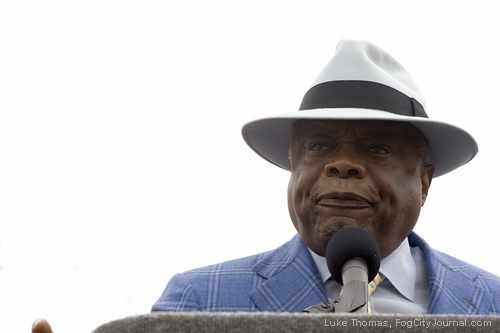 Puffer Fish former Mayor Willie Brown.
Newsom's speech pandered to an already-incensed crowd at a time when he is running for Governor of California, requiring a strong power base of powerful support. He also didn't shy away from assisting in the general demonizing of the Board of Supervisors, as the nasty people who reversed his generosity to the fire department. He expressed almost genuine disbelief that anyone would have wanted to tinker with his supposedly flawless budget proposal.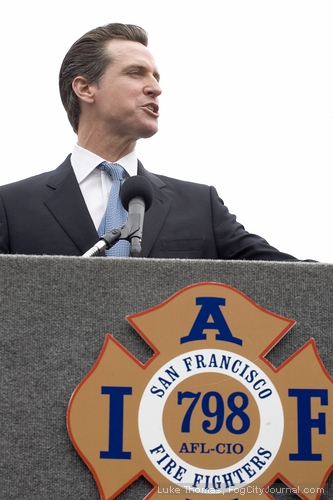 Mayor Gavin Newsom.
There was no such backing by any mayors at the public health rally. Supervisor John Avalos spoke briefly on their behalf, stating he did not favor any one sector, but believed in everyone doing their bit to "share the burden." There was little in the way of the black-and-white invective from the firefighter's rally across the road. Someone even raised the point that, although the ambulance drivers' union was camped with the public safety supporters, they, more than any others, should understand that even if they can get a patient to SF General Hospital as quickly as possible, public health cuts might mean there would be no-one to actually treat the patient upon arrival.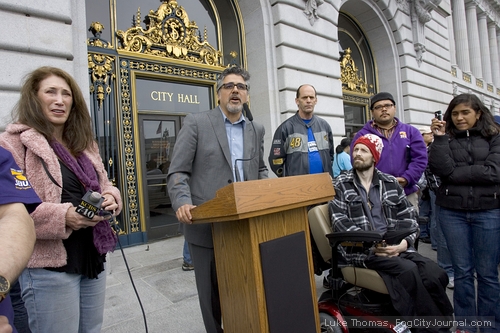 Supervisor John Avalos
It seemed like a straight battle between which sector was going to have to swallow whole these enormous and potentially crippling cutbacks, yet no-one among the placard carrying holders had the gumption to actually write a sign saying "Public Health vs. Public Safety." But, that's what the standoff was boiling down to.
Once inside City Hall, the standoff continued to heat up as both sides chanted outside the board chambers with the firefighters demanding to be let in over those who had formed an orderly line to gain ingress.
Once the Beilenson Hearing (a State-enforced hearing to consider the Department of Health's budget eliminating or reducing medical services) began, after a powerful speech by Supervisor Chris Daly, the public got their chances to voice their concerns.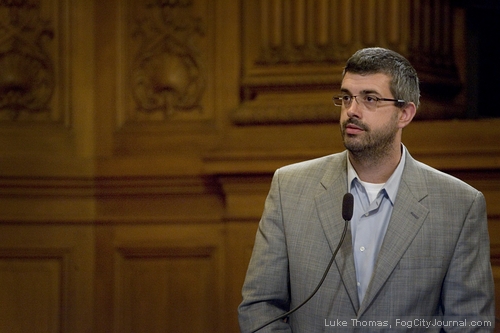 Supervisor Chris Daly
Most refreshing was a young firefighter, who braved the ire of a sea of public health supporters to state that he would rather take a pay cut than see any fire station close, or any health or human services department close down due to cutbacks.
"There must be a middle ground," he said.
Let's hope those responsible can find it.