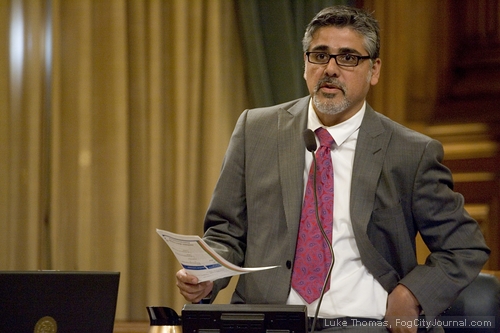 Budget Chair John Avalos
Photos by Luke Thomas
By John Avalos, special to Fog City Journal

July 28, 2009
As the Board finally passes the 2009-2010 Budget, I wanted to share my reflections on the Budget process.
Over the last 10 years, I have been involved in the City's budget process, first as the organizing director of Coleman Advocates for Children and Youth, then as staff for Supervisor Chris Daly, where I organized year after year with budget stakeholders to create a budget that represented the interests of working people.  These experiences have been invaluable in learning the intricate City budget process and, most importantly, the politically challenging but all-important process of coalition building among the different budget stakeholders in the City.
A Year Like No Other Year
Earlier this year, when I was appointed to serve as Budget Chair of the Board of Supervisors (BOS) on the same day I was sworn in as a Supervisor, I wondered if I was up for the challenge. The City was facing its worst fiscal crisis since the Great Depression and I saw myself facing a series of impossible choices with the potential for great political fallout.  The administration had already initiated mid-year reductions affecting key health and human services for San Francisco's low income communities, as well as front line workers, especially in Rec. and Park, Public Health, and the Human Services Agency.  Hundreds of millions of dollars worth of additional cuts and layoffs were in the works.
From the beginning, I knew that the usual budget advocacy would not suffice given the enormity of the shortfall.  As early as February, I convened representatives from the different issue-based coalitions that traditionally work on the budget, including unions representing the most vulnerable City workers.  I shared with these activists the grim forecast for the budget and how, this year, it would not be good enough to simply be good advocates on their respective issues.   They needed to work together across sectors and issues and unite on common priorities.  They also needed to help me identify savings, inefficiencies, and new revenues to help us get through the crisis.
People Power
For the last five months, the advocates and activists did just that. They created a coalition of coalitions – the Budget Justice Coalition.  They set out to coordinate efforts and fight for a fair budget to protect the most vulnerable in our City.   The Budget Justice Coalition agreed to advocate for more than just funding specific programs, but to fight for and restore services supporting the City's most vulnerable residents. Overall, the Coalition resolved to mobilize the people most impacted by proposed budget cuts.
From March to May, my office worked with activists to organize hearings and press conferences both inside and outside of City Hall. In these actions, we sought to ensure a transparent budget process and put pressure on the Mayor.  Working closely with Coleman Advocates, Senior Action Network, the Homeless Coalition, Domestic Violence Consortium, SRO Families Collaborative, SEIU 1021, and a broad array of neighborhood groups, we made sure that voices of everyday San Franciscans were at the forefront of the discourse over the City's budget.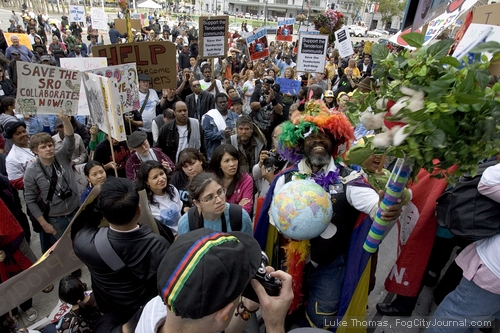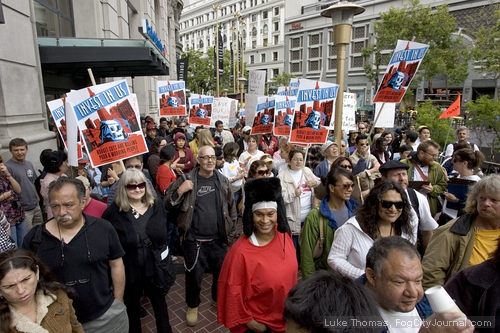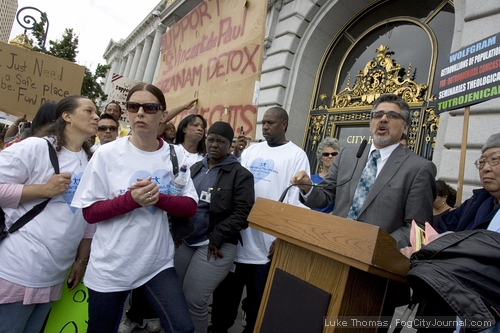 After the Mayor released his budget, the Coalition worked overtime to identify priority cuts to be restored, educate the public on the inequities in the budget, and mobilize public pressure on City Hall.  The last five months saw the largest and most sustained budget advocacy in San Francisco in recent years.  Below are just some of the highlights of those efforts:
March 26th: SEIU's Big Ass March -Hundreds stopped traffic as they marched from 5th & Market to City Hall to protest lay-offs and demand new revenues.
April 2nd: Mission District March – Over 500 hundred youth, immigrants, and homeless service providers marched from 16th StreetBART to 24th Street BART Plaza.
April 16th: Immigrant Family Day @ City Hall – Hundreds of immigrant families filled City Hall to demand protection of immigrant rights services.
April 29th:Children's Press Conference and Hearing – Children, youth and families demanded that City Hall continue services to maintain standards for San Francisco families with children.
May 8th: Mother's Day Press Conference @ Women's Building – Service providers, community leaders, and activists urged the Mayor NOT to slash funding for the City's domestic violence programs.
May 12th: Silver Tsunami – Hundreds gathered to stage a sit-in to protect services for seniors and people with disabilities.
July 10th: Budget Justice Coalition – Close to a thousand San Franciscans from throughout the City marched from Hallidie Plazato City Hall to demand a fair budget.
July 17th: Dueling Rallies on the Interim Budget – Hundreds representing a cross section of the health and human services sector turned out overnight to call upon Fire and Police Departments to "share the pain" on an equitably balanced budget
Still Short
Despite being a largely symbolic move, the Interim Budget vote truly exposed the deep inequities in the City's budget.  I personally took a lot of political heat for stirring up the hornets nest of the Police and Fire Departments' unions.  While Local 798 may have spent hundreds of thousands of dollars to run a field campaign, I was lucky to have the support of D11 residents who volunteered in my office to help spread our message about budget equity.  We were successful in convincing many concerned residents about the need for these unions to share the pain.  While the Interim Budget vote did not necessarily produce the savings we needed to fund all the priorities we had identified, it did set up the framework for us to trim unprecedented amount from the Fire and Police Departments,  $6.1M and $5M respectively, figures that previous Budget Committees have not even come close to.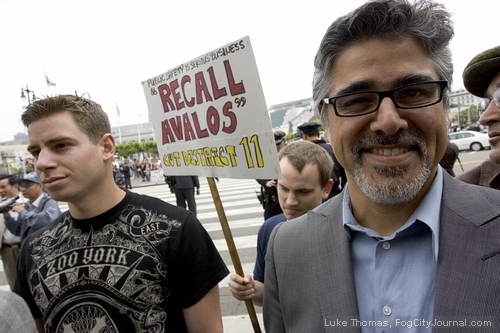 Taking some political heat in the form of recall threats.
But as of June 29th, the night of the last Budget meeting to hear from departments, the Budget Committee had only identified $20 million in cuts to the Mayor's budget, which would go towards stopping privatization of jail health services, custodians, public health security, and museum guards (Prop. J's), and restoring cuts to essential services.  Stopping the Prop J's alone cost over $20 million.
Late that same night, I met with the Budget Justice Coalition to get their input on priorities and strategies before President David Chiu and I headed into negotiations with the Mayor's office.  Fully aware that the Mayor could simply refuse to spend appropriations made by the Board, I asked the advocates if they were willing to take the risk of going after the Mayor's priorities in order to get to the dollar amount we needed to restore our key priorities.  The Coalition confirmed that they were willing to sustain the fight if needed.  Emboldened by this commitment, I went into the Mayor's office and gave them an ultimatum that was tantamount to "we can do it the hard way or the easy way."
By 1:00 am, the Mayor's office was coughing up new savings and revenue to fund our progressive priorities.  By the night of July 1st, after 48 hours of active negotiations, we had $43 million to stop ALL the Prop J's and restore over $23 million in other priorities – a feat that surprised all of us including the most ardent organizers of the Coalition.
As a result of this collaborative effort, we were able to keep all major shelters open 24 hours a day, restore key health services, maintain a single standard of care for mental health services, continue immigrant rights and tenant services, protect seniors from losing meal programs, prevent cuts to family support and violence prevention services, restore rec. & parks jobs, reject instituting charges to families for their child's detention at Youth Guidance Center,  promote transit-first parking policies, set aside millions of dollars for job programs at the airport, port and SF public utilities commission, and many other progressive priorities.
While Randy Shaw may credit these achievements to some progressive miracle, getting the Mayor's office to fork up another $23 million in those last 48 hours of negotiations was actually the result of 5 months of building a broad coalition, 3 months of endless hearings, weeks and weeks of grassroots organizing, over a dozen mobilizations, and hundreds of the most impacted San Franciscans speaking up for themselves.  As someone from the labor movement, I know full well that our victory was based not on our negotiating skills, but on the power and leverage built up by everyday people, organizing and speaking out on their own behalf.
Early in the budget process, I had set as one of my priorities the defunding of the Mayor's pet projects, such as his press office, the 311 call center, and the Community Justice Center.  But, in the end, with the support and advice of those who put in the most work over the past 5 months, we opted for a "budget deal" that stopped all efforts at privatization and restored $23 million in health and human services and other progressive priorities.
Champagne Battle
The night of July 1st, when the Budget Committee approved the $43 million restoration package, should have been a night for Progressives to celebrate the culmination of months of hard work.  Instead people watched an emotional and divisive exchange between me and my former boss and close ally, Chris Daly.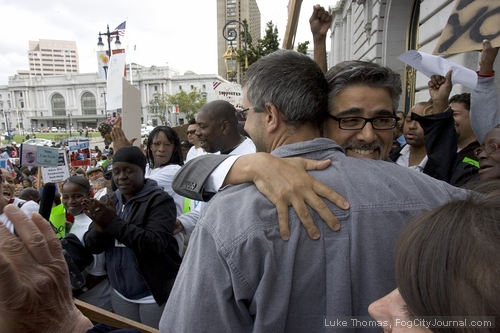 Supervisors Chris Daly and John Avalos embrace.
Chris, a veteran of budget battles with Room 200 felt that I had been swindled and that the $43 million in restorations were "not worth the paper it was written on" without "insurance."   To get this insurance, Supervisor Ross Mirkarimi moved to put the Mayor's priorities on reserve.  Having just come out of negotiations where we basically got $23 million in exchange for not touching any more of the Mayor's priorities, it would have been bad form for me to support this move.  Chris did not understand this.  Having suffered the brunt of the Mayor's budget maneuverings for the last 2 years, Chris didn't understand the position I was in, and could not celebrate the accomplishment that we achieved that night.
Chris and I have since talked about our differences in our approach and our tactics, and our expectations of each other as colleagues.  Like the Progressive community in the City, Progressive legislators also have differences in style and tactics.  We plan to settle our differences in a Baking Throwdown this Thursday.  It will certainly be an ongoing process for me to sort out the politics of friendship and politics with Chris.  While I was definitely hurt and disheartened by his personalized admonition on the night of July 1st, the importance of "insurance" or leverage was not lost on me.  Surprisingly, and despite his protest, Chris was successful in framing the "budget deal" as not good enough and pushed the Budget Committee to make additional improvements, such as the $45 million reserve.
At the end of the day, the Board of Supervisors passed a budget that truly represents the progressive values of most San Franciscans, including increased leverage for the Supervisors in the mid-year and for future budget battles.  Certainly, Progressives have a lot more to gain working together as a team instead of cutting each other down.  And, despite what outside observers might say, the final budget was the result of teamwork among progressives both inside and outside of the Budget Committee.
Fighting for the "Other" San Francisco
My legislative aides, Raquel Redondiez and Frances Hsieh and I, all proud Progressives from District 11, worked hard to stay true to the cause. Throughout the budget process, we kept our integrity and principles and sacrificed many hours to ensure the most transparent budget process to date.  We brought together City-wide advocates and mobilized our own D11 constituents (many of whom are not self-identified progressives) to fight for a just budget.
We shifted public opinion in D11 on the need for Police and Firefighters to share the pain. We have no doubts whatsoever about the great value of our work. Even though we weren't able to prevent every layoff and service cut, we worked with a broad cross-section of our communities to build unity and strength to protect the services that San Franciscans care most about.
While balancing City-wide priorities, we were also successful in stopping the slashing of violence prevention programs in the OMI and senior services in the Excelsior.  Along the way, we also pushed back the decimation of the City's community development investments with the merger of the 30 year Mayor's Office of Community Development into the Office of Economic & Workforce Development.   Working with stakeholders from the most impoverished neighborhoods in the City, we lead the effort to develop a comprehensive vision for community development in the City and secured Board appointments to the Citizen's Committee for Community Development.
While we have our share of detractors from the left and the right, we have no doubts about our accomplishments on this Budget and our work with diverse budget stakeholders (including our colleagues on the Board).   We will continue to work hard on new revenue measures, push for more government efficiencies, and stay vigilant to protect our hard-fought restorations.
Despite the headache, heartache, and heartburn of the last 6 months, I would do it all over again.  Serving as Budget Chair has given me the opportunity to deliver for District 11 and all underserved neighborhoods in the City.  I have been able to serve the most vulnerable families in the City and help build progressive power and unity not just for this budget battle, but for lasting progress in our City.
It is certainly not a perfect budget, nor a perfect process.  But for those interested in learning the truth, and the real lessons from this budget fight, it's best to talk with the organizers on the ground.  There is still much to be done to develop the Progressive movement, and many more fights to win, one battle at a time.  I look forward to working collaboratively with people from both sides of the aisle, both sides of City Hall, and all sides of the City next year and for many years to come.