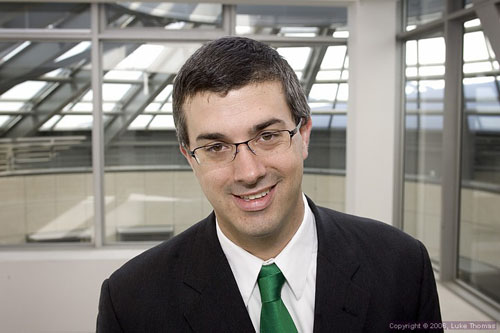 District 6 Supervisor Chris Daly
Photo by Luke Thomas
By Chris Daly
March 11, 2008
People-powered politics is sweeping across the country. From large urban centers to small towns, people are energized about Democratic politics on a level that I've never seen before. Consider for a moment last month's caucus in the "red state" Kansas. Democratic turnout was nearly double that of the Republican.
So what are the implications for deep blue San Francisco? We know that on Super Tuesday, San Franciscans bucked California's trend and gave an 8-point advantage to the then-insurgent Barack Obama. Not surprisingly, turnout was up 57% over the previous, already decided primary.
With much of San Francisco's Democratic establishment with Hillary Clinton (including Senator Feinstein and Mayor Newsom), the energy in February's contest came almost entirely from the grassroots and from Progressive circles. Early this year we witnessed hundreds of newcomers to electoral politics join up with 7 Supervisors and the Bay Guardian set. The excitement was palpable. But, unfortunately, the Presidential campaign rushed out of San Francisco as quickly as it stormed in.
The question now is much bigger than how to increase Democratic turnout in November to help ensure an Obama victory in California. We need to figure out how to keep this people-powered politics going past any single election cycle.
I believe the Democratic Party is the most appropriate vehicle to keep this people-powered, democratic politics going.
That is why I am running on the HOPE Slate for Democratic County Central Committee. The Slate is a powerful combination of progressive reformers and grassroots activists that aims to turn the San Francisco Democratic Party into the City's most significant progressive change agent. In many places, local Democratic Party plays this role.
But in our deep blue City, the Democratic Party plays a more minor role– making endorsements, passing resolutions, and doing the occasional voter registration drive. In tougher times, the Party has been used as an extension of downtown, pushing bad candidates on an unsuspecting electorate while apologizing for Democratic leaders' lack of resolve on important issues. If there ever was a time to reinvigorate our Party, to make it the force for good that most in our City believe it can be, it is now.
All the candidates on the HOPE Slate have already won the support of Supervisors Tom Ammiano, Ross Mirkarimi, Aaron Peskin and Public Defender Jeff Adachi. Now we have to take our mission to the grassroots and elect the HOPE Slate on June 3rd.
DCCC, 12th Assembly District
Michael Bornstein, Emily Drennen, Hene Kelly, Eric Mar, Jake McGoldrick, Jane Morrision, Melanie Nutter, Connie O'Connor, Giselle Quesada, Arlo Hale Smith.
DCCC, 13th Assembly District
Bill Barnes, David Campos, David Chiu, Chris Daly, Michael Goldstein, Robert Haaland, Joe Juilian, Rafael Mandelman, Aaron Peskin, Eric Quezada, Laura Spanjian, Debra Walker.