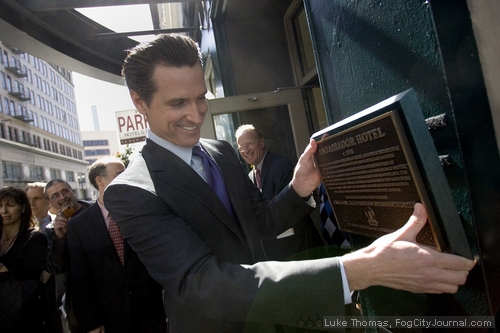 San Francisco Mayor Gavin Newsom attached a bronze plaque
to the historic Ambassador Hotel, Wednesday, as part of a new initiative
that creates an historic preservation district in the Tenderloin.
Photos by Luke Thomas
By Luke Thomas
March 12, 2010
The lure and allure of San Francisco's oft-neglected Tenderloin District got another boost Wednesday when Mayor Gavin Newsom announced funding for an historic preservation initiative.
The initiative, which includes $15 thousand to fund the design, purchase and installation of historic building plaques, is aimed at revitalizing and restoring the Tenderloin's historic identity. The program funds will also be used to create a Tenderloin museum of history as well as neighborhood banners and brochures with guides to historic buildings and restaurants in the area.
"These plaques help give the community defined boundaries and a positive identity," Newsom said to a packed audience convened at the historic Ambassador Hotel on Mason Street. "Residents can take pride in living among the nation's largest residential historic districts. By revitalizing a rare urban neighborhood, we get more foot traffic, which means safer streets, more successful businesses, and the Tenderloin receiving a greater share of the city's tourist trade."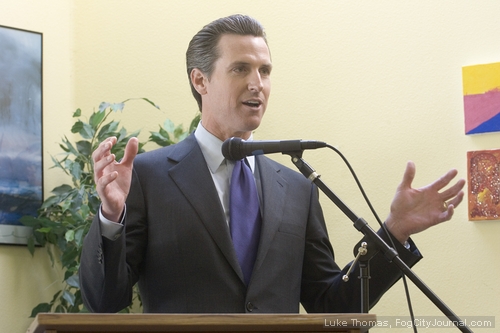 Seventy-three plaques out of a possible 380 buildings eligible for historic designation have been ordered. Each plaque costs $250 and includes the building's history.
Under the Mills Act, property owners who register their buildings receive a 40 percent tax credit for renovations, a program incentive aimed at encouraging owners of neglected properties to begin upgrades and repairs.
"Over the past few years, we've made tremendous gains, and I've never been more enthusiastic or optimistic about where this community's going," said Tenderloin Housing Clinic Executive Director Randy Shaw during opening remarks. "When we wanted to create an historic district, we said, 'you know, the problem with the Tenderloin is it lacks a positive identity. If a crime is committed on Folsom Street, it's a Tenderloin crime, a murder on Geary Street is a Tenderloin murder, and something good that happens on O'Farrell is Lower Nob Hill.'"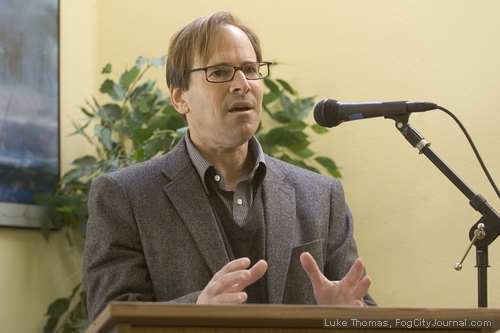 THC Executive Director Randy Shaw
Shaw thanked Amy Cohen from the mayor's Office of Workforce and Economic Development for supporting several improvements made to the Tenderloin including funding support for Mona Caron's 'Windows into the Tenderloin' mural project as well as the historic preservation district initiative.
"The quickest way for us to get the money was to route it through an entity that already had a prior contract with the mayor's office and, of course, if you need something done in this community over the past five years, you know who you call, and that's Elaine Zamora who heads the CBD. Since the North of Market/Tenderloin Community CBD formed, that's when the transformation of this neighborhood really began," Shaw added.
"It's so appropriate that we're holding this ceremony here at the Ambassador (Hotel)," said Tenderloin Neighborhood Development Corporation (TNDC) Executive Director Don Falk. "This was once the site of an old mansion that in 1878 was converted into the Tivoli Beer Gardens, which offered musical entertainment, and then into the Tivoli Opera House, which was the principle producer of musicals west of the Mississippi."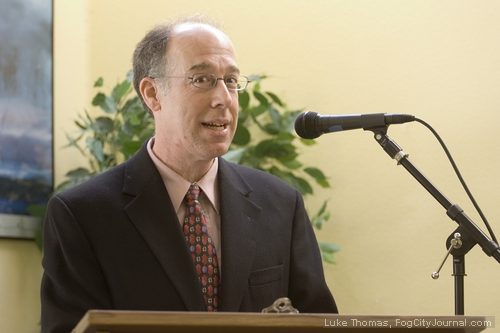 TNDC Executive Director Don Falk
In 1911, following the 1906 earthquake, which destroyed many buildings in San Francisco including the Tivoli Opera House, the Ambassador Hotel was erected.
"We can only imagine how many people have passed through its rooms in these past one hundred years," Falk continued. "It was home to writer Miriam Allen DeFord… In the 1980s, the late Hank Wilson created an informal hospice here, known throughout San Francisco as a place where people suffering from the emerging AIDS epidemic could come to die with dignity… It was a time when people were discriminated against, even evicted because of their illness."

Hank Wilson, RIP.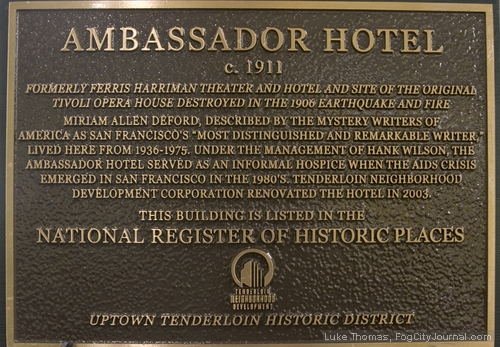 The Ambassador Hotel plaque pays tribute to writer Miriam Allen DeFord
and former proprietor Hank Wilson who ran a hospice for people suffering with HIV/AIDS.
After falling into disrepair, TNDC acquired and restored the Ambassador Hotel in 2002 which continues to house people with HIV/AIDS, "carrying on the proud history that Hank created," Falk said.
Since its founding 30 years ago, TNDC has restored 15 buildings in the district.
Falk said the YMCA is celebrating its 100th anniversary since its grand reopening following the 1906 earthquake.
"John. D. Rockefeller contributed the equivalent of $8 million to rebuild the YMCA at 220 Golden Gate Avenue," Falk continued. "The president of United States, William Howard Taft, came to the Tenderloin for the groundbreaking dedication, and, now, thanks to the vision of Mayor Gavin Newsom, TNDC will be totally restoring it to house 175 homeless people and a medical clinic. When it's finished, it will not only be another symbol of the Tenderloin's history, but a hub of community activity and a sign of our rebirth."
Shaw said he invited Mayor Gavin Newsom to the event "because, when we look at his legacy, maybe his greatest legacy as mayor is the transformation of the Tenderloin neighborhood," citing foot patrols under the leadership of SFPD Captain Gary Jimenez as one of several policies that have improved public safety and livability in the Tenderloin.
While thanking Newsom for the attention he has given to the Tenderloin, Shaw said: "You may be in your last nine months as mayor here in San Francisco and you need to go on to other pastures, but there's a lot you can still do in the next nine months in the Tenderloin, and I'm sure you will."
Newsom announced today he is running for Lt. Governor of California.
Newsom thanked Shaw for his introduction and commended Falk for "the great work that TNDC does."
"They [TNDC] just do it better than anybody else," Newsom said. "… turning peoples' lives around and proving the paradigm that homelessness can be solved. We don't think it, we know it, because we have too many examples of peoples lives that have completely changed."
Newsom told a story of when he spent a night at the Ambassador Hotel following his appointment to the Board of Supervisors by former Mayor Willie Brown. He said he was inspired by the compassionate work Hank Wilson did for HIV/AIDS victims. At the time Newsom thought the stories were over rated. "I didn't believe them," he said. "I thought it was all overstated and there was only one bathroom working on the four floors."
The experience prompted Newsom to hold hearings to highlight the poor conditions he found in many single residency hotels, including inadequate or non-existent sprinkler systems. This was during a time when Newsom said he first met housing activist Chris Daly in 2000 who was running for District 6 Supervisor.
"I don't know if many of you know this, I was the first elected official to endorse Chris Daly as an activist because of the work he was doing with SROs (single residency occupancies)," Newsom said. "We started to get to know each other, my sincerity on this issue, and trying to make some improvements."
"That didn't work out so well, necessarily, in terms of the relationship," Newsom added, referring to the bitter rivalry that later developed between the two aspiring politicians. "But it was initiated from the right place. The passion is continuing and I think we both certainly share the same goals, sometimes a different approach to get there."
Newsom closed his speech assuring that investment in the Tenderloin, which is close to downtown and adjacent to Union Square and several shopping mega stores, would not lead to gentrification.
"We know how to deal with the issue of gentrification in a more enlightened manner," Newsom said, "where we can make investments without displacing people and providing a framework where people for generations can come to San Francisco and live there lives and build the American Dream."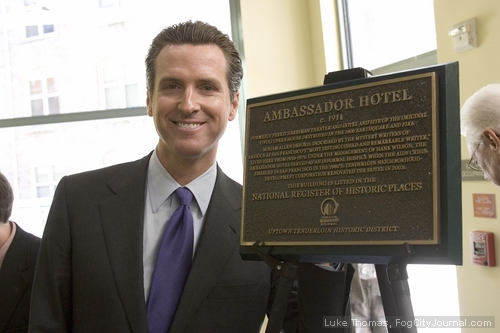 Mayor Gavin Newsom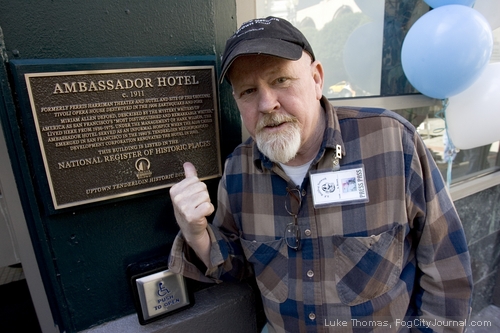 Writer, journalist, SF Giants aficionado and Ambassador Hotel resident h. Brown.