Daly overtures to Newsom
for shared affordable housing legacy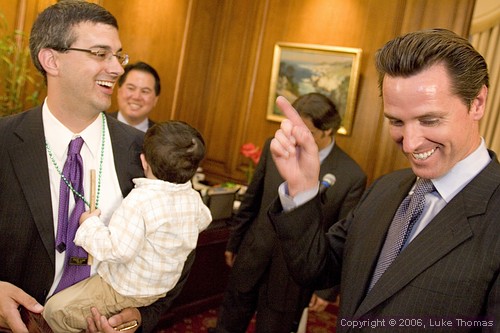 District 6 Supervisor Chris Daly and Mayor Gavin Newsom Newsom
may be moving towards a thawing of relations over an issue
that is important to all San Franciscans.
Photo(s) by Luke Thomas
By Luke Thomas
August 11, 2007, 4:24 p.m
After several years of a contentious, often bitter rivalry between Mayor Gavin Newsom and Supervisor Chris Daly, Daly took the noble step this week of moving towards reconciliation, putting aside unresolved differences and asking Newsom to sign on to support an affordable housing charter amendment ballot initiative.
The charter amendment sets a baseline for affordable housing spending and then dedicates an additional 2.5 cents for every $100 in property tax collected by the City -- it would actually dedicate about $30 million additionally for 2007-08 (and more over time for the next 15 years).
"Affordable housing is by far the most pressing issue facing San Francisco," Daly told Fog City by phone. "We need to be concerned that our people are here 15 years from now. I am willing to put aside our differences so that we can work together for the benefit of the constituents we serve," he said.
Using Newsom's widely touted open door policy, Daly walked into the mayor's office Wednesday afternoon with the hope of appealing to Newsom's humanity and finding shared consensus.
"I was offering an overture but not offering a deal," Daly said. "I told him that I was concerned he opposed affordable housing simply because I supported it."
According to Daly, his olive branch was well received by Newsom but it did not generate an immediate signal that Newsom would sign on.
"Newsom appreciated the overture saying he would read the legislation and would judge it on its merits," Daly said. "With that said he acknowledged the difficulties in the budget cycle."
The Newsom/Daly feud reached its zenith in May when Newsom refused to spend $33 million in affordable housing supplemental appropriations approved by the full board. Using his position as Chair of the Budget and Finance Committee, Daly moved to introduce an alternative budget in an effort to force Newsom to spend the money as required by the legislative branch. Newsom refused and Daly's action largely backfired when Board President Aaron Peskin removed Daly from the Budget and Finance Committee in the interest of meeting the 2007/2008-budget deadline.
In the context of reconciliation and rallying around a central non-partisan cause, Daly told Fog City, "Our meeting was cordial and professional. The ball is now in the mayor's court. It's up to him to do what's best for real San Francisco values in terms of diversity."
Newsom Communications Director Nathan Ballard refused to comment on the meeting and Newsom Campaign Manager Eric Jaye has not returned calls for comment.

Give a Little Bit
####