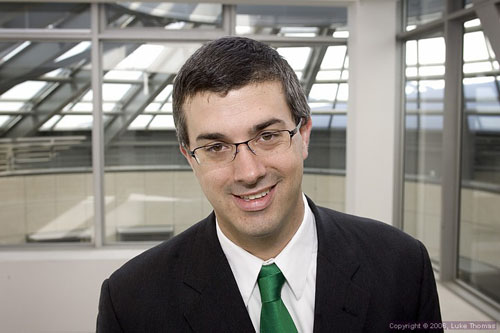 District 6 Supervisor Chris Daly
Photos by Luke Thomas
By Chris Daly
March 18, 2008
Gavin Newsom continues to enjoy unusually high polling numbers in the LGBT community. Gavin generated much of this goodwill with his move on gay marriage. But as I've written before, out of the limelight, Gavin's record on LGBT issues is less than stellar. And it's no longer just about Gavin's budget cuts to priorities like AIDS/HIV services — it's become quite nasty and really personal.
Remember Gavin's failed political power play to stop Theresa Sparks from becoming the first transgender President of the Police Commission? This was only the beginning.
Since that time, Newsom refused to reappoint Roma Guy to the Health Commission, ousted Debra Walker from the Building Inspection Commission Presidency, and tried to block Christina Olague from becoming the Vice President of the Planning Commission.
The latest prominent LGBT community leader in Gavin's crosshairs is Robert Haaland.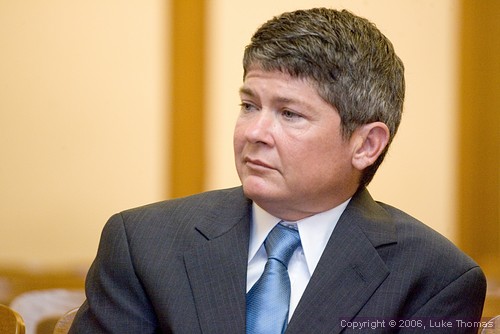 Robert Haaland
Back in 2006, Board of Supervisors President Aaron Peskin appointed Robert to the SF Board of Appeals. It has been common practice for members of that Board rotate in and out of leadership positions (with President and Vice President split between Mayoral and Board appointees). By custom, Robert should be elected Vice-President at the Board's meeting Wednesday night. Unfortunately, the Mayor's team has decided to stop that from happening.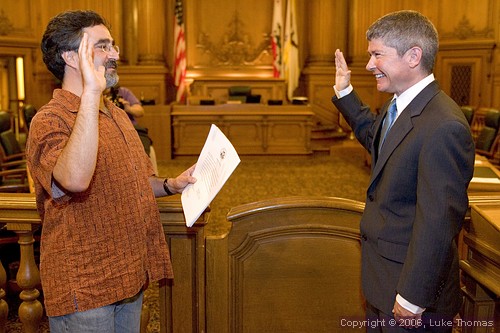 Board President Aaron Peskin swears in Robert Haaland to the Board of Appeals, July 2006.
While it may not surprise insiders that the Mayor is targeting a former President of the Harvey Milk LGBT Democratic Club and probably the City's most prominent FTM transgender leader, we shouldn't allow it to go down without a fight.
The Milk Club is mobilizing people to show up tomorrow night at 5 pm at the Board of Appeals meeting (City Hall Room 416) to "raise some queer hell." However it goes down, it should be worth the price of admission.
Newsom's political attacks on LGBT leadership come at an inopportune time. After scoring big political points last week for exposing anti-Semitic postings made by a former Bayview Affordable Housing Initiative proponent, Newsom ally and Proposition G proponent Aurelius Walker is now facing renewed charges of homophobia. Introducing Mayor Brown during a campaign rally in 1999, Walker made these comments about Supervisor Tom Ammiano caught in the documentary See How They Run.
"We cannot have a Queen — the Mayor of the City. We need a King. Did you hear what I said? We cannot have a Queen!"
Walker's public gay-baiting of Tom Ammiano was some time ago. But just last year, Walker made jaws drop again trying to blunt criticism that he was in bed with the Lennar Corporation saying that he wouldn't lay in bed with another man!
I agree that hate speech should not be tolerated in San Francisco politics. When anti-Semitic remarks made by a Prop F proponent were exposed, I swiftly denounced them and asked the proponent to step down from his position.
With Walker's homophobic remarks now exposed, will Gavin Newsom and Lennar do the same?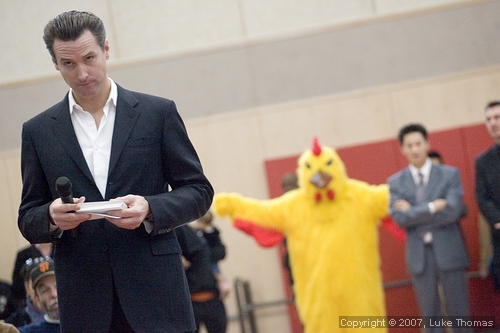 Mayor Gavin Newsom.