Haaland appointment to Board of Appeals sets LGBT milestone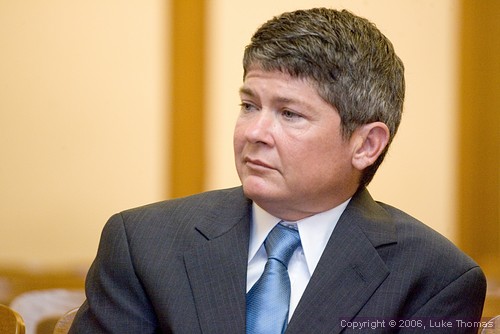 Robert Haaland
Photo(s) by Luke Thomas
July 7, 2006
Robert Haaland's appointment to the Board of Appeals by Board of Supervisors President Aaron Peskin was met without opposition at Thursday's Rules Committee meeting.
The seat he was selected to fill was that of Harvey Milk, the first openly gay elected official in San Francisco.
Currently an organizer for the Service Employees International Union Local 790, Haaland will be the first female-to-male transgender commissioner to serve the City of San Francisco.
"I'm honored that Supervisor Peskin decided to appoint me and also honored that Supervisor Mirkarimi and Supervisor Elsbernd voted for me today to be on the Board of Appeals."
Haaland, whose appointment has delighted the lesbian, gay, bisexual and transgender community, could not confirm rumors Board President Aaron Peskin, who nominated Haaland for the position, will run for mayor in 2007.
"Supervisor Peskin and I have known each other for very many years and have a strong relationship. He has taken trust in me and that's why he appointed me," Haaland responded to Sentinel inquiry.
Several LGBT and democratic figures showered Haaland with praise before the committee, remarking on his commitment to economic and social justice, fair-mindedness and leadership,
"Robert, whatever movement he's involved in, whatever issues he's trying to move, immediately jumps into a leadership position … but he doesn't take leadership to aggrandize himself or simply to gain power. Robert has more integrity in his little finger than most people have in their entire body," said Scott Wiener, Co-Chair of the Alice B. Toklas LGBT Democratic Club and Democratic County Central Committee member.
Haaland's supporters are, by and large, community stakeholders.
As a veteran progressive activist, he has lobbied for and united labor, environmental, minority and tenant interests, once persuading the Gay and Lesbian Alliance Against Defamation to move their Media Awards ceremony away from The Westin St. Francis in support of disgruntled hotel workers.
In spite of his position as a union official, he said no conflicts should arise on the Board of Appeals.
"We look forward to having you be commissioner on the board of appeals," Supervisor Mirkarimi told Haaland. "I think it's a good day for San Francisco."

####