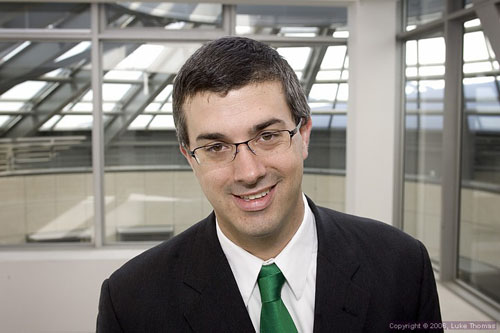 "
District 6 Supervisor Chris Daly
Photos by Luke Thomas
By Chris Daly
May 22, 2008
Lennar Deal Stinks
Details of a back room deal between Miami-based Lennar Corporation (LEN) and the San Francisco Labor Council (Big Labor), ACORN, and SFOP were finally released Tuesday in the San Francisco Chronicle. Top Big Labor Boss, Tim Paulson lauded the deal saying, "We negotiated extremely aggressively to make sure this deal provides the greatest amount of affordable housing in the history of San Francisco if not the state."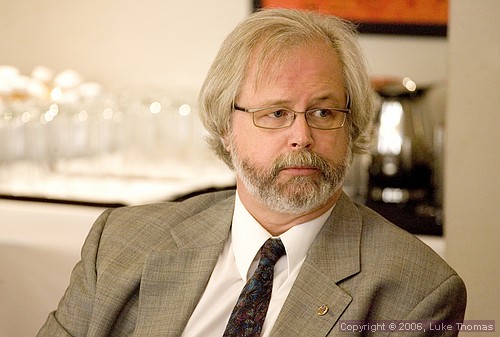 San Francisco Labor Council Executive Director Tim Paulson
But the details of Lennar's latest promises does not bring much, if any, added value and the political implications of the deal could spell disaster for San Francisco's most vulnerable neighborhoods.
Lennar certainly got what they want out of the smoke-filled room — headlines lauding their "historic" levels of "affordability" and political support from some big time political players. But what did the people of San Francisco and Bayview Hunters Point receive?
The Caveat
Before answering, it should be noted that, as of the posting of this article, there is no legally binding agreement between Lennar and the San Francisco Labor Council; only a statement of principles and a non-binding commitment between the parties to work toward a community benefits agreement "as soon as possible" — a wink and a nod, if you will.
Given that the development has received no approvals, Big Labor's deal with Lennar is not enforceable and would have to be ratified at several levels of government. In fact, the mechanism used in Proposition F may be the only way to make specific community benefits enforceable at this point.
It Really Does Stink
Let's take a look at the terms of the "deal." While Lennar is now "committing" that 31.86 percent of the units they build will be "affordable", only 15.66 percent would be rental units affordable to households earning less than 60 percent of the area median income (AMI), even though most Bayview Hunters Point residents earn much less than this amount. This percentage includes the 256 replacement units at Alice Griffith Public Housing. 3.45 percent will be for-sale units affordable to households earning 80-100 percent AMI. 4.25 percent of the units will be "affordable" to an average AMI percentage of 120 percent, and another 4.25 percent at 140 percent AMI. The last 4.25 percent would be "affordable" to households up to 160 percent of AMI.
These "affordable" units would sell for a half-million dollars and would be available to households (families of four) earning over $150,000!
Interestingly, 160 percent AMI is very close to market rate in the Bayview. A quick search for new condos in the Bayview yields a 3 bedroom, 2-bath condo in the Bayview listed at $539,000. (Fun random factoid — former Planning liaison to the Board of Supervisor, Jean-Paul Samaha, is the listing agent.)
The Conceptual Framework for development that Lennar agreed to with the City in 2007 pledged to build upto 25 percent of the 8500 to 10,000 total housing units to be affordable in addition to replacement units at Alice Griffith. While no affordability levels were set in the document, Lennar and administration officials indicated that the units would be offered at an average of 80 percent of AMI.
If one assumes 10,000 new housing units in the development (as now seems to be the case), the Conceptual Framework would provide 2,756 affordable units. Lennar's deal with Big Labor would net only 1,911 units affordable to households below median income. That means Big Labor negotiated for 845 fewer truly affordable units! The other 1,275 "affordable" units would be for households with incomes between 120 and 160 percent of AMI.
We've Dealt With This Already
The City's inclusionary ordinance defines affordable housing as rental units targeted to households at 60 percent of San Francisco Median Income (SFMI) and ownership units at 100 percent of SFMI. (SFMI is less than AMI.)
Calling housing at 160 percent AMI "affordable" is outrageous, and the San Francisco Labor Council, ACORN, and SFOP should know better. Back in 2004, when Gavin Newsom and the Chamber of Commerce placed their "workforce" housing measure for downtown and the central waterfront on the ballot, Progressive and neighborhood organizations were joined by Labor (before they sold out) to defeat it. Even Supervisor Sophie Maxwell panned the proposal to create housing in her district at 120 percent AMI.
"When I think of workforce housing, I think of bus drivers and schoolteachers," Maxwell said. "This initiative does not get to them."
Great quote, Sophie, but 160 percent is even higher than 120 percent the last time I checked.
More Promises
Big Labor has also touted the $35.5 million community benefits package that they negotiated for job training and home purchase assistance for Bayview residents. Sounds pretty good until you consider Lennar's original promise of a $30 million "Legacy Fund" related to their development of just the Shipyard (which they later reduced to $14 million for Parcel A.)
So what gives with Big Labor?
The answer may lie in the card check agreement that will facilitate labor union organizing at new restaurants, grocery stores and retail shops. While card check has consistently been a labor priority, this provision would most certainly have been included in any agreement passed at the Board of Supervisors. The ultimate irony is that because of Big Labor's deal, far fewer of the workers in the new development will be able to afford to actually live in the new development.
Trinity is Better
Meanwhile, on the campaign trail, Gavin Newsom and Lennar have been trashing me for calling the Development Agreement at Trinity Plaza "historic." They claim that only 15 percent of the housing at the new Trinity will be "affordable." However, they fail to mention that the reason I called the Trinity agreement historic was because it is the only development in California's history to include one-to-one replacement of rent-controlled units.
Interestingly, if you add the standard affordable units to the replacement rent-control units, you get 591 units — over 31 percent of the entire project. And this is being done without gifting huge swaths of public land and without the benefit of public funds or tax increment financing.
The San Francisco Labor Council has been hoodwinked. Vote NO on Proposition G, YES on Proposition F.