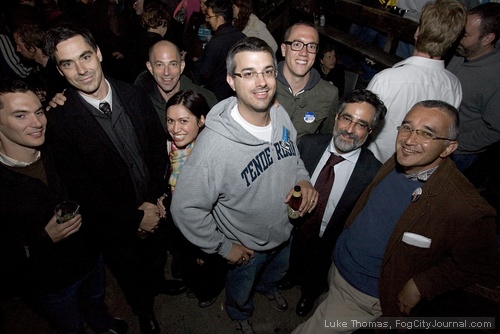 The A Team: David Owen, Some Dude from Ross' office, Marc Salomon, Elaine Santore,
Supervisor Chris Daly, Jonathan Wright, Board President Aaron Peskin,
and District 9 supervisor candidate Eric Quesada, celebrate election night at El Rio.
Photos by Luke Thomas
By Elaine Santore
June 5, 2008
Just Another Tuesday at City Hall
Election day began at City Hall, but it was just another work day for the City. Board President Aaron Peskin, Supervisor Chris Daly, Assemblywoman Fiona Ma, and City Attorney Denis Herrera were hanging out near the front steps in the AM.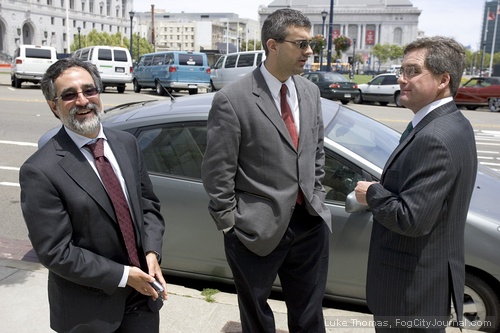 Board President Aaron Peskin, Supervisor Chris Daly and City Attorney Denis Herrera.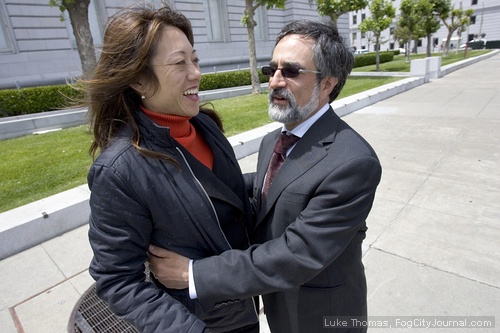 Assemblywoman Fiona Ma to Board President Aaron Peskin:
"There's no actual 'whip,' Aaron."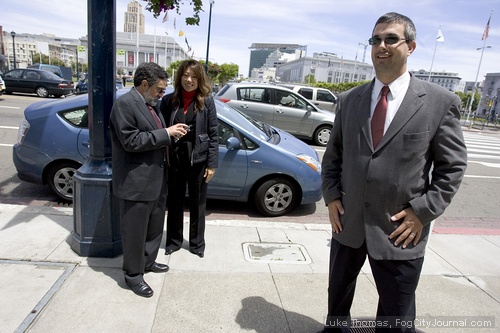 Supervisor Chris Daly: "Maybe I need to go home and work on some fierce poses
to draw more attention to affordable housing."
Homeland Security Meets The End of Western Civilization (TEWC)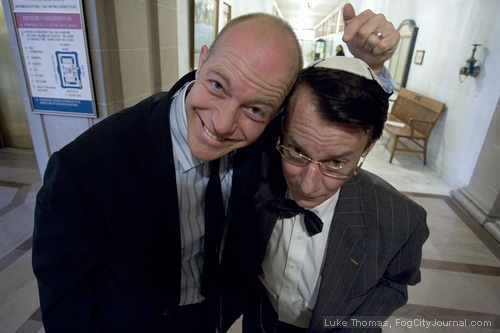 TEWC, with Homeland Security head Eric Steinberg, has decided to convert to Judaism.
And he's capitalizing on the Obama craze by wearing an Obama Yamaka!
Leno Wins Nomination by Smiling and Being Really, Really Nice
Assemblyman Mark Leno held a press conference at the 24th and Mission BART station Tuesday. Assembly speaker Fabian Nunez was supposed to make an appearance, but he didn't show up.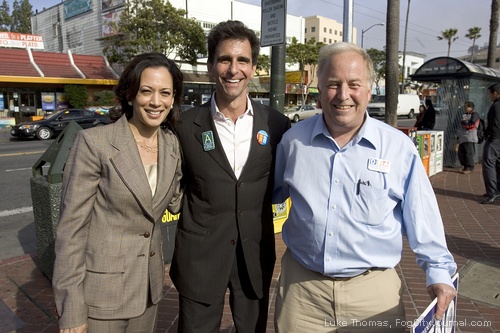 District Attorney Kamala Harris, District 3 State Senate Democtratic nominee Mark Leno,
and Democracy for America Chair Jim Dean. Congrats, Mark!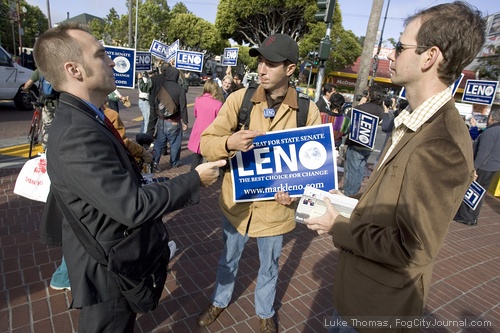 Capitol Weekly's Malcolm Maclachlan, Leno staffer/Calitics blogger Bob Brigham,
and Calitics blogger Brian Devine.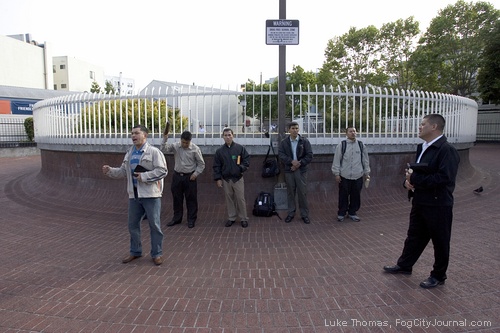 Some doomsday people singling about the end of the world.
Let's hope they didn't go to…
…the Saddest Campaign Headquarters in San Francisco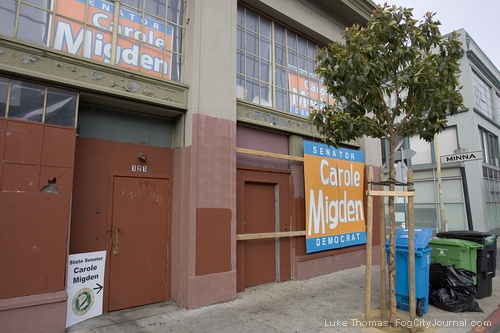 Senator Carole Migden's headquarters.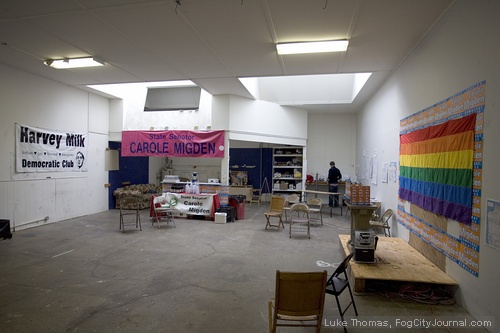 Poetic.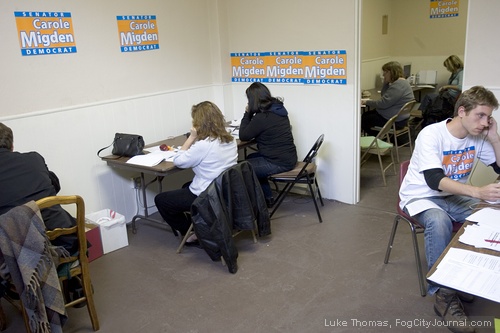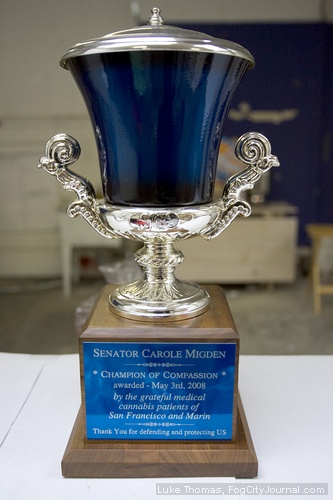 You're still a winner, Carole!
Election Parties are Just the Same People in Different Rooms
The first party FCJ attended was Assemblywoman Fiona Ma's re-election party at Soluna, across the street from City Hall.
When FCJ publisher Luke Thomas saw Board President Aaron Peskin (again), Thomas joking asked, "Is that a toupee you're wearing?"
Peskin's response: "Fuck you!"
But Peskin's bangs are looking a little wig-like in this photo. That's the problem with blunt bangs.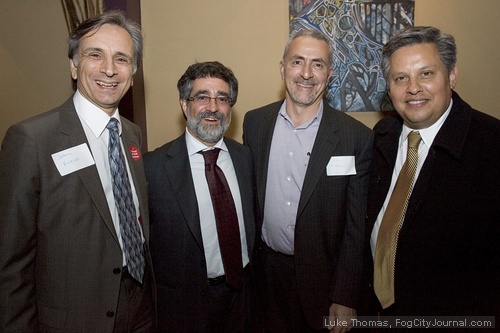 Community College Board Trustee John Rizzo, Board President Aaron Peskin,
Planning Department Director John Rahaim and Supervisor Gerardo Sandoval.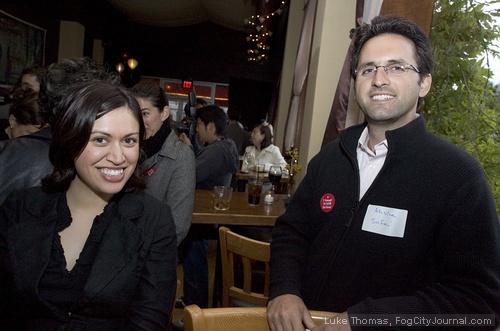 Elaine Santore and District 11 Supervisor candidate Asha Safai. Safai didn't like answering
questions about his June 4 private fundraiser hosted by Mayor Gavin Newsom and Platinum Advisors.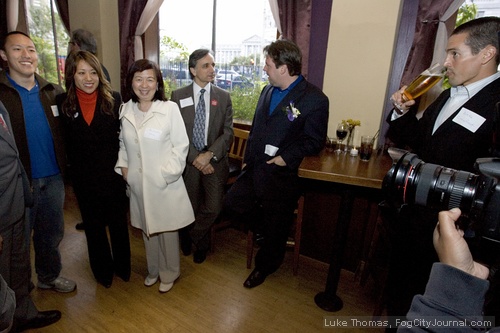 Spotted: Climate Change czar Wade Crowfoot (far right) drinking a beer. OMFG!
And Back to City Hall
As you already know, Tuesday's primary had a low voter turnout so City Hall was pretty quiet. Fog City talked to San Francisco Bay Guardian Executive Editor Tim Redmond, who was sitting at a table crunching numbers with Richard Knee.
Redmond asked Luke Thomas to get a photo of political consultant Jim Stearns, who worked with Lennar and the Prop G campaign. Tim introduced Stearns as the man responsible for the gentrification of San Francisco. But Tim made sure to add that he actually likes Jim.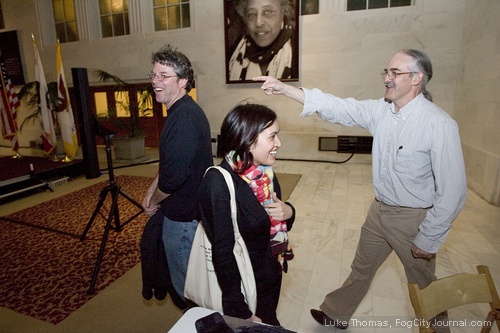 Political consultant Jim Stearns tries to escape the Progressive
righteousness of the SFBG's Tim Redmond.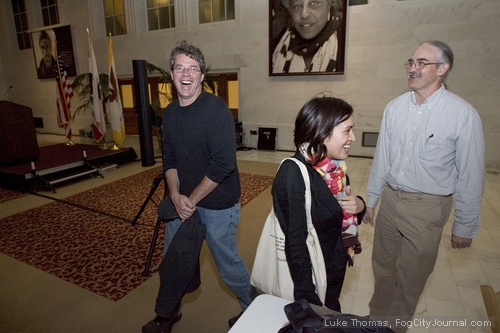 Redevelopment can be funny sometimes.
San Francisco Republican Party Chairman (and FCJ commenter) Howard Epstein was also waiting for the returns. Epstein and Michael Antonini were both on the ballot for RCCC.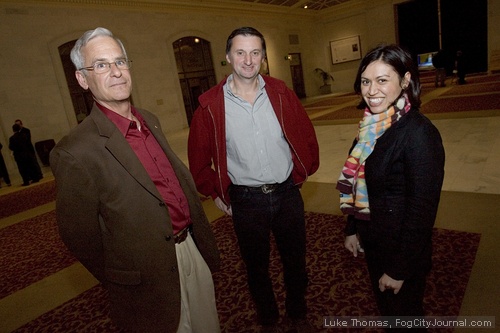 SFRP Chairman Howard Epstein, the Residential Builders Association's
John O'Connor, and Elaine Santore.
After a whole lot of nothing, FCJ hitched a ride with the SF Murphia (aka the RBA) and headed over to the League of Young Voters, Proposition F, Proposition 98, DCCC Change Slate, and Sandoval for Judge party at El Rio.
Progressives win some, almost win some
By the time FCJ got to El Rio, pretty much everybody we knew was already there. Some dude collected signatures for a petition "To rename our Sewage Plant after George W. Bush!"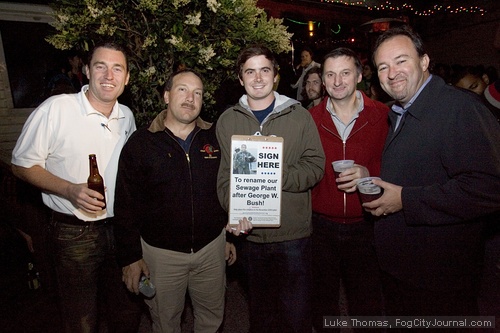 RBA president Sean Keighran, John O'Connor, and Angus McCarthy.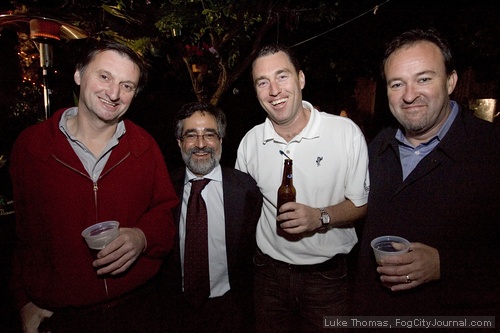 Looks like Peskin decided to push his bangs back. Good choice.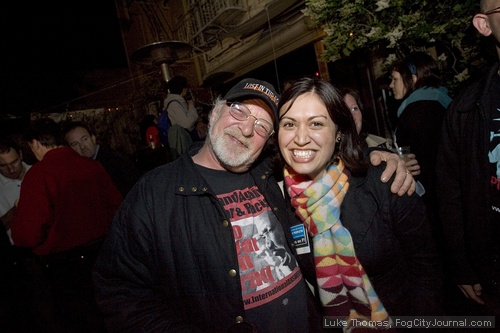 Pat Monk and Elaine Santore. Pat made sure to yell "Cindy Sheehan
for Congress!" as much as possible the entire night.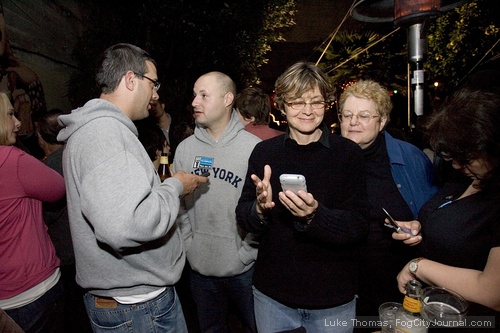 Supervisor Chris Daly, Carole Migden legislative aide Eric Potashner,
and DCCC member Debra Walker.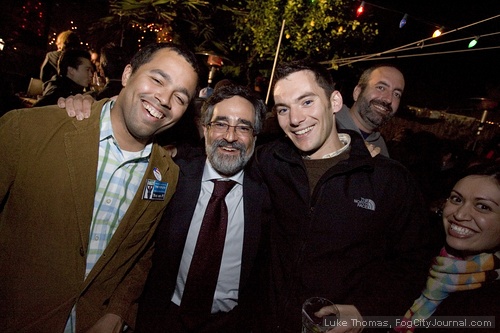 A bunch of people acting like they've never seen a camera before:
Bill Barnes, Board President Aaron Peskin, David Owen, Tom Radulovich, and Elaine Santore.
After Supervisor Chris Daly arrived, Luke told a group of us to pose for the camera. This writer said, "Everybody look hot!" Which Daly translated as "Everybody look high?!!!" No, Chris.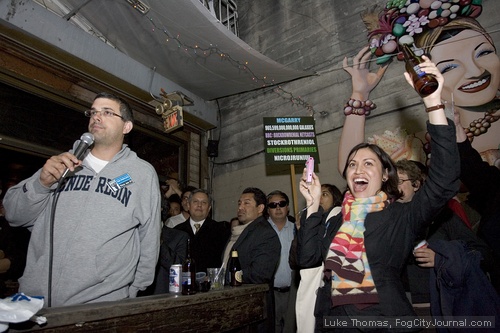 Supervisor Chris Daly (left) addresses the El Rio crowd, while Elaine Santore
captures the moment.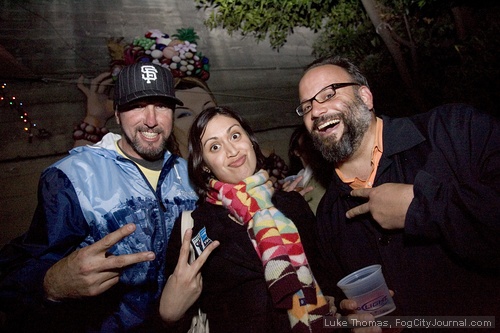 Preps 4 Life: St. Ignatius alumni Michael O'Connor, Elaine Santore, and Mike Farrah.

Senator Barack Obama had a pretty good night, too.
In Case You Missed It
Check out Fog City Journal's YouTube and Vimeo channels for videos of Aaron Peskin on Prop E, Ted Gullickson and  Peskin on Prop 98, Gerardo Sandoval on his lead against Thomas Mellon and Chris Daly on Props F and G. We also have interviews with Fiona Ma on public works, high-speed rail, her transition to the state assembly, upcoming legislation, and what it was like to run unopposed.