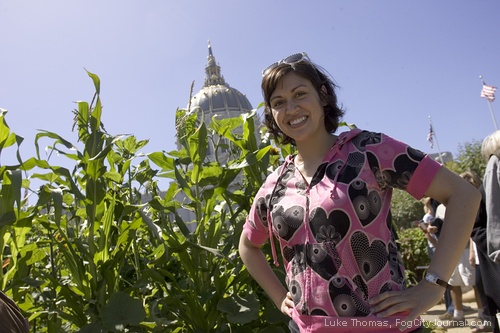 Husker 4 Life: Elaine Santore at the Slow Food Nation Festival in Civic Center Plaza.
Photos by Luke Thomas
September 3, 2008
Slow and Steady
For those of us who stayed in San Francisco over the long labor day weekend, there was Sunday Streets and the Slow Food Nation Victory Garden in Civic Center Plaza. According to the mayor's office, the Victory Garden will stay in Civic Center until November. Here are some photos from Fog City Journal's visit Saturday.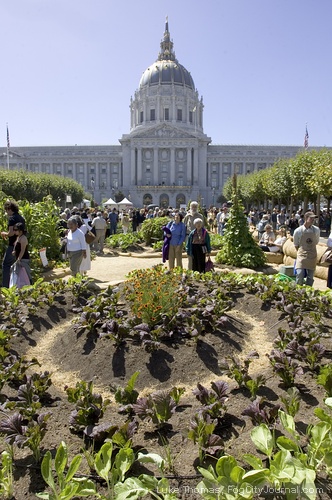 The Victory Garden in Civic Center Plaza.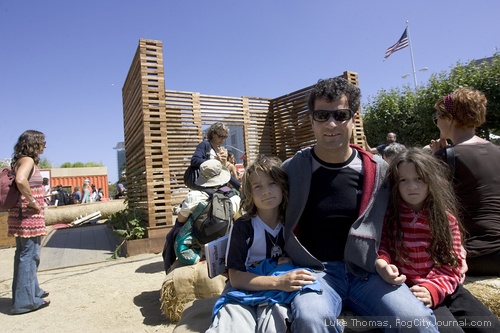 San Francisco Department of the Environment Director Jared Blumenfeld with his children.
Taking it to the streets: Sunday Streets a Success
Thousands of Bay Area residents celebrated Labor Day attending the first day of Sunday Streets, an outdoor event that blocked off five miles of road for pedestrians, cyclists, dancers, yoga enthusiasts and anybody looking for some fresh air.
Modeled after a similar program in Bogota, Colombia, Sunday Streets offers San Franciscans car-free road spanning Chinatown, the Embarcadero and Bayview Hunters-Point. According to Livable City Board President Cheryl Brinkman, Sunday Streets helps to bring San Francisco residents across disparate neighborhoods together. She credited climate czar Wade Crowfoot for his unwavering support for the project.
Watch Brinkman's interview with FCJ here.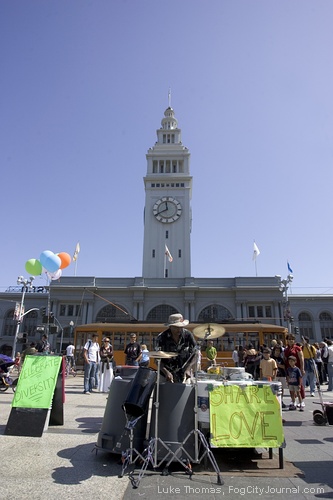 Sharing some love at Justin Herman Plaza.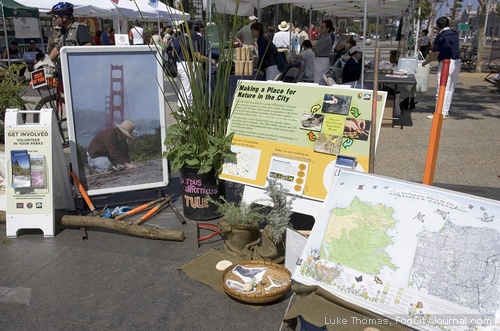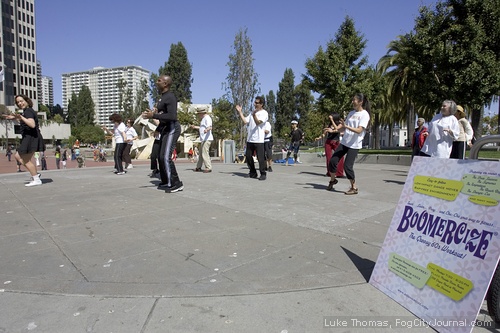 Boomercize!
Sunday Streets Coordinator Susan King told Fog City Journal the launching of Sunday Streets was a collaborative effort between the mayor's office, the San Francisco Bicycle Coalition, Livable City, Walk SF and other organizations.
"It was a convergence of some very unlikely allies," King said. "You have people from the Bicycle Coalition, and people from the left, and then the mayor's office, and more moderate forces – but it has been a perfect symbiosis of everybody pulling together, and people really getting along."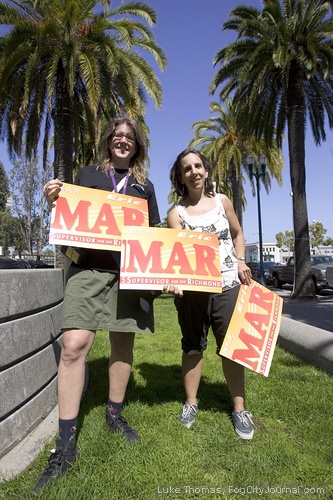 Sunday Streets Coordinator Susan King with Sue Vaughan.
The pilot program, however, met some resistance.
King said the most resistance came from Fisherman's Wharf and Pier 39 merchants, and (surprisingly) District 3 Supervisor Aaron Peskin.
Peskin "was kind of being a pill," King said, referring to legislation introduced by Peskin that would have required an environmental impact report before Sunday Streets could be implemented.
"How can we do an environmental impact report on an event that hasn't happened yet?" she said.
Sunday Street spans District 3, 6 and 10. King said District 10 Supervisor Sophie Maxwell was very supportive of the program from the get go. District 6 Supervisor Chris Daly said, according to King, "I'll see your Sunday Streets, and I'll raise you Market Street."
Watch FCJ's interview with Susan King here.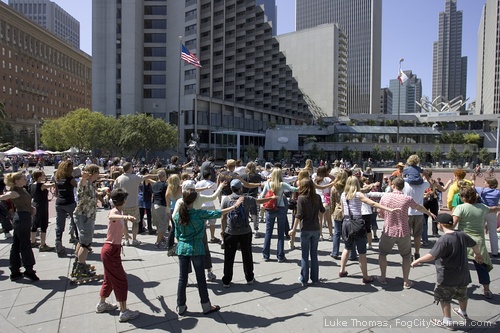 Justin Herman Plaza springs to life with a Thriller Dance.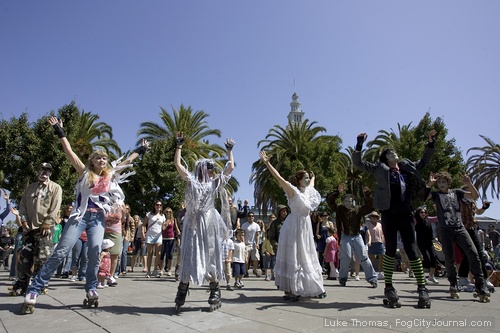 Zombies on wheels!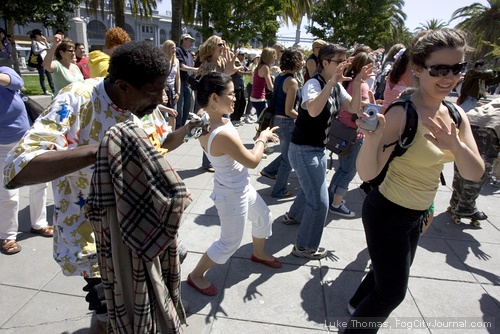 Workin' it.
A wide variety of organizations set up booths at Justin Herman Plaza, including San Francisco Tobacco Education Project (STEP).
STEP Executive Director George Calys (aka El Greco) told Fog City Journal that STEP was formed out of compassion for smokers looking for alternatives to smoking several packs of cigarettes a day.
"It's almost like Roe vs. Wade for tobacco," said STEP Treasurer Bill Bart. "We're not saying that you should smoke. We're just saying that if you choose to, it's a legal activity, you should be able to."
Check out more photos of Sunday Streets and watch the rest of FCJ's interview with STEP at fogblog, including all the dirty details about El Greco's crush on McCain Vice Presidential pick Sarah Palin.
DNC Wrap-Up
As mentioned last week, FCJ had two political correspondents at the Democratic National Convention, Tanene Allison and Supervisor Chris Daly. Aside from reading Chris' posts, I was also following Tanene's Tumblr, which she has archived at Mile High(lights).
Some highlights of the highlights:
Sharing a moment with Michelle Obama, in which Tanene bonds with Obama over being "girls from the South Side of Chicago." And how Michelle blew her a kiss when she joined Barack on stage. (Tanene, who is not actually from Chicago, was sitting in the front row.)
Asshole of the Convention Award: Sean Penn.
Running into Elizabeth Kucinich in the MySpace Cafe. (Sadly, Bob wasn't there this time.)
At the LGBT Caucus with her BFF Alan Cumming, where they ran into our mayor and first lady.
Running into District Attorney Kamala Harris and interviewing Harris about civil rights for Fog City Journal.
Happy (Belated) Birthday, Dad!
For my favorite person in the Universe:
 "The Weight" – The Band with the Staple Singers.
Love,
Elaine