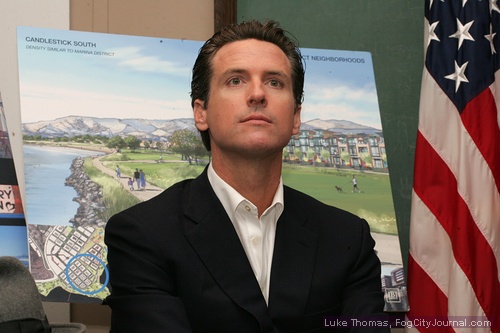 San Francisco Mayor Gavin Newsom
Photo by Luke Thomas
By Marc Salomon
October 29, 2008
While the Democratic Party has followed Barack Obama and embarked in an historic shift away from DLC Clintonism, San Francisco's local franchise, retrograde as always, seems determined to carry Hillary's triangulation torch while throwing in a dash of McCain/Palin economics for good measure.
While Obama proposes that we remedy economic disparity by "spreading the wealth around," Mayor Gavin Newsom proposes a Reaganesque trickle-down stimulus plan which seems to bolster San Francisco's export and bubble economies while offering nothing to protect San Franciscans who are being battered by harsh economic forces over which we have no control, and for which we hold no responsibility.
Barack Obama is promising to attack the federal budget with a scalpel, deriding McCain's call for across the board cuts. Newsom, on the right hand is proposing an across the board hiring freeze, irrespective of the need for any given position.
Next, Newsom proposes across the board cuts to all programs not politically important to him, just as McCain is calling for across the board cuts in everything but the military and veterans benefits.
As McCain supports outsourcing American jobs, Newsom proposes fast tracking capital projects even though there is no guarantee that any of the workers on these projects will be San Franciscans. Does San Francisco win economically or environmentally if we fast track wages to workers who drive in from Tracy?
Gavin Newsom, if readers were caught unawares, is DLC Democrat who would be a Republican in any other town. Can anyone imagine DINO (Democrat In Name Only) Supervisors like Sean Elsbernd, Michela Alioto-Pier and Carmen Chu following the leader of their party and uttering the phrase "spreading the wealth around," in response to the current economic crisis? Of course not, they are too busy placating their corporate sponsors.
Can we now expect for Newsom to urge us to float bonds in order to bail out San Francisco businesses that contributed to our mess, while residents are exposed, unprotected, to the vicissitudes of economic chaos?
A progressive response to the economic crisis would entail the following elements, and given that our member of Congress is Speaker, surely a few tens of billions of dollars could be rustled up for San Francisco as Pelosi lavished largesse on Wall Street's economic criminals:
Transportation is critical in a time of volatile fuel prices and growing congestion:
* The Transportation Authority should declare an emergency and allocate Prop K capital funds to operations and make MUNI fare free.
* Pelosi should identify funding for a subway network and construction should begin on MUNI 2.0.
Decoupling housing from speculation is critical, as it represents the nexus between pay-to-play planning and development and the financial crisis which has had its ground zero in San Francisco's eastern neighborhoods:
* The City should identify homeowners who bought at a price congruent with their means and intervene to prevent forclosures and displacement.
* The City should impose an immediate ban on evictions due to foreclosures of rental properties.
As we confront an economic crisis, we can also begin to tackle the environmental crisis:
* The City should invest in subsidizing rooftop solar for all income levels and school and college districts using local labor.
* The School and Community College districts to foster the development of skilled green collar workers.
And we need to build a sustainable local economy that puts San Franciscans first:
* Create a City of San Francisco Bank or Credit Union which takes retail deposits from San Franciscans, pays a modest interest rate, and then lends to support a sustainable housing policy for San Franciscans as well as to the City to lower the cost of bond issues.
* Use the Redevelopment Agency and Office of Workforce and Economic Development to capitalize retail cooperatives. Imagine the former Goodman's site with a number of home improvement cooperatives, lumber, plumbing, electrical, tools, flooring, garden and delivery. Bernal and Bayview would unite in pursuit of similar uses but at an appropriate scale that would employ San Franciscans, keeping wages, taxes and dividends local.
* Reconfigure economic policy to avoid falling into the bubble of the month club. For too long, San Francisco's economic policymakers have been chasing the Next Big Thing, whether multimedia, dot.coms, biotech, stem cell research or, most recently, the housing bubble.
We find ourselves at a moment of crisis, defined as not knowing what will happen next, and the National Democratic Party has reinvented itself as a result.
Yet watching Gavin Newsom writing a Republican economic prescription and playing petty personal politics in his attack ads on Eric Mar, John Avalos and David Chiu via Chris Daly as if Newsom were John McCain and Daly William Ayres, you would not know from this retrograde approach that we are poised for a fundamental political realignment or that Newsom had a substantive, proactive, problem solving policy agenda.
The future is up for grabs like we've never seen. Gavin Newsom is looking to the past, to government as a game of keep away from the people. While Obama is calling for unity and finding common ground, Newsom is still pimping for the corporate class which has ground our economy to a halt. Our city is demeaned by such a cavalier, opportunist and parochial approach to a moment in which our finest common aspirations can arise out of the ashes of greed, speculation and the economic and environmental threats that they engendered.
Either San Franciscans take control of our city from the corporate interests represented by the conservative Democrat and Republican alliance , or we just might see a gentrified San Francisco as a Reaganist conservative bastion in a national post-Reaganist liberal resurgence.