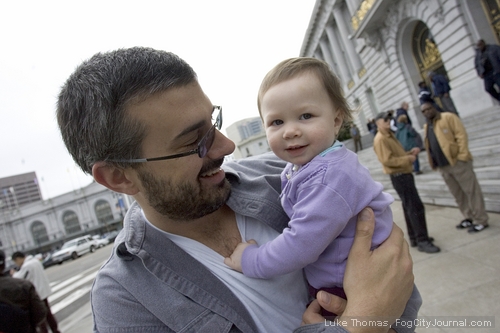 Supervisor Chris Daly with daughter Grace Eolen Daly.
Photo by Luke Thomas
By Chris Daly
December 31, 2008
As I close out my 8th year on the Board of Supervisors, it is with some sadness that the District 6 office says goodbye to a few individuals who have done significant work on behalf of the people of San Francisco.
Lena Gomes twice served as Legislative Assistant – in 2004 and 2008. In addition to managing complicated legislative efforts, including reform of the massage industry, protecting San Franciscans from the harmful effects of second-hand smoke, and saving the Heart of the City Farmers Market, Lena staffed the Rules Committee, managed the office and interns, and fielded constituent requests. Lena will stay on until February, at which time she heads back to San Francisco State for a Masters Degree in Literature.
Rachel Redondiez began working as a Legislative Assistant weeks after I first took office in 2001. Rachel came from HERE Local 2, San Francisco's hotel and restaurant employees union, where, among many other organizing campaigns, Rachel ran the independent effort to elect me in 2000.
It would be impossible to do justice in this forum to Rachel's 8 years in the office. Rachel has been at my side through thick and thin, offering sage advice and deep perspective – often being the one to steady the ship. The savviest political insiders figured out that if you needed help from the District 6 Supervisor, Rachel was a much better person to contact than me.
Rachel did much of the groundwork to get Bessie Carmichael rebuilt alongside the new Victoria Manalo Draves Park. Rachel was the main force behind the tenants of Trinity Plaza in their struggle to save their homes. Rachel was the inspiration for paid parental leave and has been point on most of our affordable housing, immigrant rights, worker rights, and community-initiated initiatives.
Outside of our office, Rachel helped found the Filipino Community Center in the Excelsior, served as Secretary-General of BAYAN USA in 2006, and co-founded the SF People's Organization to promote unity and organization within San Francisco's progressive politics. She also keeps busy with her ROCK STAR kids, Amihan, Kali, and Malaya.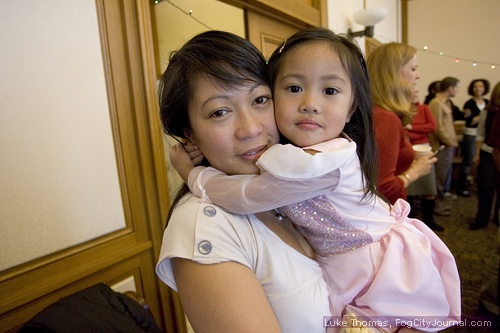 Rachel Redondiez with ROCK STAR kid Malaya at last year's Holiday Treat Throwdown.
While Rachel will leave the office at 12 noon on January 8th, she won't be going too far. She'll be senior in the most experienced office at the Board of Supervisors with her home-district Supervisor and co-worker of 4 years, John Avalos.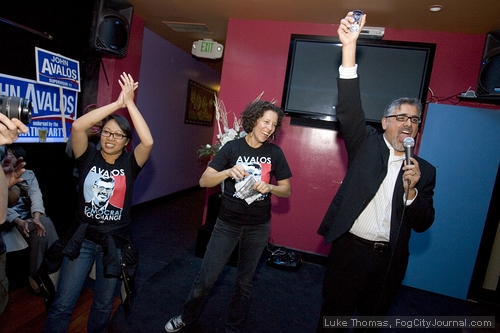 Rachel Redondiez, Karen Zapata and Supervisor-Elect John Avalos on election night.
Looking ahead to 2009
Even though there are very big shoes to fill, I am proud to announce District 6's two new Legislative Assistants who apparently have very large feet…
Tom Jackson comes to us by way of Coleman Advocates for Children and Youth, where he's been the Director of Organizing for the last 3 and half years. Tom helped rejuvenate the organization by creating a hybrid advocacy/organizing model that increased the organizational capacity for grassroots organizing. Tom built a 500 person paid membership base, which helped Coleman win several campaigns that delivered over $60 million for affordable family housing and family services.
Tom previously served as the lead organizer for SEIU Local 715 in San Jose and as Executive Director of the Holualoa Foundation for Arts & Culture in Hawaii. Aloha, Tom!
Since 2004, April Veneracion has directed the South of Market Community Action Network. Everyone who follows District 6 issues knows the impact that April has had on the South of Market. April's technical proficiency in planning issues acquired through MIT's Masters program coupled with her community building approach to neighborhood issues has helped propel everyday people into the decision-making on difficult planning issues. April successfully reframed the discussion of high-rise development in Rincon Hill to one of how a community benefits package could ameliorate the negative impacts of new development on the existing community and was a stalwart supporter of the tenants at Trinity Plaza.

Tom Jackson, Supervisor Chris Daly and April Veneracion.
April previously worked on community development issues in Cambridge, MA, and New York City and was a program manager at the National Community Development Institute, building organizational capacity at 16 community-based groups across the country.
April and Tom collectively bring with them over 20 years of experience in labor and community organizing as well as policy and program development. Tom's focus on the City budget with the Family Budget Collaborative and April's expertise and experience in South of Market land use issues ensures that our office won't skip a beat as we tackle one of the most challenging years we've faced.
As difficult as it is to say goodbye to such wonderful people, I know that the next two years will afford amazing opportunities to build on the work that we've already done – to watch out for San Franciscans most in need, to provide support to families struggling to raise their kids here, and to keep building the progressive movement in Our City.
Happy New Year!