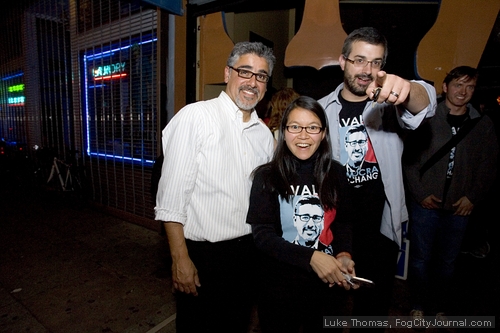 District 11 Supervisor-Elect John Avalos and Supervisor Chris Daly on election night.
Photos by Luke Thomas
By Chris Daly
January 4, 2009
John Avalos, Community Organizer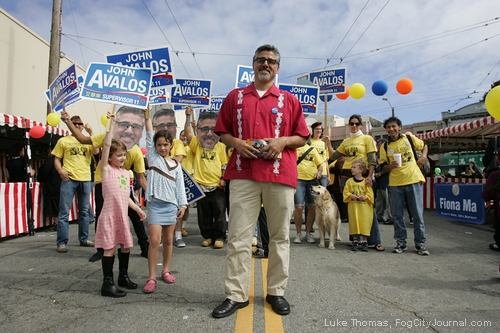 District 11 Supervisor-Elect John Avalos
I first met John Avalos back in 1999 at his old place in the Excelsior, across from Monroe Elementary School. By this time, John was already well known in community organizing circles for his work at Coleman Advocates for Children and Youth. John and his partner, Karen Zapata, had opened up their home as the Excelsior mobilizing spot for Tom Ammiano's campaign for Mayor. I can remember thinking how lucky we were to have such a great connection in the Excelsior, a neighborhood that had been notoriously difficult for progressives.
Between 2000 and 2004, John served as the Director of Organizing for Coleman Advocates for Children and Youth and as Political Director for Justice for Janitors, SEIU Local 1877. At Coleman, John led the citywide outreach effort to pass the reauthorization of the Children's Fund. He also brought Coleman to the next level of advocacy around the City budget, organizing service providers and residents to directly engage on the defining questions facing City Hall decision-makers. At Justice for Janitors, John mobilized political support for 2 contract campaigns, ensuring that over 2000 workers received wage increases while preserving healthcare and retirement benefits.
City Hall Savvy
In early 2005, I invited John to work as a Legislative Assistant in my office. It was one of the best decisions I have made as a Supervisor. Over the last 4 years, I watched as John Avalos adroitly managed legislative and political affairs, always taking time to hear from everyone while watching out for our City's most vulnerable.
Most notably, John was able to use his experience as an organizer to open City Hall's doors to ensure that the voices of San Francisco's most vulnerable communities were clearly heard during budget deliberations. John was able to demystify the budget process for community stakeholders while coordinating sometimes-tedious budget discussions between Supervisor offices, the Budget Analyst, Controller, and Mayor's Budget Office. John played much of this role at City Hall even in the years that I didn't Chair the Budget Committee. Through John's work, tens of millions of dollars worth of vital services for childcare, health and mental health programs, park restorations, and senior support were saved from the chopping block. And tens of millions more were added for affordable housing and other programs.
Let's be honest here, there are several Legislative Assistants that are more involved in the day-to-day running of local government than many members of the Board. John was one of these "leg aides" and was known as the go-to-guy on budget matters. His even-handed work on the City budget drew strong praise across the political spectrum with accolades from Supervisors Sean Elsbernd and Ross Mirkarimi!
On the Frontline for Justice
We all have some experience in supporting a candidate for office and then being disappointed with their performance once elected. Maintaining the accountability of elected officials to the progressive communities who elect them is as important as winning elections in the first place. Over the years I've noticed that there are 2 indicators of how responsive a politician will be to progressive politics. The first is rooted-ness in community. The second is sense of justice.
While John's roots in community are deep, his desire for social justice is even stronger.
In 1999, when John Avalos learned of the wrongful conviction of David Moreno and Justin Pacheco for a murder they did not commit, he launched a media campaign through We Interrupt This Message to free the two Latino youth from jail. By generating national coverage of the case and, generally, of racism in the criminal justice system, John was able to help Moreno and Pacheco win a not guilty verdict on all charges and their freedom. You can't find John's fingerprints on this case. He didn't do it for personal gain or advantage. He did it because it was the right thing to do.
John has witnessed the injustice that the system can deal out, and it doesn't just inform his outlook. It drives John to fight for justice at every turn.
Perseverance Through Adversity
My other measure for elected officials is how they respond to crises, which seem to come up far too often in local government. When it comes to tough times, the Avalos family has been put to the test. John's daughter Rene was born 16 weeks early during a family trip. Rene battled for her life, and after 4 months and 2 hospitals, she made it home. Through it all, John was a Super-Dad. Not only was he glued to Rene's bedside, he also navigated the complicated hospital bureaucracies and managed interactions with doctors, nurses, and hospital administrators to make sure Rene got the care she needed. Faced with the adversity of his first child's life in the balance, separated from his home, and with skyrocketing medical bills, John was able to draw from a community of support, and rally through.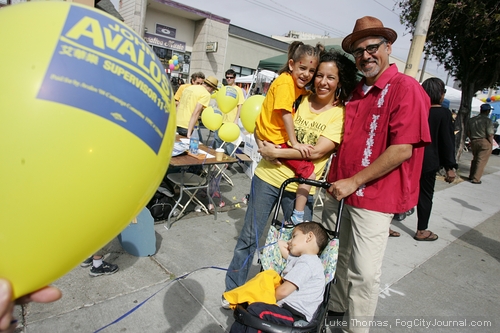 John Avalos, Emiliano, Rene and Karen Zapata.
John Avalos for President of the Board
I support John Avalos for Board President because I believe he is the best choice to lead the new progressive Board during these tough times. His progressive politics are grounded in decades of community and labor organizing work and a profound desire for social justice. John is universally liked and respected and has an uncanny ability to bring people together.
Supervisor-elect Avalos may know more about the City budget than I do, even with my 8 years on the Board, thrice as Budget Chair. This is important because, with the current financial crisis, the City budget is likely to occupy the new Board for the better part of the next 2 years. It would be smart for the Board to elect the Supervisor with the most hands-on budget experience to our top leadership spot.
John has assembled what will be the most experienced and diverse staff at the Board. Rachel Redondiez brings 8 years at the Board with her own impressive record of community and labor organizing. Francis Hsieh has 4 years at the Board plus another 2 as an aide in Sacramento. She comes back to City Hall from her position as Deputy Director of NARAL Pro-Choice California. Coupled with John's 4 years at City Hall, the Avalos office isn't just going to be prepared; they are ready to lead on day one.
Despite all this experience, John Avalos will be a new face for change in San Francisco politics. This little piece here is probably the most extensive column ever published about John. John's fresh face fits neatly with the mantra for progressive change that has just swept across the country. With a community organizer and relative outsider set to take the keys to the White House, a John Avalos Presidency at the Board would make for very good symbolism.
This fall, John assembled one of the most sophisticated and well-organized progressive political campaigns that this City's seen. Like Eric Mar and David Chiu, he took some of downtown's toughest hits and proved his political mettle. John has helped politically transform what was a conservative neighborhood into one that is very much in play for progressives. (In addition to electing John, District 11 was one of five to support the Affordable Housing Charter Amendment.)
The recent release of Gus Van Sant's biopic not only elevates the stage for the San Francisco Board of Supervisors; it also provides us with the opportunity to turn the tables on the definition of the Supervisor from the Excelsior. Think about the meaning of a progressive Latino Board President, from the neighborhood that used to be known for producing Dan White.
John Avalos is ready to walk in a proud line of progressive Board Presidents, as a community and labor organizer who has battled through adversity with a passion for social justice.