THE MISSION THROUGH THE LENS
Showcasing the Works of Luke Thomas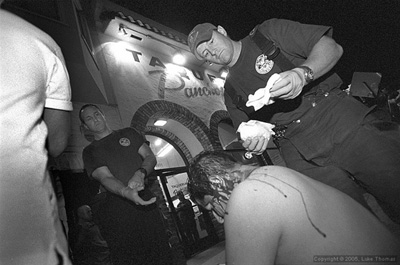 This photo of a Mission resident being treated by SFFD paramedics
is part of Luke Thomas' photographs being showcased at MCCLA's photo exhibit.
Photo(s) by Luke Thomas
Exhibit at MCCLA Captures Life in the Mission
Reprinted with permission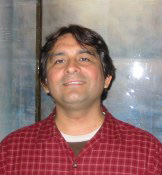 Paul Romo

By Paul Romo
Monday, August 8, 2005
If there is a single, defining image within the last 35 years that captures the spirit of the Mission, it is perhaps locked away or hidden in memory but not out for public viewing. Instead, in a second story room of the Mission Cultural Center for Latino Arts, there are roughly 100 photographs by dozens of artists that capture a varied measure of life here.

From the struggle to earn a living to the celebration of personal milestones, the human experience is vastly represented in shots that often demand the concentration of the viewer.

At every turn there are startling contrasts: a group of schoolkids in playful, homemade animal masks are offset by troubling images involving emergency medical technicians and police officers.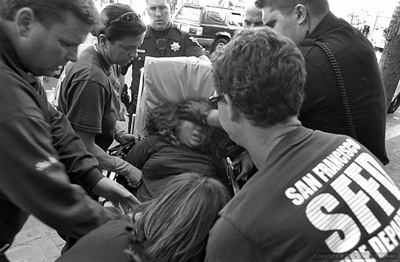 A visibly distraught Mission resident
resists being restrained by SFFD and SFPD officers.
Mission and 16th, October 2004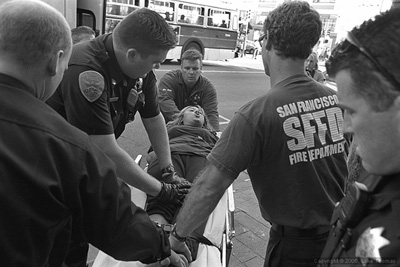 Fully restrained, the patient begins spitting at paramedics and police.
For three weeks photographer Luke Thomas traveled alongside a group of San Francisco Station 7 firefighters and got a taste of how truly unpredictable their jobs are.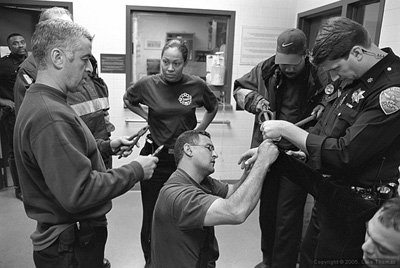 Firefighters are called to remove hand-cuffs from an intoxicated French tourist.
Operating in tight quarters that give the sense of a claustrophobic nightclub, Thomas captures the intense struggle between those caught in his lens, their inner demons and the professionals that are called upon to assist them.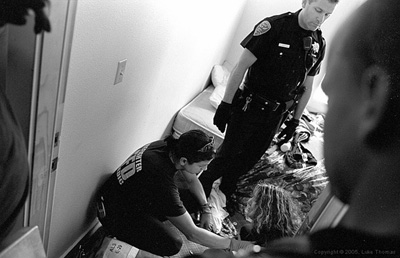 After going through all the protocols, Thomas was given complete freedom to shoot what he saw on the job.

In a bar not far from Pancho Villa Taquera on Valencia near 16th, an overzealous bouncer hits a patron over the head with a hard object and Thomas, alongside emergency medical technicians, is there.

The job requires individuals to expect anything to happen at anytime.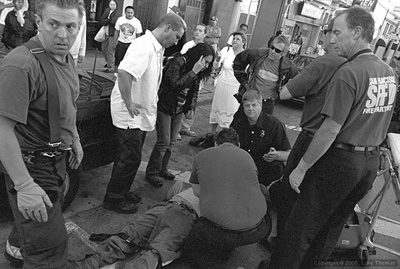 A man lies unconscious at a busy intersection on Mission St.
He is the victim of a hit-and-run driver. According to one witness report, the victim appeared drunk before he was hit and had been observed staggering across the heavily trafficked corridor moments before impact.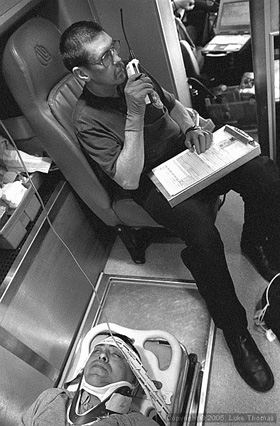 The hit-and-run victim's vitals have been stablized
and called in to the emergency trauma center.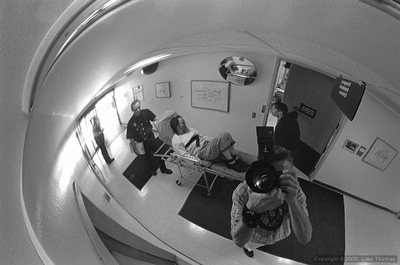 A known frequent flyer is wheeled into St. Luke's for attention.
But as one fire chief put it whenever a journalist is trailing the fire department there are no fire calls.

Thomas confirmed this while emphasized a variety of duties fire fighters perform outside of their primary role.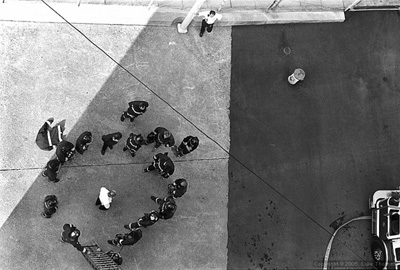 SFFD's Station 7 in the Mission District
"They take all they do in stride but of course, they are heroes," Thomas said.

There are calls requiring clean-up assistance for both combative subjects (after a subject is sprayed with mace by police) and the interior of a property that has been flooded.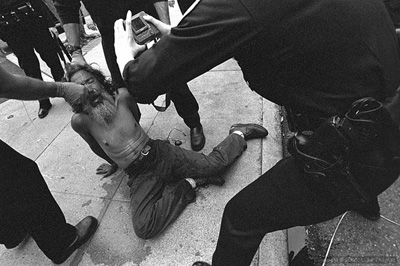 A Mission resident has been subdued by police using pepper spray.
Firefigthers assist by pouring water into the man's eyes while an SFPD officer
takes a photo record for evidentiary purposes.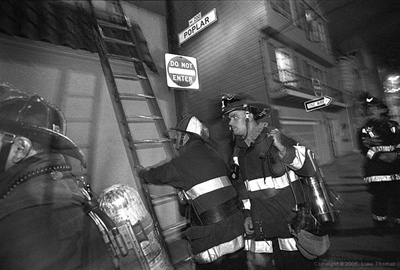 Firefighters are called to a Mission District apartment complex
after a smoke alarm has been triggered by smoke from an electrical short.
A special breed, many of them do not consider their daily routines extraordinary, he said, although there is an emphasis on the work when it involves assisting children.

"It went very well and I'm very appreciative toward the fire fighters for letting me into their lives," Thomas said.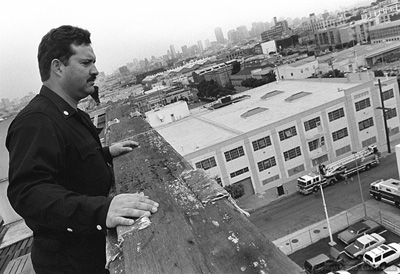 Charlie Crane, Station 7, Mission District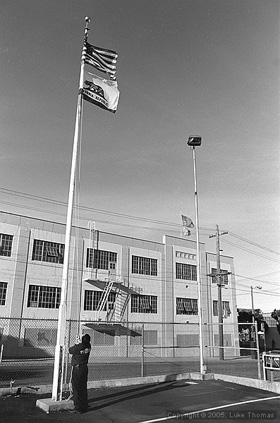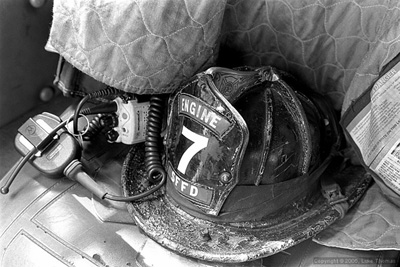 Contrasting the in-your-face style of Thomas is the portrait photography of Amanda Lopez.

"Las Homegirls" which captures four, teenage girls surrounding a female friend confined to a wheelchair is up for interpretation. Taken on Mission and South Van Ness, there is mixture of bravado, uncertainty and a glimmer of hope on many of the girl's faces.

A faintly sheepish grin is set on the girl sitting in the chair. The photo also appears in a recently published
book put out by the phenomenal photo collective "Hamburger Eyes."

Like a number of her photos, this one came about by chance while preparing to shoot something for a friend in the neighborhood.

"They were being silly, hanging out and asked if I would take their picture," she said.

Lopez took four or five shots and never bothered asking much more than whom she could contact when the photo was developed.

After taking some time to track one of the subjects down, the photo began making its way out into the public.

" I really felt it was like a gift," she said, after being asked to take a photo of the girls.

As part of an all-female photo collective called "Dandelion Black" and frequent contributor to music/art culture publication "Mesh" magazine, Lopez is extremely busy.

"Last year was the first year I've successfully, at some level, been able to show my work to the public," she said.

Her fifth year living in San Francisco, Lopez said that the people she photographs are what make the Mission.

"It's my way to honor the neighborhood and the people that are here," she said.

Although she has shot and edited photos for neighborhood newspapers, she wouldn't consider herself a photojournalist but more of a portrait photographer.

Lopez said she likes the interaction that comes from befriending her subjects. Which seems contrary to the spontaneous way she seems to work best.

"I like the people I'm photographing to know I'm taking a photo of them," she said.

Patricia Rodriguez, Mission Cultural Center of Latin Arts gallery coordinator said for many people viewing the photos on opening night, it was a walk down memory lane.

In collaboration with El Tecolote newspaper's 35-year anniversary, the two joined together in celebration.

Rodriguez, a co-founder of the famed Las Mujeres Muralistas women's mural collective in the 1970's, says the work documents who the people in the Mission really are and what they have accomplished including social activists and long-time pioneers.

There are also reflections of life by Judith Saphri who captures landmarks as well as the color, light and denizens in Mission nightspots and Lou Dematteis, who chronicled life as it was in 1980 on Mission Street.

"People don't know there are stars and heroes here," she said.

Closing Event: Monday, August 22, 7-9 p.m. Admission $5. Book Party & Interview with author Luis Rodriquez (Music of the Mill; Always Running; The Republic of East L.A.; Hearts & Hands).

Mission Cultural Center for Latino Arts, 2868 Mission Street (between 24th and 25th streets). (415) 643-5001 or info@missionculturalcenter.org.


Paul Romo has written columns and feature stories for the New Mission News, El Tecolote and Mission Dispatch as well as Bay Area magazine, Kitchen Sink. Email Paul Romo at promojourno@yahoo.com.
####