Moussem of Tan-Tan looks west to advance Morocco
to first world nation status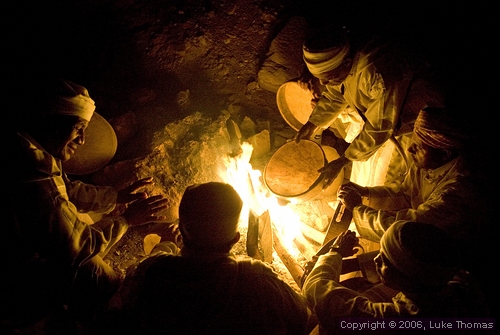 Berber tribesmen gather around a warm Saharan camp fire on the eve of the 2006 Moussem of Tan-Tan.
Photo(s) by Luke Thomas
By Fiona Ma and Luke Thomas

December15, 2006
How many times does one get an invitation from a King to visit his country?
And so it was with intrigue and excitement that San Francisco delegates accepted His Majesty King Mohammed VI's invitation to visit the Kingdom of Morocco, to attend the third annual Moussem (festival) of Tan-Tan, nestled in a wind swept corner of the Sahara desert.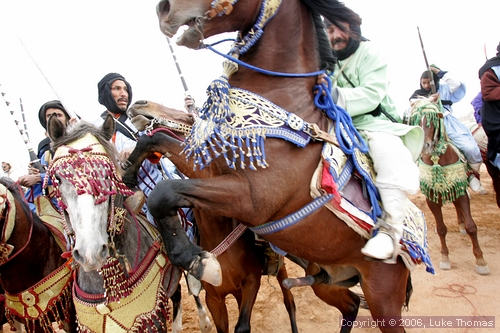 Started in 1963, the historic annual Moussem of Tan-Tan draws thousands of tribal members from Morocco and northwest Africa, historically providing opportunities for tribes to trade, socialize, engage in inter-tribal competitions, to celebrate weddings, and to engage in rich cultural rituals.
The festival - postponed between 1979-2003 due to political unrest in the region - was restarted in 2004 under the leadership of His Majesty King Mohammed VI and UNESCO Goodwill Ambassador Kitin Munoz Valcarcel. Their combined vision has revived the festival into an international economic, cultural, and social event to help promote peace and goodwill between nations.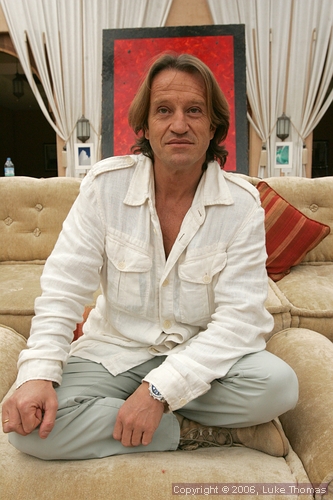 UNESCO Goodwill Ambassador Kitin Munoz Valcarcel
And with recent broad social, economic and political reforms, the Kingdom of Morocco has rightfully earned international respect for its advancement in human rights and democracy while preserving the delicate balance of Morocco's rich cultural heritage.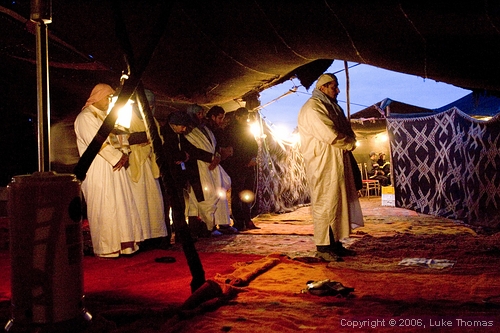 Representing the United States, Korea, Spain, Saudi Arabia, France and Canada, 93 delegates - including 5 from San Francisco - were generously treated to experience a new dawning for Morocco, a country geo-strategically located between Europe and the United States, offering a multiplicity of incentives for foreign investment.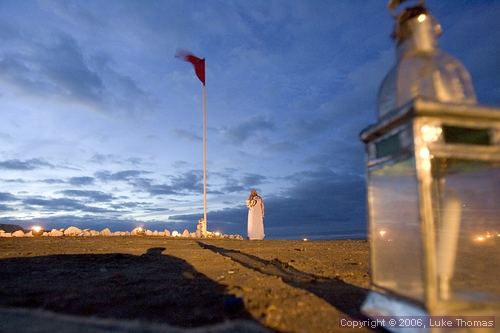 After arriving at Tan-Tan airport, delegates were escorted by His Majesty's security forces to a remote campsite at the mouth of the Chbika River on the Atlantic coast to experience first-hand what it must be like to live one day in the life of a Bedoin nomad.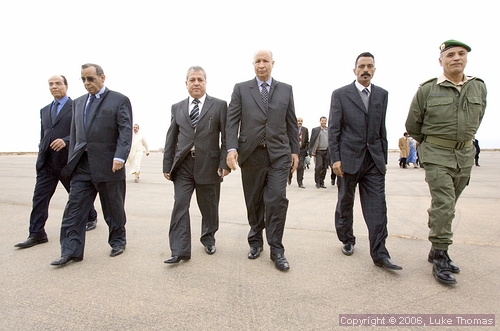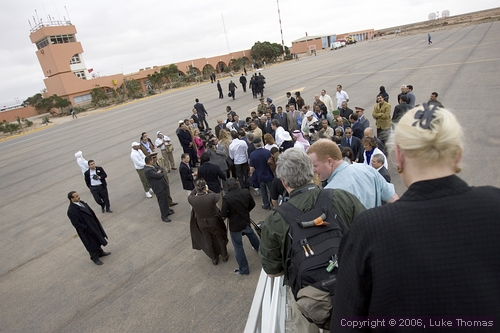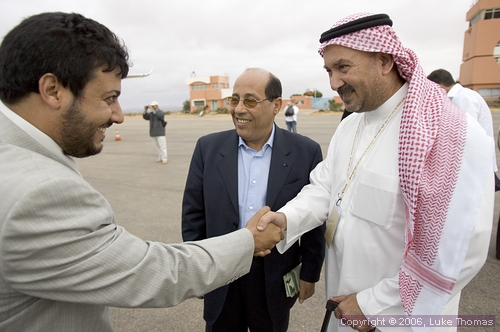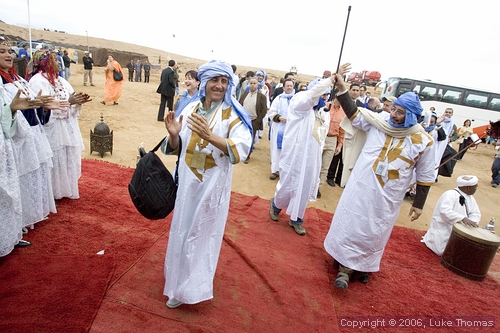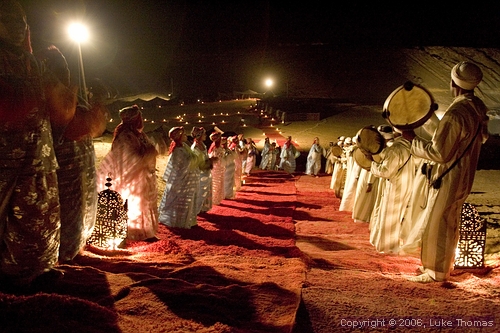 Sturdy waterproof tents, woven from camel and lambs hair, stood flapping and swaying in the brisk Atlantic breeze, holding ground and providing surprisingly comfortable accommodations.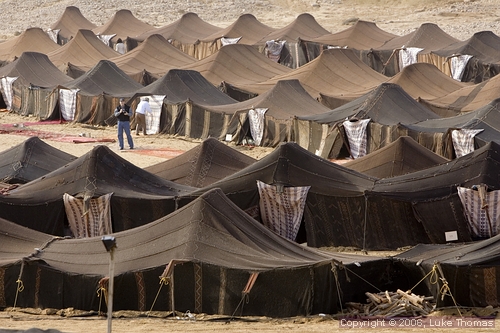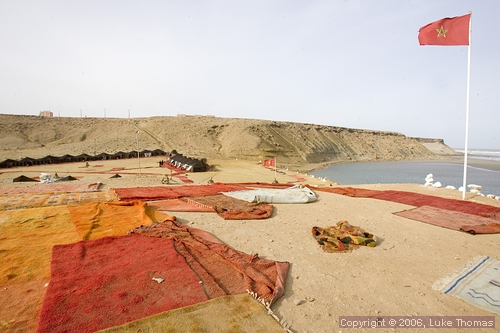 The evening's faire provided delegates with an opportunity to meet and greet each other, to become unified in a common goal to help His Majesty advance his compassionate goal of providing his beloved countrymen with an improved standard of living through economic reform and development.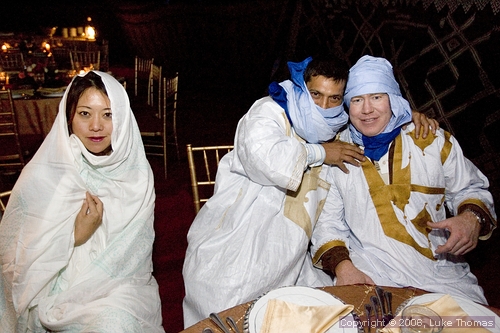 San Francisco delegates Assemblymember Fiona Ma,
Small Business Commissioner Gus Murad and John Barett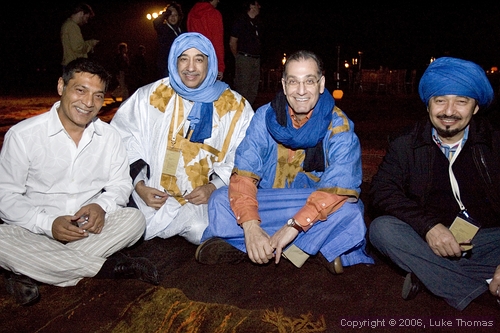 Former U.S. Ambassador to Morocco Edward Gabriel (2nd from right) and San Francisco Small Business Commissioner Gus Murad (left).
Delegates, after a sultry night that no one wanted to end, retired to their tents buoyed and resolved to join His Majesty's vision.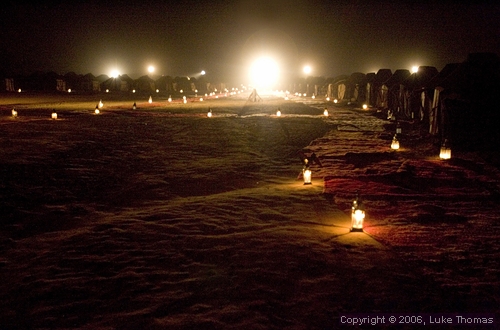 The following morning as the night gave way to day, delegates arose with renewed vigor and reconvened for breakfast. A palpable sense of unity and good will prevailed.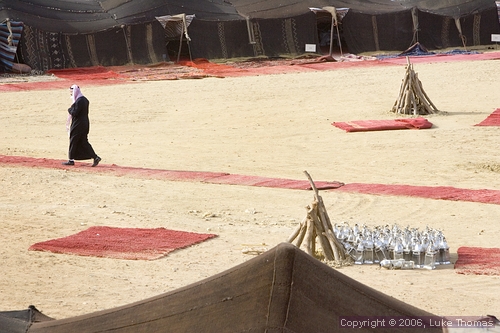 Delegates arrived with important titles preceding them but by now conversations between attendees was on a first name basis, with delegates sharing life experiences with one another and exchanging ideas about fostering a lasting peace for mankind in a world torn apart by idealogical differences.
After breakfast, delegates boarded coaches to take them to the site of the 2006 Moussem of Tan-Tan where Prince Moulay Rachid, His Majesty's younger brother, would graciously receive and welcome delegates.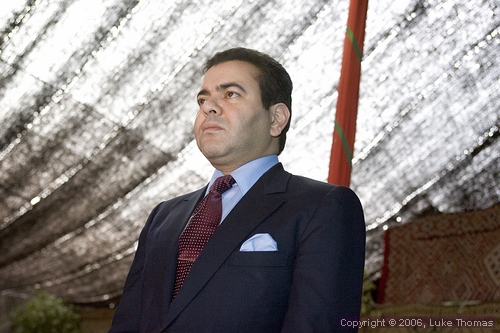 Prince Moulay Rachid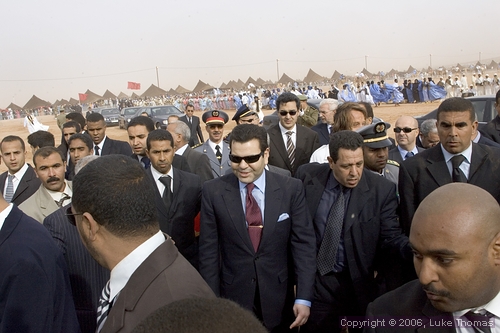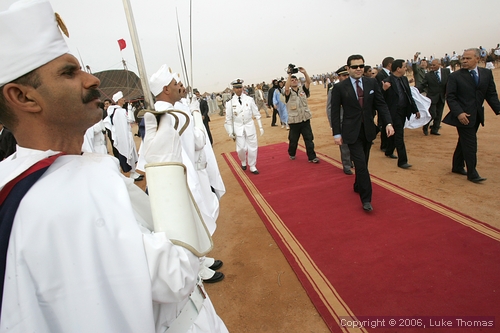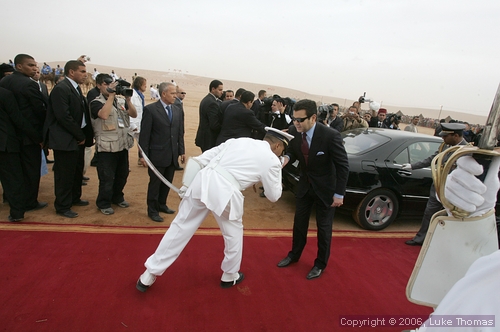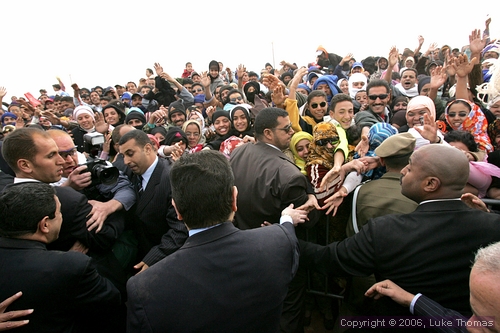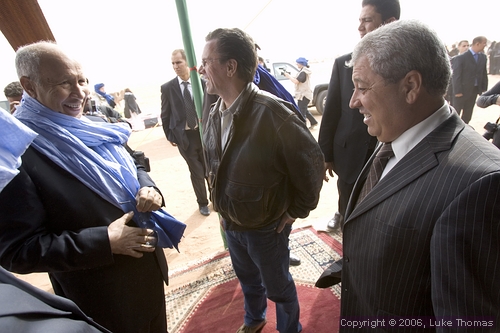 U.S. Ambassador to Morocco Thomas Riley (center) with the Governor of Tan-Tan Ahmed Merghich (right)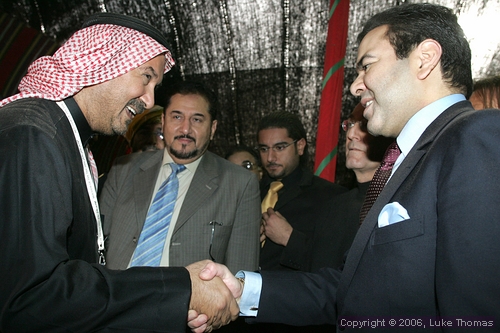 Saudi Arabia's Tarek bin Laden greets Prince Moulay Rachid with a warm smile bearing news that he will help build new cities for the Moroccan people.
Beautifully costumed Berber tribesmen performed on their horses and camels with thousands of Moroccans providing a colorful backdrop as the Saharan wind kicked up sand into an unwelcome frenzy.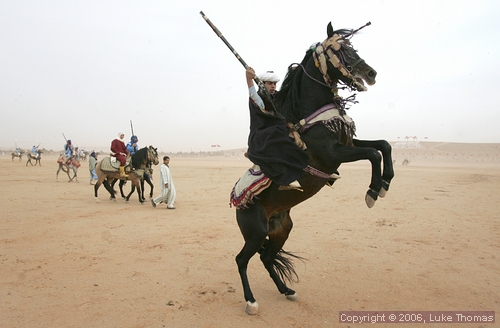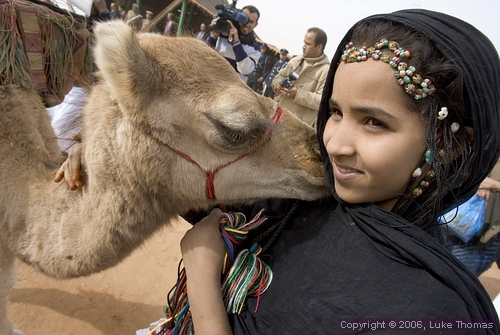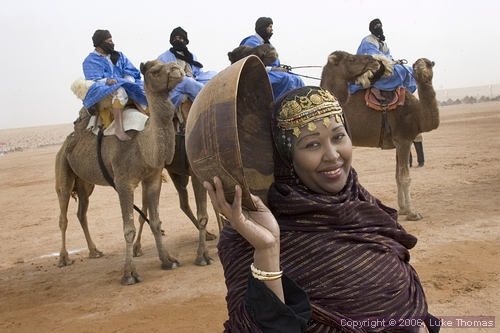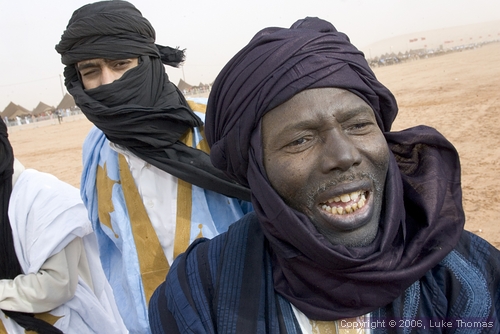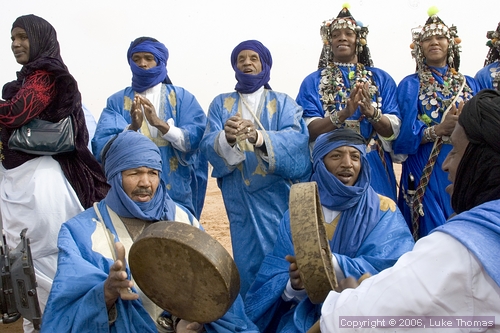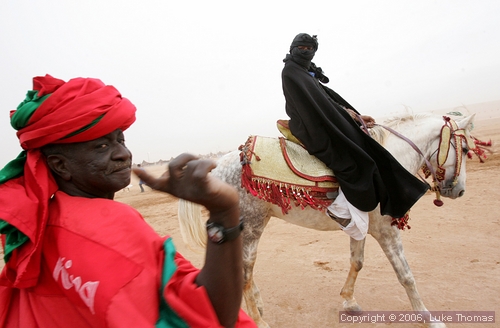 King Mohammed VI is the 23rd king of the Alaouite Dynasty, the reign of which started in the middle of the 17th century. He was crowned King on July 23, 1999 at the young age of 38 and was educated in Morocco and Europe. Shortly after taking the throne, His Majesty addressed the nation via television, promising to take on poverty and corruption while creating jobs and improving Morocco's human rights record.
His Majesty broke with tradition by marrying a "commoner" and held the first-ever public royal wedding ceremony.
Leveraging the country's free trade agreements with the European Union, Turkey, Tunisia, Egypt, Jordan and the U.S., Morocco has been aggressively wooing foreign investors and seeking out export partners in the areas of textiles, fertilizers, food and food processing, auto components manufacturing, electronics assembly, and information technology call centers. Recently privatized industries include the telecommunications, tobacco, oil refining, cement and utilities industries.
Morocco's 2010 Vision sets ambitious objectives to increase annual tourist visits to 10 million by 2010, investing in the development of new hotels and resorts, especially along the country's beautiful 3,500 km expanse of unspoiled coastline and beaches.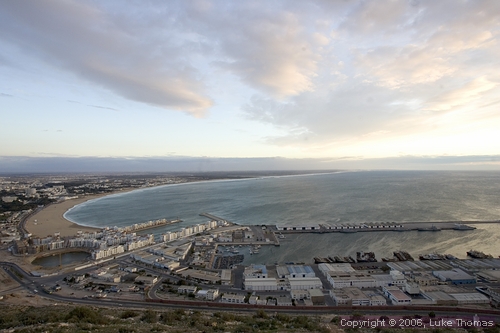 The City of Agadir at sunset
Morocco's beautiful beaches, mountains, deserts, and rivers and small villages are favorite destinations for filmmakers. Such classic movies as Lawrence of Arabia, Sodom and Gomorra, and The Last Temptation of Christ were filmed in Morocco, and more recently, Gladiator and Kingdom of Heaven.
Similar to California in terms of climate, topography and size, Morocco has a population of about 31 million people with a majority less than 30 years old.
With open skies agreements in the works making it possible for direct flights to Morocco from all over the world, Morocco is poised to become the next boom in economic development. It's geo-strategic location, coupled with attractive foreign investment incentives, makes Morocco a country few will overlook for a multitude of eco-friendly business development opportunities.
So next time you're due for a vacation, experience Morocco. You will not be disappointed.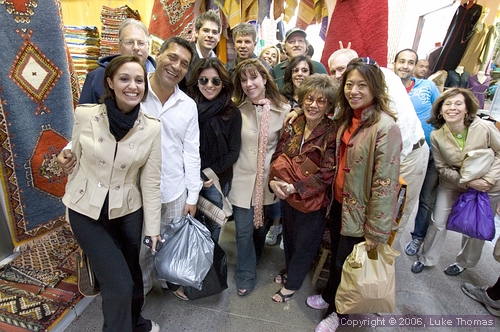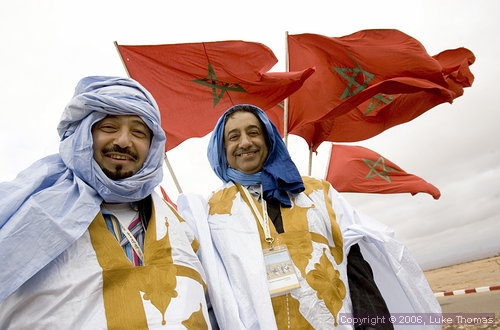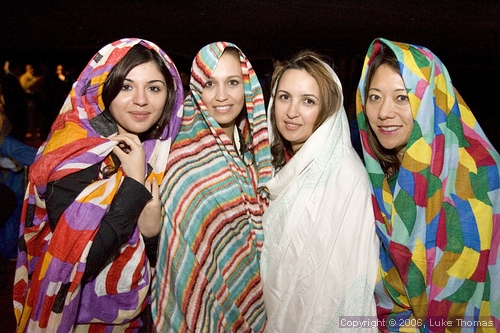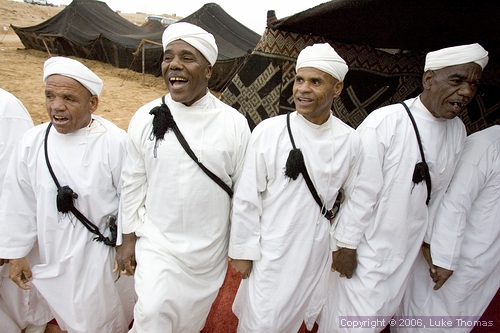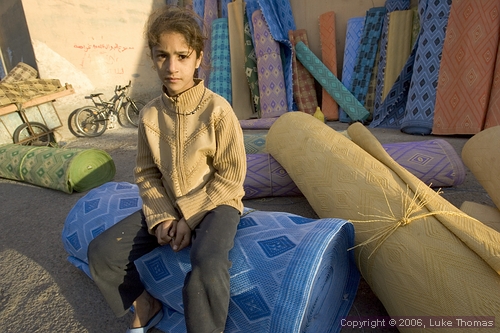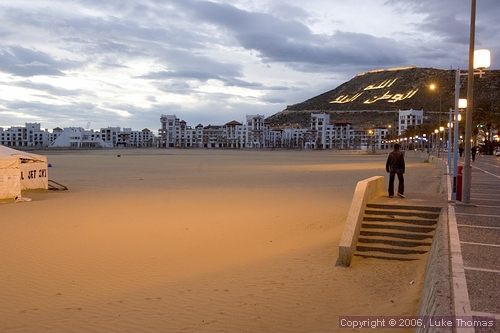 Editor's Note: For more images from Morocco and the Moussem of Tan-Tan, click here.
####