Nevena Predolac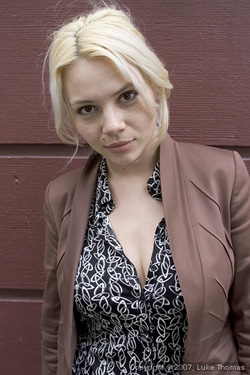 Photo(s) by Luke Thomas
BIO
Born in Serbia a spring baby in the year of the Rat. I spent my teenage years going from London to Istanbul in a heartbeat. I preferred Istanbul. In 2002, I made my move from California dreaming to California living. Shortly thereafter I got my first column space, which I filled with commentaries that were sometimes nostalgic, often incisive, but always from a place between my mind and heart. I continue to freelance for some of my homeland's most popular publications.
Currently I am growing my roots in the USA that recently got steered towards news reporting.
In my spare time I enjoy a glass of chocolate rum-spiked milk while listening to Serbian turbo folk music.
---
Contact Info
Email: nexillium@yahoo.com
Recent articles by Predolac
Code Pink, San Francisco Supervisors, step up pressure on Pelosi over support for war funding
March 22, 2007
Green Party celebrates progressive victories with art and social commentary
February 19, 2007
Off the Wall
February 12, 2007

Wolf becomes longest incarcerated journalist in U.S. History - 171 days and counting...
February 9, 2007
Newsom's Ultimate Betrayal
February 2, 2007
Newsom town hall meeting draws criticism from chicken protest group
January 15, 2007
####