Daniela Kirshenbaum
FCJ i-Team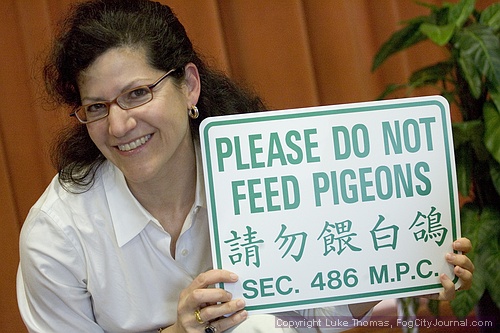 Photo(s) by Luke Thomas
BIO
What is your current title? Include past professions.
Currently, I'm a journalist/reporter and soccer mom. I'd rather not talk about my checkered past -- of which I am hugely proud -- until I know you better.
What are some of the accomplishments listed on your resume?
Besides a couple of academic degrees, I started the www.LivingRoomSlate.com and co-founded the SF Neighborhood Network. My pieces have run in the Chronicle, The New York Times, the Seattle Times, Seattle Metropolitan magazine, and some little daily in eastern Pennsylvania whose name I can't remember.
What skills do you have of which you are secretly proud?
I type like the wind, I speak foreign languages, and I am, frankly, a natural killer on the dance floor.
Why do you do what you do?
For the loftiest of reasons. Trust me.
What is your favorite place to shop?
I haven't shopped in over a year. You'll have to "niche" me another time.
---
Contact Info
Email: kbaum88@yahoo.com
Recent articles by Kirshenbaum
Lennar slapped with racial discrimination lawsuit, accused of violating toxic asbestos cleanup restrictions
March 17, 2007
STARS AND THE CITY:
What celebrity meltdowns mean to San Francisco
February 26, 2007
THE SPEAKER AND THE MAYOR: Pelosi Gives an assist to Newsom at a "Global Warming" Discussion
February 21, 2007
Beyond Sex: Believing the Mayor and All His Men and Women
February 2, 2007
Newsom: Pale and Chastened, but Mayoral?
Confesses to affair and confirms all rumors
February 1, 2007
It's the lies, stupid! - Newsom indiscretions were allowed to fester
January 31, 2007
Fog City takes the pulse of the 2007 San Francisco mayor's race
January 26, 2007

Investigating the investigator: In-depth with Lance Williams of The San Francisco Chronicle
December 21, 2006
A billion for your thoughts - Why billionaire Ron Burkle's interests should interest you
December 12, 2006
The Mystery Supervisor
November 17, 2006
Sewers of Beauty
November 14, 2006
Hey, '49ers: Hasta la Vista!
November 9, 2006
The Interstate 280 park and apartments
November 6, 2006
Pay-to-Play Bay Area
October 29, 2006
Pants, Power and Politics
October 15, 2006
Call it Ultimate Real Estate
September 24, 2006
####