A vibrant group of fellow travelers, many desolated by sexual exploitation from birth, Friday staked their presence in the fullness of free life.
They graduated from adult lives of commercial sexual exploitation, through nurture of the SAGE Project, as wall-to-wall joy vanquished disbelief.
Forever, they know it's possible to stand valid and safe, an entitlement SAGE founder Norma Hotaling cried through the silence for many years.
Gathered in Calvary Presbyterian Church, SAGE convened family and friends to honor latest graduates, and to celebrate six year anniversary the SAGE Project.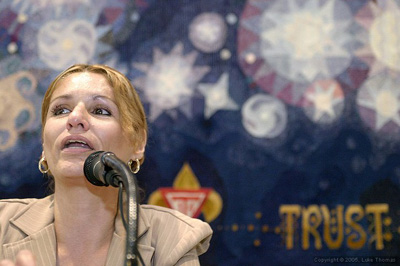 Graduate Theresa Delacruz expressed amazement
at healing power of SAGE

The project is built around safe residential housing where women, men, and transgenders feel secure in a "non-shameful space (to) address whatever internal issues they have," explained Norma Hotaling, SAGE founder.
Hotaling herself walked away from a 21-year heroin addiction and prostitution, just as quickly lobbying anyone who would consider her vision for rehabilitation.
It comprised residential stabilization, with clients building a support system, learning to soothe themselves in other ways than substances, bonding with peers, and reframing public naming of prostitution to Commercially Sexually Exploited (CSE).
Her efforts began to take off in the early 90s, after meeting with a recently appointed city supervisor introducing himself as Gavin Newsom.
Newsom, he said Friday, came to the meeting with entrenched beliefs about prostitution which did not parallel Hotaling notion.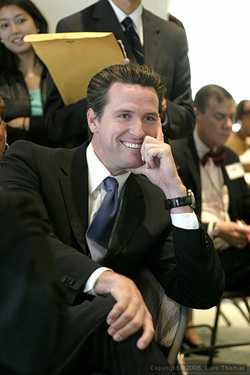 "You see all those people out there who come here asking me to help them?" Newsom recalled his directness to Hotaling.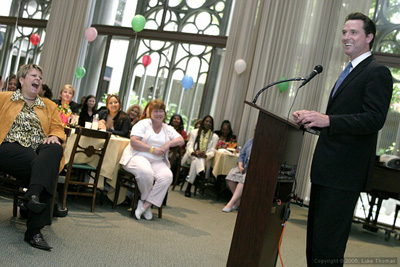 Nonetheless, the District 2 supervisor agreed to a subsequent meeting with Hotaling clients.
"Years ago, Norma gave me the gift of meeting with ten women.
"I lasted about ten minutes before Norma had to pull out the kleenex. I had no idea. I never understood what I increasingly understand.
"Within 20 minutes of attending that meeting, I completely changed my mind," said the mayor.
"And now we see Norma appearing on the Oprah show. I've never been on Oprah," Newsom hinted a pouted lower lip.
"I read Norma's been honored by the JFK School of business -- and Peter Drucker! I've never been honored by the JFK School of Business...or Peter Drucker!
"Norma created the model now used across the nation, and world. South Korea is a nation using that model, and funding it with tens of millions of dollars.
"I am profoundly, profoundly grateful to the work of SAGE.
For her part, Hotaling acknowledged Newsom with simplicity.
"We're sitting here today because of Mayor Newsom," stated Hotaling.
"I love this guy," she emoted.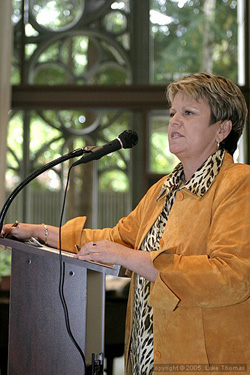 "Gavin and I have had some magical moments. The magic came when I walked into his office as a new supervisor. I told him my rent was going up, and I asked if he would beat up my landlord.
"He said, 'What do you want?'
"'I want to own the building.'
"Finally he said, 'I will help you.'
"Gavin works from purpose, and we joined a partnership at that moment," recalled Hotaling.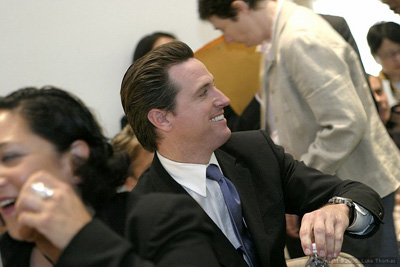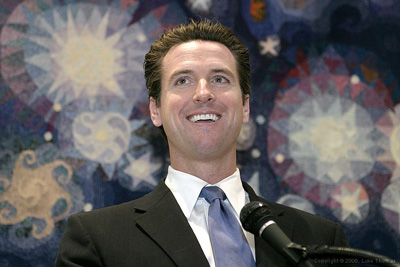 In 1999, SAGE officially was born, taking up leased office space at 1385 Mission Street, giving form to rehabilitation Hotaling proposed.
Today, assuring client safe place is shielded from thoughtless stares, SAGE now owns the building, thanks to community support and the receptive Bank of the West.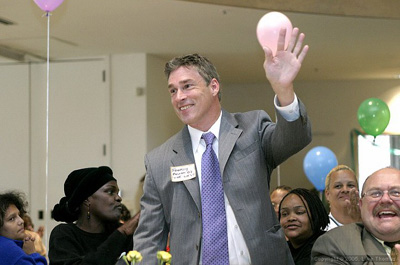 The Good Banker, with Juvenile Probation Department Director
Bill Siffermann at right
In years not far gone, CSE people were murdered, dumped in dumpsters, and no one cared, Hotaling pointed out.
Now 54-years-old, some six years after she fully got off the streets, Hotaling sets the world model for "holistic health systems that address all their issues no matter how terrible they are."
Her sense of leadership was captured in a reading Hotaling imparted.
"Leaders are called to stand in that lonely place between the no longer and the not yet, and intentionally make decisions that will bind, forge, move, and create history.
"We are not called to be popular. We are not called to be safe. We are not called to follow. We are the ones called to take risks. We are the ones called to change attitudes; to risk displeasures. We are the ones called to gamble our lives for a better world."
Visit SAGE.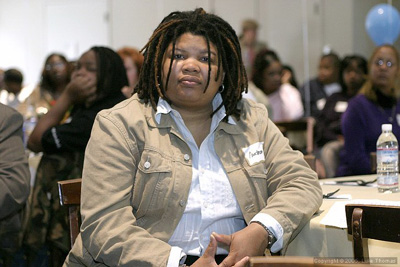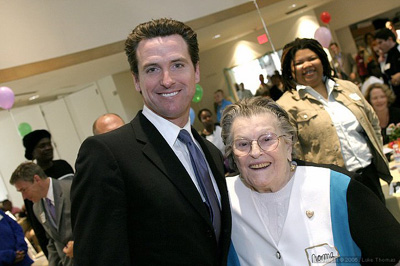 Norma Hotaling, mother of SAFE founder Norma Hotaling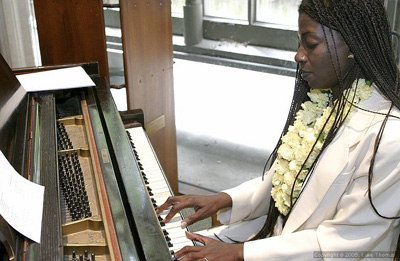 Graduate Marian Newhouse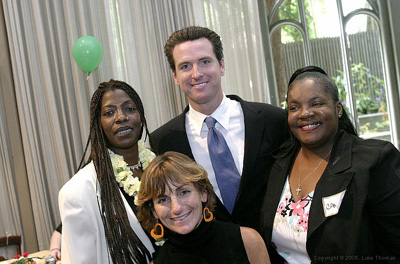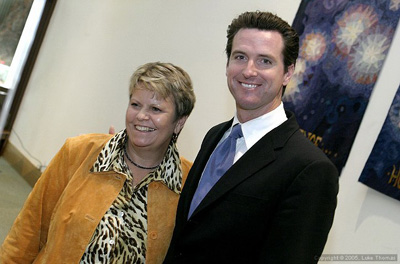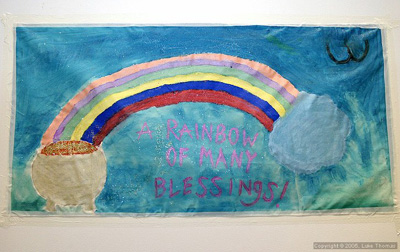 ####