SAN FRANCISCO ASSESSOR CAMPAIGN


| | | |
| --- | --- | --- |
| Name | Email Address | Accept Voluntary Spending Limit |
| Ronald Chun | ron_chun@msn.com | YES |
| Gerardo Sandoval | sandoval101@yahoo.com | NO |
| Phil Ting | phil@philting.com | NO |
Assessor candidates debate best approach to property assessment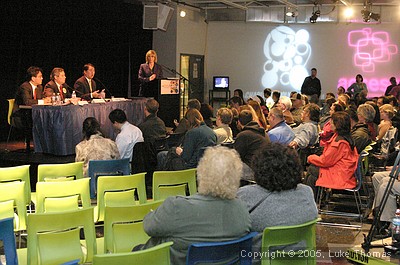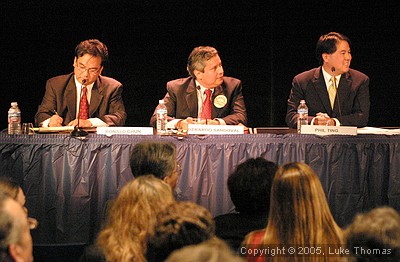 Photo(s) by Luke Thomas
October 21, 2005
The three candidates for San Francisco Assessor attempted to distinguish themselves last night, more through nuance than end goal.
In an office plagued for years with allegations of ineptitude and possible corruption, all pledged professional property valuation but different in mode.
Cheryl Jennings of KGO-TV emceed the question-and-answer session hosted by the San Francisco League of Women Voters.
The 7:00 p.m. panel discussion took placed in a two-thirds filled studio of the LGBT Center.
Ron Chun distanced himself from competitors Gerardo Sandoval and Phil Ting by insisting method of valuation "should be revenue neutral," with technical expertise and professionalism required for fair appraisal.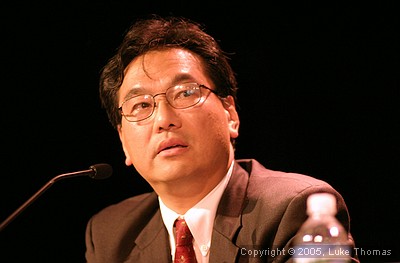 Ron Chun
Both Sandoval and Ting emphasized preference for the office to produce highest revenue legally possible to support social service programs they said San Franciscans demand.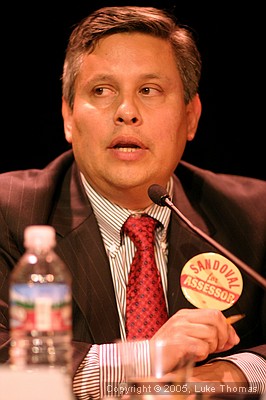 Gerardo Sandoval
Sandoval framed himself best equipped for the job, suggesting his 15 years in government made him efficient in working the levers of city policy.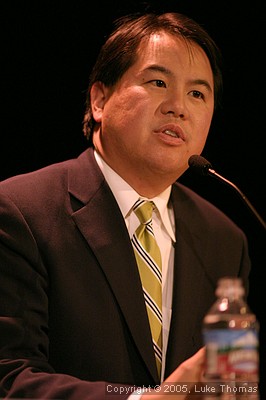 Phil Ting
Ting, appointed to the position by Mayor Newsom, drew attention to his initiatives underway to challenge large property owner valuations as possibly under assessed.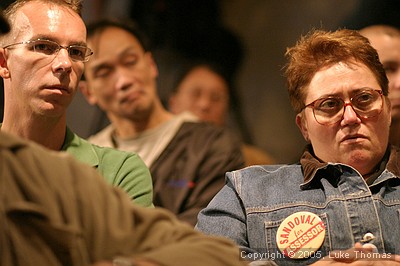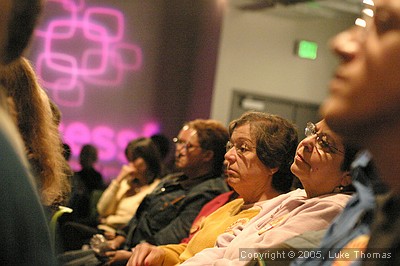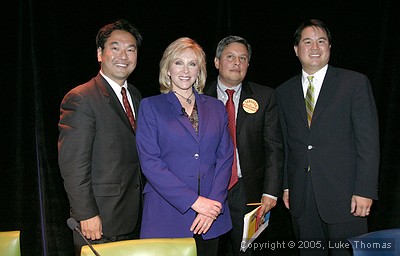 ####
Ting asks ethics investigation
of Clear Channel Outdoor and Sandoval
From the Ting Campaign
October 5, 2005
Last night, a representative of the Phil Ting for Assessor campaign filed a request for an Ethics Commission investigation of possible campaign violations by Clear Channel Outdoor and Gerardo Sandoval.
Less than 2 weeks after Assessor-Recorder Phil Ting announced a new billboard valuation policy that would generate approximately $2 million a year in additional revenue for San Francisco, Clear Channel Outdoor has placed a large billboard at the corner of Mission Street and Cesar Chavez showing the likeness of Gerardo Sandoval, a candidate for election this November 8th. This billboard includes a prominent campaign-style logo with Sandoval's name. Normal monthly costs of this type of oversized billboard are up to $10,000.
If Clear Channel paid for this billboard, it is violating the city's new Electioneering Law, a law that Sandoval himself fought to pass. This new law, Section 1.161.5 of the San Francisco Campaign and Government Conduct Code, requires that sponsors of electioneering materials (including billboards) "referring to a clearly identified candidate for City elective office" and appear "90 days prior to an election," are subject to disclosure requirements at the San Francisco Ethics Commission within 48 hours of posting. Supervisor Sandoval was one of the proponents of this new law and voted for its passage.
If Sandoval paid for this billboard out of his Supervisorial account, which is still open, he is using that account to campaign for Assessor, in violation of city law. If Sandoval paid for this billboard out of his Assessor's account, he is in violation of the city's disclaimer law.
Ting spokesperson Eric Jaye said, "In any scenario, these violations are serious. Under the most likely scenario, Clear Channel may be using its financial resources to unlawfully promote Sandoval in order to protect its corporate interests."
Jaye continued, "Phil Ting is not afraid to stand up to big corporations like Clear Channel if they are not paying their fair share. He will continue to use his professional expertise to find every single dollar owed to the taxpayers of San Francisco. San Franciscans deserve a professional Assessor-Recorder who is focused on the job - fairly assessing and collecting revenue for the City and County of San Francisco."
Attached is a copy of the Ethics Commission complaint and photo of the billboard.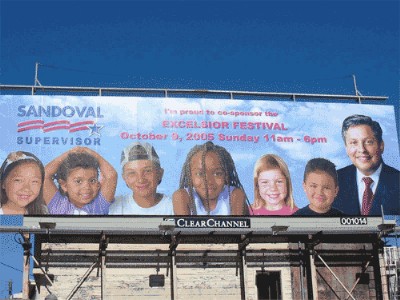 October 4, 2005
San Francisco Ethics Commission
30 Van Ness Avenue, Suite 3900
San Francisco, CA 94102
Fax: (415) 581-2317
To whom it may concern:
This letter serves as a formal request for an investigation into possible campaign violations by Assessor-Recorder candidate Gerardo Sandoval and Clear Channel Outdoor.
As you may know, San Francisco Assessor-Recorder Phil Ting has called for reform in regard to the way billboards are assessed in San Francisco. Phil Ting is insisting that billboard companies pay their fair share under the formula recommended by Caltrans and the California Assessor's Association. The change in billboard policy would bring San Francisco in line with other major California counties, including Los Angeles and Sacramento.
Phil Ting made an announcement about this new policy on September 15, 2005.
On or about October 2, 2005 a billboard appeared on the corner of Mission Street and Cesar Chavez showing the likeness of Gerardo Sandoval, a candidate for election this November 8th
This billboard includes a prominent campaign-style logo with Sandoval's name. Normal monthly costs of this type of oversized billboard are up to $10,000.
I ask that the Ethics Commission begin an immediate investigation into this possible violation of the law by either the Sandoval campaign or Clear Channel Outdoor or both.
If Sandoval paid for this billboard out of his Assessor's account, he is in violation of the city's disclaimer law.
If Sandoval paid for this billboard out of his Supervisorial account, which is still open, he is using that account to campaign for Assessor, in violation of city law.
If Clear Channel paid for this billboard, it is violating the city's new Electioneering Law, a law that Sandoval himself fought to pass.
Because this billboard refers to "a clearly identified candidate for city elective office" and "appears 90 days prior to an election," the billboard is clearly subject to the new disclosure requirements in Section 1.161.5 of the San Francisco Campaign and Government Conduct Code.
Because this billboard is clearly intended to promote Sandoval, it falls under the city's new Electioneering Law, and it requires both a disclaimer and for the sponsor to file an Electioneering Report. There is no disclaimer and according to your office this morning, there is no Electioneering Report on file with the Ethics Commission.
In any scenario, these violations are serious. Under the most likely scenario, Clear Channel may be using its resources to unlawfully promote Sandoval in order to protect its corporate interests. These could be serious violations of city law.
The San Francisco Ethics Commission has a responsibility to take action against these violations.
I appreciate your prompt inquiry and response to these clear violations of the law.
Sincerely,
Eric Jaye
Campaign Consultant, Phil Ting for Assessor
####

San Francisco Labor Council Endorses
Phil Ting for Assessor
From the Ting Campaign
September 27, 2005
Last night, Phil Ting was endorsed by the working men and women of the San Francisco Labor Council. The San Francisco Labor Council represents over 80,000 members of more than 140 affiliated local unions and constituency groups.
Assessor-Recorder Phil Ting said, "I am so proud to have earned the support of the Labor Council and to stand with San Francisco's working families in the fight for fair wages, benefits and workplace safety. I have worked my entire life on behalf of fairness for working men and women - and I am honored to continue this work in the Assessor-Recorder's office."
Ting was also endorsed last night by the District 9 Democratic Club.
The Labor Council and the District 9 Democratic Club join a broad coalition of organizations across San Francisco supporting Ting such as UNITE HERE! Local 2, the City Democratic Club, the Democratic Women's Forum, the San Francisco Young Democrats, the Asian American Bar Association, the Deputy Sheriffs' Association, the Gay Asian Pacific Alliance (GAPA), the Harvey Milk LGBT Democratic Club, the San Francisco Democratic Party (San Francisco County Central Committee), the San Francisco Fire Fighters Local 798, the Sunset Community Democratic Club, and the Sunset Reform Democrats.
Phil Ting began his professional career as a real estate financial advisor and has extensive hands-on experience in fiscal management and property assessments. As a Senior Consultant at Arthur Andersen, he determined the value of real estate properties such as apartment buildings, homes, office space and hotels.
Ting is a graduate of Harvard University's Kennedy School of Government. He has advised large organizations such as the State of California, Applied Materials, Sun Microsystems, and other technology-based Fortune 500 companies on how to reform complex bureaucracies. He is the former executive director of the Asian Law Caucus.
For more information visit www.PhilTing.com.
####
Gerardo Sandoval Wins Endorsement of SEIU Local 790
From the Sandoval Campaign
September 26, 2005
The Service Employees International Union (SEIU), Local 790, announced today its endorsement of Supervisor Gerardo Sandoval in his bid to become San Francisco's next Assessor-Recorder. Rank-and-file members of SEIU, Local 790, voted overwhelmingly to endorse Sandoval in a 51-13 vote.
"Gerardo Sandoval has continually stood up for labor rights and supported our efforts at SEIU, Local 790," said Ricardo Lopez, a Local 790 union member. "He helped save our jobs during last year's city budget crisis. Gerardo Sandoval is the only true labor candidate in the Assessor's race."
SEIU, Local 790, is one of the state's largest labor unions, representing some 30,000 workers throughout Northern California. In San Francisco, Local 790 represents more than 10,000 workers, including custodians, secretaries and cafeteria workers at the San Francisco Unified School District; paramedics; museum security guards; nurses at San Francisco General Hospital; and many city employees.
As an advocate for Local 790, Sandoval helped protect the employment of museum security guards by preventing their jobs from being contracted out. In 2004 as chair of the Budget Committee, Sandoval worked to balance the city budget and eliminate a $300 million budget deficit without cutting scores of Local 790 jobs.
Sandoval has also received endorsements from both labor unions representing San Francisco's MUNI bus workers - Transportation Workers' Union, Local 200 and Transportation Workers' Union, Local 250A. In addition, he has been endorsed by the American Federation of State, County and Municipal Employees (AFSCME), Local 3299, which represents service workers at the University of California at San Francisco, and the International Brotherhood of Electrical Workers, Local 6.
For more information visit http://www.sandovalforassessor.com
####

CITY DEMOCRATIC CLUB HOSTS
ASSESSOR DEBATE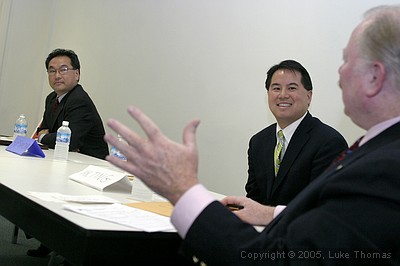 Photo(s) by Luke Thomas

Friday, September 16, 2005
Candidate Phil Ting was endorsed by the City Democratic Club last night, following a question and answer exchange attended by contenders Ting and Ron Chun.
Gerardo Sandoval, also running for the post, did not attend the 7:30 p.m.event held in SPUR headquarters.
Written questions from the audience and moderator Steve LaPlante permitted from one to two minute responses, with both candidates citing property evaluation experience.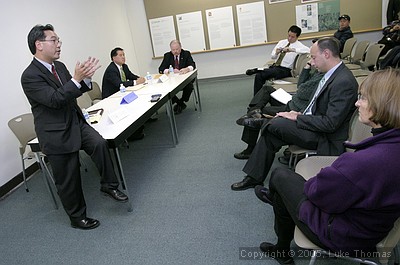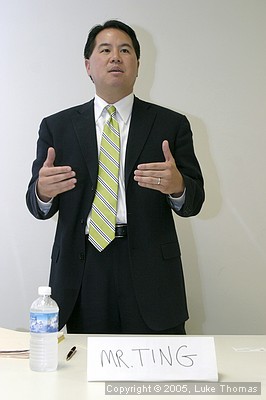 Of 19 club members voting, Ting received 13 votes, with both Sandoval and Chun tallying two votes each.
Treasurer candidate Jose Cisneros received all 19 club member votes.
City Attorney Dennis Herrera, running unopposed for re-election, was unanimously endorsed, reported member Heidi Mechen.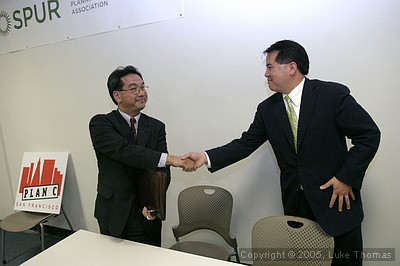 ####
MEXICAN AMERICAN POLITICAL ASSOCIATION BACKS TING
From MAPA
Monday, September 12, 2005, 10:00 a.m.
The San Francisco Mexican American Political Association (MAPA) endorsed candidate Phil Ting over Mexican American candidate Gerardo Sandoval, MAPA President Paula Fiscal announced this morning.

Endorsements also include Jose Cisneros for Treasurer, and Dennis Herrera for City Attorney.

Dennis Herrera, City Attorney and long time MAPA member is uncontested on the ballot and received a vote of confidence from MAPISTAS.

Cathy Garza, of the City Attorney's Code Enforcement Division spoke eloquently on his behalf.

Jose Cisneros, Treasurer and new MAPA member, has been emerging at our events for months to persuade our leadership to support him. The Treasurer has collected delinquent monies in tax revenue, according to Linda Trevino, MAPISTA and staff to Cisneros, demonstrating a phenomenal increase in the millions for the General Fund, compared to past years.

Mayor Gavin Newsom appointed both Ting and Cisneros. Ting replaced Assessor Mabel Teng, who resigned under a cloud of controversy due to hiring campaign workers as staff. Cisneros was appointed in September 2004 when Mayor Newsom promoted Susan Leal, Treasurer to Director of PUC.

San Francisco Measures:

YES on Prop A, Prop B, E, F, G and I.

NO on Prop C, D and E.

"The San Franciscans for Voter Owned Elections" Ordinance, by Supervisor Ross Mirkarimi, was also endorsed as a Legislative Action.

A very methodical presentation by Amrah Solomon Johnson, Jose Villalobos, and Chris J. favorably influenced MAPISTAS.

We want to also thank Nora Dye, Planned Parenthood who is No on State Prop 73, Teen Safety.

State Endorsements by National MAPA can be seen at WWW.SFMAPA.ORG and MAPA.ORG.


WWW.SFMAPA.ORG PO Box 225298 San Francisco, CA 94122 Toll Free 1-877-389-2617

####
GERARDO SANDOVAL AND CALVIN LOUIE BOND MUTUAL ENDORSEMENTS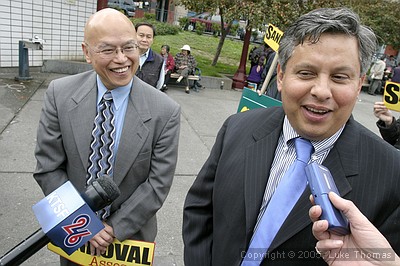 Gerardo Sandoval, candidate for San Francisco Assessor at right,
describes mutual endorsement historic moment for people of color.
Photo(s) by Luke Thomas
From the Sandoval Campaign
September 10, 2005
Assessor candidate Gerardo Sandoval and Treasurer candidate Calvin Louie held a press conference Friday in Chinatown to announce their endorsement of each other in the November election.
Sandoval said Louie's more than 26 years of experience as a Certified Public Accountant (CPA) and his commitment to minority communities won his support. Louie worked in the City of Berkeley Treasurer's Office for six years and started his own accounting firm in 1980, which employs six people.
"Calvin is a highly qualified money manager and the only experienced CPA in the race," said Sandoval, an elected member of the Board of Supervisors. "He has dedicated himself to minority issues as a former San Francisco Human Rights Commissioner and strong advocate for expanding minority business opportunities. He is the best choice for City Treasurer."
Louie similarly praised Sandoval as a strong supporter of immigrant communities throughout the city and as an experienced leader who will fight for homeowners and small property owners, who carry an unbalanced and heavier tax burden than large corporate property owners. Sandoval's extensive administration and finance experience includes serving as Chair of the Budget Committee in 2004, where he spearheaded efforts to cut a $300 million deficit and protect critical services such as neighborhood clinics and language access for immigrants.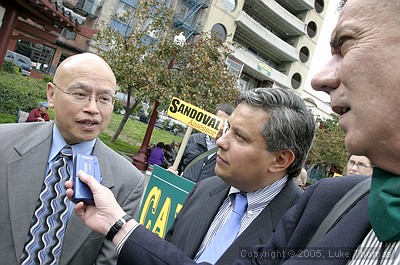 San Francisco Treasurer contender Calvin Louie
vouchsafes Sandoval capacity to protect residents,
immigrants, and seniors with fairness to small business owners.
"Gerardo has worked tirelessly as a supervisor to protect services for the most needy city residents, including immigrants and seniors of all nationalities," Louie said. "As Assessor, Gerardo will stand up for small property owners and ensure that our tax burden is fair, equitable and free from influence of special interests."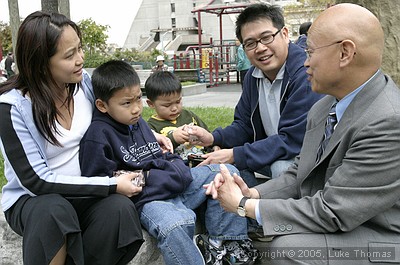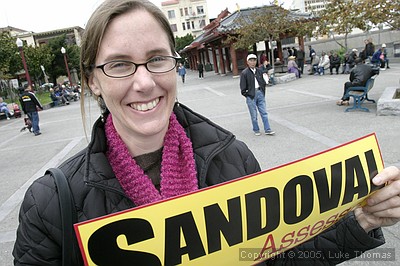 Visit SandovalForAssessor.com | CalvinLouieforTreasurer.com

####
LOUIE AND SANDOVAL SWAP ENDORSEMENTS SEPTEMBER 9
From the Louie for Treasurer Campaign
Friday, September 9, 2005, 1:00 p.m.
Candidates Gerardo Sandoval and Calvin Louie will mutually endorse each other today.
Sandoval will endorse Louie for Treasurer, and Louie will endorse Sandoval for Assessor in the 1:00 p.m. event held in Portsmouth Square, located at 733 Kearny Street between Clay and Washington Streets.
This is an important milestone for Calvin's campaign, and the partnership with Gerardo brings door-opening advantages for both sides that did not exist before.
Visit http: calvinlouiefortreasurer.com
SAN FRANCISCO TENANTS UNION ENDORSES SANDOVAL FOR ASSESSOR
SFTU says a Progressive Assessor can protect San Francisco renters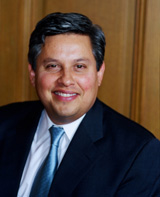 Gerardo Sandoval
From the Sandoval for Assessor Campaign
Wednesday, August 31, 2005
The San Francisco Tenants' Union announced their endorsement of Supervisor Gerardo Sandoval for Assessor today, citing his strong record as a progressive advocate. "With San Francisco renters victimized by rampant evictions due to real estate speculation, we need a strong Progressive like Gerardo Sandoval at the Assessor's Office," said Tenants' Union president Ted Gullicksen.

"The San Francisco Assessor is potentially an office which can reign in rampant speculation," said Gullicksen, "The Assessor should be leading the charge for measures creating a higher tax rate for properties which turn over in short periods of time or for higher tax rates for condominiums which are sold right after being converted."

Real estate speculation hurts both tenants and home buyers. For tenants, speculation means evictions and displacement from the city. For home buyers, speculation artificially drives up prices, making homes ever more unaffordable. The results of speculation are that evictions hit a record high this year and the price of homes continued to soar beyond the means of most San Franciscans.

The Tenants' Union joins a growing list of Sandoval endorsers including former Board of Supervisors President Matt Gonzalez, current Board of Supervisors President Aaron Peskin, Supervisors Jake McGoldrick, Tom Ammiano, Chris Daly, Ross Mirkarimi, and Sophie Maxwell.


Visit sandovalforassessor.com

####
RON CHUN CAMPAIGN KICK-OFF AUGUST 30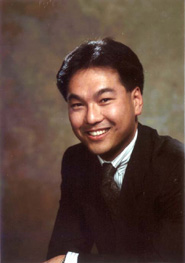 Ron Chun
Tuesday, August 30, 2005, 6:00 p.m.
Ron Chun kicks-off his campaign for San Francisco Assessor Tuesday, citing experience as certified public accountant, tax attorney, IRS Agent, IRS Instructor and past Deputy Chief Assessor of San Francisco County.

The 6:00 p.m. event will be held at the Far East Cafe, located at 631 Grant Avenue between California and Sacramento Streets.

RSVP is requested to (415) 856-5151.

Friend: $100
Sponsor: $250
Patron: $500

Endorsements include:

Chinese Community Leader Rose Pak
Former Assessor Doris Ward, Consumer Activist
Lawyer Wayne Lesser, Esq.,
Chinatown Community Activist Ed Jew
Immigration Attorney Eugene Wong, Esq.
Board Members of the Chinese Six Companies* - Steven Jeung and Henry Low
BART Board* Member Hon. Lynette Sweet
Former District Attorney Hon. Terence Hallinan,
Attorney Steven J. Doi
Housing Activist Calvin Welch
Vice-Chair of the Democratic Party*, Alicia Wang
Republican County Central Comm.* Member - Elsa Cheung
Rick Hauptman, Member, California State Democratic Party*
Former Executive Director of the SF Rent Board* - Joe Grubb
Attorney Patrick Quinn
Founder of the Margaret Cruz Breast Cancer Foundation* - Margaret Cruz
Irma Ramirez Tom
SF Assessment Appeals Board* Members - Alex Lambie and Hayes Miles
Community Activists Karen Niglio
Pres., Small Business Commission* - David Sahagun
Lynn Lynch, and Virginia Stefanelli
Ava Schwartz, President, Small Property Owners Association*
Real Estate Attorney Jeff Woo.

* Titles are for identification purposes only.

Visit voteronchun.com.
####

SETTING THE RECORD STRAIGHT ON SANDOVAL PART VI
Sandoval vote on transgender health care more coureageous than other supervisors



Whitney Leigh
(Photo by ROB ARNOW)
Special to the Sentinel
Wednesday, August 24, 2005, 5:30 p.m.
There are some facts in this matter that are not in dispute. On April 30, 2001, Gerardo Sandoval cast the deciding vote, enabling the passage of groundbreaking LGBT legislation offering health care benefits to transgender city employees (the only law of its kind in the country) that ranks as the most important legislation authored by Mark Leno during his tenure as a San Francisco Supervisor. Because Sandoval represents one of the most conservative districts in San Francisco, Sandoval's decision to endorse the legislation required more courage on his part than was required by Leno and other supervisors with more generally progressive constituents.

Now Leno, Theresa Sparks and Jerry Threet have taken aim at Sandoval's vote, seeking to use what they contend was delay by Sandoval as a weapon against him in his political campaign for assessor. Their argument, insofar as it goes, is that Sandoval's vote for for the groundbreaking legislation was tantamount to "running away from an opportunity to support the civil rights of the LGBT community," because the vote did not come quickly enough for their tastes.

Leno, Sparks and Threet's actions are short sighted and dangerous. Each of them fully understands that progress on controversial issues, and particularly involving LGBT issues, will require the assistance and courage from government officials willing to take on their own constituents to do what is right, much as Sandoval did in 2001. Even as we speak, Leno's efforts to pass gay marriage legislation has been stalled, as a result of his inability to obtain the support of many of his Democratic colleagues from more conservative area in the State. Leno surely must realize that exploiting Sandoval's vote on the benefits measure for cheap political points will not help him persuade the other assembly members with conservative constituents (like D11) to support gay rights or other progressive measures. Why should they do so knowing that Leno is not above using their decision-making process against them in the future if it suits his immediate political goals? How can we succeed in enlisting the support of Democrats in San Diego and Sacramento, if they are left to wonder whether progressives might later claim their support was not sufficiently immediate?

I encourage Leno, Sparks and Threet to reconsider their actions, as they reflect poorly on them and progressives in general.

Whitney Leigh
Whitney Leigh is a partner in the law firm of Gonzalez & Leigh.

####
SETTING THE RECORD STRAIGHT ON SANDOVAL PART V
Jerry Threet sets the queer record straight


Jerry Threet
(League of Women Voter PHOTO)
Special to the Sentinel
Wednesday, August 24, 2005, 10:30 a.m.
The race for Assessor this year is an interesting one that defies the usual labels trotted out by San Francisco politicos to describe political contests at the local level. With both Phil Ting and Gerardo Sandoval in the race, the question of who is the "real" Progressive, the main question determining the votes of many on the left, has become almost irrelevant. Ting, the respected former director of the Asian Law Caucus, former Progressive candidate for MUD Board, former businessman with experience in assessment of properties, and strong ally of the LGBT community, is running with the support of both moderates and progressives. Sandoval, a sometimes Progressive, sometimes Moderate vote on the Board of Supervisors who represents a moderate district, is running with support from both moderates and progressives. You would think that with this overall dynamic, the campaign would be defined by who is the most qualified for the position.

Still, that won't stop many folks from trying to define the race according to the old terms of engagement. Within this context, Matt Gonzalez' recent column in the Sentinel should be seen as both defending the Progressive credentials of Sandoval as well as attacking those of his former appointee, Ting. Unfortunately, Gonzalez' argument does a disservice to honest dialogue about the Assessor's race by misrepresenting the facts in defending his good friend an dpolitical ally, Sandoval. I know. I was present on both occasions mentioned by Gonzalez and they did not happen as he describes.

During the vote on transgender medical benefits, Sandoval did indeed hole up in his office and refuse to come out. While I was not privy to the conversations occurring on the floor of the chamber between supervisors, I was present as aide to Supervisor McGoldrick and had been very actively participating in lobbying supervisors on this issue as President of the Harvey Milk LGBT Democratic Club. Supervisor Sandoval refused despite repeated contacts over many weeks to indicate whether he would support of oppose Leno's legislation, as did Supervisor Newsom (Newsom had not decided to vote against the legislation, as Gonzalez suggests). Their's were the only two unknown votes on this issue and they would decide whether transgender City employees received equal access to medical coverage. The stakes were high.

Our anticipation was charged as the item came up for consideration. As Supervisors began discussing the item, we noticed Sandvoal had slipped out of the board chamber. When it became clear he was not returning, we decided to try to find him. I was one of several folks who went to his office to find him and tried to persuade him to come out and vote. Unfortunately, Sandoval stayed behind closed doors in his private office with his embarrassed staff simply repeating that they could not disturb him. This lasted until the President of the Board ordered the sheriffs to bring Sandoval to the chamber, an action Sandoval no doubt witnessed on his monitor from his inner office. Only then did Sandoval emerge and vote. Yes, he voted in favor, and yes we are all grateful for that, but this incident does indeed reveal something about Sandoval's character, as well as his commitment to LGBT issues. This is not urban myth, as Gonzalez suggests - it is the reality of what happened for those of us who cared deeply about this issue.

I also was present during the comment Sandoval made that many, including I, have taken to be at least unconsciously anti-Semitic. It was very disturbing. Sandoval was speaking to the Milk Club during a discussion of the proposal to settle the business tax lawsuit brought against the City by several corporations. During his statements, Sandoval emphasized the greed of the corporate officers and said that "we should be protesting at their homes in Tiburon and at their Bar Mitzvahs." He did not say "weddings, bar mitvahs, quincineras, baptisms," as Gonzalez suggests. The inescapable implication of this statement was that the greedy corporate officers responsible for suing the City were Jewish and that activists should respond by targeting the ceremonies celebrating the welcoming of their children into the Jewish community.

Gonzalez can suggest Sandoval meant something else, he can redirect focus on the damage done to the City by the corporate lawsuit, he can spin this how he will. I was there and Sandoval's statement was stunning. Perhaps it was unconscious. We all have unconscious prejudices that may reveal themselves from time to time - even Progressives. Now, I happen to agree that Sandoval responded in the appropriate way to this event. He apologized both to the Milk Club and to the Jewish community and met with several Jewish groups to make amends. He sought atonement, and Jewish groups and leaders responded by accepting his efforts. I commend him for this response. But please, let's not now pretend these things never happened, as Gonzalez attempts.

Full disclosure: I am supporting Ting for Assessor, based in part on the experiences I relate here. I also believe that by electing Ting as Assessor, we will have a Citywide elected official from the API community with relevant experience to run the office guided by his Progressive values. At the same time, the City will retain a supervisor from District 11 who can be counted on to sometimes vote for Progressive legislation. From my perspective, that is the best outcome.


Jerry Threet
Jerry Threet has served as legislative aide to Supervisor Jake McGoldrick, and is a past president of the Harvey Milk LGBT Democratic Club

####
SETTING THE RECORD STRAIGHT PART IV
Police Commissioner Theresa Sparks offers recollection of Sandoval actions

Teresa Sparks
Special to the Sentinel
Tuesday, August 23, 2005, 8:00 p.m.
I am a little apprehensive about sending this email. I have always really liked, and admired, Matt Gonzalez. Also, anytime one chooses to comment on the record of a "sitting" elected official, especially in San Francisco, one does at their own peril. But, having been present at both the infamous Board of Supervisors vote on Transgender Health Care and the Milk Club meeting where Supervisor Sandoval allegedly made a discriminatory remark, I felt it was imperative I make my recollections public. I am also at a loss as to why the progressives supporting Supervisor Sandoval for Assessor continue to bring up his record on human rights, particularly those involving the LGBT or transgender community. The record speaks for itself. Also, to be perfectly fair to Supervisor Sandoval, he did ultimately vote in favor of the transgender health care resolution and make a public apology for his comments at the Milk Club.

On Monday, April 30, 2001, the Board of Supervisors Chambers was charged with emotion, anticipation, expectation and an aura of what could be possible. As transgender human rights activists, many of us had worked for years to see this resolution finally come to a vote. The mere fact of its very existence validated much of the time and effort that had been expended. Some say that the chamber had an electricity in the air, a sense of excitement only experienced a few times in the past. The legislation being brought forth was indeed historic, a true only-in-San Francisco moment, one of the good ones. Going in, Supervisor Leno was two members short of the votes necessary to pass the legislation. Supervisors Ammiano, Gonzalez, Daly, McGoldrick, Peskin, Maxwell and, of course, Leno had already expressed their support for the legislation. Supervisors Hall and Yee had both stated they would not support the bill. That left Supervisors Newsom and Sandoval to cast the deciding votes. Either one could tank years of effort on the part of the transgender community. Newsom waited to make his final decision until after hearing comments from many of his colleagues, most notably Supervisor Leno. Against the wishes of a majority of those constituents in District 2, from whom he had heard, Gavin Newsom voted in favor of the resolution. When it was time for Supervisor Sandoval to vote, he was nowhere to be seen. He had retreated to his office during what he thought would be the vote on the measure. Rachael Gordon characterized his actions as "ducking out". As I have said before, I believe that he was trying to have the best of both worlds. He wanted to keep in tact his carefully crafted progressive image and not have to cast a critical vote he didn't actually believe in, a vote in favor of the transgender health care measure. The Sergeant of Arms was dispatched to fetch the Supervisor to cast his vote. Upon his return, Supervisors Gonzalez and Ammiano both had animated discussions with Supervisor Sandoval in the back corner of the chambers, in the open, for all to see. I've often wondered just what was said in those moments leading up to the final vote. In the end, Supervisor Sandoval did the right thing and voted to pass the legislation. Indeed, his was the crucial 9th vote needed to sanction transgenders as worthy of non-discriminatory treatment by the San Francisco Health Services System.

I have always remembered what happened the night of the alleged anti-semitic comment by Supervisor Sandoval at the Milk Club because of my profound amazement that not one person, including myself, stood up and objected to what had been said. This was the Milk Club, for God's sake, the bastion of progressive values in the LGBT community…..the entire San Francisco political community, for that matter. The context was a discussion about the City choosing to settle the lawsuit brought against the City for the duplicative system of taxes being levied against businesses in San Francisco. The comment I remember being made by Supervisor Sandoval was that activists (such as those in the Milk Club) should protest at the homes and bar mitzvahs of these corporate executives where they live in Marin County. After this "insert foot into mouth" comment was reported by Phil Matier, Supervisor Sandoval called a press conference and profusely apologized for the incident and what he had said.

The only other incident that wasn't discussed in the Sentinel articles of either Matt Gonzalez or Mark Leno was Supervisors Sandoval's vote against my appointment to the Police Commission. I was the only LGBT candidate that had been nominated by either the Mayor or the Rules Committee and the first transgender candidate ever nominated in the history of the commission. In addition to me, there were two African-Americans, one Asian-American and three Caucasians up for confirmation, four were women and two were men. If Supervisor Sandoval had been successful in blocking my appointment, today there would be no LGBT (or transgender) representation on the Police Commission. It can be argued that the transgender community, in recent years, has been the population of San Francisco most discriminated against by law enforcement. We needed representation on this commission, as did the overall LGBT community as a whole.

Right or not, clear or fuzzy, that's how I remember the two incidents discussed by Mr. Gonzalez and Assemblyman Leno, and the more recent occasion of my appointment to the San Francisco Police Commission. To be completely clear, I don't dislike Supervisor Sandoval. I don't really know Supervisor Sandoval. And, I think it's the failing of my community that he feels that by supporting LGBT, more specifically transgender, issues or people that somehow he is going against his constituency. Supervisor Sandoval, some of us are your constituency, and we would ask you to represent our voices as well.

Theresa Sparks
Member, San Francisco Police Commission

####
SETTING THE RECORD STRAIGHT PART III
Matt Gonzalez responds to Mark Leno discussion of Sandoval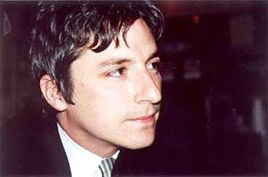 Matt Gonzalez
(Photo by MICAH BALLARD)
Special to the Sentinel
Tuesday, August 23, 2005, 8:00 p.m.
Mark, I appreciate your response. Nevertheless I'd like to draw your attention to a few matters:

1) You acknowledge that then-Supervisor Newsom had not committed to supporting the Transgender Health Benefit Ordinance until the meeting began. But it raises the question, why not? If this was such important civil rights legislation, why did it take him so long to support the measure? I find it curious that you question Supervisor Sandoval's decision-making process, but you have never questioned Newsom's.

2) Contrary to what you stated, I did not participate in any hour-long lobbying of Sandoval, for which you thank me in your response. What I did do was urge him to vote on the health benefits package in light of changed circumstances-even though he had told some constituents who were opposed to the measure, that he would not be voting on the item that day. I pointed out to Sandoval that his vote would not be final until a second reading. This would allow him the opportunity to meet with constituents before final passage of the ordinance one week later. It was obvious to me that Sandoval relied on what you had said to him-namely, that you would be seeking a one-week continuance. He was truly conflicted about breaking promises he had made that very day to constituents.

3) Mark, I notice that you are silent on the fact that Sandoval voted for this measure, even though he represents, arguably, the most conservative district in San Francisco. This is, after all, Dan White's old district. Instead, you cast Sandoval's vote in a negative light. Why haven't you ever acknowledged positively that Supervisor Sandoval took a principled stand, contrary to the overwhelming majority opinion on this issue in his district?

4) Your response to my piece linked to Lance Williams' story which relays his efforts to speak with Sandoval once Sandoval left the Board meeting and was in his office. You may not be aware, Mark, but Sandoval was responding to a Chronicle inquiry regarding the `bar mitzvah' comment. That's why he left the board chambers and went to his office-to deal with this urgent matter. He was responding to a media inquiry accusing him of making an anti-semetic comment. That he or his staff would not want to speak to the press at that very moment is understandable. I note that the Matier and Ross column about the `bar mitzvah' comment appeared the very next day.

5) Mark, contrary to what you claim, I have never asserted that Sandoval's comments at the Milk Club were "innocent". I was not present at the Milk Club when Sandoval allegedly made the offending remarks. I think knowing that he gave a `canned' speech elsewhere listing the numerous places where we would fight these corporate CEO's places the remark in a wider context. Do you dispute that? Do you honestly believe that Sandoval is an anti-Semite?

6) Again Mark, your response was silent on the fact that you stood with Sandoval at a press conference regarding the alleged `bar mitzvah' comment and you accepted his public apology. Why do you believe it is necessary to bring this up four years later? Let me remind you what you said the day Sandoval extended a public apology to you, Supervisor Peskin, and the entire Jewish community: "The Talmud says that when an apology is needed, we are responsible to ask once, and if you don't get acceptance, ask again and then a third time," said Leno. "In this case, once is enough."

7) Finally, I have never said that Phil Ting is immature or too young to hold political office. What I've said is that Ting lacks the "political maturity" to be Assessor. As you know, the position is heavily lobbied by downtown interests. The Assessor needs to be someone who is independent; he or she ought to be someone with a less cozy relationship with a mayor whose primary political contributions come from downtown corporate and real estate interests.

Matt Gonzalez
Former president of the SF Board of Supervisors
####
SETTING THE RECORD STRAIGHT PART II:
Assemblyman Leno responds in an open letter to Matt Gonzalez regarding his recounting of "two oft repeated events"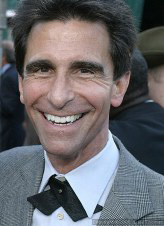 Mark Leno
Photo(s) by Luke Thomas
Special to the Sentinel
Tuesday, August 23, 2005, 10:30 a.m.
Thank you Matt for inviting me to respond to your column written about my remarks at Phil Ting's kick off event. My words were specifically about Assessor Ting and my comments were heartfelt because I do believe that Phil would never run away from an opportunity to support the LGBT Community and would never attack someone because of their religion or nation of origin. Phil Ting is a mature candidate of good character with a strong civil rights background who would never say such things, but since you have invited me to discuss events related to Supervisor Sandoval, I will accept your invitation to talk.

I found your recounting of the vote to support transgender health benefits a bit confounding. While time can leave fuzzy impressions of events, some things I remember forever and hope you will too. In all my time as a legislator, there was only once that the Sergeant of Arms had to force a Supervisor out of his office to take a vote, and that was when Supervisor Sandoval left the Board Chambers for his office during the transgender health benefits vote. To refresh your memory, I hope you will click on this link:

I remember the events of that day clearly. Our Transgender Civil Rights Task Force had been requesting this legislation for two years and the ordinance was finally brought to a vote. The room was packed full of transgender supporters and despite your claims, I never told Supervisor Sandoval that the ordinance was going to be continued for another week. We needed nine out of eleven votes to amend the city health plan and the vote was to take place that day. Supervisor Hall and Yee had already informed me they would be voting against the legislation - Newsom and Sandoval had yet to be confirmed.

As the item was called, I had yet to notice that Supervisor Sandoval had left the room. I proceeded with my opening statement and within moments of my conclusion, Supervisor Newsom crossed the room to tell me he was with us. That was the entirety of my communication with Supervisor Newsom. There was no talk between us about mayoral politics or any other speculative imaginings that Matt seems to think Newsom and I discussed.

Let me clarify that the presentation and debate of this ordinance began without my knowledge of Supervisor Newsom's support. As the debate proceeded, for over 45 minutes and many of my colleagues rose to express their support, it became ever more clear that Supervisor Sandoval was nowhere to be found. After every speaker had concluded their presentation, we moved to other items waiting for Supervisor Sandoval, and went through all of the other business on our agenda until we reached a time when it became necessary to ask the Sergeant to locate the Supervisor and return him to the Chambers.

Lance Evans of Channel 5 News was camped out in front of Sandoval's office with camera crew waiting for him to exit his door. Evans pounded on the locked door trying to get comment from Supervisor Sandoval when two women from his office opened the door to say he was not in the room. It wasn't until I requested the Sergeant of Arms to go into his office and retrieve the Supervisor that he emerged from his office and returned to the Chambers.

At that point, as President Ammiano would attest, I approached him at his podium and he informed me of Supervisor Sandoval's request to continue the item for one week, or otherwise he would vote no. Matt claims that I told Sandoval I wanted to continue the item for a week so Sandoval could confer with constituents, but that was not the case. We are indebted to Supervisor Gonzalez and President Ammiano for their hour-long lobbying of Supervisor Sandoval, which led him to agree to vote for the measure later at that meeting.

With regard to Supervisor Sandoval's comment at the Harvey Milk LGBT Democratic Club, there were many community witnesses who heard him encourage protests "at their houses in Tiburon and at their bar mitzvahs" with regard to his disagreement with the Board of Supervisor's support of the Business Tax Settlement. If it had been as innocent as Matt suggests, couched in the terms of `weddings' and `baptisms', there would have been no need for Supervisor Sandoval to hold a press conference on the steps of City Hall, with the Anti-Defamation League, Supervisor Peskin and me to offer his apology for the offensive remark.

By clicking on this link I hope Sentinel readers will have a chance to refresh their memory on this issue.

In closing, you have invited a discussion of these two candidates, and have even questioned whether Phil Ting is mature enough for the job of Assessor (I assume because he is younger than many in public office, which seems a bit ageist). Phil Ting brings integrity, professionalism and real work experience to the Assessor's office. If one were to compare the maturity of Phil Ting against Gerardo Sandoval, I continue to believe that one candidate would never run away from supporting gender minority communities and would never make comments that require press conference apologies due to their insensitivity. The rest is for voters to decide.

Assemblyman Mark Leno

####
MATT GONZALEZ SETS THE RECORD STRAIGHT:
Regarding two oft-repeated, yet false, claims about Gerardo Sandoval



Gerardo Sandoval
fogcityjournal.com Photo
by LUKE THOMAS
Special to the Sentinel
Monday, August 22, 2005, 3:00 p.m.
This column responds to remarks the Sentinel attributed to Assemblyman Mark Leno at Phil Ting's kickoff on Sunday August 14. I've often heard these criticisms of Sup. Gerardo Sandoval, but I was surprised to see them repeated by Mark. He knows both suggestions are inaccurate, and it goes to show the extent to which urban legends and inaccurate reporting can become accepted fact, particularly if there is a political reason for such. In any event, I offer my take on it, and Mark is free to respond if he disagrees with my version of events.

First, Mark tells an audience that "Phil Ting would never run away from an opportunity to support the civil rights of the LGBT community." This obviously is a backhanded reference to claims that Sandoval purposefully left the board chambers rather than vote on Mark's Transgender Health Benefits Plan which was at the Board and needed 9 out of 11 votes to successfully pass. This vote occurred April 30, 2001 when Mark was on the Board of Supervisors.

Mark does not say it directly, but he alludes to an often-claimed occurrence even though he knows Sandoval did not leave the meeting to avoid voting on the transgender item. What Mark doesn't say is that on the day of the vote, having been unable to secure the 9 votes he needed, Mark told Gerardo the matter would be continued for a week.

Mark couldn't secure the votes because Supervisors Hall and Yee were opposed and because then-Supervisor Newsom would not commit to supporting this important civil rights legislation. That's right, Newsom was opposed to it because he didn't think it would be good to support this when he later ran for Mayor, and Mark kept working on him. In any event, Newsom wouldn't commit.

Sandoval had been inundated with phone calls from constituents demanding that he vote against the item. He was told that he had another week to meet with opponents and hear them out before he cast his ballot. At the time Sandoval said he was inclined to support the measure.

But I want to emphasize that Sandoval specifically told people that wanted to speak with him that the item was going to be continued and he said he would allow them to lobby him during the week. In making this statement, Sandoval relied on Mark's representation that no decision was going to be made that day.

Then, during the meeting, Leno got Newsom to commit and to agree to support the measure in part by arguing that his likely opponent in the Mayor's race, then-Board President Tom Ammiano, was unlikely to use the measure against him as Tom was obviously voting for the item.

Leno then called the item out of order (because it had been skipped in a last ditch effort by hin to secure the votes), and now, with Newsom's belated commitment, he believed he had the votes to pass the measure. He started looking for Sandoval who had returned to his office to make a phone call while some mundane matters were being called. Sandoval did not duck the vote, as Mark and others have suggested.

I sat next to Sandoval during that meeting (this occurred prior to my election as Board President). I spoke with him about the item. The only concern Sandoval had was that he had already told constituents that he would give them an opportunity to lobby him. Ultimately, he broke his word to his constituents to support an item he believed in. That is the most important thing - Sandoval voted in support of the measure.

Rather than attack Sandoval, Leno should be praising a former colleague who helped deliver this important vote. Sandoval's vote was in fact courageous. (Compare that to Phil Ting's refusal to support non-citizen voting.) In any event, Mark should take notice of a former colleague who represents one of the most conservative districts in San Francisco standing up for what is right, particularly as he has now seen at the Assembly how hard it is to get fellow Democrats to support something seen as less controversial -- gay marriage.

Secondly, Mark stated that "Phil Ting will never attack anyone because of that individual's religion." This presumably makes reference to the "bar mitzvah" comment that has previously been used by SFSOS and others to label Sandoval an anti-semite. Mark again repeats this without the proper context, though he himself stood with Sandoval when Sandoval made a public apology about the alleged remark.

When I was on the Board, Gerardo and I were among three supervisors (with Supervisor Daly) fighting against a business tax settlement that awarded major companies in SF over $80 million dollars despite the fact that none of them could show the business tax had actually discriminated against them.

Gerardo made the rounds to many community groups stumping against the 54 companies. He urged that we should not allow the corporate heads of these entities to hide behind their corporate veils. He urged those community groups to personalize the fight by taking it to their communities - to fight the CEOs at their weddings, bar mitvahs, quincineras, baptisms, etc -- to let them know that thousands of San Franciscans would suffer by their greedy actions.

On May 1, 2001, Matier and Ross reported that at one event someone complained Sandoval had only singled out bar mitvahs during his canned speech. It remains uncertain whether that actually occurred. Nevertheless, when it was brought to his attention Sandoval immediately apologized and met with Jewish community leaders to atone for the error.

Sentinel readers are of course free to believe Sandoval is anti-semitic based on this incident. But taken in its entirety, this over 4 year-old remark should be put to rest. Jewish leaders accepted Sandoval's apology and have had a constructive relationship with him since then.

I hope Sentinel readers will consider my comments.


Matt Gonzalez
Former president of the SF Board of Supervisors

####


DEMOCRATS VOTE CANDIDATE ENDORSEMENTS FOR NOVEMBER ELECTION

fogcityjournal.com Photos by LUKE THOMAS

Thursday, August 18, 2005
The San Francisco Democratic County Central Committee last night voted to endorse Phil Ting for Assessor, Jose Cisneros for Treasurer, and Dennis Herrera for City Attorney, according to DCCC secretary Susan Hall.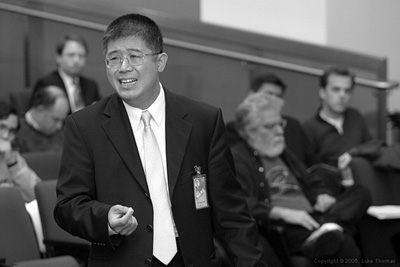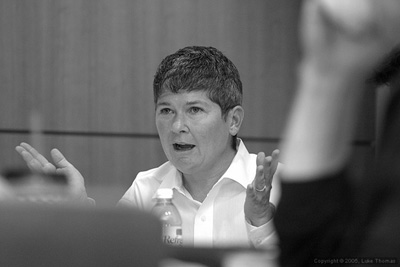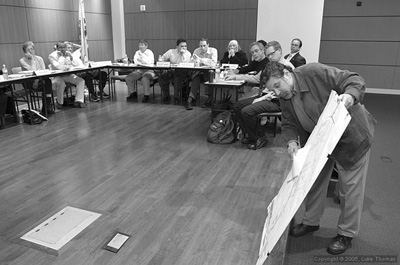 ####
QUEER NOTES: I WON'T BE RUNNING INTO THE WOODS
I'll be voting for Phil Ting for endorsement at the Democratic County Central Committee meeting Wednesday


Mayor Newsom
First published in LeftInSF.com
Tuesday, August 16, 2005
Most know that I have given Mayor Newsom a hard time over the years… Going back to the fall of 1998, I very actively supported Supervisor Tom Ammiano over him for Board President. I actively opposed both of his homeless initiatives. And when he ran for Mayor, I supported Supervisor Ammiano and then Supervisor Gonzalez in the run-off. I remember once he asked if we could bury the hatchet. I said sure, but did he want to bury the hatchet in my back?

Some might say I won't give the guy a break, but they are wrong. Most know that I have argued that we need to support the Mayor when he is right. I wrote an opinion piece in the Bay Guardian after the Presidential election suggesting that progressives needed to be more supportive of him on same sex marriage, especially when Senator Dianne Feinstein came out swinging and essentially blamed him for the Republican victory in the Presidential election, a specious argument that I and many, many others vigorously disagree with.

When I read in this week's San Francisco Sentinel (see below) that the Mayor told a packed auditorium at Phil Ting's kick-off for Assessor last Saturday that the supporters of Ting's opponent had said to him, "You know what, that was a great choice, but I can't endorse him."

Then the Mayor said to the supporters of Ting's opponent, "What do you mean you can't endorse him? You told me you wanted qualifications, you wanted someone that's not political, someone with integrity, someone that's committed to San Francisco.

And all of a sudden they ran into the woods."

There is a strong pull to get on the progressive train in the Assessor's race, regardless of who I like. The progressive train is going in one direction only on this choice. Some would say that when the train is going in a direction, the best thing to do, the safe thing to do, is either get out of the way or jump on. The subtext being that you might get run over. There is some truth to that argument, notwithstanding the inferred threat of getting run over.

Two years ago I'm proud to say that I supported someone that nearly everyone, and I mean everyone, in the progressive community didn't support. Kamala Harris. I met her in front of my office building back in the day when I smoked. She worked in the City Attorney's office and Local 790 has their office in the same building, Fox Plaza. The truth is I probably wouldn't have supported her if I hadn't gotten to know her over the months prior to her run. She came across as smart, competent, and progressive.
Boy did I get a lot of flack for supporting her.

But luckily there are those with bullshit radars to keep us all on track. …



Shauna Marshall
My former law professor and mentor Shauna Marshall and I sometimes talk about candidates over email. She isn't a political insider, but she has devoted her life to progressive causes, starting with suing the Fire Department over its lack of diversity a very long time ago. I think she may have been the first African American woman who was the Dean of Hastings Law School. But probably her most dangerous work has been turning loose a lot of young attorneys on the world who have fought for social change, like Molly McKay from Equality California or Matt Brown who worked at St. Peters Housing Clinic and later as a tenant attorney, or Chris Hwang, a Labor attorney, and many, many others. And that was just in my year.

Anyway, she sometimes disagrees with the powers that be within the progressive political establishment. The bullshit radar goes off and she isn't afraid to tell me that she isn't impressed with the hypocrisy and contradictions of the mostly white progressive community in San Francisco. So when Kamala was running for District Attorney and Shauna told me that she was supporting her, I knew there was only one answer I could give her about who I was supporting for District Attorney. Fortunately, I had already come to that decision on my own, but I would have been in real trouble otherwise.

Even more fortunate was the fact that I had already decided to support Kamala when I met up with Kamala's sister, Maya Harris. Maya had been my professor in law school as well and was second only in stature to Shauna. Well, Maya is now at the ACLU, running the Racial Justice Project and when I realized that she was Kamala's sister, I was glad that I didn't have to tell her that I was supporting someone else besides her sister.



Maya and Kamala posing with their mother Dr Shyamala Gopalan
The good news is that when you stand by your convictions, you don't mind if people give you a hard time about it and you'll probably be joined by others who stand by their convictions and who don't respond to bullying. In fact, the more people smacked me around that year for supporting Kamala, the more stubborn I got. Clearly, they did not know how to effectively persuade me. My partner Saskia laughed about it mostly because she knew that I would just dig in my heels… But the even better news is that Kamala has been a great District Attorney and I am incredibly proud that I supported her.

I met Phil Ting about three years ago, but only got to know him over the last year. I had heard about him over the years, especially his role in turning the Asian Law Caucus around when it was about to go under and kept the agency true to its mission. I can't speak for others, but I was impressed when he held his own under intense pressure at the Building Inspection Commission last winter.

Well Mr. Mayor, I won't be running into the woods on Wednesday. I'll be doing something I believe is the right thing to do–voting for Phil Ting for Assessor at the Democratic County Central Committee endorsement meeting. And on Wednesday, you won't be able to call me a coward either. I'll be voting my conscience and standing by my convictions. And I have a feeling that some other progressives might too.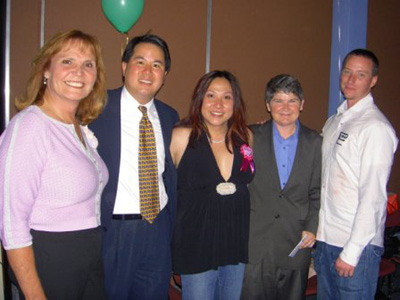 Phil Ting at Cecilia Chung's Birthday Party

####
SANDOVAL CALLS ON TING TO TERMINATE CAMPAIGN FOR
DISTRICT 4 SUPERVISOR
Says it creates appearance of running for two offices at the same time

From the Sandoval for Assessor Campaign


Tuesday, August 16, 2005


Supervisor Gerardo Sandoval today called on Philip Ting to terminate immediately his campaign for Supervisor in District 4 and close his campaign bank account. Failure to do so raises serious ethical questions and creates the appearance that Ting is running for two political offices at the same time, said Sandoval.
According to reports filed on July 31, Ting has raised over $17,000 for his Supervisorial campaign and has not yet terminated the account.

"Given the improprieties that have plagued the Assessor-Recorder's office in recent years, it is imperative that appointee Ting avoid any appearance that he is running for two offices at the same time," said Sandoval.

Ting, who is currently running for his third political office in the past four years, was an official candidate for District 4 Supervisor at the time of his political appointment to the Assessor's office. Previously, Ting was a political candidate for the Board of Directors of a proposed Municipal Utility District (MUD Board) in 2001. Ting placed second in the race for Ward 3 in that campaign.

The San Francisco Campaign and Governmental Conduct Code, Section 1.122(a), states "No person shall file a declaration of intention to become a candidate for more than one City elective office." The San Francisco Ethics Commission currently shows two active campaign accounts for Ting, one for Supervisor and one for Assessor. Neither has been terminated.

Ting began his political campaign for District 4 Supervisor in May of 2005, 18 months before the election. He was an active candidate, raising over $17,000 in just eight weeks. Ting, a long-time resident of District 5, had moved to District 4 just two months before filing official papers to begin his campaign.

"The existence of two bank accounts for one candidate raises a host of ethical questions," said Sandoval. "San Francisco voters have consistently supported, and I have passed as a Supervisor, tougher campaign laws to ensure the integrity of our elections. Ting needs to respect the voters and terminate his Supervisor bank account immediately."

####
TING KICKS OFF CAMPAIGN FOR OFFICE 'ABOVE POLITICS'
Speakers high kick political opponent
'What a difference a day makes,' Dufty says of reputed endorsement swap

Monday, August 15, 2005
Assessor candidate Phil Ting statured the office above politics at his campaign kick-off Saturday, as speakers nonetheless high kicked one opponent.

Assemblyman Mark Leno breezed the first bruise squarely toward competitor Gerardo Sandoval, without naming Sandoval.

"I can guarantee, I can guarantee, that Phil Ting will never attack anyone because of that individual's religion.

"Phil Ting will never attack anyone because of that person's nation of origin.

"And Phil Ting would never run away from an opportunity to support the civil rights of the LGBT community," Leno told some 250 supporters gathered in the Plumbers Union Building for the 11:00 a.m. event.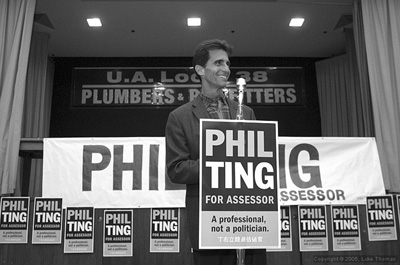 13th District Assemblyman Mark Leno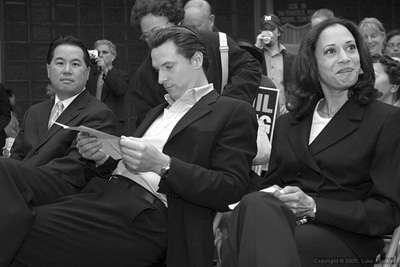 Phil Ting with Mayor Newsom and District Attorney Kamala Harris
Sandoval, twice elected as District 11 supervisor, drew criticism in his first term for two ethnic slurs, and for appearing to evade casting the pivotal vote on city health care benefits for transgendered city employees by locking himself in his office.

Summoned by the Board of Supervisors sergeant-at-arms for the vote, Sandoval then cast the deciding vote in favor of transgender health benefits.

In the same period, Sandoval suggested lobbying wealthy downtown interests at their bar mitzvahs, and at one time suggested the San Francisco Fire Department personnel roster shouldn't read like an Irish phone book.

He later apologized profusely for both comments.

Sandoval entered the Assessor race on July 13, two days before Mayor Gavin Newsom appointed former Building Inspection Commissioner Ting to the post.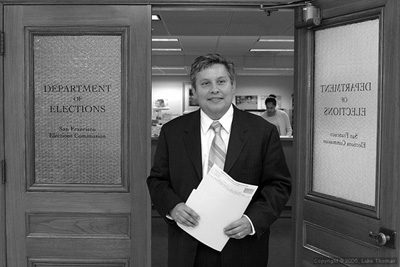 Gerardo Sandoval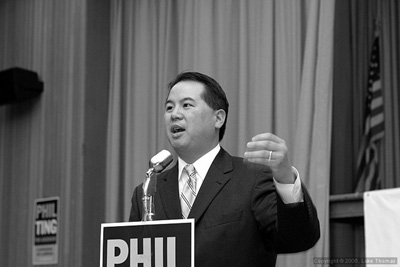 Phil Ting
As of Saturday, Sandoval supporters also include Assemblyman Leland Yee, Sheriff Mike Hennessey, Former Mayor Art Agnos, Public Defender Jeff Adachi, Board President Aaron Peskin, former Board President Matt Gonzalez; Supervisors Sophie Maxwell, Tom Ammiano, Chris Daly, Jake McGoldrick, and Ross Mirkarimi; Golden Gate Bridge Director Janet Reilly; and School Board Members Eric Mar and Sarah Lipson.

With both candidates laying claim to progressive mantle, and some further left-leaning supporters backing Sandoval, District Attorney Kamala Harris framed a distinction.

"Please let us not forget that being progressive is not about rabble rousing," Harris observed.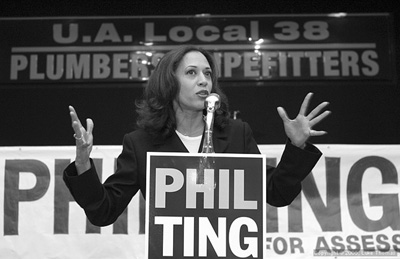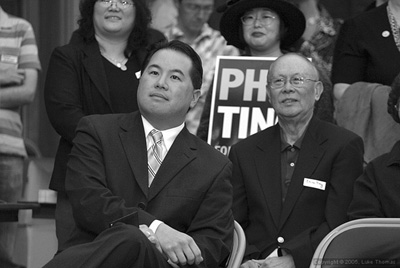 "Being progressive when we hold these offices is about being professional, about being able to know how to run these offices in a way that is smart, in a way that is efficient, in a way that is current, so that we can meet the demand of the people of the City and County of San Francisco, and do it in a way that's about integrity and purpose..." stated Harris.

The first female District Attorney of San Francisco introduced Mayor Newsom, as Newsom reported some Sandoval supporters hold cloaked belief Ting is the more qualified candidate.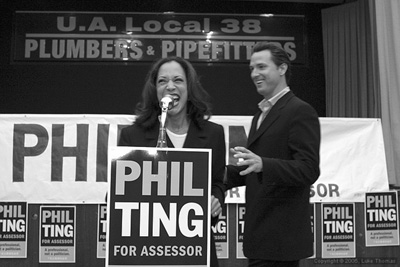 Harris drew laughs noting Newsom's
commitment to professionalism...and to Starbucks
"No sooner than I appoint this guy that all these same folks came up to me and said, 'You know what, that was a great choice, but I can't endorse him.'

"I said, 'What do you mean you can't endorse him? You told me you wanted qualifications, you wanted someone that's not political, someone with integrity, someone that's committed to San Francisco.'

"And all of a sudden they ran into the woods.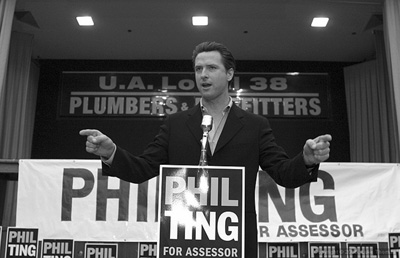 "All these people that talked about integrity, process, they talked about professionalizing city government, they talked about transcending the politics of the past, and about a future of San Francisco we'd all be proud of -- guess what, all of them ran when I appointed this individual.

"That says as much or more about politics today than anything I've experienced in the last 18 months as mayor," said Newsom.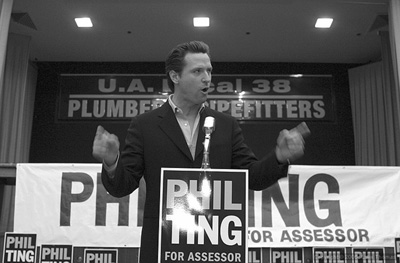 Endorsement politics of the last week pitted veracity against mendacity.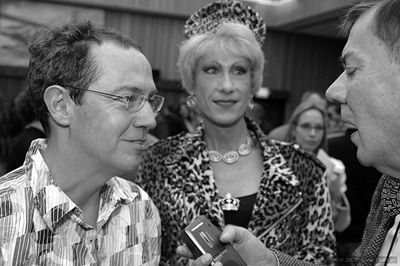 Supervisor Bevan Dufty
On Wednesday, Supervisor Bevan Dufty -- a frequent administration ally -- endorsed Sandoval, according to one supervisor's aide. "The way you have it is exactly right," responded one campaign principal to the Sentinel.

Dufty withdrew the endorsement Thursday, due to Newsom intervention, the aide said.

Others drew the scenario differently, all involved demanding off the record cover.

"There was a deal in the making where Dufty would endorse Sandoval if Sandoval could get Jose Ramos to withdraw from the Treasurer race. Dufty didn't believe Sandoval could deliver," an administration top official sketched to the Sentinel.

Do you have personal knowledge of that?

"That's absolutely true," stated the official.

Another supervisor reported, "That's what was happening," when apprised of the Dufty endorsement-Ramos-withdrawal scenario.

"Sandoval just said there's not a single word of truth to it," the Sentinel noted.

"Is that what he said?" interjected a City Hall insider familiar with Sandoval.

"Then he's a liar?" the Sentinel queried.

Silence.

"What a difference a day makes," Dufty would reveal only.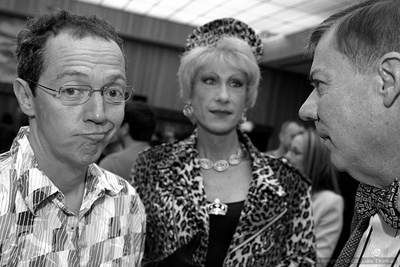 Ramos and Sandoval rebuked the scenario as false, slanderous and libelous.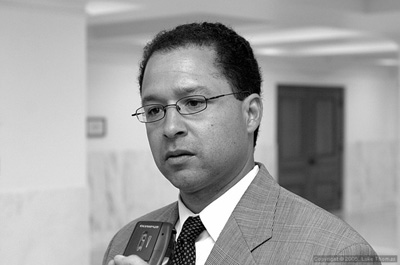 Julio Ramos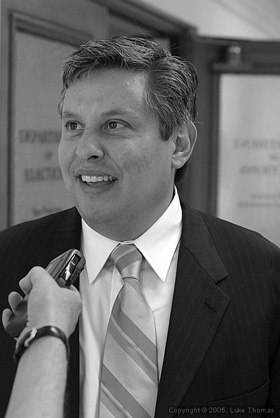 Gerardo Sandoval
Ting spoke of setting politics aside.

"Don't let people fool you about the need to follow an ideology," Ting told supporters.

"This office is about professionalism, this office is about fairness, this office is about making sure that we put politics aside."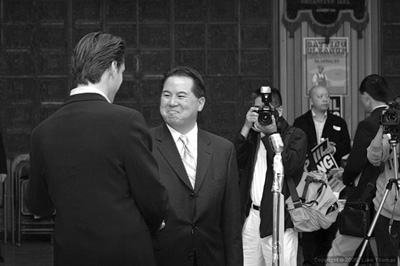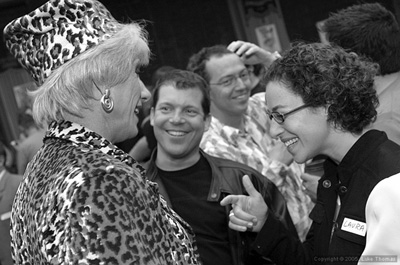 Alice B. Toklas LGBT Democratic Club co-chair Laura Spanjian
milks the mirth with impressionist Donna Sachet;
Nathan Purkiss, senior assistant to Assemblyman Leno;
and Supervisor Bevan Dufty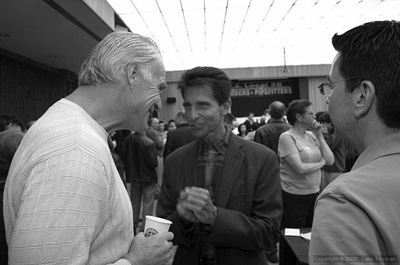 Firefighters union chieftain John Hanley, left,
with Assemblyman Mark Leno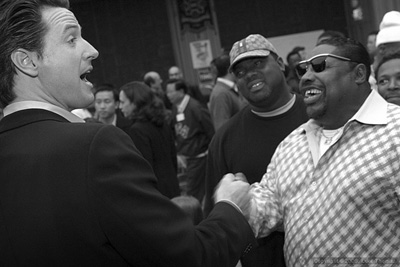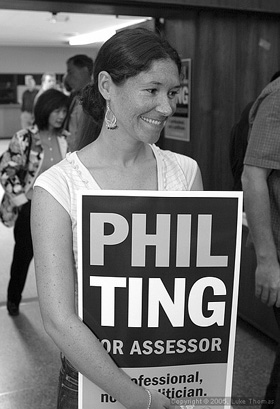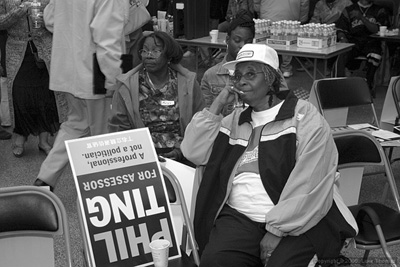 ####
SUPERVISOR BEVAN DUFTY ENDORSES GERARDO SANDOVAL FOR ASSESSOR THEN RESCINDS ENDORSEMENT

| | | | |
| --- | --- | --- | --- |
| | | | |
| Bevan Dufty | Gerardo Sandoval | Gavin Newsom | Phil Ting |
Thursday, August 11, 2005, 9:30 p.m.
Supervisor Bevan Dufty today rescinded his Wednesday endorsement of Gerardo Sandoval for San Francisco Assessor, the Sentinel has confirmed.

Sandoval had no comment on the turn of events.

Dufty reportedly acquiesced to Mayor Gavin Newsom's preference for Phil Ting election to the post.
####


DISTRICT ATTORNEY KAMALA HARRIS ENDORSES
PHIL TING FOR SAN FRANCISCO ASSESSOR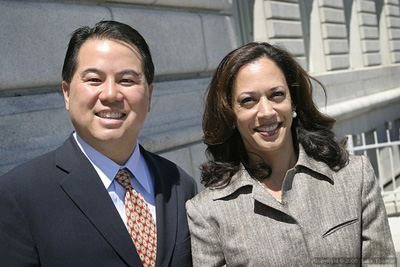 Phil Ting and Kamala Harris
####

SUPERVISOR FIONA MA ENDORSES PHIL TING FOR ASSESSOR




Wednesday, August 10, 2005
Supervisor Fiona Ma yesterday endorsed appointed Assessor Phil Ting for election to that post, noting the Assessor's Office produces up to 20% of city revenue from property and property transfer taxes.

"Therefore it is important that we have someone who is professional," Ma said in the 1:30 p.m. City Hall steps press conference.

Ting "knows how to work with city departments, motivate employees, put in systems that will collect our taxes efficiently and effectively in San Francisco," continued Ma.
"This person is Phil Ting. He's got over five years of real estate appraisal evaluation experience. He's got 15 years working in the community.
"I think he's got a tremendous amount of integrity. Whenever I call him he is always there. His word is always good. When he says he's going to do something he does it, he shows up. He's hands on, and these are the kinds of leaders we really need in city government today," Ma stated.
Ting expressed particular gratitude to Ma, noting Ma's background in finance as a certified public accountant, and her status as the only Asian American on the San Francisco Board of Supervisors.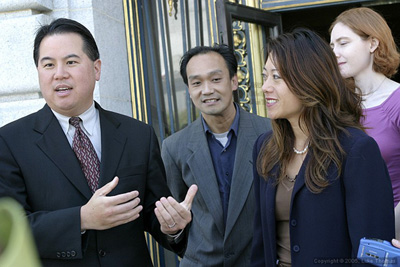 "I'm going to be doing three primary things during the next few months in office," Ting reported.
"One is assuring that we have fair and equitable assessments. We're going to be insuring that we have standards so everybody will be treated fairly, whether you own a commercial property, whether you own a property building, whether you own a home. Everybody is going to be treated fairly.
"Number two is improving customer service. We're going to be doing more outreach, improving and updating our website, and we're going to assure that there are more people at the front desk so that when people come or call they'll be served well.
"Lastly is professionalism. Truly, any hire we make will be having experience. If they're an appraiser, they better have appraisal experience. If they're going to be a clerk, they better have customer service experience. We're going to assure that everyone we bring into the office is a professional."
Visit PhilTing.com.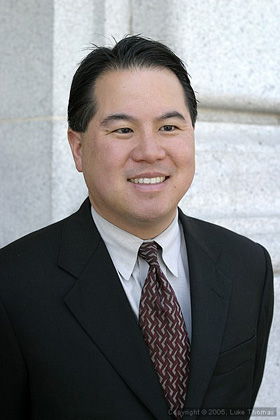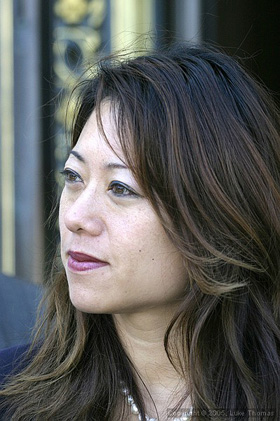 ####
ASSESSOR CANDIDATE PHIL TING LAUDED BY IMMIGRANT CIVIL RIGHTS GROUPS JULY 27
From the Assessor Campaign of Phil Ting
Wednesday, July 27, 2005
The Immigrant Legal Resource Center will hold a press conference Wednesday July 27 at 12:00 p.m. to recognize and thank Phil Ting for his work on behalf of civil rights for immigrants.

Mark Silverman, Director of Immigration Policy at the Immigrant Legal Resource Center in San Francisco said, "As the former Executive Director of the Asian Law Caucus Phil Ting has a history of supporting civil and immigration rights in our community. We want to thank him for his long time commitment to civil rights and we want to recognize the importance of this experience and background in a city wide office."

WHAT: Immigrant and immigration legal service organizations will recognize and express appreciation to Assessor Phil Ting for his work in the legal civil rights community as the former Executive Director of the Asian Law Caucus.

WHO: Immigrant Legal Resource Center, Mark Silverman, Director of Immigration Policy El Comite de Padres Unidos.

WHEN: Wednesday, July 27 12:00pm

WHERE: Immigrant Legal Resource Center 1663 Mission St., Ste. 602 (btwn South Van Ness & Duboce)

For more information, contact Mark Silverman at (415) 255-9499, extension 627.

####
ASSEMBLYMAN LELAND YEE ENDORSES SANDOVAL FOR ASSESSOR
Notes supervisor's independence and outstanding record of achievement


Leland Yee
From the Assessor Campaign of Gerardo Sandoval

Friday, July 22, 2005, 11:30 a.m.
Assembly Speaker Pro-Tem Leland Yee (D-12) endorsed District 11 Supervisor Gerardo Sandoval for San Francisco Assessor today, applauding Sandoval's independence and experience as a public servant.

"San Francisco needs a tough and independent leader in the Assessor"s office," said Yee. "No other candidate in the race has the experience necessary to be Assessor. I know Gerardo Sandoval's record and I know he has what it takes to make sure the people of San Francisco get the tax revenue and services they need. He has a record as a smart and fair legislator, and he is the right choice for Assessor."

Yee emphasized Sandoval's achievements for his district and his city-wide leadership on financial and budget issues. Over the past five years, Supervisor Sandoval has been noted in the press as an overwhelmingly effective advocate for his constituents, who are over 50% foreign born, largely of Asian descent.

Yee noted some of Supervisor Sandoval's particular achievements: "Gerardo has fought for new senior housing in the Outer Mission, saved funding for translators at General Hospital, improved pedestrian safety measures in the district and all over the city, and won new funding for the neighborhood parks and recreation centers our kids and families depend on."

Yee also applauded Sandoval's leadership as chair of the Budget Committee during tough fiscal times.

"Gerardo has a record as a touch fiscal manager and he has fought to make sure the people of San Francisco get what they deserve."

Sandoval, the son of two immigrant parents, worked his way through college, eventually earning a Master's Degree in City Planning from UC Berkeley and a Law Degree from Columbia University.

Said Yee, "Gerardo represents what makes this city great: he is a child of foreign-born parents who found a home here and has dedicated the past fifteen years of his life to public service."

Supervisor Sandoval thanked Assemblyman Yee for his support. "From his days heading the School Board here in San Francisco Leland has been an independent leader dedicated to fighting for the little guy. We come from similar backgrounds and we share a common outlook. "m honored to receive his endorsement."
####
TING PLEDGES LONG NEEDED SUPPORT FOR ASSESSOR STAFF

Thursday, July 21, 2005, 4:00 p.m.
San Francisco Assessor Phil Ting, sworn into office this morning at 11:20 a.m. by Mayor Newsom, assured staff they will receive support and training they've lacked.

"You haven't always received the support you've needed, and we're going to assure you have that support," Ting told a staff gathering following swearing-in.

"Our greater purposes is really serving the needs of residents," he said.

"Our office is unique in that actually bring in revenue for the city, for the police budget, for what the nonprofits are wanting, for schools, for parks, for health care, for seniors, and for youth.

"We will assure you we will deliver an assessment structure that is fair and equal for downtown or for small homeowners.

"We will assure you we will fight for every single assessment, and we're going to fight for every single dollar assessment," Ting stated.

For his part, Newsom his selection of Ting as a "move away from taking some politician from one position to another -- replacing them with someone in your own image."

Although presented with two finalists following interviews of 17 candidates, in part from City Controller Ed Harrington and State Board of Equalization staffter Betty Yee, Newsom said his conclusion was that Ting "is as good as they come."

Ting resigned his position as Building Inspection Commissioner, an appointment he received from former Board of Supervisors President Matt Gonzalez, to accept the Assessor post.

Gonzalez, now supporting Supervisor Gerardo Sandoval for election as Assessor, this week criticized Ting for alleged lack of maturity to stand up to downtown interests.

"It's interesting someone would question of the maturity of anyone who worked for the Asian Law Caucus," Ting responded. Ting served as executive director of the political progressive Asian Law Caucus.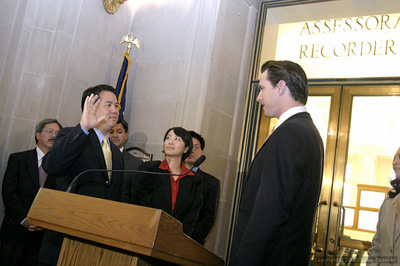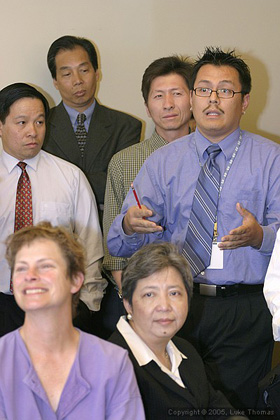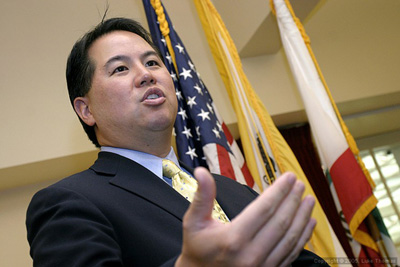 ####
SUPERVISOR TOM AMMIANO ENDORSES GERARDO SANDOVAL FOR
SAN FRANCISCO ASSESSOR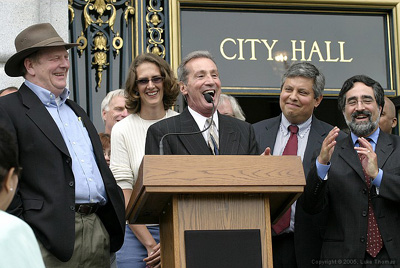 Supervisor Tom Ammiano steps forward
with support for Gerardo Sandoval lawsuit
crying foul against campaign opponents June 28
Photo(s) by Luke Thomas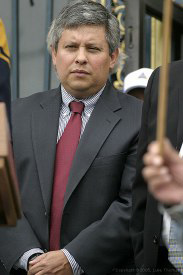 Supervisor Gerardo Sandoval


From the Assessor Campaign of Gerardo Sandoval
Thursday, July 21, 2005, 2:00 p.m.
Citing Sandoval's political independence and strong commitment to the gay community, Supervisor Tom Ammiano today threw his support behind Supervisor Gerardo Sandoval's campaign for Assessor.

"I've worked with Gerardo since district elections swept the machine out of City Hall in 2000, and I know him to be a strong, independent voice who has stood up for progressives and the gay community," said Ammiano.

Ammiano joins Board of Supervisors President Aaron Peskin, Supervisors Chris Daly, Jake McGoldrick, and former Supervisor Matt Gonzalez in supporting Sandoval for Assessor.

Ammiano, who currently chairs the board's Budget Committee emphasized Gerardo's fiscal experience in directing the budget process last year. "Gerardo has proven his skills in fiscal management. He faced a $300 million budget deficit, and worked cooperatively with the Mayor and the Board and citizens to save essential AIDS/HIV services, funding for interpreters at General Hospital, solar power projects, minimum wage enforcement, and improvements at senior centers around the city."

"Gerardo has been a strong supporter of gay marriage," said Ammiano. "For an office that played a role in signing gay marriage licenses, we need that kind of proven commitment."

Ammiano closed by noting Supervisor Sandoval's work on behalf of the Latino community. "Gerardo led the charge on immigrants' rights with legislation requiring city agencies to accept ID cards issued by the Mexican consulate. He has a record of working for people who need a voice in government and I know we can count on him to keep fighting for us as assessor."
####
MATT GONZALEZ CITES SANDOVAL INDEPENDENCE, TING IMMATURITY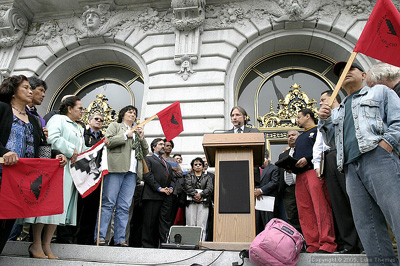 MATT GONZALEZ, former president of the San Francisco
Board of Supervisors speaks on behalf of Supervisor Gerardo Sandoval
on steps of City Hall June 28.
Photo(s) by Luke Thomas


From the Assessor Campaign of Gerardo Sandoval

Monday, July 18, 2005
Adding a new twist in the heating up race for the Assessor's office, former Mayoral candidate and Board President Matt Gonzalez today gave his wholehearted support to Supervisor Gerardo Sandoval in his upstart campaign which has caught the city by surprise.

"It really comes down to a simple choice. Supervisor Sandoval has the integrity and independence the office needs at a crucial time," said Gonzalez. "We've worked together on serious issues such as the business tax settlement, and I know that Gerardo is well-prepared to ensure that the Assessor's office is successful in requiring large property owners to pay an equitable share of the taxes it takes to provide critical services in San Francisco."

"Supervisor Sandoval has always won elected office in his own right, proving his political independence. Over the years he has demonstrated his dedication to fight for those who most need a voice in city government. He served as the Chair of the Budget Committee while I was Board President and did an outstanding job of managing city finances in difficult times," said Gonzalez.

Dozens of large property owners in recent months have petitioned to have their property taxes reduced at the cost of millions of dollars per year to city services. A recent report to the Board of Supervisors showed that over 50 large corporate property owners, each with real estate valued at over $85 million, have requested tax breaks from the Assessor's office in the last few years.

"The Mayor claims to have made a non-political appointment, but the truth is that his appointee is currently a candidate for Supervisor and has sought elected office in the past. I know Phil Ting and I know he means well, but he simply lacks the political maturity to stand up to the downtown forces who exert the most pressure on the Assessor," said Gonzalez.

"If you are a resident who relies on city health clinics and emergency rooms, or a small property owner without an army of tax lawyers at your beck and call, you need a champion in the Assessor's office, and that champion, I believe, is Supervisor Sandoval," added Gonzalez.

Sandoval, who was elected to the Board as an independent in 2000 and re-elected in 2004 despite an inflammatory attack campaign launched by secretive downtown forces, adds Gonzalez to a growing list of progressive and independent endorsements which include Board President Aaron Peskin, Supervisors Daly and McGoldrick, former Supervisor Harry Britt, and former Mayor Art Agnos.

"Matt and I agree that the Assessor's office needs a strong advocate for the little guy, an independent fighter, and a tested experienced leader who won't be intimidated by wealth and power," said Sandoval.

"I welcome his support and I'm eager to work with individuals from every corner of the city to turn around this office in crisis."

Supervisor Sandoval brings 15 years of fiscal, legal and public service experience to the campaign. He has served as a City Finance Analyst from 1990 to 1993; Chair of the Board of Supervisors Budget Committee; Trustee of the San Francisco Retirement Trust Fund; Trial Attorney for the Office of the Public Defender; and Member of the San Francisco Public Transportation Commission and Golden Gate Bridge District Board. He is a graduate of UC Berkeley, where he earned a Masters Degree in City Planning. He earned his law degree from Columbia University in New York.

For more information, contact David Noyola at (415) 812-6479.
####
PHIL TING PLEDGES 'FAIR AND EQUAL' PROPERTY ASSESSMENT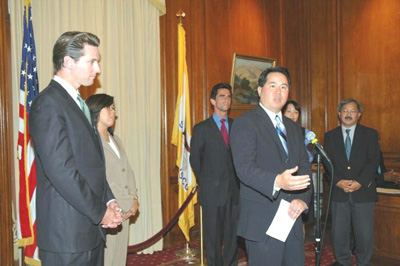 PHIL TING addresses his first press conference
as mayoral appointed San Francisco Assessor, top photo.
Bottom photo, center background, Ting's wife Susan Sun,
who works as district director for Assemblyman Mark Leno, right.
fogcityjournal.com Photos by BILL WILSON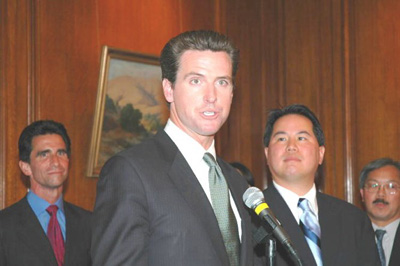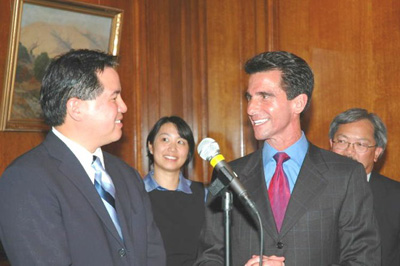 By Pat Murphy


Saturday, July 16, 2005
Building Inspection Commissioner Phil Ting yesterday rose to the post of San Francisco Assessor, promising the skill set to modernize the department and deliver "fair and equal" property valuation.

In making the appointment at a 2:30 p.m. City Hall press conference, Mayor Newsom stressed he chose "professionalism over politics" by naming Ting.

The mayor had narrowed his selection to two finalists, Newsom said, after "62 days of consideration following Assessor Mabel Teng's resignation, and interview of more than 17" candidates. Newsom declined to name the other finalist.

"We were looking for the best and the brightest" with "integrity, competency, and broad spectrum of property valuation experience," stated Newsom.

The office has been criticized for lack of competence, and loss of potentially millions of dollars in tax revenue.

"Phil Ting is the best person in the city to bring reform to an office that needs it," Newsom maintained.

"He is a real professional who will keep politics out of this important job."

Even so, Newsom -- who silenced many left-learning critics by taking the lead on same sex marriage -- saw to it his press packet included a Bay Guardian editorial calling for appointment of a professional...and a political progressive.

Ting, executive director of the progressive-leaning Asian Law Caucus, was appointed to the Building Inspection Commission by former Board of Supervisors President Matt Gonzalez, the Green Party candidate who came close to denying Newsom the mayoralty.

Ed Lee, recent Newsom appointment as City Administrator and Ting's predecessor at the Asian Law Caucus, welcomed Ting to the executive branch, recalling motivation which drew both men to the Asian Law Caucus.

"We came to the Asian Law Caucus because we wanted to do what is right for all the citizens of San Francisco," Lee said somberly, after taking personal relish in Ting's rise, "Now we know we have one less person who's going to sue the city."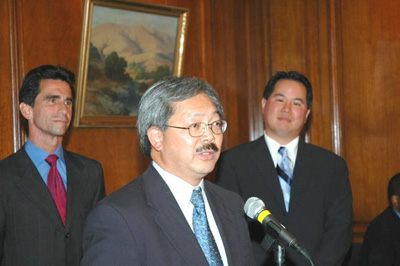 City Administrator Ed Lee
Ting, who must stand for election this November to fill out remainder of Mable Teng's term and run for a full term again in 2006, appeared undaunted by potentially hard-hitting campaigns.

Supervisor Gerardo Sandoval is best known of current Assessor candidates, entering the race four days ago and quickly drawing endorsements from Board of Supervisors President Aaron Peskin, former Board of Supervisors President Matt Gonzalez, and Supervisor Chris Daly. Daly also has endorsed Green Party contender Vickie Leidner.

Asked whether Ting is up to a brutal campaign progressives might launch against him, not so much because they love Gerardo Sandoval, but out of disdain for Mayor Newsom, Ting didn't blink.

Ting said his campaign would demonstrate a "valuation structure that is equal for all."

Assemblyman Mark Leno, taking umbrage at suggestion progressives would oppose Ting, brought laughter demanding, "So what am I, chopped liver?"

Ting came to know electioneering by working as a volunteer in Leno's campaign effort.

Leno, like Newsom, won support from initially wary progressives for Leno's national leadership on same sex marriage, and as years long crafter of tenants rights legislation.

Ting "met his wife, Susan, on Mark's campaign," the mayor nodded.

"And I married them!" Leno brightened. Ting's wife, who retains the name Susan Sun, serves as district director for Assemblyman Leno.

Even with savvy absorbed from closeness to Leno, Ting faces a hardened campaigner in Sandoval who remains deeply angry at downtown interests.

Sandoval blames downtown for underhanded efforts to deny Sandoval re-election. The District 11 supervisor holds his seat on the Board of Supervisors until January 2009, should he lose election as Assessor.

Sandoval did not return Sentinel telephone requests for Sandoval reaction to the Ting appointment, nor for updated list of Sandoval endorsements.

For their part, the leading spokesman for downtown interests said downtown couldn't be happier with prospect of a more efficient Assessor's Office.

"We really want fast assessments," Ken Cleaveland told the Sentinel. Cleaveland serves as director of government and public affairs for the Building Owners and Managers Association (BOMA).

BOMA represents San Francisco office buildings with assessed valuation last year of $17 billion, Cleaveland reported. That valuation last year produced city tax revenues exceeding $200 million, he said.

Past Assessors have been criticized for belated office building valuations, with progressives framing downtown as influencing Assessor staff for delayed assessments.

Instead, Cleaveland bemoaned that valuations "sometimes take as long as seven years."

"We don't want that because it hurts us," continued Cleaveland.

"We need to be able to amortize those costs over coming years, spreading those costs equally over the years to tenants.

"We don't want several years coming all at one time, angering tenants with sudden large increases," Cleaveland stated. "It shouldn't be a political office. It's only political because the state constitution requires that every county have an elected Assessor."

One Sheriff's Department staffer told the Sentinel of her family's experience with home valuation.

"We added a home improvement, and it took the Assessor's Office nine years to catch up to it. Yes, we finally wrote the city one big check for back taxes, but that was money the city could have been using all those years."

Cleveland praised San Mateo County for emphasis on technology which results in instant data sharing among city agencies, and permits customers to pay taxes online as well as print out city permits.

Ting pointed to his background as demonstrating competence for the job.

"I'm the first Assessor to have any real background in commercial property assessment," Ting told reporters.

A Chinese American raised in southern California, Ting started his professional career in San Francisco as Senior Consultant at Arthur Anderson appraising properties for clients such as GE Capital and Sumitomo Bank, moved onto to be Associate Director in Strategic Planning for CBC/Madison Advisory Group, before joining SSR Realty Advisors as Acquisitions Analyst where he underwrote projects worth $200 million before leaving the private sector. Full Ting resume follows story.

Ting promised technology upgrade, while citing management skills which will result in "more efficiently giving people clear guidance."

"From this day forward, I will move swiftly" to assure "professionally qualified staff" and "restore public confidence."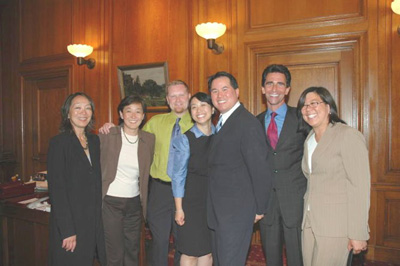 PHILIP Y. TING
2002-Present ASIAN LAW CAUCUS SAN FRANCISCO, CA
Executive Director
Managing 31-year old civil rights non-profit with $1.1 million annual budget.
Increased revenue over 30% in first year
Providing guidance and strategic direction to all programs in voting, housing, employment, immigration, hate crimesand consumer.
Fundraising and overseeing all development operations.
Managing public relations and marketing activities.

2000-2002 SAN FRANCISCO STATE UNIVERSITY (SFSU) SAN FRANCISCO, CA
Associate Director, Governmental and Community Relations
Developed first Community Relations program for SFSU.
Outreached to diverse community and neighborhood groups to provide greater access to SFSU.
Provided a point of contact within the university administration for community organizations.
Represented President Corrigan at various Chamber of Commerce activities.
Worked with State and Federal elected officials to increase funding to SFSU.

1999-2000 CAROLE HAYASHINO FOR ASSEMBLY SAN RAFAEL, CA
Field Director and Campaign Coordinator
Coordinated day-to-day operations. Managed over 40 regular volunteers.
Supervised phone banks and precinct walks.
Organized and developed policy position papers regarding transportation, education, minimum wage, health care,school financing, children and youth services and child care.

1998-1999 SSR REALTY ADVISORS SAN FRANCISCO, CA
Acquisitions Analyst
Underwrote and recommended purchase of $200 million worth of commercial real estate for pension fund investors.
Developed $3 million operating budgets for each property.
Advised Managing Directors on corporate goals and objectives as Member of President's Council.

1996-1998 CBC/MADISON ADVISORY GROUP FOSTER CITY, CA
Associate Director, Strategic Planning Consulting
Developed vision for strategic planning consulting services in Bay Area Region.
Created business plan and proposed services and fee structure to clients nationwide.
Analyzed and assessed potential site relocation for large San Francisco corporation.
Developed technology plan for Alameda technology company.

1994-1996 ARTHUR ANDERSEN SAN FRANCISCO, CA
Senior Consultant
Assessed and valued properties for GE Capital and Sumitomo Bank real estate portfolios.
Appraised apartment and hotel properties for various clients.
Developed strategic plan for State Department of General Services. Analyzed strategic goals, streamlined processes,researched best practices, developed core competencies and evaluated information technology.
Reengineered $6B retail corporation's real estate operations. Evaluated key process evaluation and researched bestpractice concepts to develop strategic vision and performance goals.

Education
1992-1994 HARVARD UNIVERSITY, JOHN F. KENNEDY SCHOOL OF GOVERNMENT CAMBRIDGE, MA
Awarded Master in Public Policy degree. Concentration in Housing, Business and Government. Member of MPP Admission Committee. Coalition for Diversity. Asian American Policy Review, Co-Editor.

1987-1992 UNIVERSITY OF CALIFORNIA, BERKELEY, CA
Awarded Bachelor of Arts in Development Studies with Honors and Ethnic Studies minor (fulfilled coursework).
Concentration in Chinese Development. Appointed to UC Board of Admissions and Relations with Schools, Vice Chancellor Admissions Coordination Board, Committee on Educational Policy, Committee on Student Fees and ASUC Municipal Lobby Co-Director.

Volunteer Experience
Asian and Pacific Islander American Affairs Commission, Commissioner, California
Building Inspections Commission, Commissioner, San Francisco
Leadership San Francisco, Graduate, San Francisco
Housing Action Coalition, Member, San Francisco
Sunset Community Democratic Club, Board Member, San Francisco
Westside Chinese Democratic Club, San Francisco
Sunset District Neighborhood Coalition, Member, San Francisco
Lake Merced Task Force, San Francisco
Organization of Chinese Americans, San Francisco Bay Chapter, Past President, San Francisco
Citizen's Committee on Community Development, Former Chair, San Francisco
National Asian Pacific American Legal Consortium, Board Member, Washington D.C.

Personal Background

Conversationally fluent in Mandarin Chinese. Extensive knowledge of Argus, Microsoft Word, Excel, and Powerpoint, Word Perfect, and Pascal. Traveled on a shoestring budget through East Asia, Russia, Eastern Europe, and Western Europe.

####


SANDOVAL: NEWSOM WILL MAKE BACKROOM DEAL GIVING DOWNTOWN INTERESTS EXACTLY WHAT THEY WANT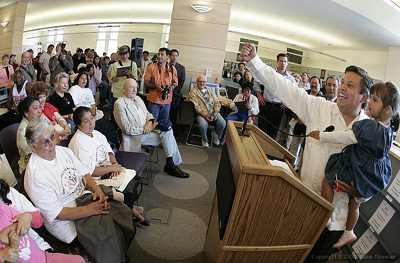 SUPERVISOR GERARDO SANDOVAL
heralds July 9, 2005, reopening of Excelsior Branch Library.
Photo(s) by Luke Thomas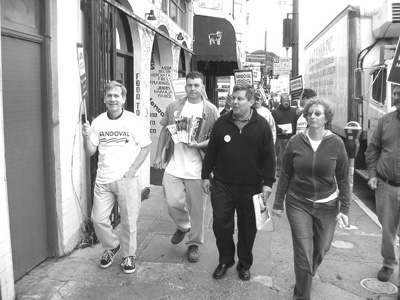 MISSION STREET merchant walk during Gerardo Sandoval's
successful re-election campaign for District 11 Supervisor.
fogcityjournal.com Photo by PAT MURPHY
Friday, July 15, 2005, UPDATED 8:45 A.M.

Supervisor Gerardo Sandoval, now in his third day of campaign for San Francisco Assessor, today charged Mayor Newsom "will make a backroom deal with appointment whose going to give downtown exactly what they want."

Busy working the phones for endorsements, Sandoval told the Sentinel he expects to release a list a new supporters today.

"I haven't had so much fun in years," Sandoval said.

Board of Supervisors President Aaron Peskin yesterday released a statement of endorsement for Supervisor Gerardo Sandoval's campaign for San Francisco Assessor.

"Supervisor Sandoval is uniquely qualified to lead the Assessor's Office into the 21st century," Peskin stated.

"He understands the workings of government inside and out. He rose from a Budget Analyst in the Mayor's Office to chair of the powerful Budget Committee.

"Most importantly, he has the guts to challenge the status quo and the integrity to ensure that everyone is treated fairly and equally," added Peskin.

The Mayor's Office will have an announcement regarding mayoral appointment to the Assessor post "Friday or Monday," Mayor Newsom told the Sentinel late Wednesday.

"We are interviewing seventeen people, with the last one scheduled for tomorrow," Newsom added.
Sandoval, who said he is not one of those interviewed by the mayor nor invited for interview Thursday, stated he would not accept apppointment as Assessor by the mayor.

"It would look like a backroom deal, and I want to prove to the voters my abilities to serve as Assessor," he said.

Late Wednesday night, a knowledgeable City Hall source reported former Board of Supervisors President Matt Gonzalez has endorsed Sandoval for Assessor. SFist reported Supervisor Chris Daly also has endorsed Sandoval.

Sandoval was elected to the Board of Supervisors in 2000 and re-elected in 2004. His current term as supervisor runs until January 2009, which he would retain should he lose the November 2006 race for Assessor.

He is a graduate of Columbia Law School, and has a master's degree in city planning from the University of California at Berkeley, with an emphasis in real estate development.

The District 11 supervisor currently serves as a trustee of the San Francisco Retirement Board, a $23 billion trust, and also as a director of the Golden Gate Bridge, Highway and Transportation District.

He served as chair of the city Budget Committee in 2004. Under Mayor Art Agnos, Sandoval was responsible for the expenditures of fourteen city departments including the Office of the Assessor. Sandolval also has served on the Public Transportation Commission overseeing Muni.

He is married and has a two-year-old daughter.


####