PROJECT HOMELESS CONNECT

PROJECT CONNECT GOES NATIONAL
Miami, Chicago, Knoxville, Denver, St. Louis, Atlanta, San Diego, Portland, San Jose, West Hollywood, Philadelphia, San Juan, San Francisco, Indianapolis, Quincy, Pasadena and Chattanooga.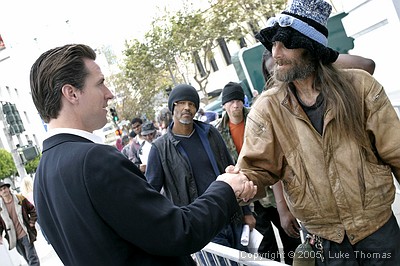 Photo(s) by Luke Thomas
December 8, 2005
San Francisco's Project Homelessness Connect goes national December 8, as the United States Interagency Council on Homelessness (USICH) inaugurates National Project Homeless Connect Day.

Participating cities include Miami, Chicago, Knoxville, Denver, St. Louis, Atlanta, San Diego, Portland, San Jose, West Hollywood, Philadelphia, San Juan, San Francisco, Indianapolis, Quincy, Pasadena and Chattanooga.

Volunteers, civic leaders and business organizations will join with social service agencies, non-profits, and faith-based entities to create for homeless citizens a single point of engagement and entry to local services, housing and support.
San Francisco Mayor Gavin Newsom founded Project Homelessness Connect in October 2004.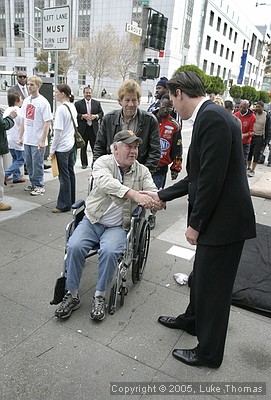 "National Project Homeless Connect Day is an innovative opportunity to fuse political and social will to generate visible and quantifiable change on your streets and in your neighborhoods," explained United States Interagency Council on Homelessness executive director Philip Mangano.

In October 2004, 278 volunteers engaged in a survey of the San Francisco downtown homeless population, which consists of a 60-square block area in the Tenderloin District where 85% of the City's social services currently exist.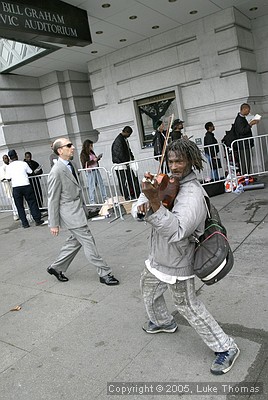 One year later, San Francisco enlists over 2000 volunteers every other month to engage with the homeless and connect them to vital services.

To date, over 10,000 San Franciscans have participated in this innovative program, Project Connect spokespersons reported.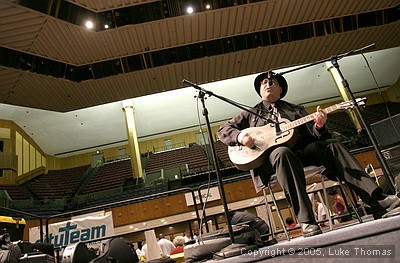 Some 1,320 clients were served in Project Connect 7, according to compiled statistics:

- Total clients served: 1,320
- Total clients seen at Medical: 285
- Behavioral Health (Detox, maintenance, substance abuse residential treatment and mental health): 161
- Vision Care / Glasses: 200
- Benefits Support / Counseling: 230
- Employment Services: 58
- Legal: 232
- Massages: 55
- Foot Washing: 78
- Wheelchair Repair / Replacement: 11
- Free Phone calls: 436
- Housing Information/Referral: 267
- 137 who were sleeping on the street at the beginning of Project 7 were inside on the next night -- 117 in shelters, 20 in stabilization rooms.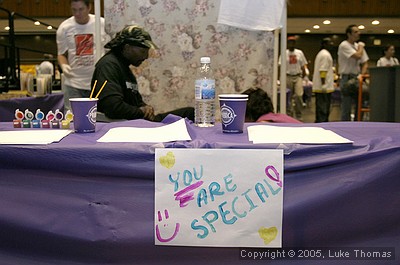 To volunteer, click here.

####

Turning faith to works means
cookies and blankets

Photo(s) by Luke Thomas
Saturday, August 6, 2005
Most of the 1,400 Project Homeless Connect volunteers last week had years of catching up to do with Stefan Lyon, who stood waist high to most.

The nine-year-old already had become his own institution by passing out cookies and blankets to homeless children since February 2003.

And raised not pintsize funding for child social services.

Pulling a little red wagon, built high with what used to be his crib, Lyon maneuvers city streets to soothe homeless children with what Lyon thinks they need most: cookies and blankets.

Lyon reached his conclusion on the day national mindset changed -- September 11, 2001, day of the New York Twin Towers bombings.

"Mom, what about the children?" Lyon asked his mother, Denise Lyon, she recalled.

"Well, what do they need?" mother Lyon returned.

"Cookies and blankets," came prescient response, as young Lyon embraced his still continuing avocation.

The cookies were homemade, and blankets home stitched, with fleece material sold at $3.00 a yard by a friendly merchant.

He set a goal of raising $100 during Lent 2003 to bolster his school mission program which supports children living in poverty, and set the task by selling cookies from his wagon.

In addition to garnering wide eyed adult approval, Lyon surpassed his goal by tallying $2005.00 in cookie sales.

One thousand dollars will build a school, named after Stefan Lyon, in Tamale, Guana.

Remainder of young Lyon net worth purchased art supplies for homeless children living in San Francisco's Hamilton School.

During the course of Lyon's undertaking, he caught the eye of another helpful hand who went on to formulate his own avocation for helping the homeless.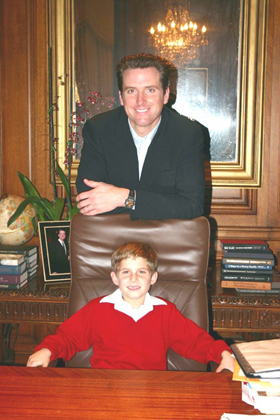 San Francisco Mayor Gavin Newsom
surrenders his chair to the boy who turned faith to works.
Photo by DENISE LYON
Last Thursday, Newsom and Lyon watched 1,400 others find their vehicle for helping the homeless at the sixth Project Homeless Connect street outreach.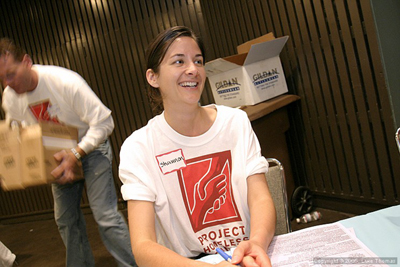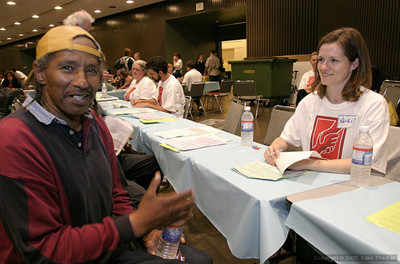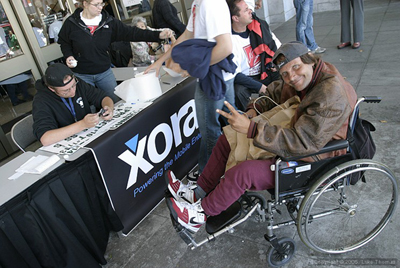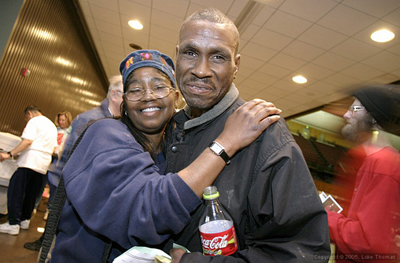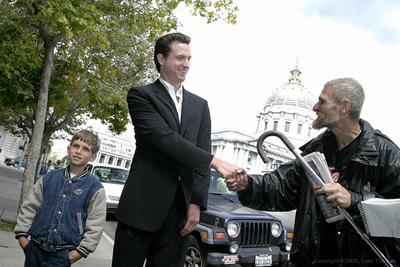 As the day ended, 1,133 clients had been triaged to city services, 125 slept inside of which 94 were placed in stabilization units, 243 had been treated by doctors, and 308 free telephone calls were made to 15 states.
####
Community minded cab company & drivers

Saturday, August 6, 2005
Luxor cab donated a fleet of ten cabs last week for free transportation of homeless persons to Project Homeless Connect, the only San Francisco cab company to do so.

Smiles were broad among drivers, who also gave freely of their time.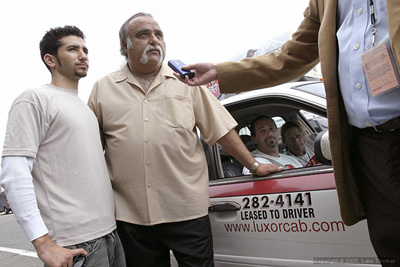 Luxor cab donated a fleet of ten cabs last week
for free transportation of homeless persons
to Project Homeless Connect,
the only San Francisco cab company to do so.
Photo(s) by Luke Thomas

Luxor Cab chieftain John Lazar reports he didn't hesitate to help. Luxor participation was organized by Lazar's son and new company man, Jonathan Lazar.

Riding public may reach Lazar Cab service at (415) 282-4141.
Visit LuxorCab.com.


####
Clients feared danger, resented discharge back to streets
Successful pilot program leads to
shelter 24-hour accessibility, increased security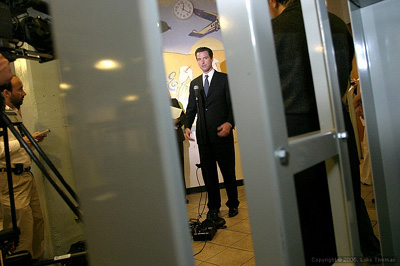 NEWLY REFURBISHED Episcopal Sanctuary
eradicated bed bug infestation with metal framed bunking.
Photo(s) by Luke Thomas
Thursday, June 30, 2005
The city yesterday addressed two complaints most often keeping the homeless out of shelters: security and lack of 24-hour access.

Beginning July 1, enhanced security and all day access becomes policy at San Francisco's three largest shelters, Mayor Gavin Newsom announced.

Decision to include funding for service expansion in the 2005-2006 city budget stems from a successful pilot program, Newsom said, which showed, rather than resenting additional security personnel, clients approved and patronage did not drop.

Cost is $186,000 for added security, and $100,000 to keep shelters open 24-hours daily, at each of the shelters.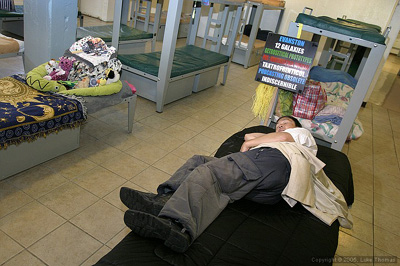 UBIQUITOUS FRANK CHIU -
tireless clarion of 12 Galaxies threat to all creation,
poses bunk comfort for world assurance.
Cypress Security, which is trained in conflict resolution and currently serves other Department of Human Services sites, will post security staff from 3:00 p.m. to 11:00 p.m. at Episcopal Sanctuary, MSC-South, and Next Door shelters.

"This initiative addresses the concerns of many homeless individuals who are reluctant to utilize our shelter program due to fear for their personal safety or having their personal belongings stolen," said Newsom.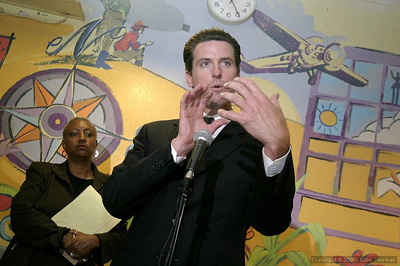 "Additionally with the 24-hour access, shelter clients can benefit from having a more structured day allowing them time to participant in more support programs to help them on the road to self-sufficiency," continued the Mayor.

All day access will give homeless individuals access to beds, showers, and laundry facilities.

"Providing security for the shelters will also allow staff members to better enforce health and safety compliance by being able to monitor what items are being brought into the shelters. The presence of security will also provide shelter clients with greater safekeeping of their personal affects and belongings."

Newsom also reported A Man's Place shelter will be closed, due to building owner decision.

The city currently spends $136 million on homeless services, the mayor noted.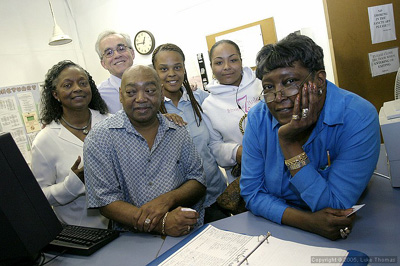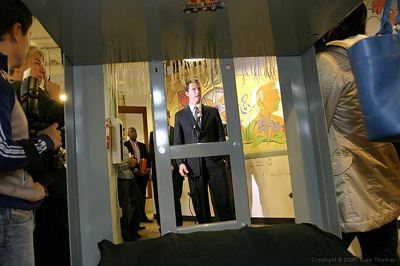 ####
Project Homeless Connect V volunteers top 2,000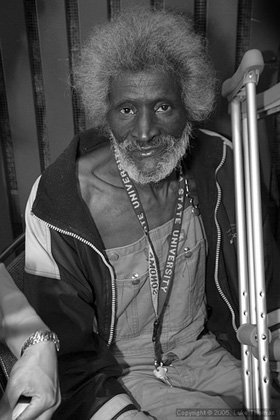 Photo(s) by Luke Thomas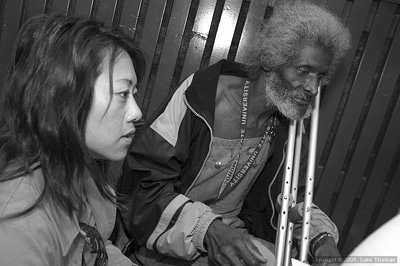 Supervisor Fiona Ma assists Viet Nam veteran
Thero Wheeler, with same-day eyeglass service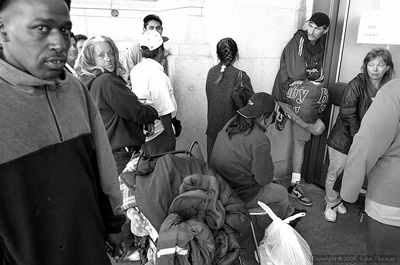 From the Mayor's Office of Communications
Friday, June 3, 2005
Mayor Newsom and 2000 committed volunteers today took over the Bill Graham Auditorium and the streets of San Francisco as part of the mayor's continuous homeless outreach effort, Project Homeless Connect.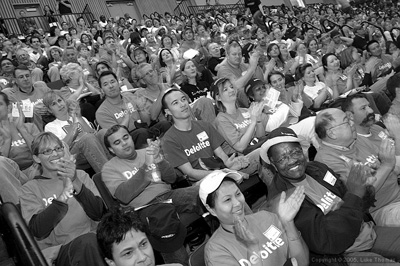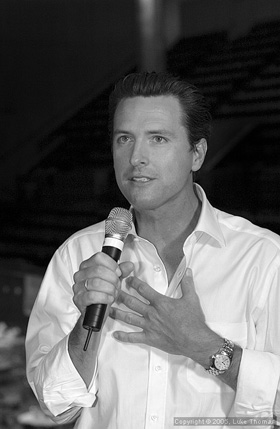 Newsom's innovative approach and designated National Best Practice continues to prove to be an effective way to connect the city's most vulnerable population to the services and programs they need on the road to self-sufficiency.

Project Homeless Connect also reinforces the mayor's commitment to the City's "Housing First" policy in providing more permanent supportive housing opportunities and increasing the number of placements coming directly from the street.

"Ending chronic homeless in San Francisco no longer has to be considered a dream deferred but more a reality with the continued public/private partnerships and volunteerism that we have witnessed here today," stated Newsom. The City's commitment to "housing first" and providing the necessary and essential support services present a real solution to the crisis of homelessness. Today people from all over the globe have come to San Francisco to observe what I would call a true example of humanitarianism at work," continued the Mayor.

The bi-monthly event allows outreach workers and volunteers to connect homeless individuals to essential and support services which include enlisting in the County Adult Assistance Program (CAAP) and Social Security Income (SSI) Advocacy. Homeless individuals are provided stations for employment counseling, veterans' services, foot care, methadone treatment, food stamps and domestic violence counseling. Other services available include Clinical Centers-with doctors, nurses and mental health workers-and Legal Counseling Centers with legal professionals- all providing pro-bono supportive services. Individuals could also visit the on-site vision care unit provided by Lenscrafters which filled same-day prescriptions for individuals needing glasses.

Since it's inception, the City's Project Homeless Connect event has fostered an unprecedented spirit of involvement from everyday individuals, community and faith-based groups, public figures and corporations wanting to do whatever possible to help conquer homelessness in our city and across the globe.

Corporations like Deloitte and Touche committed 1,2000 volunteers to aid in today's outreach effort as well as participate in the Market Street Beautification Project that will help clean the downtown area and rid many of the buildings from unsightly graffiti. This volunteer mobilization is a result of Deloitte's annual world-wide "Volunteer Impact Day," which is the world largest volunteer project.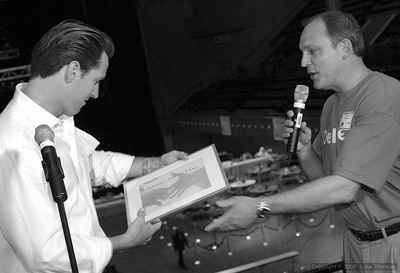 Phil Mangano, Executive Director of the White House Interagency Council on Homelessness, State Senator Jackie Speier of California and Angela Alioto, of the Mayor's Ten Year Planning Council on Homelessness were also present today to experience first hand the impact of the outreach effort.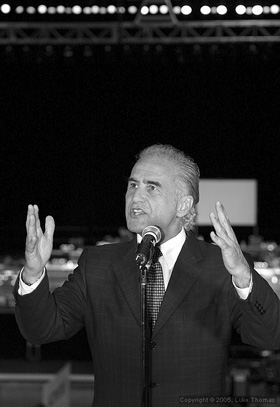 With Mayors and other dignitaries visiting the city as part of the United Nations' World Environment celebration, the cause of homelessness and the success of Project Homeless Connect will certainly receive both national and worldwide attention.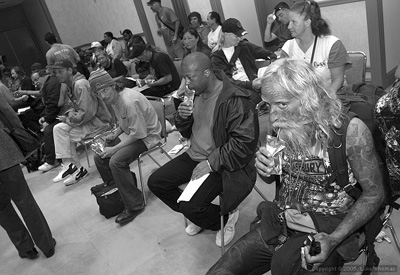 "Although many city employees are still involved in the outreach event, the success of Project Homeless Connect today is a result of the compassion and resolve of dedicated volunteers and charitable agencies such as AAA, Kaiser, Sprint, Starbucks, KFOG and Safeway, to name a few, who have also taken up the challenge to end chronic in San Francisco," Newsom reflected.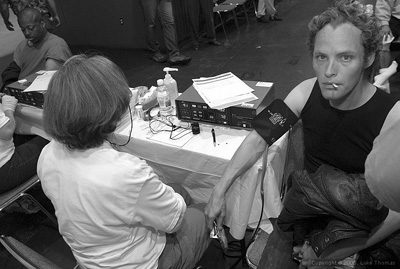 "Every time we do this it becomes more and more a real possibility that San Francisco again leading by example, will show the nation and the world that ending chronic homelessness can be a reality. It is dedication like this that changes lives and ultimately changes the world," continued the Mayor.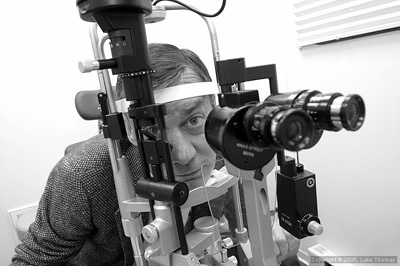 For more information and how you may volunteer, please visit www.projecthomelessconnect.com.
####