Affordable senior housing projected
for graying LGBT community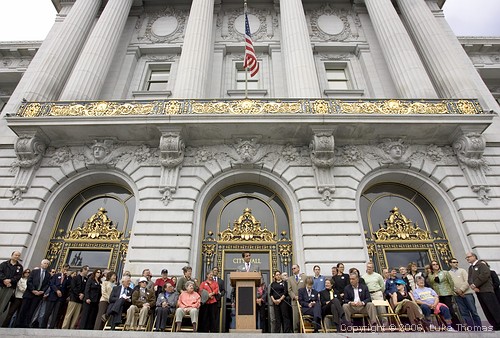 Affordable housing activists gather for support to finalize seven-year effort
to develop affordable housing for LGBT seniors.
Photo(s) by Luke Thomas
July 13, 2006
Assemblyman Mark Leno led elected officials and affordable housing advocates yesterday in support of affordable senior housing for San Francisco's graying LGBT population.
The morning City Hall rally culminated from an idea first advanced seven years ago by former San Francisco Mayor Art Agnos when Agnos served as Western Regional Director of HUD.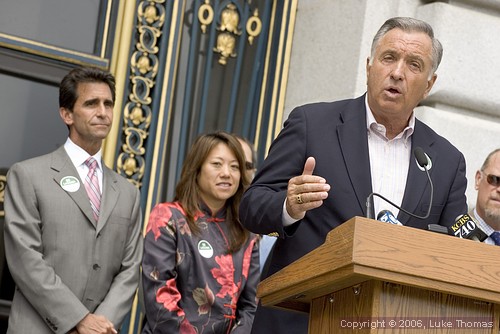 Former Mayor Art Agnos recalls first proposing the idea for LGBT senior housing seven years ago to Mark Leno, seen at left with San Francisco Supervisor Fiona Ma.
That idea grew to a projected development at 55 Laguna offering 428 mixed-income family rental units. Eighty units are set aside for LGBT senior citizens.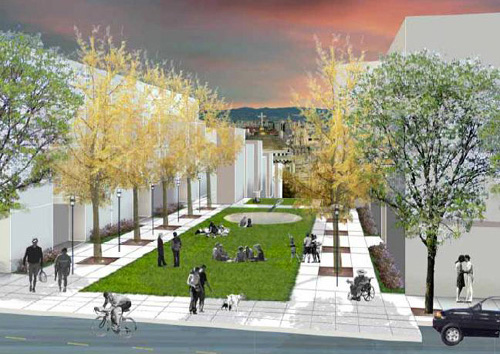 Artist conception of 55 Laguna Street project
Photo Courtesy AF Evans Company
"The good news is that 55 Laguna is really moving to a point where we can now tell the world that this is going to become a reality," Agnos reported.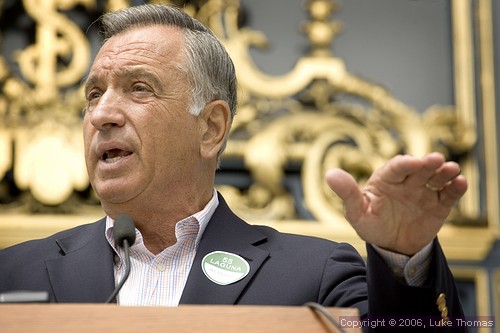 "When I called Mark I was concerned about the growing numbers of the retirement poor members of the LGBT community," continued Agnos.
"I learned that years before that nobody really worried in the gay community about getting old.
"There were cultural issues that mitigated against that, health issues that certainly were working against that, and indeed there were many discriminatory issues that mitigated against that.
"No more.
"We stopped so much of that thanks to the leadership of the community itself.
"Those who made it through that kind of experience were living in isolation in the year 2000, either in the basement of some rundown house or in some trailer in Texas or New Mexico.
"And we wanted them to be here because here they are part of family - our family and that's why Openhouse is moving to where it is today.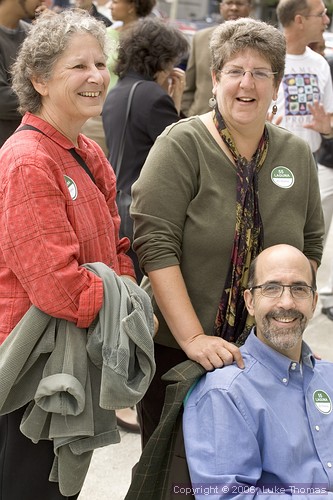 Openhouse Volunteer Donna Canali,
Openhouse Board Director Eileen Blumenthal
and Openhouse donor Stephen Blumenthal.
"We are grateful for the leadership. We are grateful for the professionalism. We grateful for a community in San Francisco that can make something like this happen. Thank you," Agnos concluded.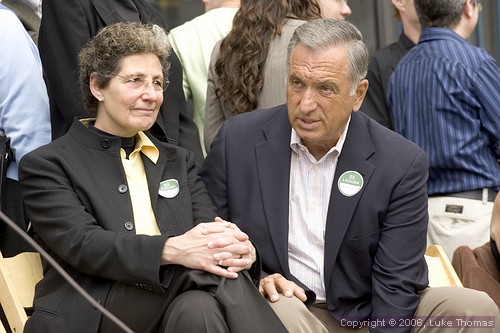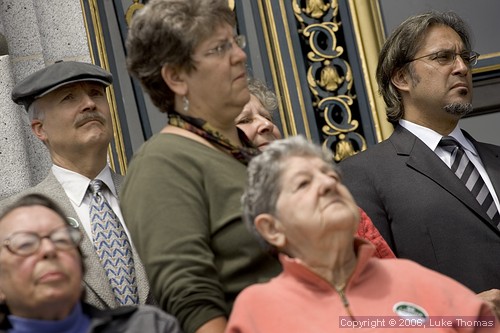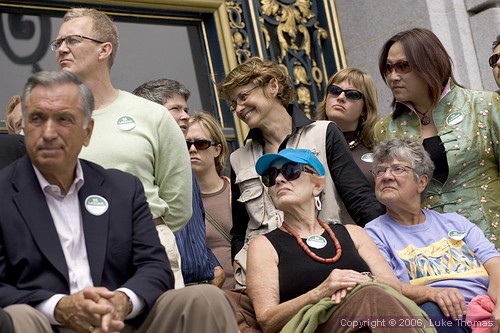 For his part, Leno described Agnos as "Godfather" of the project.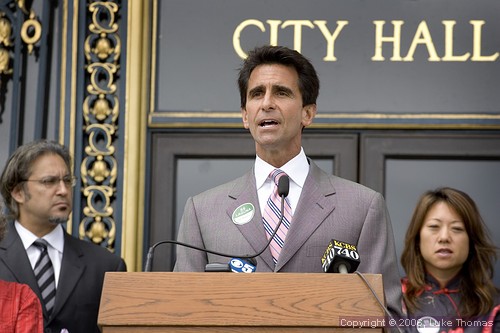 Assemblyman Mark Leno, champion of groundbreaking California protections for the LGBT community, ordains Agnos "Godfather."
"Every vision needs a Godfather and I hope Art won't mind if we give him that title because it was Art who invited... me and others into his office prior to his leaving HUD to help give us some ideas of how you can cobble together the necessary components to bring such a wild and difficult idea to reality," Leno acknowledged.
"So we're very appreciative, very appreciative Art, of your assistance and leading us to this great moment today."
The development, which receives no City subsidy, offers 20% of rental units to households earning no more than 50% of area median income - higher than the 12% affordability required by City law. Support services sensitive to LGBT needs also are planned.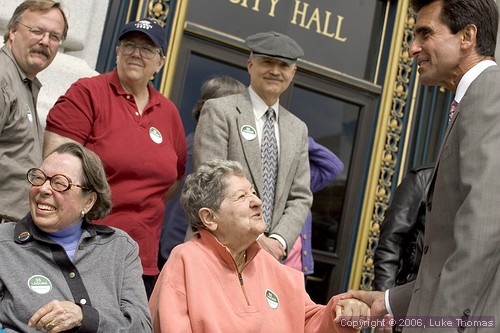 Del Martin, matriarch of national lesbian activism, at left.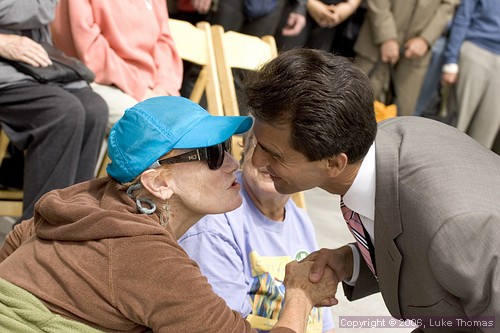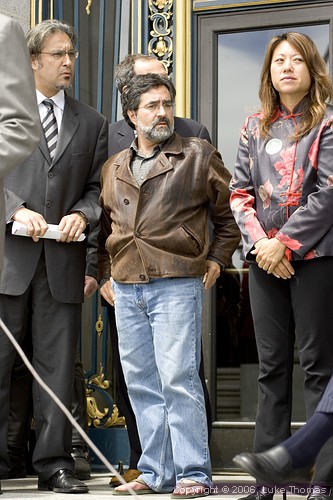 Supervisors, from left, Ross Mirkarimi, Aaron Peskin, and Fiona Ma.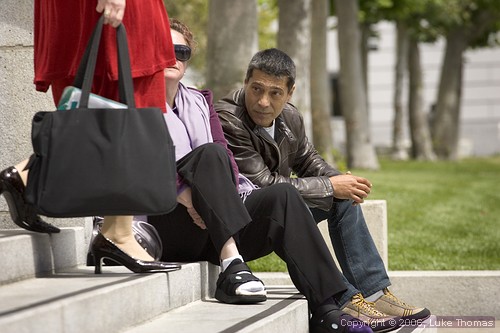 Gus Murad, owner of popular nightspot Medjool, takes note of beautiful woman in red just prior to the woman making a U-Turn.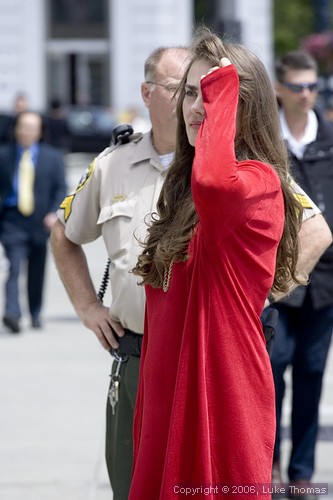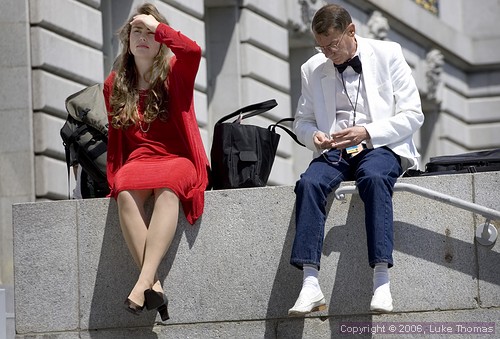 'Excuse me, do you work for the San Francisco Centennial?' red hued Elizabeth had just inquired. 'Yes I do - I'm the bowtie guy,' came the smile. 'I read your stuff,' Elizabeth graced. 'Is it okay if I sit here and watch?' she pondered. 'Sure, this is the People's Place,' came truth of the matter.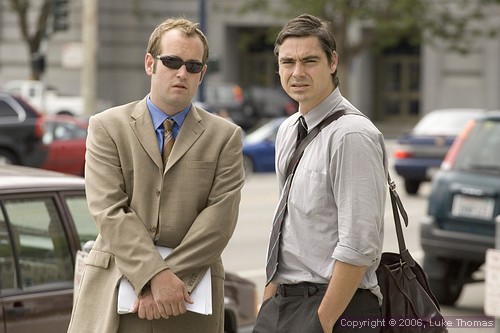 Interested parties includes those who do the work, from left, Boe Hayward,
legislative aide to Supervisor Bevan Dufty; and Boris Delepine,
legislative aide to Supervisor Ross Mirkarimi.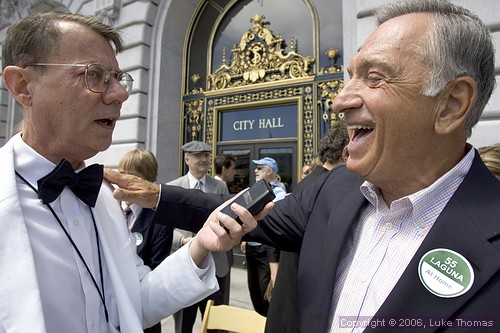 'Will you run for mayor? You'd do better with progressives than Aaron Peskin,' nosed the question. 'Well, do you think I should run?' deflected the project Godfather.
####