Academy of Friends adds philanthropic touch
to 78th Annual Oscar Academy of Awards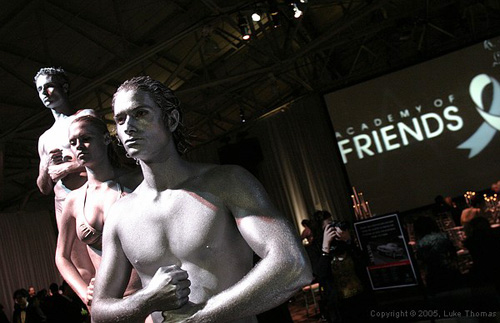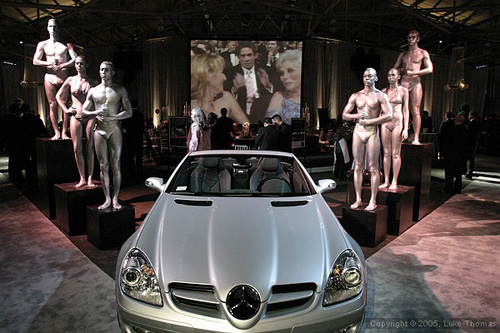 Last year's grand prize raffle winner won this Mercedes Benz
Photo(s) by Luke Thomas

March 1, 2006
San Francisco's Show of Shows encores again Sunday as regional philantrophists and popcorn crunchers converge on the Concourse Exhition for the 78th Annual Academy Awards.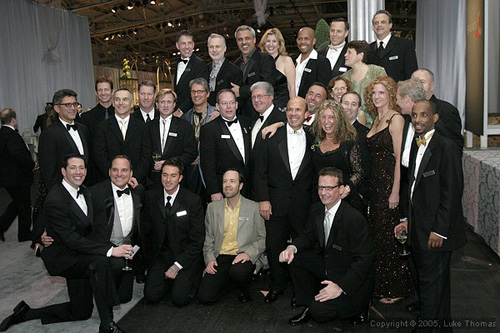 Hosted by the Academy of Friends for the 26th year, this year's mega performance continues the tradition of raising funds for HIV and AIDS service organizations. The group has donated $5.5 million to the effort.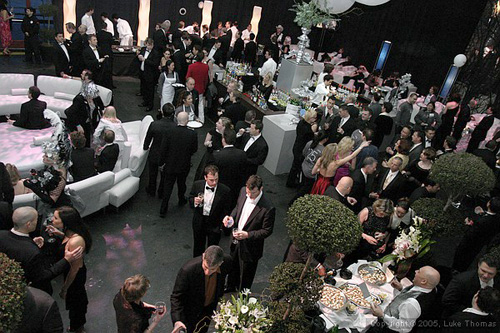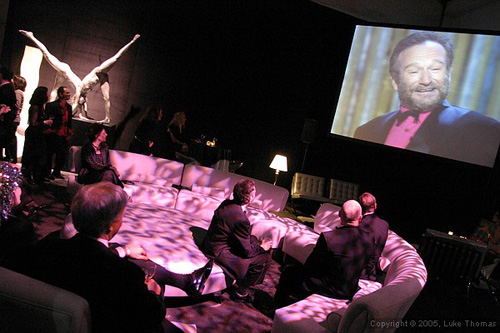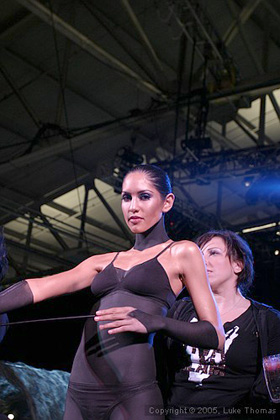 The Rubies & Rhine Stones 26th Annual Gala Event runs from 5:00 p.m. to midnight.
Ticket purchases and Gala Raffle Entries are still available.
Friends of Academy purpose and background is detailed from its website below
OUR PURPOSE
Wondering what makes AOF tick? To understand better the lights that guide our way, read on ...
Vision
To be an exemplary model of volunteerism and fundraising that has a significant impact in the lives of those affected by HIV/AIDS, until the epidemic has passed.
Mission
Academy of Friends annually produces the world's premier Academy Awards Night Charity Gala as the centerpiece of its efforts to raise funds granted to a diverse set of HIV/AIDS direct care and prevention education agencies in the San Francisco Bay Area. Academy of Friends is a credible steward through which individual donors and corporations contribute to such agencies, And these Beneficiary agencies receive funds based on their proven ability to reach, meet the needs of, and have the greatest impact on those most affected by HIV/AIDS.
As an exemplary model of volunteerism and fundraising, Academy of Friends engages and includes an ever-widening circle of friends, and embarks on a concerted effort to expand its reach and diversity to increase broader community awareness of and financial support for those affected by HIV/AIDS.
Academy of Friends is committed to continue its work until the pandemic has passed.

Values Creativity: Producing innovative and exciting events, AOF finds new ways of engaging friends to help those in need.
Volunteerism: Knowing that none of us is as strong as all of us, we value the contributions of each volunteer, and recognize that we could not exist without them.
Partnership: Harnessing the energy and enthusiasm of many, AOF and our beneficiaries grow ever stronger. Forging mutually beneficial relationships is a cornerstone of this organization.
Respect: Holding our constituents in high regard, we honor the dignity of each individual, and fight for those who might otherwise be left behind.
Diversity: Mirroring the population we serve, AOF strives to include members of every unique community. This is reflected in our beneficiary selection, event production, and organizational leadership.
Philanthropy: Funding the frontline against HIV/AIDS, we support those direct care and prevention education agencies throughout the Bay Area who are in greatest need.
Integrity: Following this set of guiding principles, AOF works toward a common purpose, matching our actions to our aspirations.
History and Key Facts
Academy of Friends was founded in 1980 by Kile Ozier as a small, private Oscar Night party---twenty-five friends, some great food, lots of champagne, and plenty of Awards Night glamour. Over subsequent years, the party became an HIV/AIDS fundraiser, a reaction to the toll HIV was taking on the local community. Today, AOF is one of the largest contributors to HIV/AIDS services organizations in the Bay Area. Through the generosity of individual Underwriters, gala ticket buyers, volunteers, and corporate donors, Academy of Friends supports the vital work of organizations providing critical services to those living with HIV and AIDS. Until the pandemic has passed, we are deeply committed to raising funds by presenting quality, responsible events.
The Academy of Friends Academy Awards® Night Gala is the crown jewel of our fundraising efforts. Each year, our guests are treated to gourmet food and wine provided by the Bay Area's finest restaurants, caterers and vintners, while enjoying the excitement of the annual Academy Awards broadcast. The evening concludes with a colossal dance party.
The 25th Annual Academy of Friends Gala, held on February 27th, 2005, distributed $500,000 to Bay Area HIV/AIDS service organizations, touching the lives of nearly 200,000 people of every race, gender and socioeconomic background.
To date, Academy of Friends has distributed nearly $5.5 million to more than 60 AIDS service agencies.
As we celebrate our 26th year, we cordially invite you to join us for our Academy Awards Night Gala on March 5, 2006.
####