SCHOOL SUPERINTENDENT, ACKERMAN, ASKS PUBLIC COMMITTMENT TO COMPATIBILITY
School Board sets September 6 for consideration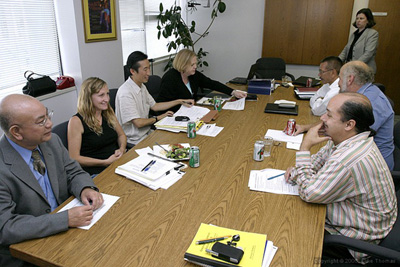 School Board members meet prior to closed session, around the table from left, Commissioner Eddie Chin, Commissioner Sarah Lipson, President Eric Mar, Commission Jill Wynns, Vice President Norman Yee, Commissioner Dan Kelly, and Commissioner Mark Sanchez.
fogcityjournal.com Photos by Luke Thomas
By Luke Thomas

Wednesday, August 31, 2005

The seven member School Board and Superintendent Arlene Ackerman convened a closed-door meeting yesterday evening at the San Francisco Unified School District Offices. The four-hour meeting, described as "acrimonious" by several board members, ended with all parties deciding to reconvene for continued closed-door discussions on September 6.
Prior to the meeting, the embattled Superintendent held a press conference stating the purpose of the meeting was to discuss, "a provision in my contract." That provision, an incompatibility clause, provides Ackerman with leverage to walk away from her three-year contract with a $375,000 severance package.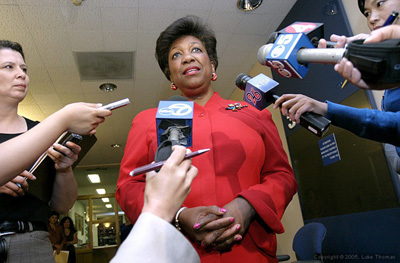 Arlene Ackerman
Ackerman stated that she was "hopeful" that conflicts could be resolved but stressed, "I want to stay if we can all work together.

"I want more than just promises. I want something memorialized in writing… and very public."

Ackerman ended the press conference stating, "I don't have any career plans… that's probably not a good thing to admit. I'm too young to retire, folks… I'm not too young to retire from being Superintendent though."
####