Supervisors ask school superintendent
to forego $375,000 severance pay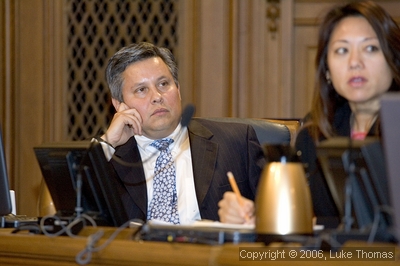 Supervisor Gerardo Sandoval wins resolution urging school superintendent not take 'platinum parachute.'
Photo(s) by Luke Thomas
January 25, 2006
The San Francisco Board of Supervisors yesterday urged outgoing School Superintendent Arlene Ackerman to forego $375,000 in severance pay.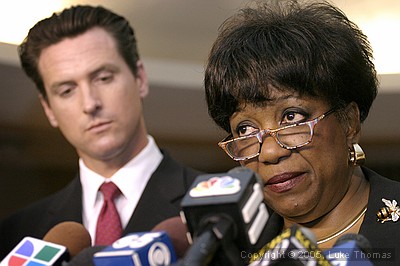 Arlene Ackerman resigns, 9/7/5. File photo.
Authored by Supervisor Gerardo Sandoval, the non-binding resolution passed on a split 6-4 vote with Supervisor Michela Alioto-Pier absent on jury duty.
Sandoval described the payment as a "platinum parachute" which could fund annual salaries for ten teachers.
"The beginning salary for a teacher in the district is less than $40,000," stated Sandoval.
"Superintendent Ackerman's $375,000 severance package could pay for almost ten teachers for an entire school year."
Sandoval noted schools are being closed due to school district budget deficits.
"It's about the children at those schools and at all the schools in San Francisco that are in danger of being closed," continued Sandoval.
Ackerman's contract severance clause was approved shortly after an election which lost majority School Board member support for Ackerman's continued tenure as superintendent, the District 11 supervisor added.
"It was approved, I have to remind folks, by a lame duck Board of Education soon after the November, 2004, election that took away the superintendent's majority support on that board.
"I don't think this current board would have given her this severance package..." Sandoval maintained.
Supervisors representing two distressed districts opposed the resolution.
"The (school) board who is there now knew of this contract," said District 11 Supervisor Sophie Maxwell.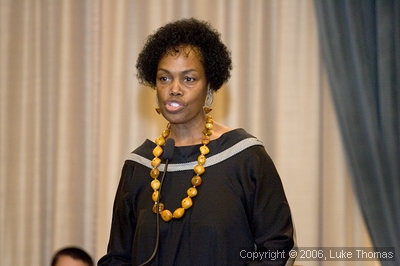 Supervisor Sophie Maxwell
"They knew that if they forced her out, they knew that if they made it difficult for her and they wanted her to leave what the consequences of their actions would be.
"And they went forth and decided to do this, knowing very well what this would be.
"And now then after they have forced her out - put it so that she really had to leave - now we're asking her to say, 'I want to give back this money.'
"Now we have to put it on her back? Colleagues I just do not think that San Franciscans and this board should do business," insisted Maxwell.
The District 5 supervisor maintained a signed contract should be honored.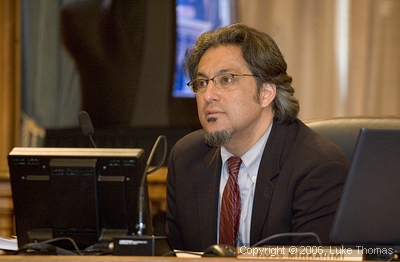 Supervisor Ross Mirkarimi
"The School Board, which I think was incorrect, made this deal with Arlene Ackerman," noted District 5 Supervisor Ross Mirkarimi.
"This was the wrong deal to make but they made the deal.
"I don't see how we can subvert or reverse that deal so I'm not going to vote in favor of this resolution."
Mirkarimi remarks followed a confrontation prior to the Board meeting with African American leaders who oppose the resolution. Ackerman is African American.
Former Supervisor Amos Brown, president of the San Francisco NAACP branch, termed Mirkarimi a johnny-come-lately to school issues.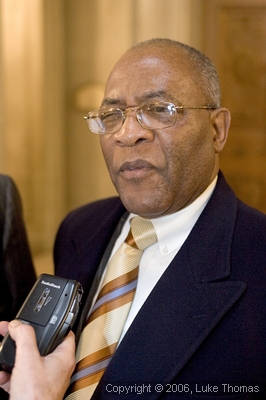 Reverend Amos Brown
"You only got involved in schools three months ago," Brown told Mirkarimi. Brown is pastor of Third Baptist Church which lies in District 5.
Brown was accompanied by Pastor Roland Gordon of Ingleside Presbyterian Church, and District 11 community organizer Charlie Walker.
All three spoke against the resolution at the hearing.
Brown recalled Ackerman accomplishments.
"When this outgoing superintendent came to this district (she) brought it out of its economic shambles which was created by the former superintendent," said Brown.
"Number two - this superintendent has advanced the academic performance of this district.
"They have been cited nationally for doing a quality job, and I feel that the Board of Supervisors should get back to its business of doing legislation here and in this instance leave the Board of Education alone."
Gordon pointed to money Ackerman brought into school district coffers.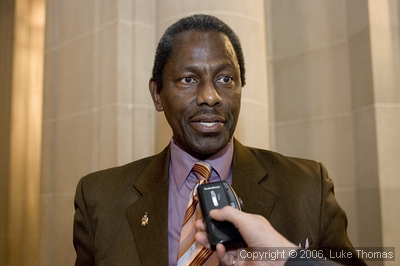 Reverend Roland Gordon
"If you look at just her bringing back the $50 million in default money and $3 million more in the computer district scandal...it would just be smacks in everybody's face that you all would stoop so low...
"She truly has earned her right to get the severance pay and I urge everybody to do the right thing," stated Gordon.
The Sandoval resolution mirrors wisdom of asking the Ku Klux Klan to implement the Civil Rights law, suggested Walker.
Walker has filed declaration of intent to run as a candidate for the District 10 seat now held by Supervisor Maxwell.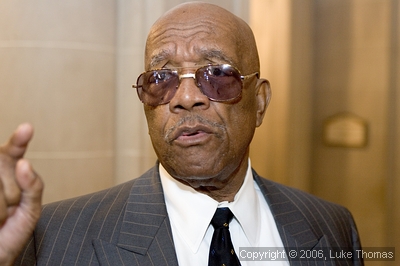 District 10 supervisor candidate Charlie Walker
"What is going down now is tantamount to asking the Ku Klux Klan to implement the Civil Rights law," began Walker.
"Why is (there) such a vendetta to do something to her?
"I think all of you have gone really, really out of the way to destroy the African American community in San Francisco.
"And now you are destroying the schools. Now you are trying to put us out of San Francisco and shove us in the Bay.
"We wouldn't have near the schools in the black community in the (improved) condition if it wasn't for her.
"And now they're getting rid of all the schools in our community - so where do we go from here in educating our children?"
Progressive Supervisor Tom Ammiano and fiscally conservative Supervisor Sean Elsbernd both framed the issue as a financial matter only.
"There's many, from their remarks that I have heard, who feel that this is a referendum on the superintendent and that's too bad," Ammiano said.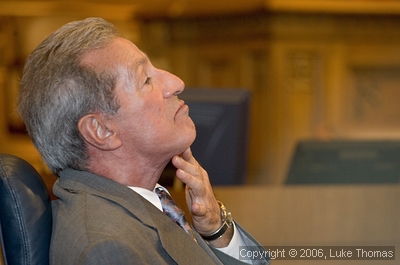 Supervisor Tom Ammiano
"I don't think that saying that she should give it back is the same thing as saying she was a lousy superintendent," suggested Ammiano.
Ackerman did a fine job but was well compensated, Elsbernd argued.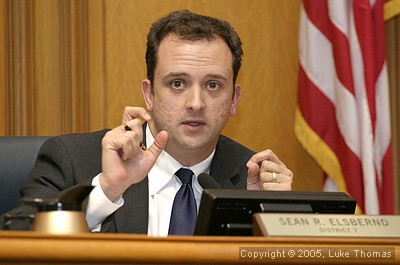 Supervisor Sean Elsbernd. File photo.
"I thought she did a fine job and I think it is terribly unfortunate that she is leaving...
"That being said, the work she did - while being wonderful - she was extremely well compensated.
"She was paid a quarter of a million dollars a year and got $2,000 a month in housing allowance.
"In a time when the school district is asking children, teachers, and administrators to make sacrifices - in many cases not asking, telling them to make these sacrifices - for us not to ask her to make a sacrifice when she has been so well compensated...in many ways I find unconscionable."
####